2021 is here and it has everyone breathing a sigh of relief after what last year did to all of us. We still don't know what's coming next, yet, it all feels way better than what 2020, the heaviest and one of the most craziest year on record, did to all of our collective mental healths.
Now, it's the perfect time to look back and see how the whole year became one of the most surprising and shocking ones for Pakistanis – especially for those, in the entertainment industry and those who love watching them.
From grand marriages to controversies supreme, here's 20 things that happened in 2020…
Weddings Galore
Everyone chose to go for a wedding during the COVID-19 times it seems. A large number of Pakistani celebs started the trend, and we saw the who's-who getting hitched last year. Some major names include, Ahad Raza Mir and Sajal Aly, Umair Jaswal and Sana Javed, Sarah Khan and Falak Shabir, Sadaf Kanwal and Shahroz Sabzwari, Sadia Ghaffar and Hassan Hayat, Faryal Mehmood and Daniyal Raheel, Hina Altaf and Agha Ali, and Samina Ahmed and Manzar Sehbai.
Baby Boom
2020 was not all that bad for some as it brought good tidings to their homes. For both leading actors Hamza Ali Abbasi and Fawad Khan, the year ushered in their latest addition to the family. For Hamza, it was his first baby boy, whereas for Fawad, he welcomed his third!
Aiman Khan, Mahira Khan and Atif Aslam Make Forbes List
In 2020, Forbes released a list of Asia's 100 digital stars list, which highlights celebrities with powerful social media presence. Among other influential personalities, Aiman Khan, Mahira Khan and Atif Aslam are the only names from Pakistan that made it to the list!
Sajal wins DIAFA
2020 was a big year for Sajal in all ways! She added another feather to her cap as went on to be awarded for her contribution to film and Television by the Distinctive International Arab Festivals Awards (DIAFA), which usually honours distinguished International and Arab figures for their annual achievements and contributions towards communities and societies' betterment.
Mahira Khan makes it to BBC 100 Most Inspiring Women List
BBC ] released the list of its 100 most influential women of 2020 and Pakistani celebrity Mahira Khan graced it being a part of it. "In a year of incredible change, it is only fitting that we acknowledge the female leaders who have helped us weather the storm," stated the outlet while releasing the names.
Nimra Bucha Lands a MARVEL Project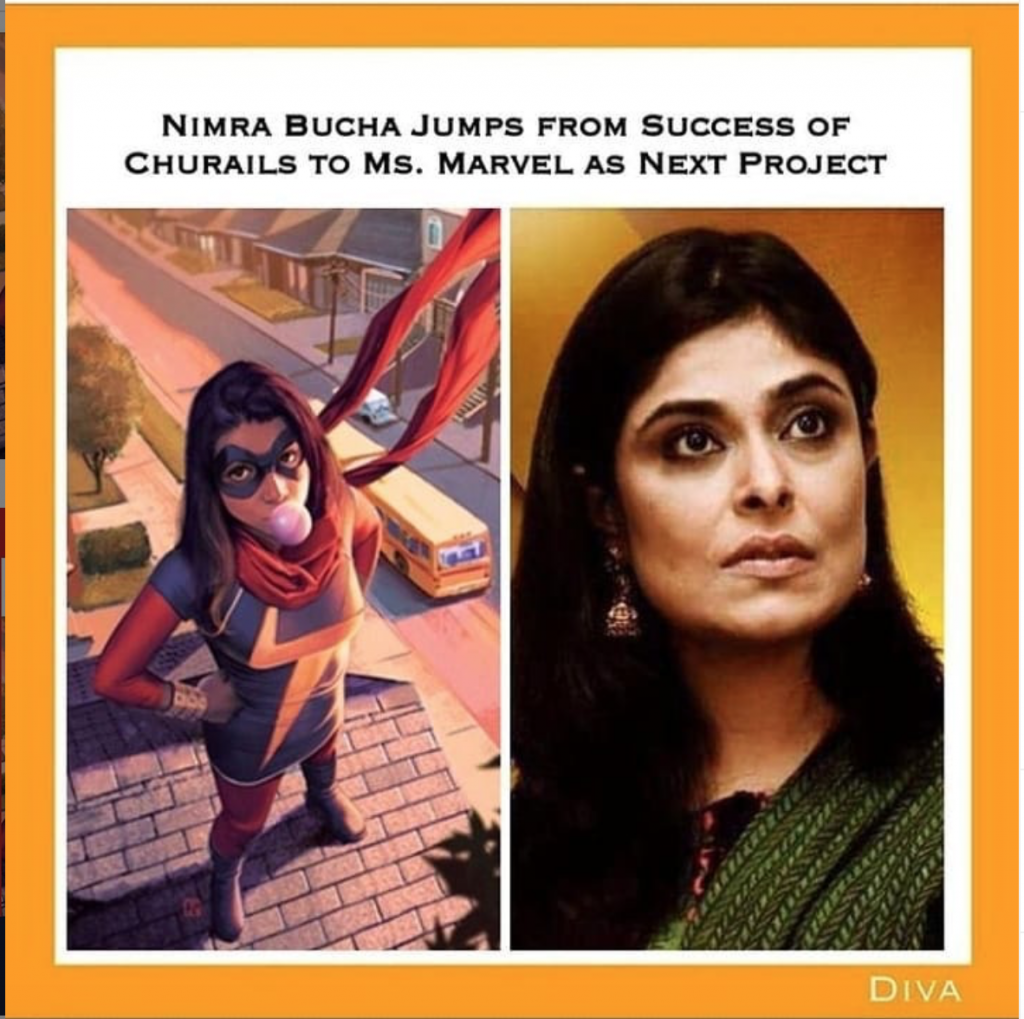 After massive success in 2020 with Churails, Nimra Bucha saw even more greater news in the offing after it was revealed that she's soon going to be a part of Marvel's upcoming project Ms Marvel! The news also suggests that Sharmeen Obaid-Chinoy would also be seen directing one episode of the series.
Parwaaz Hai Junoon Screens in China
Premier of #Pakistani film Parwaz Hai Junoon held at Wanda cinema in #Beijing.
Looking forward for the debut across #China since 13 Nov.
Congratulations to #Pakistan Ambassador H. E. Mr. Moinul Haq @PakAmbChina.🇵🇰🤝🇨🇳 pic.twitter.com/noeH99PVD9

— Shen Shiwei沈诗伟 (@shen_shiwei) November 11, 2020
Pakistani film Parwaaz Hai Junoon premiered in China's capital, Beijing and then was screened across the country in November. The film went on to receive massive praise from the Chinese audiences!
Ertugrul Takes Over
It was like deja vu all over for many who remember how Turkish dramas took over a few years ago! Well, this time the state sponsored it too, and everyone could not stop loving it! Ertugrul Ghazi became the talk of the town and from fashion brands to the most basic of things, you'd find it stamped with Ertugrul fever!
Pakistani Web Series Churails and Ek Jhooti Love Story Wins Fans
Pakistani content went digital in a big way last year and it was both Churails and Ek Jhooti Love Story that had people wanting even more. While the former was more about the gritty narrative, the latter was the warm and feel good story we needed in our lives.
Zindagi Tamasha Gets Banned
2020 was not a good year for films and we hardly saw anything come about. Apart from the COVID scare hampering all shoots, the year also saw expected films of the year being banned. Zindagi Tamasha, was one such example, which had us shocked when it ended up being banned due to a push from the religious political parties.
Urwa Hocane and Farhan Saeed Separate
The news came as a shocker for almost everyone as no would have expected this power couple to part ways. Although both stars have not went public with the news, sources have repeatedly confirmed this.
Zara Abid passes away
A major loss for both the fashion and entertainment industry, we saw the loss of model Zara Abid in a plane crash in 2020. The young model had just broken into the world of film and was expected to delve more towards the field.
Hania Aamir Friend-Zoning Asim Azhar Breaks the Internet
In yet another shocker, the rumoured couple of Hania Aamir and Asim Azhar saw an alleged breakup in 2020. It was all done under the pretence of 'friend-zoning' but it definitely had everyone talking about what this was!
Noman Ijaz Goes Against Almost Everyone
From bloggers to actors, everyone was on Noman Ijaz's target list in 2020. He started off by calling out bloggers and used some weird statements for them and then went on a different tangent and called Humayun Saeed an 'average' actor. Yikes!
Khalil Ur Rehman Qamar Goes on a Rampage
Is he sane? @khalilUrRQ You're extremely ghatiya, and I'm so glad you were baistied at one of the marches you attended because you are NO ally of ours.
Shameless. pic.twitter.com/PwdruNkiQI

— Layers Bakery Stan Account (@notsafaimran) September 16, 2020
It was not a good year for Khalil Ur Rehman where controversies are concerned. The trouble started brewing up in 2019 with Meray Pass Tum Ho and it continued into last year when the writer had some blazing words against Marvi Sirmed. Both of them continued to mudsling and it was definitely one crazy moment.
Jalan and Nand Receive PEMRA notice & Fahad Mustafa Gets flank for Dunk
پیمرا کی اے آر وائی ڈیجیٹل کے ڈرامہ سیریل "جلن" پر پابندی عائد pic.twitter.com/97tA7q4okB

— Report PEMRA (@reportpemra) September 10, 2020
TV dramas brewed their fair share of controversy last year and there was something or the other that flared up people or PEMRA! While Jalan and Nand were on the authority's hit list, Fahad Mustafa too got to see the public ire when for his comments about alleged sexual abuse when he spoke about his new production, Dunk. 
Hira Mani Mocking White People For Taking COVID Seriously
If this wasn't a shaking our heads moment then what was? The popular TV actress thought that the white people have taken COVID-19 a bit too seriously and it just had everyone questioning what Hira Mani meant by that. Well, we're sure Hira only knows.
Nida Yasir Takes The Insensitive Route
Morning shows have continued to have a bad reputation for their choice of questions and content, and 2020 was of course going to be no different. It was Nida Yasir who made us realise this when she ended up asking some super insensitive questions to the family of the 5 year old victim of abuse who was raped and dumped in garbage heap. Nida later apologised.
Agha Ali Slammed For Fat Shaming
wtf is cute about it??? it's disgusting and he's feeling proud about it pic.twitter.com/VSHW6ZyJlB

— sar dard | leenu stan acc (@mahamsimp) August 8, 2020
Pakistani celebrities are yet to realise how to carefully pick their words, and for that the latest example in 2020 was Agha Ali. The actor was called out when he called his newly-married partner, Hina Altaf things that revolved around fat-shaming, or at least that's what the fans thought. It all ended up being quite weird!
Mawra Hocane Landing in Hot Waters For Her 'Lahori Fun' Comment
We do mind. Please speak for yourself. Our "celebrities" really dont think before saying shit. pic.twitter.com/MSVp5R15vr

— a (@Abbasayy) July 23, 2020
2020 wasn't a good year for Mawra Hocane when it came to people trolling her for what she said. Her 'Lahori Fun' comment on a morning show ended up being quite the buzz around the internet, and many thought the actress legitimised abuse.
What moment in 2020 was the most interesting for you? Tell us in the comment section below.