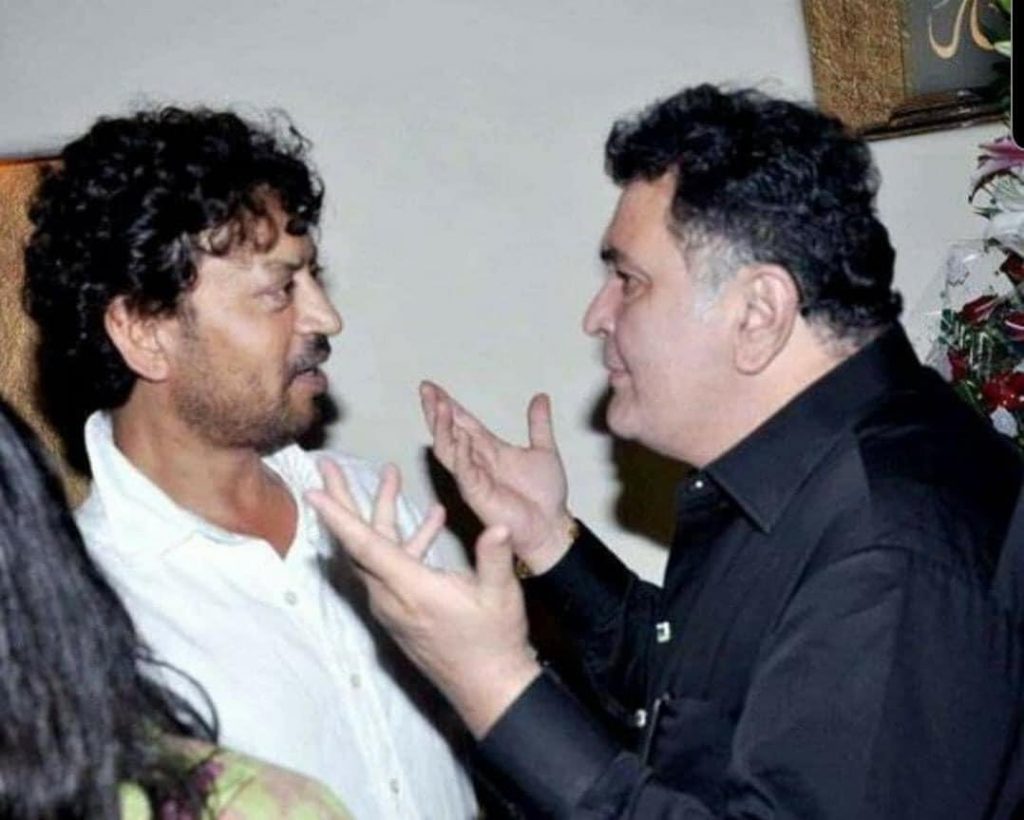 t's been a terrible week for the acting fraternity, people were just coming to terms with Irrfan Khan's death when they learnt about Rishi Kapoor passing away at the age of 67 today, both the actors were battling cancer.
What they left behind are millions of heart broken fans, not just in India but also in Pakistan and rest of the world, people including our celebrities took to social media to share what they felt:
#RIP you will always be remembered by a whole generation , as you & your films will never be forgotten. #karz one of my favourites ,Your smile always filled up the screen as you filled up our hearts. You will always be remembered ♥️🙏🏼🎥🎬 pic.twitter.com/CkLdgbHE7s

— Shaan Shahid (@mshaanshahid) April 30, 2020
Zeba Bakhtiar, having worked with him in Henna, grieved the loss of a mentor, inspiration and a friend:
Sajal Aly took to Instagram remembering him and Sridevi:
https://www.instagram.com/p/B_mDLCvl3TK/?igshid=1blz0wnwo5mrx
Mawra Hocane shared fond memories of him:
Imran Abbas shared how Rishi Kapoor was a big part of our childhood and will always remain in our heart!
Rest in peace Rishi ji! Another big loss to Indian cinema. We grew up watching his movies and had so much nostalgiac recall attached with his name and work. pic.twitter.com/03QkPRHrfG

— Imran Abbas (@ImranAbbas) April 30, 2020
Deepak Parwani too had a little something to say:
Ashes to ashes and dust to dust . To him we must all return #RishiKapoor #IrrfanKhan legends .rip .god bless .

— Deepak perwani (@DPerwani) April 30, 2020
Bilal Ashraf grieved on the big loss:
2 days 2 legends gone. Devastating. There is no one like @chintskap A huge loss indeed 🙁#rishikapor #IrfanKhan pic.twitter.com/HFvxaBsr75

— Bilal Ashraf (@IamBilalAshraf) April 30, 2020
Yasir Hussain shared a picture to Instagram remembering him fondly as Chintu:
Both gave us movies that'll live with us forever:
#RIPLegend The grief of Irfan Khan's departure had not abated yesterday that Rishi Ji also left you! I am very depressed. An era of your movies will never be forgotten.#IrfanKhan #RishiKapoor pic.twitter.com/X1NAVGo7e6

— Moin Ahmed Siddiqui (@MoinAS5318) April 30, 2020
Please:
Two days, two stunning actors. God be kind to us. 😢#RishiKapoor#RIPIrrfanKhan pic.twitter.com/NUaJygQxXc

— Internet Explorerr (@Neembupaaniii) April 30, 2020
It is, indeed, a very difficult time:
If getting over yesterday's loss wasn't enough.. today brings in another unfortunate demise!
The legendary actor #RishiKapoor … who filled our hearts and screens with so much love..it is sad that he is no more. He surely had an iconic contribution to the Indian film industry! pic.twitter.com/eosyApuabk

— Rehman Ifrahim (@Rehmanifrahim) April 30, 2020
People were calling 2020 a nightmare:
2020 is turning into a never ending nightmare RIP #RishiKapoor 💔

— Pooja what is this behavior? (@Obaid_Atique) April 30, 2020
People were remembering him for his beautiful work:
#RishiKapoor#RIPRishikapoorji
Rafu Chakkar, Kabhi Kabhi, Chandni And So Many Other Great Roles By Great Actor pic.twitter.com/SuF22uMO6R

— m.salmanfarooqui (@msfarooqui79) April 30, 2020
Never!
Someone so iconic like Rishi Kapoor can never be forgotten. pic.twitter.com/kNZTDdTAwo

— desi's slay (@desixslays) April 30, 2020
It gave many a new perspective on life:
Life is highly unpredictable,
We're not promised a tomorrow#irfankhanactor
#RishiKapoor #RIPLegend pic.twitter.com/QNED6TWTZo

— Arsalan Ahmed (@ArsalanAhmed035) April 30, 2020
Absolutely!
An actor par excellence and a legend who will live forever in our hearts.#RishiKapoor pic.twitter.com/CqIWg4OqYs

— Adil Mukhtar 🇵🇰 (@adilmukhtar777) April 30, 2020
People were thanking Rishi Kapoor for touching their lives in such an impactful way via his movies:
Another brilliant bollywood actor, Rishi Kapoor, passed away today. My heart is crying😭💔 2020 please go away.
My condolences to the Kapoor family and ThankYou Mr. Kapoor for entertaining us and giving so much love/respect to your Pakistani fans!
RIP #RishiKapoor @chintskap

— happysadbitch (@CallMeW89356153) April 30, 2020
Couldn't have been said better!
Two legends in one frame.

Rishi Kapoor and Irrfan Khan's picture from 'D-Day' makes me so emotional.

There are no goodbyes for us. Wherever you are, you will always be in our heart.#RishiKapoor #IrrfanKhan pic.twitter.com/bpFFIbaspL

— Dr Saifee Khan (@when_saif_says) April 30, 2020
Thank you for making sweaters iconic!
RIP #RishiKapoor the romanceing star in sweaters finally sings "tou gao om shanti om" thank you for entertaining us for so long. pic.twitter.com/6LYAI7fydh

— Anjum Chandna 🇵🇰 (@AngieChandna7) April 30, 2020
People had his movies playing in their mind:
All of his characters from the movies which I watched, "Yeh vaada raha, Chandni, Raju chacha, kuch to hai, hum tum, fanaa, om shanti om, student of the year and the body" are continuously playing in my mind rn. 💔#RishiKapoor

— Maham✨ (@OfficialMahamz) April 30, 2020
People were sharing what made them fall in love with him:
RIP- Rishi Kapoor- A fine actor who made the audience believe in his character along with creating a suspense throughout his acting to let them stay connected till the end. We lost him😞#RishiKapoor

— Syeda Kehkashan Kazmi (@syeda_kehkashan) April 30, 2020
People waking up to another death was devastating:
Woke up to the bad news of Rishi Kapoor's demise. Bollywood lost two shining gems in two days. Indeed a big loss.
Thoughts & prayers with his family.#RishiKapoor #IrrfanKhan

— H U Z A I F A (@GoboBoltaHai) April 30, 2020
An end of a beautiful era:
An era ended with #RishiKapoor

Rest in peace @chintskap sir, your movies are evergreen & your legacy will live on forever…! 😔#RestInPeaceRishiKapoor pic.twitter.com/FOlZ4umTlc

— Jaani WTF..! 🔥 (@Uzair_here_) April 30, 2020
Rishi Kapoor above everything was a man who cared for everyone, this was his last tweet where he shared how he was concerned about Pakistanis:
With all due respect, Pakistan Prime Minister Imran Khan should also advice his country to take adequate precautions. People of Pakistan are also dear to us. Once we were one. We are concerned too. This is a global crisis. No ego matter this. We love you guys. Humanity zindabad !

— Rishi Kapoor (@chintskap) March 19, 2020
What are your fondest memories of Rishi Kapoor and his films? Let us know in the comments below!