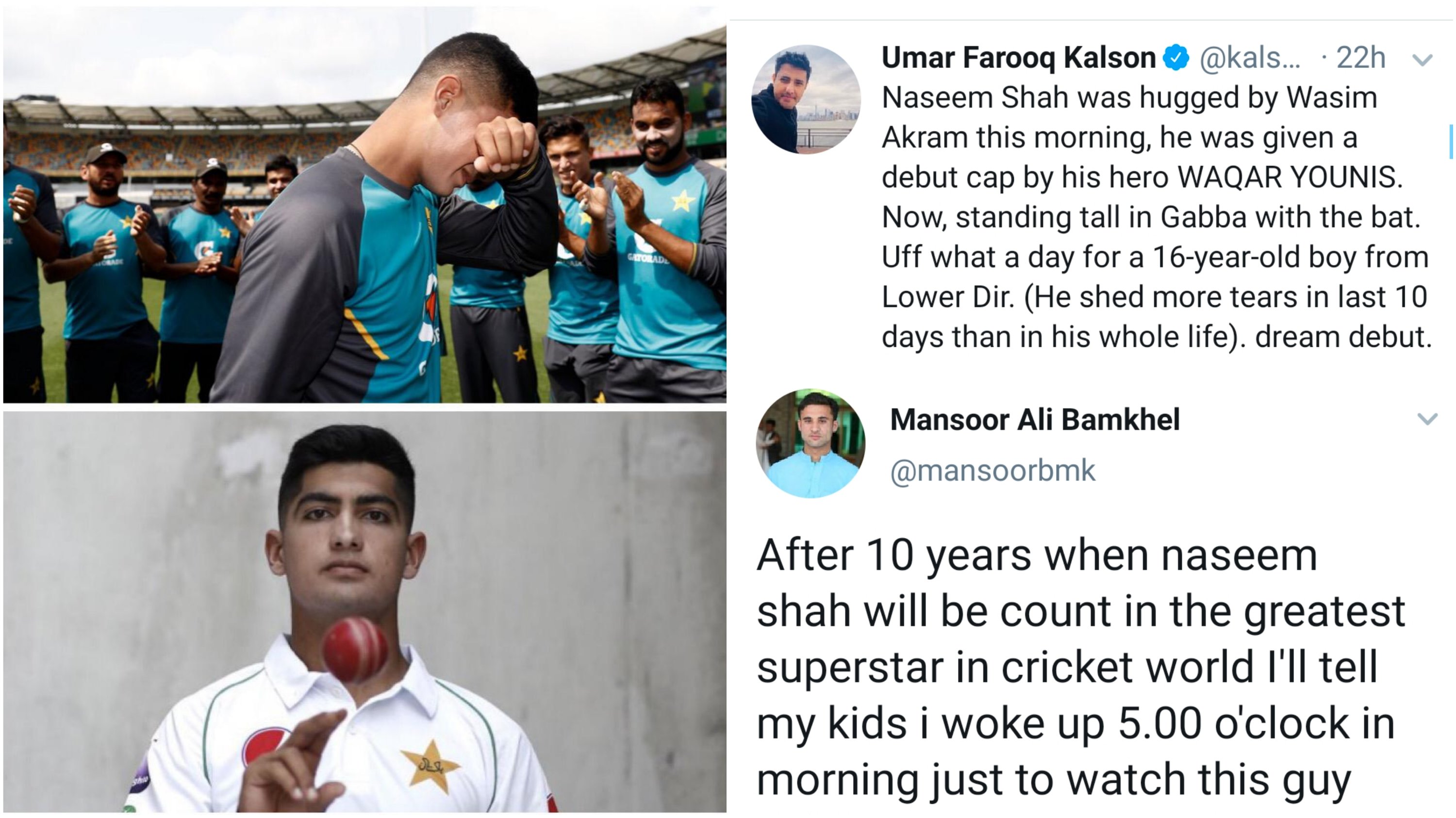 Pakistan's cricket history is enriched with fast bowlers and Naseem Shah could be its newest hero at only 16 years of age! Naseem Shah is the newest addition to the test squad in the matches being played against Australia and his test debut has had the internet loving him!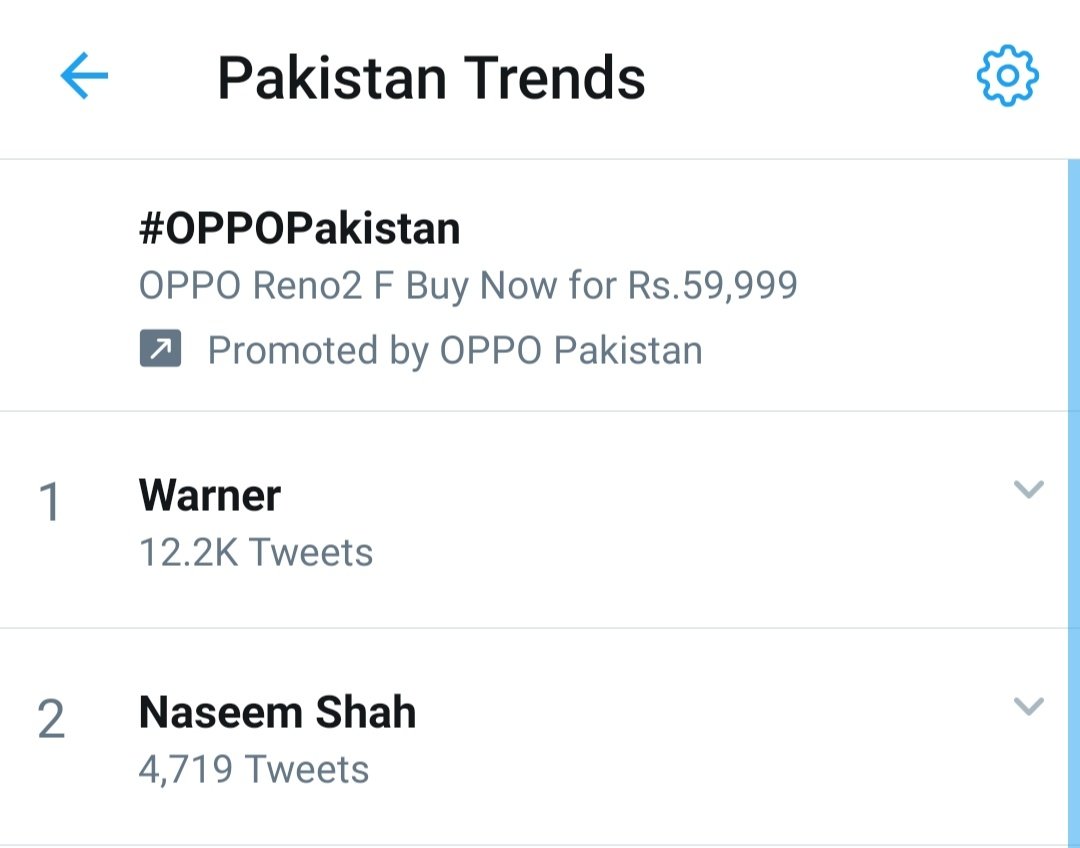 The 16 year old is the youngest male cricketer to play a maiden Test on Australian soil and the internet is full of praise!
After 10 years when naseem shah will be count in the greatest superstar in cricket world I'll tell my kids i woke up 5.00 o'clock in morning just to watch this guy #AUSvsPAK #NaseemShah pic.twitter.com/yO4nFACKEJ

— Mansoor Ali Bamkhel (@mansoorbmk) November 22, 2019
Many were calling it a dream debut:
Naseem Shah was hugged by Wasim Akram this morning, he was given a debut cap by his hero WAQAR YOUNIS. Now, standing tall in Gabba with the bat. Uff what a day for a 16-year-old boy from Lower Dir. (He shed more tears in last 10 days than in his whole life). dream debut.

— Umar Farooq Kalson (@kalson) November 21, 2019
May have been a dream debut but it was a very emotional one:
An emotional debut for the young man.
Good luck #NaseemShah#AUSvPAK
pic.twitter.com/ACJkHzGRFO

— Kamran Khan (@Kamrann_) November 21, 2019
His bowling speeds had people impressed:
Sixteen-year-old Naseem Shah's first over speeds (in km/h):

145.3, 147.6, 143.9, 144.4, 147.0, 147.7. #AUSvPAK#NaseemShah pic.twitter.com/bdH1cbYu6u

— Hammadt-15 (@hammadt2001) November 22, 2019
Some were calling him the new speed gun from Pakistan:
Naseem Shah – New speed gun from pakistan 🔥#AUSvPAK #NaseemShah pic.twitter.com/FMOnJ42yjC

— Cricket Anari (@cricketanari) November 22, 2019
He caught the eye of the international journalists as well:
I've never been more excited to follow the journey of a new test cricket career.

16-year-old Naseem Shah makes his debut for Pakistan vs Australia today, and only days after his mother passed away.

He bowls express speed, and has the heart of a lion!https://t.co/5Ws326Zy7W

— CJ Werleman (@cjwerleman) November 20, 2019
Many fans shared how they had only woken up at 5am to see him bowl:
Just to watch this lad bowling, I woke up at 5:00 AM☺️, had a solid lecture by my mother and father one by one🥴🥴but remained stuck before TV persistently😇😇 and he has announced himself veryyyy well in world cricket 😍😍#NaseemShah#AUSvsPAK pic.twitter.com/WBgKi5ncfl

— Arooba Choudhary (@AroobaChoudhary) November 22, 2019
Geez !! This Young Pakistani Quick is Faster than the Shastri Tracer Bullet🔥

Specially woke up early to see this "Kid" (because he is 2-3 years younger than me 😜) bowl to the aggressive @davidwarner31

Naseem Shah certainly has a Bright Future 😀#AUSvPAK #NaseemShah

— Cricket🏏Fanatic😍 (@CricketSaish237) November 22, 2019
He had the spectators gripped with his very first ball at 91.7mph:
Naseem Shah, remember the name.

The 16-year-old's first ball in Test cricket is an eye-watering 91.7 mph 🔥🔥pic.twitter.com/18byxyKmY2

— Wisden (@WisdenCricket) November 22, 2019
Naseem Shah's first over in Test cricket. Nearly all deliveries at 90 miles/hours. The last one at 91.77. Exciting to watch. #AusvPak

— Mazher Arshad (@MazherArshad) November 22, 2019
Everyone was talking about the potential he has:
This 16 year lad has some serious potential bowing over 140 kph in his first game in test cricket is sensational 💕#NaseemShah pic.twitter.com/UPc6WPil95

— SARDAR ADNAN IMRAN (@Sardarspeaks) November 22, 2019
He reminded some of Shoaib Akhtar in his earlier days:
His way of stalking in the eyes of @davidwarner31 after couple of deadly bouncers is just amazing 😍 reminds me the era of great @shoaib100mph #NaseemShah on🔥

— ع م ی ® 🇵🇰 (@imumairkhan95) November 22, 2019
His confidence spoke for itself:
The staredown! 👀

Shah sending down some 🔥 to Warner – no shortage of confidence there.

AUS 0/53 | #AUSvPAK live blog: https://t.co/Z6KCE3SReF#NaseemShah #Warner #chinmusic pic.twitter.com/zZC95Kbsuo

— News Cricket (@NewsCorpCricket) November 22, 2019
People were also lauding him for th fact that he was on the field soon after his mother's passing away:
This is so unreal , Test debut at 16 after a week of his mother passed away and Facing fast and furious straci at 150 kmph trying to save a hattrick first ball. #AUSvPAK #NaseemShah pic.twitter.com/3YkyRVE9bV

— Mr. Khan (@iemkhaan) November 21, 2019
And while somscepticaleptical about his age, many reminded them how this was not a game of underage cricket:
This isn't underage cricket. It doesn't matter how old he is. Just enjoy watching him bowl rockets please. #NaseemShah

— Daniel Beswick (@DGBeswick1) November 22, 2019
Some had advice for him:
#NaseemShah has to learn quickly
Speed alone won't get him wickets at this level
It's pitching the ball in the right places
its variation and guile
A lot to learn and very quickly otherwise AUS may make 240 without loss #PAKvAUS pic.twitter.com/495AHAUwuH

— Mishi (@Mishi827) November 22, 2019
People were predicting a bright future for him:
Naseem shah was great he bowled with pace and aggression but I still think he is way too young to be your strike bowler it's unfair to ask him to do wonders on a debut game ….saying all that he is got a bright future ahead of him #NaseemShah #PAKvsAUS

— Najeeb ul Hasnain (@get2najeeb) November 22, 2019
What do you think about this young boy doing wonders on the field? Let us know in the comments below!