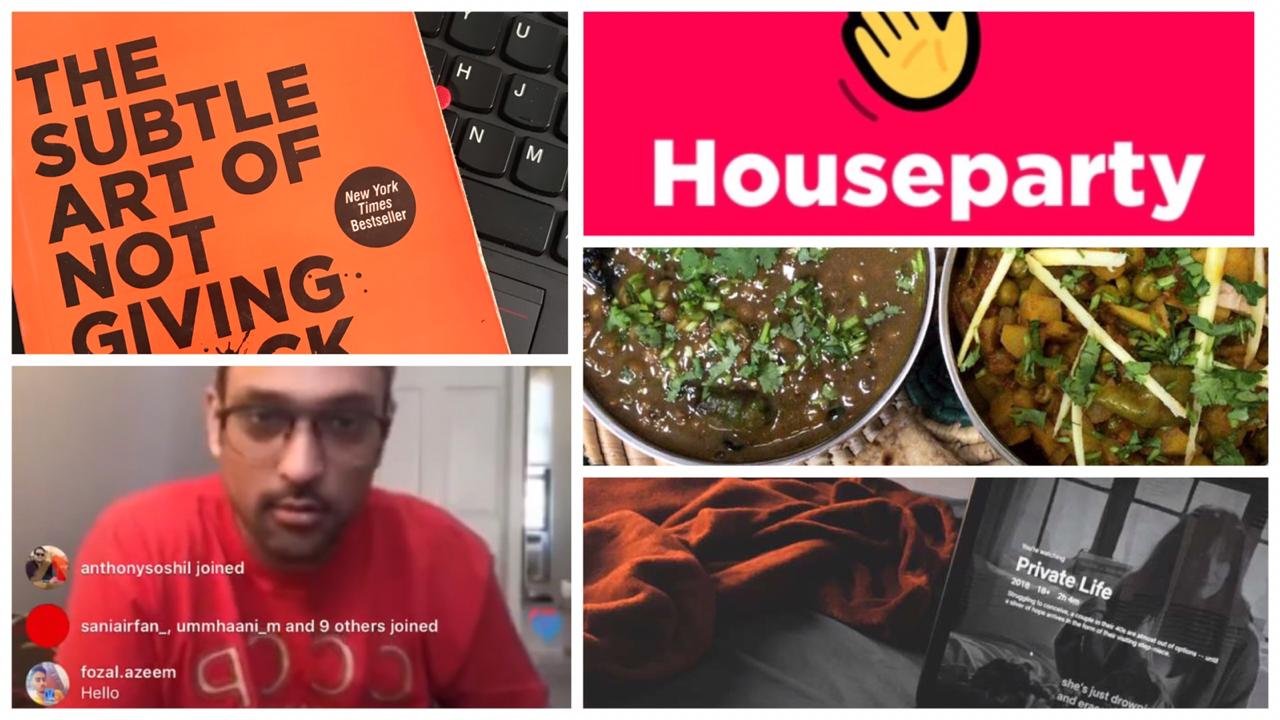 We know you've read a 100 articles on what to do while you're in quarantine, and the fact that you're here tells us that none of those tips have helped! So here's a little something you can do while you're quarantined.
Get moving!
Can't go out but we can always train at home.. #COVID19 #CoronaVirusPakistan #LetsBeatCOVID19 InshA Allah @TheRealPCBMedia @TheRealPCB pic.twitter.com/kgOV0oviMx

— Azhar Ali (@AzharAli_) March 21, 2020
Or hey, at least be a good sport about it and try like this little one!
Clean the house
Me being discovered after one week of quarantine pic.twitter.com/RNrkgsQ9VI

— Ben Yahr (@benyahr) March 15, 2020
This is no time to let the laziness get the best of you, get up, sanitize the door knobs and switches and make sure the house is clean!
Join celebrities on their Insta-live sessions
We stan ali sethi. pic.twitter.com/wFYTbZQ4EB

— Isolationship (@ghumhour_) March 26, 2020
This is our new obsession to be very honest, joining our favourite celebrities on their live sessions and finding gems like these!
Recreate them memes!
Quarantine day 11#RecreateTheMeme

Maria م pic.twitter.com/JcyNiYtnEG

— Moochar (@AsliBinLaden) March 28, 2020
What better way to kill time? Select your favourite meme and recreate it!
Brush up your reading skills
Practising my speech in front of the mirror day before the contestpic.twitter.com/fu5xKcsHPb

— کاظمی (@HaayeShabbir) March 21, 2020
A great time to check if you have a future in doing voice overs or reading news on live television, Meera jee approves!
Get in touch with all your selves!
Quarantine day 8: Partying with my Id, Ego, Superego and myself pic.twitter.com/HiqOwBdCDm

— Amar Latif (@amarlq) March 21, 2020
Sit down, have a tea party, it's all about you!
Revisit your favourite songs
Quarantine day 6:

There are 168 Tunaks and 84 Tuns in Tunak Tunak Tun song.

— Naveen Kukreja (@NaveenRKukreja) March 20, 2020
Quarantine day 11 :

In Maula mere song, 'Maula Mere' has been repeated 64 times.

— Azy (@AzyConTroll) March 27, 2020
You'll be surprised at the details you might have missed!
Take care of your personal hygiene
This is too much 🤣 pic.twitter.com/TCKKWlYwci

— Jibby (@JibbyD) March 27, 2020
Login to YouTube and learn to thread your own upper lips and brows!
Revive some old hobbies
Reviving an old hobby. Need more sui and dhaagay tho:( pic.twitter.com/hAPnKKDvNz

— * (@laalbattii) March 21, 2020
A great time to get back to what you loved doing, and that does not include taking naps!
Shower!
Does anyone know if we can take showers yet or should we just keep washing our hands? 🤔

— INTERROMOM (@interromom) March 30, 2020
We suggest you do both!
Get crafty!
Gather your kids for a crafty DIY session, take cues from Sarwat Gillani!
Try your hand at cooking!
With no restaurants delivering, this is a great time to make all your favourite food at home! Who knows you might be the next master chef!
Perfect your makeup skills!
Maybe I should take this time to perfect my winged liner routine 😅😂

— Llonae Bee (@LifeOnPlanetNae) March 27, 2020
Wanna snatch that wing? Do it, because practice makes perfect and trust us, with just one week of practice you'll be applying great wings even in your sleep!
Pray!

With Ramadan being right around the corner, this is a good time to instill praying habits, pray for everyone around you and pray for mercy.
Combat social gatherings

Coronavirus is no joke, anytime you see social gatherings, do whatever it takes to stop them!
And whatever you do, don't text your ex, please! Let us know how you're keeping yourself occupied during quarantine!