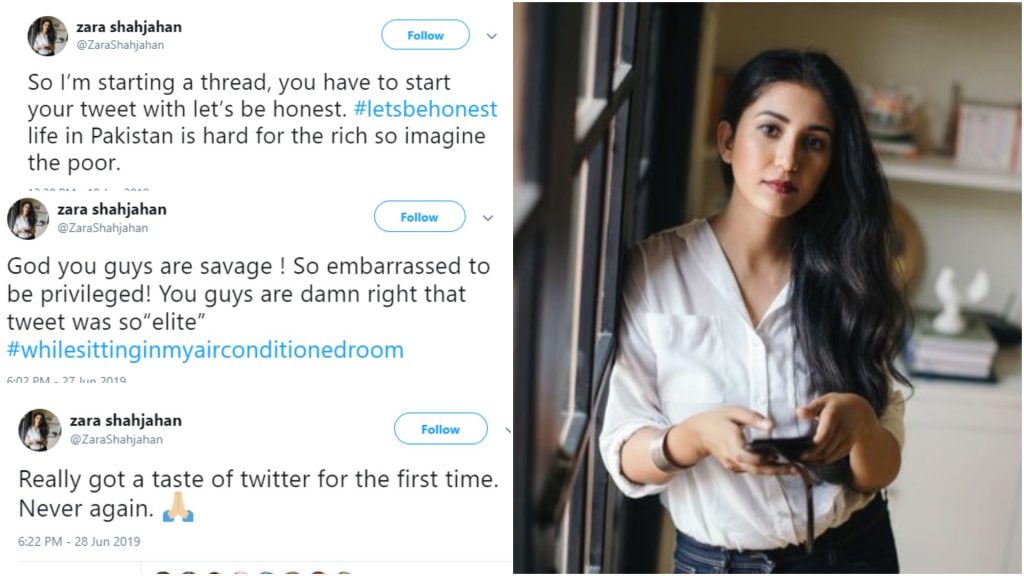 Designer Zara Shahjahan started a thread on twitter sharing how life has been hard for the rich after the inflation in hopes to get to know the harsh realities that the poor face in Pakistan:
So I'm starting a thread, you have to start your tweet with let's be honest. #letsbehonest life in Pakistan is hard for the rich so imagine the poor.

— zara shahjahan (@ZaraShahjahan) June 19, 2019
But the thread really didn't go the way she expected it to go because we know how sarcastic the the Pakistani twitter is:
Let's be honest – Inflation is hitting hard. We can no longer keep all 5 A.Cs in our home on simultaneously. Bill jo itna aaraha hai.

— Baji Please (@BajiPlease) June 27, 2019
Oh damn, French cheese!
That's true, especially since the price of French cheese has skyrocketted.

— Enkidu (@Fallibilist1) June 27, 2019
Some were also sad how the prices of their favorite cars went up:
Also the Toyota v8 land cruiser jumped from 3 crore to 4 crore rupees .. imagine how hard it is to live in pakistan now

— AkbaR (@Aakbar84) June 27, 2019
Nutella ko bhi nahi chhora:
What about Nutella? Do anyone even care about us? Life is soooo hard without it

— PTI Family (@saahirali) June 27, 2019
But people had alternatives for Nutella too!
Choco bliss all the way 😂 nutella in my market 5 6 months back was at 340 rs for that medium bottle and now its at 700 rs like bish whaaaaaaaaa

— Abdul Aziz (@AbdulAz17116454) June 28, 2019
McDonalds, why you do this?
I can confirm. McDonald's Double Quarter Pounder Cheese Burger is now Rs. 705. Things are getting out of hands.

— Baji Please (@BajiPlease) June 27, 2019
OH-EMM-JEEEE
#letsbehonest ab emirates ki jaga PIA mai travel karna paray ga

— onebrokegirl (@najeebz18) June 27, 2019
Many pointed out towards the price point of her dresses:
Let's be honest, not one poor or even a middle class can buy your dresses without thinking a thousand times of their budget 🤷 The worst part is they're beautiful af!!! 💔

— Fatima. (@gulaabjaamun) June 27, 2019
#letsbehonest I charge an arm and a leg for my mediocre dresses and had the audacity to start this thread because..daagh tou acche hotay hain 🤷🏻‍♀️

— Janaab Railu Kattay (@Biakhalidbutt) June 27, 2019
Ofcourse! When a single duppata and shalwar cost more than 10K at your outlets. I would advise you to stop projecting a traditional and cultural vibe in your photo shoots because they're so simple and nice but the price of the clothes are more than a normal person's salary.

— get out (@caremalfrappe) June 28, 2019
Your suits are an example of this. How about you design suits that are economical for everyone to wear? Your shoots always have that cultural and traditional vibe but only cater to the elite. It's sad it really is. How about you think about the poor as well?

— get out (@caremalfrappe) June 28, 2019
You sell your deadass boring plain clothes starting from 10k+. The audacity of you people I swear. IT IS hard for poor people, what are you doing in contribution to tackle that other than being so ignorant abt ur own privilege that you're complaining and comparing urself to them

— the misandrist next door (@Amnaaww) June 27, 2019
People were concerned for their maids:
#letsbehonest My maid can't afford this dress anymore. pic.twitter.com/IzyMz9lu1r

— Westworld is an excellent series. (@usmanrafim) June 27, 2019
Roti and caviar?
Let's be honest– ab toh sirf caviar aur roti naseeb hogi zindagi mein. Imran Khan tumneh zindagi haraam kar di hai. 😑

— Mein Awaara, Mein Badchalan (@Pak25596097) June 27, 2019
People were sad that they couldn't change their LEDs to OLEDs:
Just wanted to upgrade my 55" LED to 65" OLED panel. But becuz of dollar rate i am afraid i cannot afford the damn 3 lc TV. We rich are paying the real price. #letsbehonest

— Amir 🛑 (@amirjalalpk) June 27, 2019
Petition for new roads for our Mercedes Benz:
#Letsbehonest. my Mercedes Benz can't be driven on the narrow streets which were meant for rikshaws and mehrans. IK tumhein Allah poochay!

— Janaab Railu Kattay (@Biakhalidbutt) June 27, 2019
People were with her:
Yea.. i couldnt go to Bahamas this year for summer holidays.. i had to go to Seychelles instead.. very hard life for rich people like Us.. i am with you!

— Shaan Mahmood (@ShaanMahmood) June 27, 2019
People were sad how they can't go to Europe as often as they used to to de-stress themselves:
How much depression and political disturbance these days, now we have to go Europe third time this year, now it's really hard for us to afford Europe trip third time but we need peace of mind.

— Masôôd Kàmal (@imasoodk88) June 28, 2019
People were even tagging Imran Khan for the problems the rich are facing:
@ImranKhanPTI how do you sleep at night knowing the Pakistani elite can only vacation in the Hamptons for one month instead of two because exchange rate? How??

— Alizah Hashmi (@alizah_hashmi) June 27, 2019
Many people advised thetweet be deleted, but it was too late…
— No name cuz rEsPeCt (@imjustablob) June 27, 2019
Even Pringles? * cries *
Pringles went from 220 rupees to 300 rupees. Sed lyf

— 🔱 (@Broiler_Choocha) June 27, 2019
People thought the tweet was showng her rich privilege:
"life in Pakistan is hard for the rich"

Gotta feel included somehow huh

— MJ (@Mr_MJunaid) June 27, 2019
Now it's all sweaty in the bathroom:
Yaar bijli itni mehngi ho gayi hai hum nay washrooms k A.C utarwa diye hain

— 🇵🇰 (@bilal_raza24) June 28, 2019
Life really is hard:
My brother travelling in business class and spending holidays in Japan, is worried about inflation. Life is hard.

— Begum Saab (@BegumSaab) June 27, 2019
Life hard for rich wow that's a new one!

— Raja Akbar Ali (@Rmaaks) June 19, 2019
The word nashukrey was coined for people like you!

— Rukhsana Talpur (@talpur_rukhsana) June 27, 2019
Some came to her defense because people were trolling her for being an elitist:
#letsbehonest your intention behind your post was not to be elitist – you kept it real and said it like it is. Life in Pakistan is hitting hard on every socio-economic group.

— Aamna Arshad (@AamnaArshad) June 29, 2019
Some couldn't quite understand what she was trying to say:
#LetsBeHonest could you please elaborate what exactly you're trying to say?

— Maha Khan (@Maha13377468) June 28, 2019
Some didn't even bother writing anything because the comments spoke for themselves 😂
Socha kuch likun but the comments are killing it!
P.S I thought this would be about let's be honest about our blessings thread.

— Hassan Ehsan (@h1ehsan) June 27, 2019
Oh, Zara really didn't see this coming:
Let's be honest I'm sure this is not how you thought this thread would go

— Nazyams (@Nazyams) June 28, 2019
After being trolled with hundreds of comments, Zara finally realized how her tweet might have sounded elitist and she accepted her mistake. We stan a diva who accepts her mistake:
God you guys are savage ! So embarrassed to be privileged! You guys are damn right that tweet was so"elite" #whilesittinginmyairconditionedroom

— zara shahjahan (@ZaraShahjahan) June 27, 2019
She sure learned her lesson!
Really got a taste of twitter for the first time. Never again. 🙏🏼

— zara shahjahan (@ZaraShahjahan) June 28, 2019
What do you think about Zara's take on inflation? Let us know in the comments below!