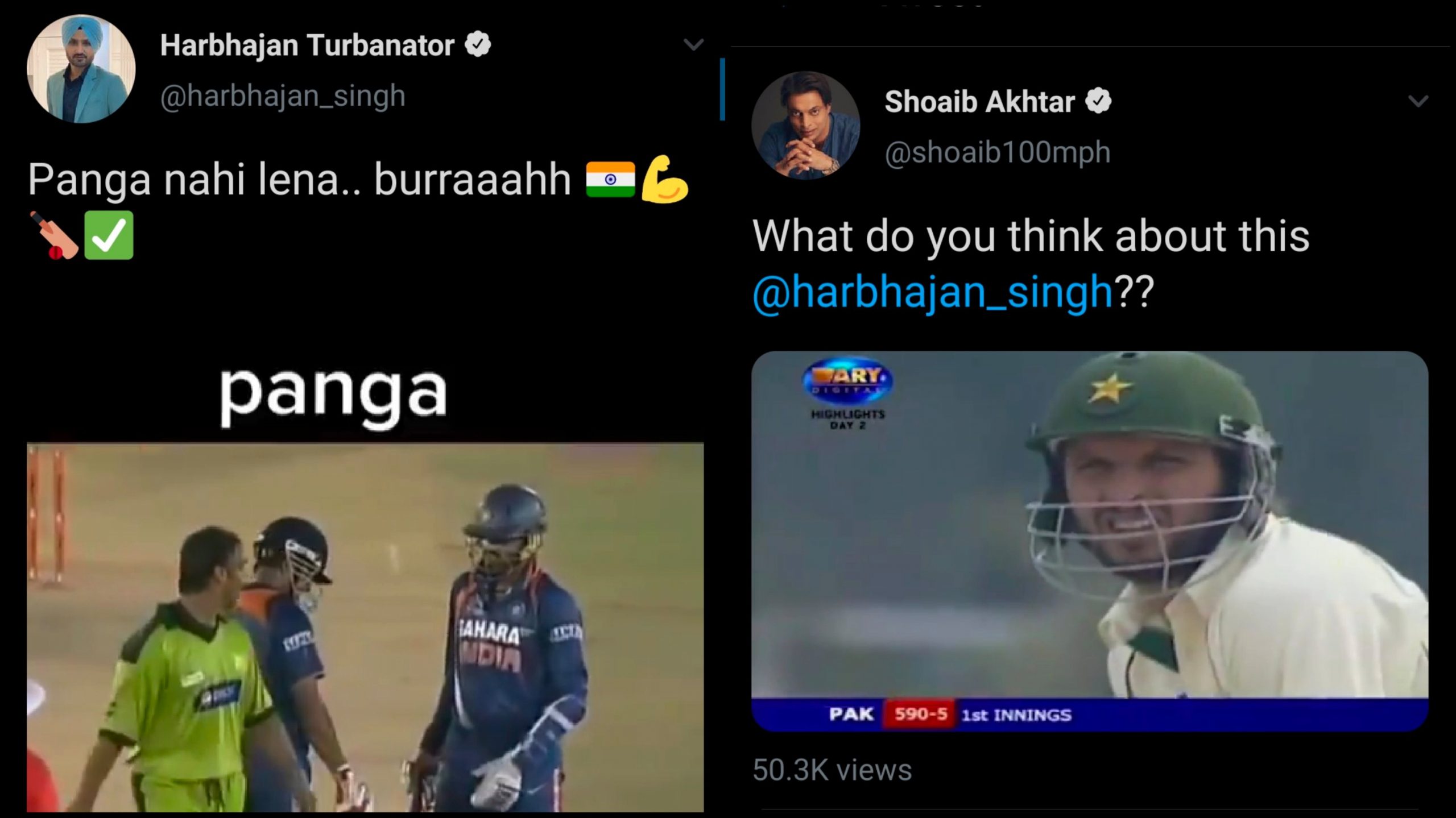 People all around the world are supporting each other by donating as much as they can to the people affected by the lock down. Shahid Afridi too appealed to everyone to support his campaign to fight the global pandemic.
Day 10 @SAFoundationN ration drive supporting struggling minorities in this #Covid19 pandemic. Ration was distributed amongst the Hindu & Christian communities in Karachi. Truly ensuring #HopeNotOut for all!
Urging everyone #Stayhometosavelives & #DonateKaroNa to the cause! pic.twitter.com/ljjvSzfDX4

— Shahid Afridi (@SAfridiOfficial) March 31, 2020
Many celebrities showed their support and helped spread the word including the Indian cricketers Yuvraj Singh and Harbhajan Singh:
These are testing times, it's time to lookout for each other specially the ones who are lesser fortunate. Lets do our bit, I am supporting @SAfridiOfficial & @SAFoundationN in this noble initiative of covid19. Pls donate on https://t.co/yHtpolQbMx #StayHome @harbhajan_singh pic.twitter.com/HfKPABZ6Wh

— yuvraj singh (@YUVSTRONG12) March 31, 2020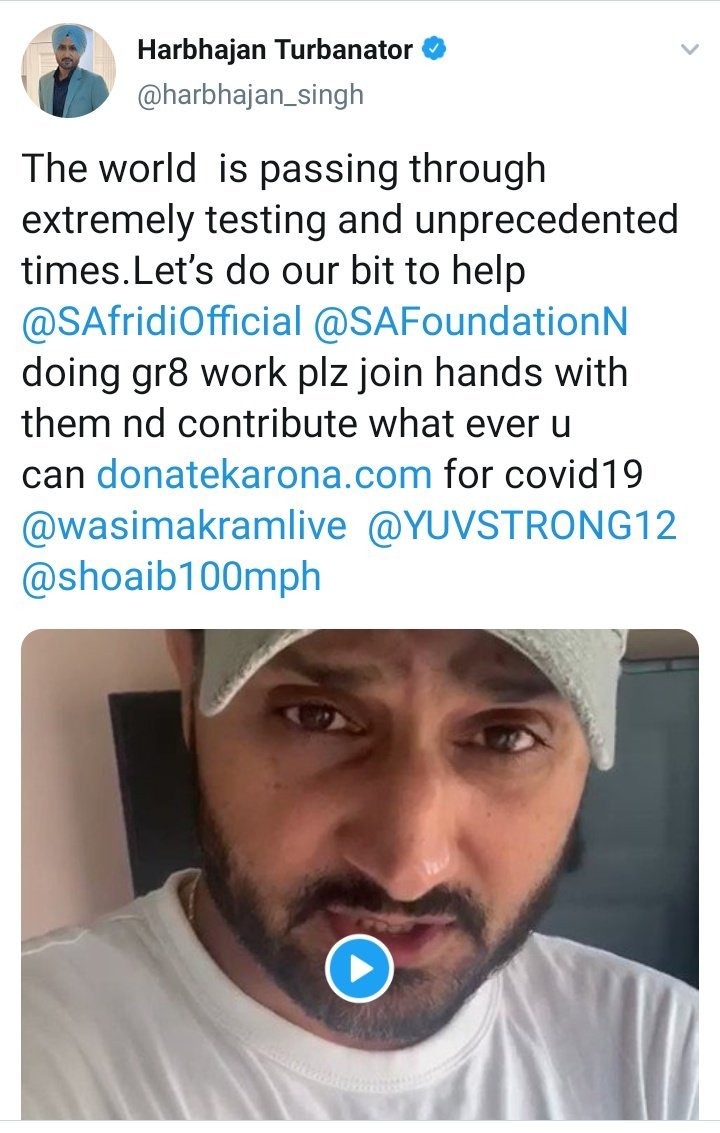 As their tweets went viral, Shahid Afridi thanked both of them for their support:
Thank you for all you support-both yourself & my brother @harbhajan_singh are huge pillars of support; this bond we have shows love & peace transgresses borders when it comes to humanity especially. Best wishes to you with your noble endeavours with @YOUWECAN #DonateKaroNa https://t.co/IVhqywdl3q

— Shahid Afridi (@SAfridiOfficial) March 31, 2020
And Indian twitter was ablaze with hate against Harbhajan Singh and Yuvraj Singh after their tweets, Harbhajan Singh however, deleted his tweet after the backlash but Yuvraj Singh did not delete the tweet and kept trending in India under the hashtag #ShameOnYuviBhajji and people were furious!
People of this country stand with you in your bad days
They always cheer for you when you feel low
But when the country facing the biggest crisis. You guys are promoting shahid afridi fund for pakistanis.
👎🏻👎🏻👎🏻 #ShameOnYuviBhajji pic.twitter.com/MXyEs5C5Zs

— Gayatri Sharma (@Gg47841873) April 1, 2020
Shame on you Harbhajan Singh and Yuvraj Singh, people of India gave you Name, Fame & all, and you are requesting People to Donate for PAKISTAN, why not for INDIA???#ShameOnYuviBhajji Big Shame 😡 pic.twitter.com/YUDCE3OygU

— Rajesh Dangi 🇮🇳 (@rajeshmodimodi) March 31, 2020
Both the cricketers lost a number of followers and were being heavily trolled after which Yuvraj Singh took to Twitter to share how the message was blown out of proportion:
— yuvraj singh (@YUVSTRONG12) April 1, 2020
And Shahid Afridi stood in solidarity with them:
Very sad to see simple messages of humanity getting misunderstood! We r ambassadors for Love & peace ,
Truly value the support extended by @YUVSTRONG12 & @harbhajan_singh for coming forward & urging people to #DonateKaroNa #HumanitybeyondBorders https://t.co/x5Uo5GUNp5

— Shahid Afridi (@SAfridiOfficial) April 1, 2020
Harbhajan Singh, however, took a different approach to things and tweeted out a video of him scoring huge sixes against Shahid Afridi's bowling:
Panga nahi lena.. burraaahh 🇮🇳💪🏏✅ pic.twitter.com/3b9KWDfRDw

— Harbhajan Turbanator (@harbhajan_singh) April 1, 2020
And while the tweet was an attempt to win back his followers, but the damage was done:
Nobody can forget what Yuvraj Singh & you have done for Indian cricket. However, you should not have asked donations for someone who thinks so low about India & Indian. #ShameOnYuviBhajji

— Rohan Bendre 🇮🇳 (@rohan_bendre) April 1, 2020
— Keh Ke Peheno (@coolfunnytshirt) April 1, 2020
— 💎 (@WellWisherOfRK) April 1, 2020
And while he was already being trolled by the Indian social media, Shoaib Akhtar too threw in a savage reply for Harbhajan Singh sharing a clip of Shahid Afridi hitting 4 consecutive sixes to Harbhajan Singh:
What do you think about this @harbhajan_singh?? pic.twitter.com/o6GfCaqDxT

— Shoaib Akhtar (@shoaib100mph) April 1, 2020
And the internet was blown away with a comeback so savage!
LOOOOL.

If I was @harbhajan_singh I would just delete all social media accounts.

He just got finished!! https://t.co/xAGs1YD7kT

— Qas. (@QAS__786) April 1, 2020
For sure!
This is halarious. Rawalpindi Express on fire 😝😝 https://t.co/ezbKCeg3rg

— Salman Hamdard🇵🇰❤ (@SalmanAfridian) April 1, 2020
RAWALPINDI EXPRESS HAS LEFT THE STATION!!! https://t.co/wH5peP4cOz

— AZHAR 🇵🇰 (@iam_azharrr) April 1, 2020
Absolutely not!
Akhtar is in no mood to take shite https://t.co/LhxN2tUkpZ

— Saahil (@saahilspeaking) April 1, 2020
People were living for it!
Loving this 😂 https://t.co/gQr02L3dEo

— Soban (@soban_azhar19) April 1, 2020
Jo baat hai:
King king ho ta ha 👑👑 @shoaib100mph #ShoaibAkhtar #101mph #waqarzakakisonlo https://t.co/kz8UGupcXt

— Maseeb Akhter (@MaseebAkhter) April 1, 2020
Pindi boy just won the internet with this come back:
Hahahahha level kr gya apna pindi boy. https://t.co/wShqUBu38F

— Hammad Armghan (@iArmghan) April 1, 2020
Emotional attyachaar 😂
Bhaijan Bs Last Mai Innings Dikha Kar K Emotional Kar Diya 😂😂 https://t.co/vGnBpvhbnD

— Downtownuk (@Koshur_ThooL) April 1, 2020
What do you think about this whole drama? Let us know in the comments below!