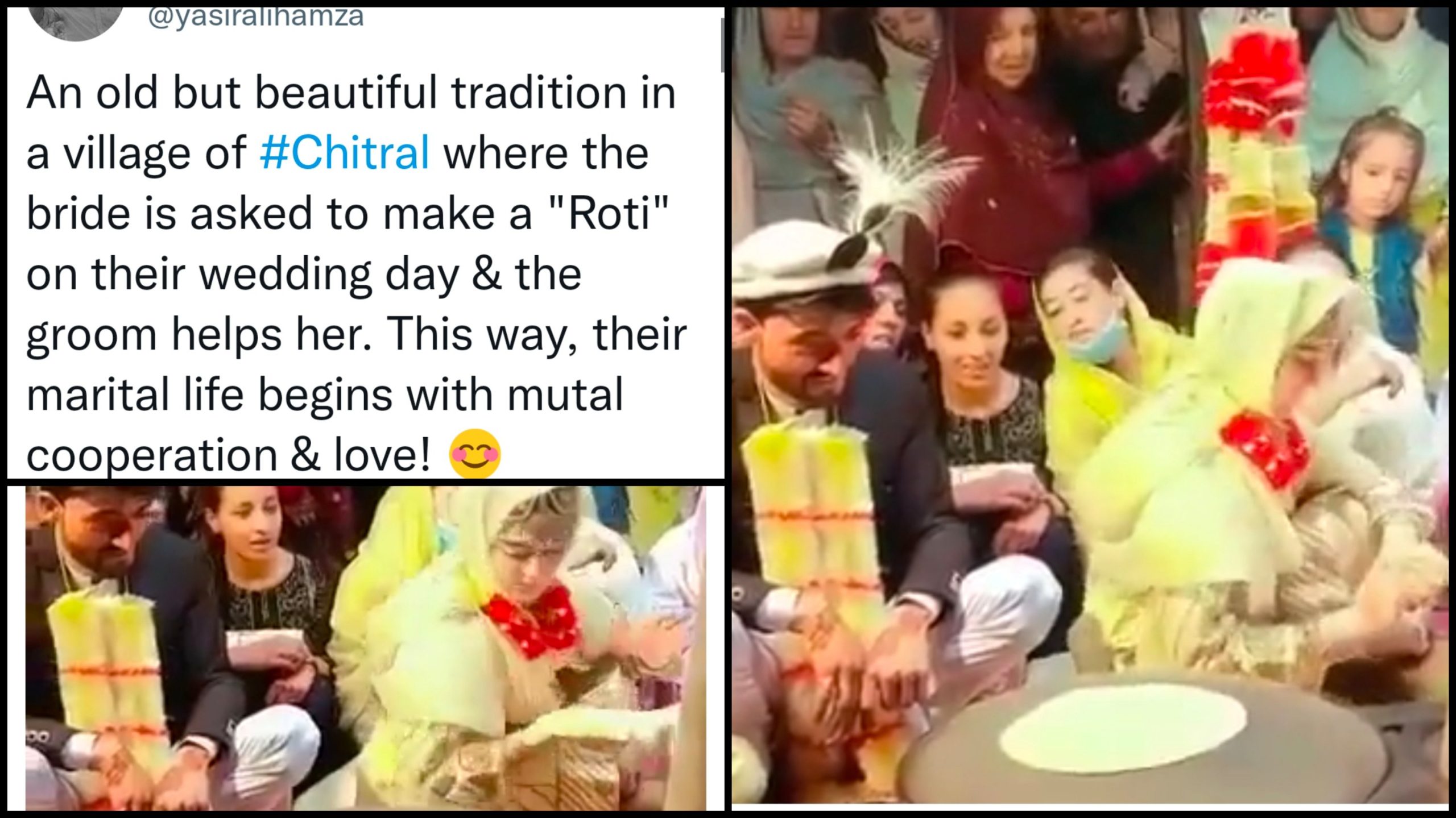 There's no perfect formula to a happy marriage, it's different for everyone and takes time and patience to make it work.
In an attempt to build mutual understanding, an old tradition from Chitral saw the light of the internet as a couple's video went viral:
An old but beautiful tradition in a village of #Chitral where the bride is asked to make a "Roti" on their wedding day & the groom helps her. This way, their marital life begins with mutal cooperation & love! 😊 pic.twitter.com/vodtxNlXVq

— HAY (@yasiralihamza) October 11, 2021
And people were divided, some found the tradition to be beautiful:
An absolutely beautiful tradition, probably the best I have ever seen. https://t.co/GQBPvjNOeb

— Irfan (@ChaudriIrfan1) October 13, 2021
Some agreed how marriages thrive with mutual cooperation:
Oh my Gosh 🙂This brings a smile to my face. When ever I am making roti my husband starts helping me just like that 🙂MashaAllah No doubt marriage thrives on mutual cooperation 🙂 https://t.co/FUtmyq7QK1

— Beenish (@b33n1sh) October 13, 2021
People were quoting other traditions from Chitral:
There's also the old Chitrali custom when two people are sharing food for one to grab one side of a roti and the other to pull from the other side so as to take half of it.

It is said to increase love amongst family members. https://t.co/KECscV2py6

— Huzaifa. (@MHuzaifaNizam) October 12, 2021
People were loving the bond!
Traditions like this r what the actual soul of any tradition should b; love, simplicity and a way of bonding. That's so beautiful and their smiles…💗 https://t.co/Wc105WjJSV

— AF (@AfAysh) October 13, 2021
People also elaborated on how this was not a normal wheat roti and how flipping it perfectly is difficult:
Ya all must know that its not wheat roti, usually its made of 3 types of grains, so flipping it can break it. Thats why appreciation followed when groom successfully flipped. https://t.co/Mad5lViVZ1

— Yaserrr. (@seditiousmusing) October 12, 2021
Basically it's know as the ceremony of twao! Local Fock songs are sung when the ceremony held its important part of the marriage ceremony

— afaqhaider (@afaqhaider2020) October 12, 2021
It sure is!
Chitral is peace and love. https://t.co/xhNbBqH3UK

— Nasir Khattak (@nasirjkhattak) October 12, 2021
People found it to be wholesome:
So wholesome!!!! https://t.co/Sz5nuYnjBz

— Gunner_14 (@SonOfAnarchy_14) October 12, 2021
It is:
We always copy others traditions and culture but forget our beautiful, wholesome and aesthetic traditions.
This is so beautiful 💖 https://t.co/ofjPthhVt4

— jalebi baby ~ (@ehehehsan) October 12, 2021
Precious!
The smile on dulhan face when he flipped the roti 😇 https://t.co/iLQisK5qkH

— ABii_khan (@ABiiii_Ahmed) October 12, 2021
Same 🤭
Thank God I don't come from Chitral else I would have failed terribly at making roti and my husband would have disowned me then and there. Phew!

P.s: this is the cutest thing on Internet today https://t.co/CcZKT9X8KZ

— Rimsha Tahir (@rumshum12) October 12, 2021
Say Mashallah!
so cute 🥺 https://t.co/EQqg0BJamq

— Sana. (@iamsanaababar) October 12, 2021
People didn't want the tradition to die:
Its beautiful
Hope this tradition doesn't die away https://t.co/95E2v7R5nt

— kaim UTMANI (@drkaim) October 12, 2021
Wish someone could hype us up like her:
That sass by the girl after throwing the roti >>>> https://t.co/zMBv8GVVTy

— Awwbdulz 🇵🇸 (@heydoolie) October 12, 2021
Men were ready seeing the amount of help required:
Itni help tou mei bhi karnay ka leyay tyar houn 🙂 https://t.co/brOKKiUX0N

— Taha (@turbopropellor) October 13, 2021
Middle ground for the win?
Han aise chalega tou ham bhi roti banana seekh lete hain🥰 https://t.co/2tQmSLOYTI

— RaniaaaaaAaaaaa (@noezrania) October 12, 2021
And while some found it to be perfectly alright, others weren't too impressed!
just beautiful how he got a standing-O for a basic motor skill https://t.co/M0aiaTg3pf

— HawkesBay (Løuche) (@HawkesBay) October 12, 2021
Shots were fired:
https://twitter.com/nofightss/status/1448035542893936640?t=jOE2Efve2mq2kd0s1V6xiw&s=19
What do you think of this tradition? Let us know in the comments below!