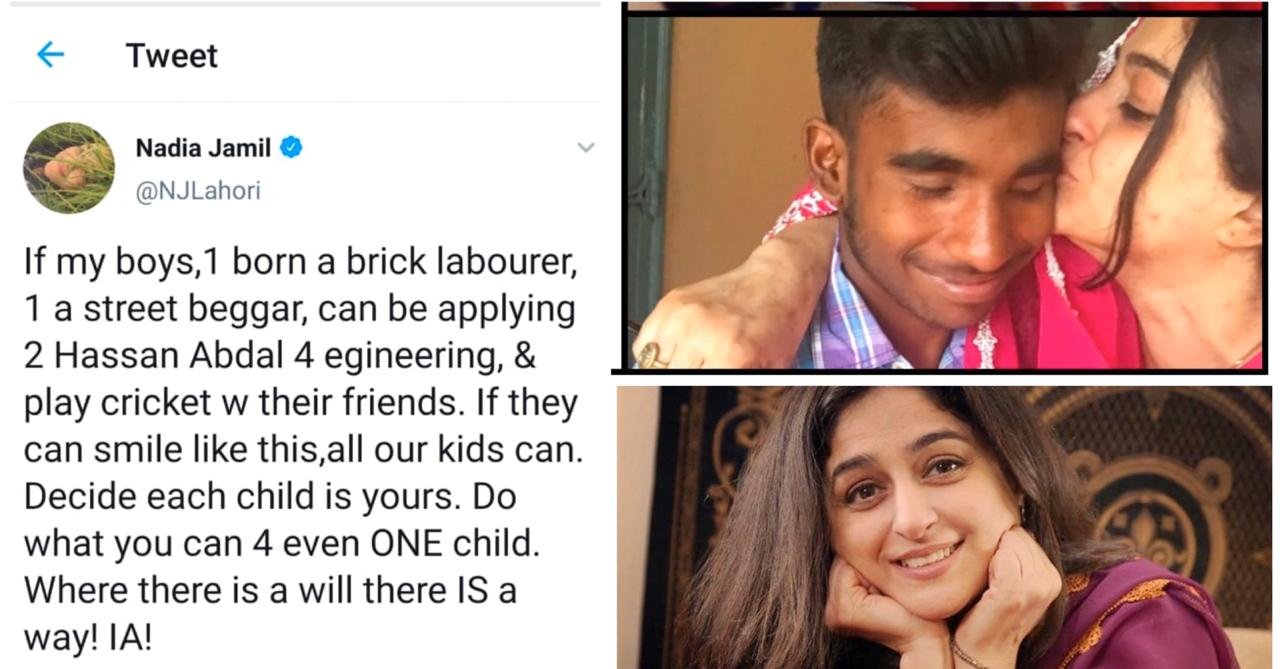 In a world full of evil, angels like Nadia Jamil are rare to find. And if you follow her on twitter, you will always find her to be very positive and always trying to make a difference for the children. Nadia shared in a tweet how the kids she had been mentoring like a mother had applied to Hasan Abdal Cadet College and how she was so proud of her boys!
If my boys,1 born a brick labourer,1 a street beggar, can be applying 2 Hassan Abdal 4 egineering, & play cricket w their friends. If they can smile like this,all our kids can. Decide each child is yours. Do what you can 4 even ONE child. Where there is a will there IS a way! IA! pic.twitter.com/PRg4XLyLwZ

— Nadia Jamil (@NJLahori) October 30, 2019
And people were inspired and moved:
Your updates spread joy in this place. May we all contribute a little to change someone's life for the better. Bravo. 🌻

— Paul (@mrithejester) October 30, 2019
It was the best thing people had seen all day:
you are an inspiration to so many of us! This made my day ❤

— chunky pandey (@blurmynamepls) October 30, 2019
Some told her how she was an angel:
May Allah bless you Nadia! You are like an angel on earth. More power to you! ✊🏾❤️

— ßushra Nasir Ahmed (@bushra_2010) October 30, 2019
But for Nadia the kids were the real angels:
The angels are the children. We are just at their service. Not enough. Never enough. Allah bless you always for your kind heart.

— Nadia Jamil (@NJLahori) October 30, 2019
People shared that if everyone could do a little something that Nadia was doing then every kid would be educated:
I am really proud of you for doing this. If every rich or even slightly rich could do this, all kids in this country would become educated and successful. You truly won my heart with this.

— Imran Jan (@Imran_Jan) October 30, 2019
It was heartwarming for many:
Heartwarming to say the least.
I hope your boy gets in and i hope they get nothing but joys in return for their courage. Inshallah. Much love💛

— pasta (@shahahax) October 30, 2019
An exemplary Pakistani woman for sure!
My salute to you Nadia. Allah bless you for changing lives. You are an example for Pakistan and the world.

Only Allah SWT will reward you for spreading this love around.

Once again. May Allah make these boys the best assets of Pakistan and bless you.

Ameen.

— Mir Mohammad Alikhan (@MirMAKOfficial) October 30, 2019
You are a example Nadia.❤️

— sarahamtulnoor (@sarahamtulnoor) October 30, 2019
Even Fakhr-e-Alam expressed how Nadia always inspires him:
You are a champion of goodness, kindness and above all love. Bless you. So proud of you. What an inspiration you are.

— Fakhr-e-Alam (@falamb3) October 30, 2019
Nadia also shared how this was something that everyone should do for the kids:
🙏 Am I? I don't do as much as others. I just share the little I do. And I want so much we all realise how much power each one of us has to bring love and positivity to a child's life.

— Nadia Jamil (@NJLahori) October 30, 2019
It sure is:
This is the most beautiful photo ever!!

— Maria Ashraf (@ashrafmaria01) October 30, 2019
Aameen!
May God bless them with bright future.

— Emmanuel Guddu (@emnpk) October 30, 2019
People were lauding her for her kindness:
Serving humanity is the most most n most important act which our religion has taught us, and I personally appreciate your acts, and u have proved it, Maa Sha Allah. Wish u always best of luck.

— Abdullah (@major_jan) October 30, 2019
People were moved:
That pic of you tearing up with your son….beautiful.
❤

— Joe Tipps (@TippsJoe) October 30, 2019
Not only its Sadqa Jaria but also so pleasant and Satisfying at the same time….
Pagli rulae gi kia…. khush reh…abaad reh….

— Faiza Shahbaz (@FaizaShahbaz9) October 30, 2019
Tears in my eyes…
May Allah shower His bounties on you.

— Abdul Razzaq (@Razzaqpk) October 30, 2019
They definitely will read about her in the history books, this woman is no ordinary woman!
You are one of a kind Nadia Jamil. I envy you and admire you. Not only do you help 100's but you also inspire 1000's. Maybe my grand children will read about you in the history books.

— Umar Sheikh (@LBSumarsheikh) October 30, 2019
Many wanted to be just like her:
Nadia we need more people like you.
We proud on you and at least I'll try maximum to perform like you. Inspired to see you. Lot of love and respect.❤️ ✊

— Ch. Arslan Zafar (@Arslanzffar) October 30, 2019
What an inspirational act….bohot kich sikha dya apney

— asadsherazi (@Asadsheraziasad) October 30, 2019
People had nothing but kind words to offer:
اس پر اتنا ہی کہوں گا سلام ہے آپ پر اور آپ کی سوچ اور اپنی سوچ کو عملی جامہ پہنانے پر کیونکہ اچھا سوچتے یا نیت تو تقریباً سب ہی کرتے ہیں مگر عملی اقدامات کم ہی لوگ کرتے ہیں اللہ سب کو مسکراہٹیں تقسیم کی توفیق اور ہمت دے آمین pic.twitter.com/Qw2AiHvKpA

— Qasim Abbas (@AbbasSukhwal) October 30, 2019
I wish we all could:
I wish I could do something like you one-day. Allah bless you with lots of happiness and peace of soul. 🖤🤗

— Saadia Baloch (@SaadiaBalouch) October 30, 2019
Many admitted how it was the best thing they'd seen all day:
Oh my God, this is the most beautiful thing I e seen on internet today. You're doing a real service to humanity at par with Edhi Sahib. May Allah bestow upon you His eternal blessings Nd stay happy always… Ameen!

— قدسیہ (@Qudsiya30155905) October 30, 2019
Some came forward to share similar stories of them mentoring children:
Admirable Nadia. I too adopted kashif and shahida 2 years back. Guided them literally sitting on their heads to make them learn. The girl got 75 %in 9th. Boy flunked chem n physics. Excelled in Eng.
Now due for 10th exam in Mar. Pondering boys future IF he passes metric. Help.

— nyla daud (@daudnyla) October 30, 2019
Someone suggested that she makes her on Youtube channel to educate others on how to help these children:
Nadia have a heart of gold. Please make your own YouTube channel and upload the things you doing that will be example and motivation for others

— Rex Jan (@RexJan1) October 30, 2019
Be the change you wish to see:
Masha'Allah. I wish if just 0.1% of our people think like the way you do, we don't even need to expectations from any Government.

— Asif Hanif (@Asif_hanif) October 30, 2019
And while many were appreciating her gesture, there were some who thought it was a gimmick for popularity and umm, we're looking for logic here:
It's nice and good but it seems a gimmick to get cheap popularity. If you think you did something good for them, don't hurt their self-respect by mentioning, again and again, a street beggar…….

— Raheel Aslam (@RaheelA40947335) October 30, 2019
But Nadia shared how she was just a proud mum sharing her son's achievements and how it could inspire others too:
You are wrong :)🙏There is no cheap gimmick in sharing my sons life. One day he will tell the world about the odds he over came. One day he will lead by example. Im just a proud mum. & there is always the hope that instead of being mean about my intentions,you do the same 4 a kid

— Nadia Jamil (@NJLahori) October 30, 2019
What use is popularity?What I do relish is love & respect. But I give it as well. My boys are an example. You can change a boys life also. I share to let you know that it CAN be done. A child doesn't need to beg or be an orphaned slave. YOU & I are the difference in their lives🙏

— Nadia Jamil (@NJLahori) October 30, 2019
Nadia also went to tweet how people can find the ugly in almost everything:
How interesting that even in an act of love some people look 4 an ugly intention.
It is simple. You do not have 2 adopt a child if you do not want 2. But you CAN mentor 1. There are many children in orphanages,on the streets,many underprivileged children needing positive mentors!

— Nadia Jamil (@NJLahori) October 30, 2019
And this is exactly why we all can pick a little something from Nadia Jamil and try helping the children around us in whatever capacity we can. Here's to hoping that more and more people learn from her!
How inspired are you today? Let us know in the comments below!