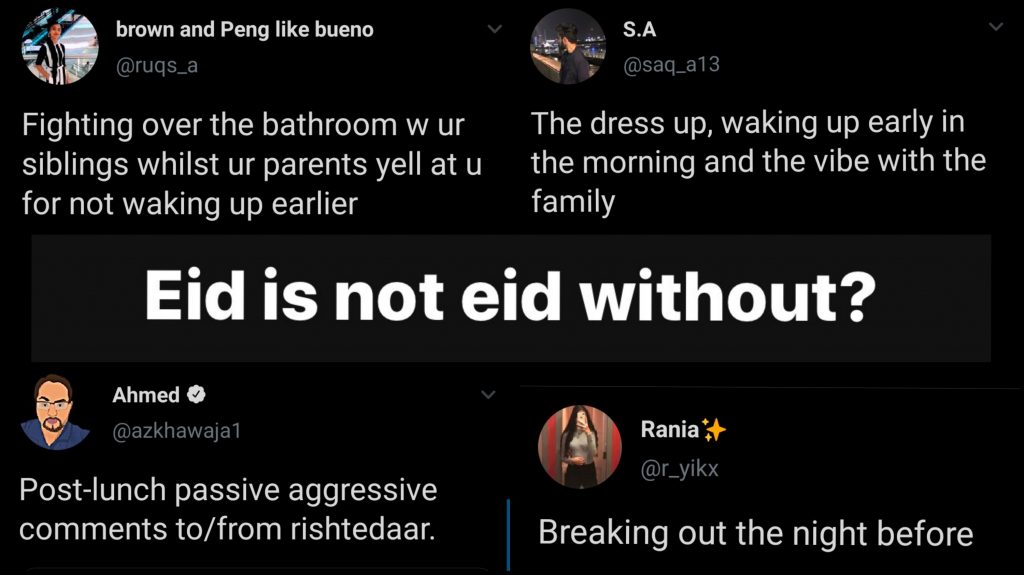 There's always that one thing that completes your Eid and makes it so much more memorable, be it always running late to the Masjid or struggling to put a naara in your shalwar, the internet has tons to share!
Having seviyan for breakfast https://t.co/crlAEXeOu0

— 𝐌 (@maari_iq) May 19, 2020
Jo baat hai:
Amma ke mood swings 😏 https://t.co/Y7ZClS4PMR

— Ashar (@_ashar_ch) May 19, 2020
All desi families every year!
Changing the living room curtains the night before. https://t.co/Jnjv1541aC

— Ru (@WhoseMswayd) May 19, 2020
And then deciding how they'll wake up in time next year 😂
the whole family waking up 30 minutes before Eid Salah and then all kicking off bc you're all running late https://t.co/nPR1kLTnT2

— Mujahid (@muji1221) May 19, 2020
Absolutely!
Taking a quick nap after prayer! That shit be hitting differenttttttt! https://t.co/pmeMhC2qmU

— QasaQasa (@QasaQasaTv) May 19, 2020
It just hits different:
The dress up, waking up early in the morning and the vibe with the family https://t.co/vqSBcUQjfc

— S.A (@saq_a13) May 19, 2020
Oooof, and us on the verge of answering them back 😡
Post-lunch passive aggressive comments to/from rishtedaar. https://t.co/gWgzkj12Qw

— Ahmed (@azkhawaja1) May 19, 2020
Yeh toh her saal ki kahani hai:
Fighting over the bathroom w ur siblings whilst ur parents yell at u for not waking up earlier https://t.co/Sc3E1MD3tY

— brown and Peng like bueno (@ruqs_a) May 19, 2020
Bus 5 minute:
The stress of doing your makeup in time cuz your family have no patience and threaten to leave you at home. https://t.co/3Sk55gKKW9

— H⁷🧸 (@seokjinoods) May 19, 2020
Makes us so mad!
Breaking out the night before https://t.co/uZwRcZYzl3

— Rania✨ (@r_yikx) May 19, 2020
Always having the times of our lives at the grand daawat!
The whole family meeting up at your grandparents house https://t.co/LnYH1tfI9k

— N💕 (@x_naimak) May 19, 2020
Yum!
Badam varu milk in the morning https://t.co/gsEakkjJ1i

— fahim (@f_munshi__) May 19, 2020
10/10 can relate!
My dad waking up at 5 AM all ready with his suit and his koofi screaming "Allahu akbar Allahu akbar walilahil hamd" on full blast https://t.co/R0JonEtng1

— sabs (@sabsahm) May 19, 2020
The struggle is real folks, but don't worry, you ain't hugging nobody this year!
Hugging someone 3 times and going in the wrong direction https://t.co/SwIxlUpscY

— was 🍔 (@waskhalifa_) May 19, 2020
But guess who'll be looking snatched? Us!
Me still at home doing my makeup while everyone's at my grandma's, and then facing comments about how it took me hours to paint my face https://t.co/mRDDhTxFCu

— khansa🧚🏼‍♀️ (@khansaasif3) May 19, 2020
FACTS!
waiting for the males in the family to come back from eid namaaz to go get your eidi https://t.co/O05UHxGm1A

— nn (@namrhaaa) May 19, 2020
I swear!
Having mental breakdown before finding the right eid outfit https://t.co/hFgYjy4fYr

— ☁️ (@samiyaahmed__) May 19, 2020
Is bar toh milni bhi nai hai:
Ammi taking away all of your eidi. https://t.co/8tPN9qNrOA

— Biya Ali Zaib. (@BiyaAli9) May 19, 2020
Everyyyy time!
Someone going into Ruku on the first takbeer of the first rakat on Eid salah. https://t.co/pFbPpm4TqI

— AQ (@Aliyann_1) May 19, 2020
Watching people go into ruku instead of raising their hands when the imam says the Takbir https://t.co/ksrsikyQxN

— Saif (@sxif01) May 19, 2020
Bruh, elite!
These bad boys https://t.co/kfuJcX4k0P pic.twitter.com/t6f7Zaq3zm

— fotha bala szn (@abdulsamad_) May 19, 2020
Can relate!
Getting shouted at to wake up https://t.co/c5w6Z9ju6X

— nahida (@nahida_ix) May 19, 2020
Family being dysfunctional and yelling at each other @ 6am https://t.co/2qIqBSNyYw

— Hamdiii (@hxmdii) May 19, 2020
It's not that simple, dad:
My Dad coming home from Eid prayer and saying 'STILL NOT READY' to me, my mum, and sisters 🤣 https://t.co/IscPzPxzwR

— KHODU (@turtlexo) May 19, 2020
And us liking them all!
The tl being filled with everyone's eid pictures https://t.co/Z3XlVZnUwY

— Fiza (@Fizaaaxo) May 19, 2020
We all have one 🙄
That male cousin who ask or batao kitny rozay rakhay hain 🙂 https://t.co/31Hh4ka7RU

— madihahahahaha. (@Leo_girl001) May 19, 2020
Well obviously the one who woke up first:
whole fam arguing abt who gets into the shower first https://t.co/BUZWOfMY2F

— 🕊 (@Tassnemx) May 19, 2020
On the bright side, you can try a few styles to shop for next time:
Seeing a hundred pairs of shoes in your hall way because your entire family have come over🥺😭 https://t.co/AKsrvquNhp

— FILSAN.👑 (@F_hxsa) May 19, 2020
But you fasted the whole month to learn discipline…
If I'm at the masjid and I see a nice pair of eid creps their mine now 😏😈 https://t.co/hl5RocigQk

— Asquared (@Asquared1234) May 19, 2020
Eid-ception!
Eid. It's not Eid if it's not Eid. https://t.co/S2QuIcjasx

— Mangogh (@ManhattanMango) May 19, 2020
What makes Eid special for you? Let us know in the comments below!