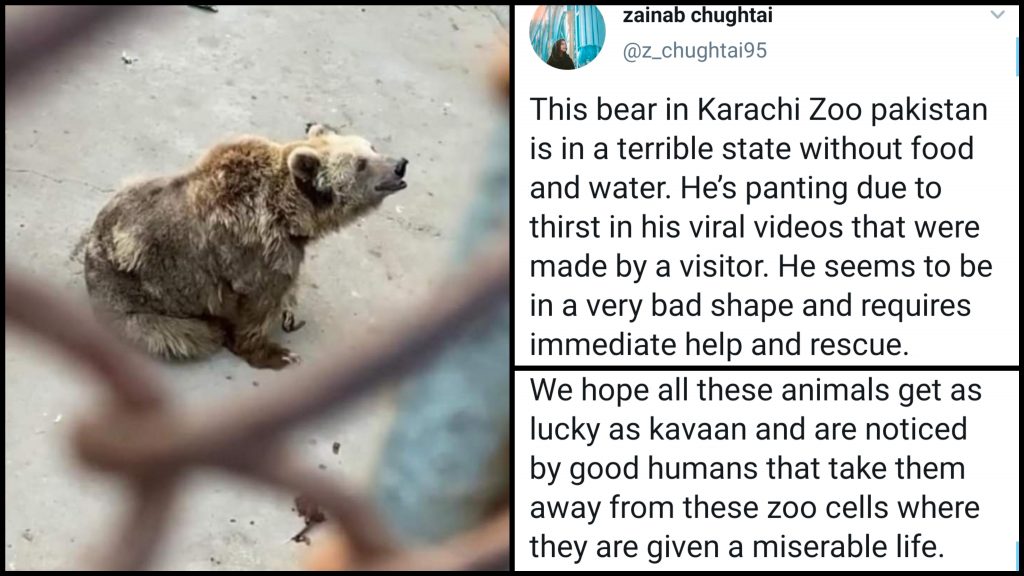 Few months ago people were celebrating elephant Kaavan's freedom from the miseries of the Islamabad Zoo. And today people are praying for a parched bear in Karachi Zoo to be rescued.
This bear in Karachi Zoo pakistan is in a terrible state without food and water. He's panting due to thirst in his viral videos that were made by a visitor. He seems to be in a very bad shape and requires immediate help and rescue. pic.twitter.com/PfV8yq81iq

— zainab chughtai (@z_chughtai95) September 28, 2020
Here is the video evidence. PLEASE DO SOMETHING, PLEASE. pic.twitter.com/zv0ERd1D7i

— zainab chughtai (@z_chughtai95) September 28, 2020
Pictures and videos of the thirsty and frail looking bear from Karachi Zoo have been going viral on social media, and people have a lot of questions:
can't believe it's 2020 and we still have zoos. if god's wrath is inevitable it should have already come upon us for the mere reason of how we have treated the planet and its inhabitants. sharam aani chahye. https://t.co/raHnTEorn3

— فمٹنومی (@sareerekhaama) September 28, 2020
Actress Armeena Khan asked for help:
Here we go again 🥺 This time it's Karachi zoo. This poor bear is thirsty, extremely hot and probably very, very hungry. The poor creature will die if something isn't done for it. Please help 🙏🏻 #savethebear pic.twitter.com/Zuoy401XiI

— Armeena 🦋 (@ArmeenaRK) September 28, 2020
Actress Mashal Khan took to her Instagram to share that there's a petition being filed to save the bear:
Actress Anam Tanveer too questioned the management:
A girl shared fitting words from Prophet (PBUH):
I would write Animal lives matter, but then I rather remind all you "good Muslims" these words of Prophet of Mercy (pbuh)— "Fear God in regards to these animals who can not speak their will…" ( Sunan Abu Dawud ) https://t.co/2VMpQP9CEp

— ChaiNotCoffee (@ChaiNotCoffee) September 29, 2020
People were sharing how its not just this bear that's miserable, but almost every other animal at the zoo:
This bear is only one you saw- I went there and all animals were in similar state- they put up multiple grills with small holes so nothing can be given to the animal from outside- I was able to find the ostrich cages without roof so gave them bananas which she ate happily

— Jibran Syed (@onlyjibran) September 29, 2020
People wanted to help:
Someone help this poor thing😥 https://t.co/JCuF0htOPY

— Azra Naqvi (@Azrantings) September 28, 2020
Many believed that zoos must be banned:
ZOOS NEED TO BE BANNED!!!! IN THE MEANTIME PLEASE WRITE MULTIPLE COMPLAINTS TO THIS ZOO AND HELP SUPPLY THE CLEARLY FAMISHED ANIMALS WITH FOOD AND WATER. the zookeepers and the management are a disgraceful excuse of human beings https://t.co/8hXU4tM8fH

— the refoolening (Shame on You pt. 2) (@fancyfrie) September 28, 2020
Ban all zoos of Pakistan please khuda ka khof Karo kuch https://t.co/ufVe4T9a4W

— n (@NahalZohra) September 28, 2020
People could barely look at the feeble state of the bear:
FUCKING HATE ZOOS. man. look at this poor bears state. FUCK the imbecilic pakistani zoo authorities. WILD ANIMALS DO NOT BELONG IN CAGES. THEY DO NOT BELONG IN ZOOS. all zoos should be closed down. it's fucking 2020 and seeing animals in cages brings us joy??!? pathetic. https://t.co/W94rvSsldm

— poetato (@MahRukkkkh) September 28, 2020
True:
Previously we have never had a good history of taking care of exotic animals. This one should be taken care of immediately and sent to it's natural habitat https://t.co/OsaT8lWTNK

— Karachi_mommy (@RandomBytes1) September 28, 2020
We keep wondering the same:
We don't have enough resources to provide for the humans living in this country. I don't know why a place like zoo makes any sense in this country https://t.co/O9u4Syw3Zr

— خان صاحب (@aware__wolf) September 28, 2020
Please!
Stop animal Abuse in Zoo …🙏🙏 https://t.co/TaqdGJRRmT

— Bilal FAREED Khan (@BF_KhanMughal) September 28, 2020
Sigh!
یہ وہ قوم ہے جو ایک چڑیا گھر نہیں چلا سکتی، اس نے کیا خاق ملک چلانا ہے https://t.co/Y9Z5xBdkpd

— Abdur-Rehman (@sheikhgr88) September 28, 2020
Many were wondering what's the point of zoos if they can't take care of the animals:
Deplorable. What's even the point of zoos if they're doing the exact opposite of taking care of animals, let alone helping them in any way? https://t.co/MCqnUaFGo7

— icy (@Nobodysherebye) September 28, 2020
People were furious!
Hum to janwaron ko zindagi jee rhe han, yahan to janwaron ki zindagi bhi azaab ki hue hai https://t.co/AUT0U94qEt

— Fred (@Sarstien) September 28, 2020
People were disgusted:
Disgusted by the video of a panting bear in Karachi zoo right after seeing the news of Pakistan being honoured as the Champion of Nature. I urge @ImranKhanPTI to take initiative by sending these animals back to wild & bring an end to the zoo culture in Pakistan#BanishZooCulture

— Munazza Sikandar (@ImMunazzah) September 28, 2020
People were concerned:
This bear is in terrible state, without any food or WATER!
And that too, in our own Karachi zoo.
I think we should change the statistics of World Hunger, including animals in the counting too…. #savethebear #karachizoo
Location: Karachi, Pakistan. pic.twitter.com/5uj8umJsj8

— Riza Siddiqui (@Riza_Siddiqui) September 28, 2020
People were demanding accountability:
Absolutely disgusted and disappointed by the atrocities occurring at Karachi Zoo. ACCOUNTABILITY IS A MUST! #shutkarachizoo #holdofficialsaccountable
We must come together and be the voice for the voiceless innocent animals that are being treated like this 🙏 pic.twitter.com/ngdco2bHtj

— Yahya Ahmed Nasikwala (@itsyahyaahmed) September 28, 2020
There's been a constitutional Petition being filed and here's how you can help the cause:
Going forward with this to all the people concerned about the bear in #karachi zoo kindly tweet reshare forward and join the petition let's do this. @SundusRasheed @peta @SindhCMHouse @eleuthromaniac7 @afiasalam @ZarrarKhuhro @WaseemBadami @WaseemAkhtar90 @WasayJalil pic.twitter.com/44BrPbGTam

— FK (@faisalkapadia) September 28, 2020
Have you signed the petition already? Let us know in the comments below!