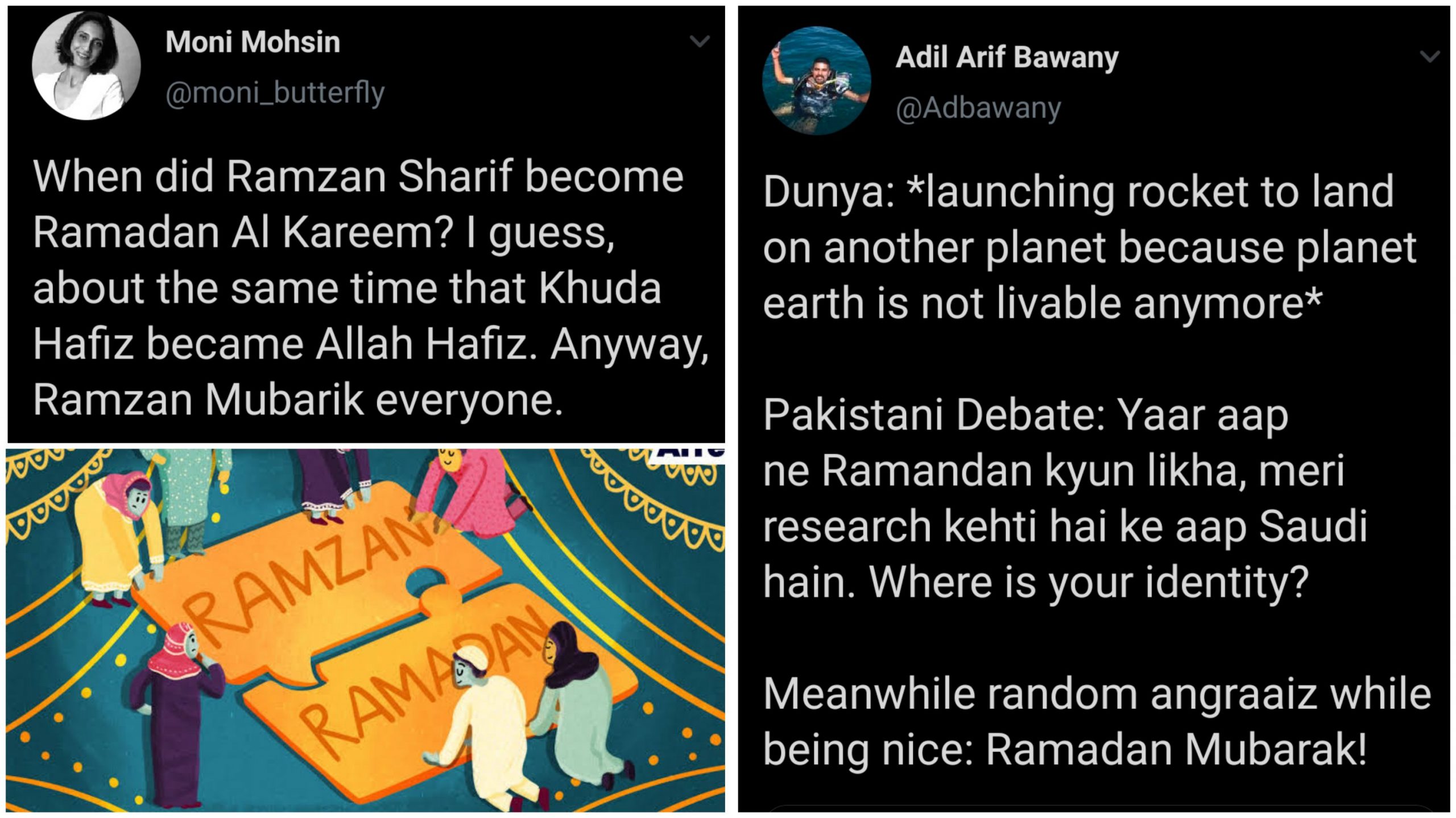 It's not Ramzan on Twitter until some boomer decides to question the change from Ramzan to Ramadan every year, and every year desi twitter loses its patience trying to settle the debate!
And this year is no different:
When did Ramzan Sharif become Ramadan Al Kareem? I guess, about the same time that Khuda Hafiz became Allah Hafiz. Anyway, Ramzan Mubarik everyone.

— Moni Mohsin (@moni_butterfly) April 24, 2020
And people presented their reasons:
Farsi vs Arabic
Ramzan Mubarak and Ramadan mubarik to you😎

— Siddiqa (@salaamay) April 24, 2020
Uh oh, we still call it sehri, will the world accept us?
You are way out of date. Sehri is now Suhoor. Just concerned that you invalidate your fast with poor terminology

— Haroun Rashid (@HarounRashid2) April 24, 2020
People were sharing similar changes:
And thank you became Jazakallah. Ramzan Mubarak.

— Shazina Masud (@shazinamasud) April 24, 2020
Jazakallah khairun, to be complete

— Naveed Qazi (@Sainbasha) April 24, 2020
For some Khuda Hafiz turning into Allah Hafiz was more worrying:
Khudahafez turning Allahafiz is more irksome and has a darker history as it's originally a Persian greeting. On the other hand we should end this annoying debate about Ramadan vs Ramzan as long as everyone is free to express it the way they like without judgements.

— Sana Quadri (@QuadriSana) April 24, 2020
Some were just done with it!
Grow up. I thought we left this debate in 2018.

— Saara Zara (@SaaraZara) April 24, 2020
Dunya chand pe pohanch gayi aur hum yaheen ke yaheen hain:
Dunya: *launching rocket to land on another planet because planet earth is not livable anymore*

Pakistani Debate: Yaar aap ne Ramandan kyun likha, meri research kehti hai ke aap Saudi hain. Where is your identity?

Meanwhile random angraaiz while being nice: Ramadan Mubarak! https://t.co/e8AVQ93hRw

— Adil Arif Bawany (@Adbawany) April 25, 2020
Yes please!
Phaleeez !!! Can we move in to more significant matters pertaining to #Islam than 👇🏼 https://t.co/xzjVHSkIX7

— Rabee'a Abrar ربیعہ (@rubiaabrar) April 25, 2020
Quarantine's really been getting to us:
Quarantine day 69 : https://t.co/NFtGJOGyph

— Hassan Cheema (@Gotoxytop1) April 24, 2020
O-kayyyyy…
Great cultural and intellectual contribution and normative discourse by libs and cons of Pak! The threshold is way too high https://t.co/rEDjLYavwt

— alien sad be nice pliss😭(corona F-16 lawyer) (@umertoor) April 25, 2020
Some were asking the real questions!
Har saal yahi sawal hota hai. Koi jawab kyun nahi deta?? https://t.co/s4WLt2jMK7

— ozy (@LahoriElite) April 24, 2020
Some came straight to point, no crap!
What's wrong with Ramadan Kareem and Allah Hafiz? Do some research to help your two braincells. https://t.co/s047CV7zd1

— Aabaan (@alphaabaan) April 24, 2020
Lol 😂
Since Sharifs were ousted… https://t.co/puLaKxahhN

— Usama Khawaja (@Usamaakhwaja) April 24, 2020
Some were upset:
we have no issue if we speak English but we are hurt if people use Arabic. Pathetic https://t.co/fEGmOUkohU

— Ustaad ji stay home (@mohsinraza_88) April 24, 2020
FACTS!
Same rant, every year, over and over again — its not even interesting any more.
LET PEOPLE CALL IT WHATEVER THEY WANT TO. Period. https://t.co/kqPY0xZxuc

— Micky (@mickdad_m) April 25, 2020
Some actually had an answer:
Ramadan Kareem is more recent. It can be traced to Etisalat's acquisition of PTCL in 2006. PTCL's TV ads started mentioning Ramadan Kareem. https://t.co/5lEudurIpd

— Fuad Khan (@fuadikhan) April 25, 2020
About time someone said it:
As you've started already then it's mubarak, not mubarik https://t.co/UloFk2LMvv

— Linkin dark (@cyberchiller) April 25, 2020
When did mubarak become mubarik? https://t.co/A2ehiX0rMx

— Samir (@rajaanx) April 25, 2020
Exactly!
I think it's mera Ramzan meri marzi thing. Ramzan & Ramadan have the same meaning, so what's the issue?? https://t.co/8DE5C8Kva2

— Haroona Gul (@kha_nu_biaa) April 24, 2020
True!
Why do people have objections on others saying Ramdan Al Kareem or Ramzan Mubarik? I never found it awkward to use these two terms, same is the case with Allah Hafiz and Khuda Hafiz. If people want to say it in the language of Holy Prophet (PBUH), how can we judge them? https://t.co/QxBZ5mQDZv

— MM (@madridista_momi) April 24, 2020
Some were just not having it!
Harr cheez se masla hai loogon ko yahan tou, matlab sakoon se saans lelou yaar https://t.co/xbGSl0UNWh

— Ahmed (@AhmedDamn) April 24, 2020
Did this settle the debate for you? Because we do not want to see this question next year! Let us know what you think in the comments below!