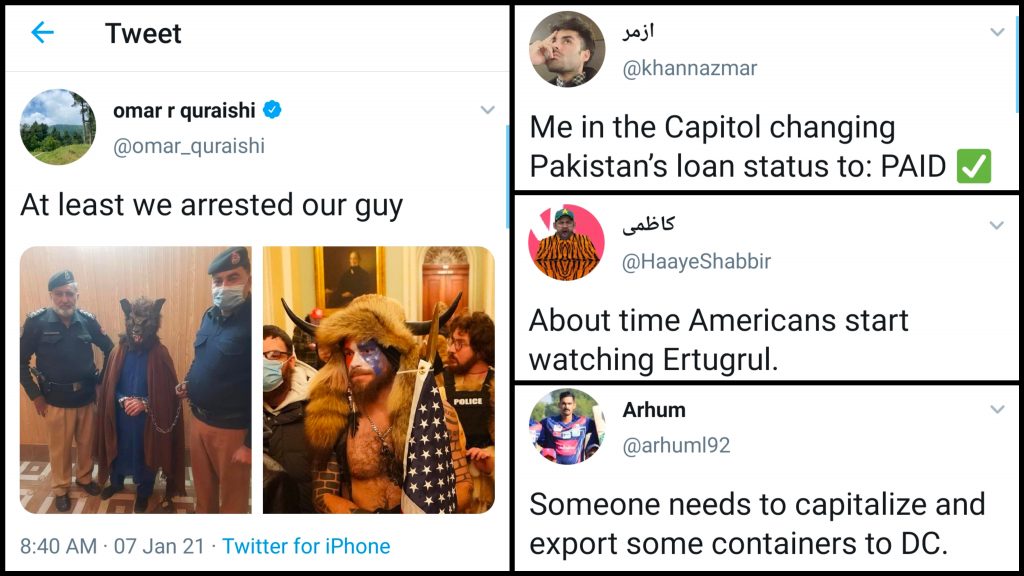 A crowd of agitated Trump supporters broke into the U.S. Capitol building in Washington last night, storming into congressional chambers and even invading the office of House Speaker Nancy Pelosi.
With live updates, the world watched the US Capitol burn as the angry mob destroyed everything that came in its way. And the netizens all around the world are having a field day churning memes!
🇺🇸: 🇵🇰: pic.twitter.com/bx9kYNbAHF

— فاطمہ عرفان (@fatimairrfan) January 6, 2021
Even the Indians couldn't hold back:
🇺🇲 🇮🇳 pic.twitter.com/1xQHWw4XOg

— Robert Winston (@ImRobertWin) January 7, 2021
YES SIR!
Me in the Capitol changing Pakistan's loan status to: PAID ✅
pic.twitter.com/GtCtC5ACBh

— ازمر (@khannazmar) January 7, 2021
Lmao 😂
Same energy https://t.co/2UU9Oun63O pic.twitter.com/oSIfiaNLFJ

— الکاظمی (@abdur_rehman26) January 7, 2021
He saw the opportunity, he went for it!
Someone started selling chicken and fries during protest at US Capitol pic.twitter.com/UiZews9fmY

— Norbert Elekes (@NorbertElekes) January 7, 2021
ROFL!
Dc protest report from D chowk pic.twitter.com/W9ZJQRSAdk

— Bila (@SuspendedBila) January 7, 2021
Oops 😂
It's time for Pakistani embassy in USA to issue advisory to its citizens in USA. 😅😅😅

— beskut (@iffiViews) January 6, 2021
Uhhh…
BREAKING: Batman has arrived. pic.twitter.com/LwsVGtxzQZ

— happy wizards fan (@pl0coon) January 6, 2021
Bye!
19th century European archaeologists in Egypt be like: pic.twitter.com/UTdetfNiAc

— Dr Nicky Nielsen (@N_Nielsen4) January 6, 2021
Seekho kuch humse:
At least we arrested our guy pic.twitter.com/ZrETIotGia

— omar r quraishi (@omar_quraishi) January 7, 2021
Pakistanis were ready to send in our hero!
If usa wants help we can send out one and only hero of the battle of Gulshan-e-Bagh. One man will control it all. Ek baar azmaish baar baar farmaish bolo chahye? @realDonaldTrump pic.twitter.com/1RpyQlTT8q

— read my 📌 tweet asap (@fay_alif) January 6, 2021
😂
About time Americans start watching Ertugrul.

— کاظمی (@HaayeShabbir) January 6, 2021
Is it not?
IS THIS A FIELD TRIP pic.twitter.com/vBfX2mN9OS

— hot girl lanie. (@elanbinn) January 6, 2021
Bruh!
Who did it better? Miss Venezuela or MAGA Bro? pic.twitter.com/b1MdRojXCW

— Ozy (@LahoriElite) January 6, 2021
🙊🙊🙊
Is this what happens when you run out of countries to carry out coups in?

— Osman Samiuddin (@OsmanSamiuddin) January 6, 2021
Like that guy who was selling chicken fingers:
Someone needs to capitalize and export some containers to DC.

— Arhum (@arhuml92) January 6, 2021
Nope!
is there any non-American who is NOT enjoying this?

— Rants (@RantsPakistani) January 6, 2021
What do you think of the memes? Let us know in the comments below!