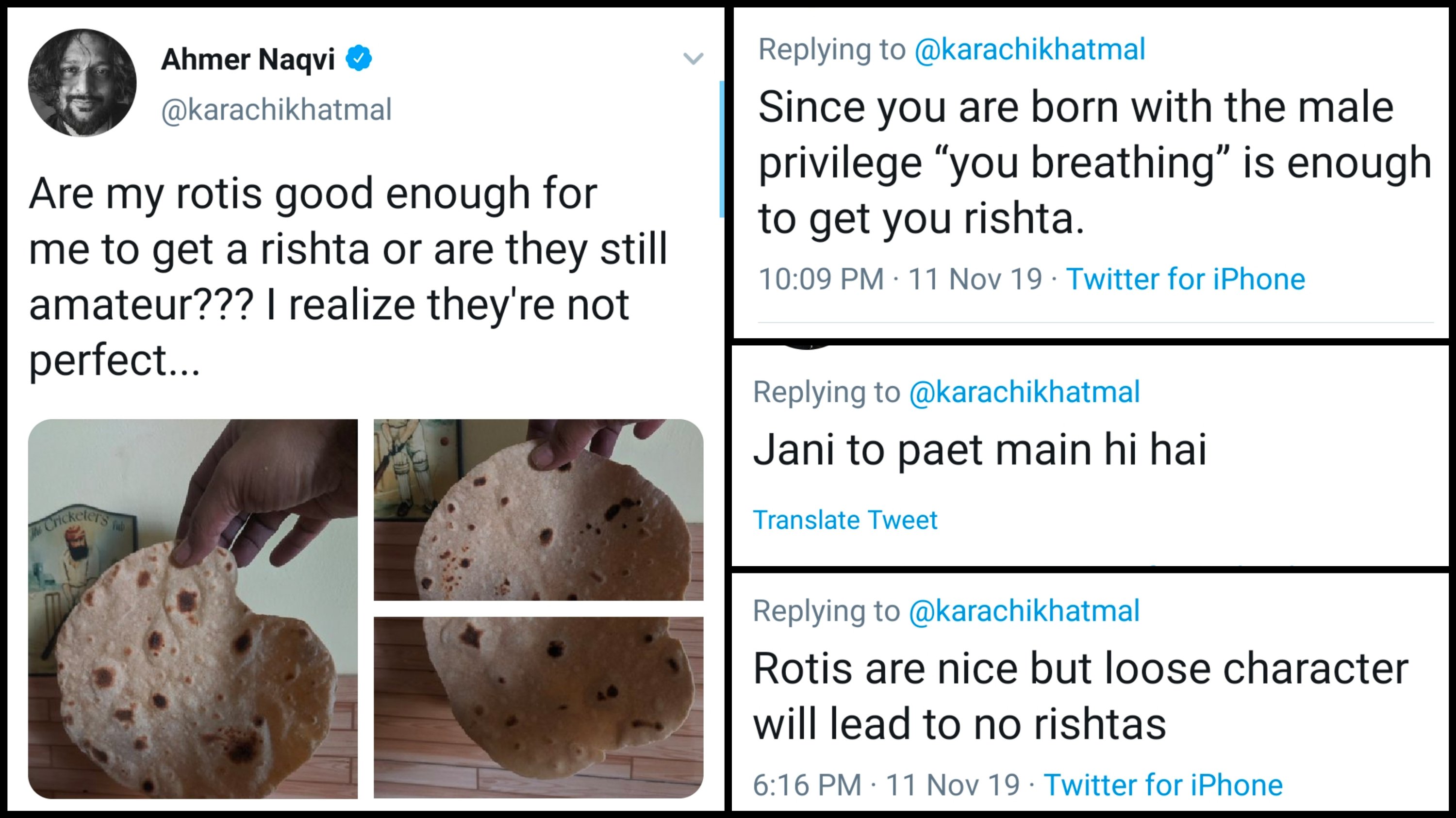 In a society where girls are typically judged by their complexion and roti-making skills, this guy is breaking stereotypes with his almost perfect roti making skills!
Are my rotis good enough for me to get a rishta or are they still amateur??? I realize they're not perfect… pic.twitter.com/JztbeEhcwt

— Ahmer Naqvi (@karachikhatmal) November 11, 2019
And like most girls, he's worried that the rotis aren't good enough to get a rishta, but the internet thinks otherwise:
definitely wife-able

— Inanna (@Pista_Badaam) November 12, 2019
Jo baat hai:
Jani to paet main hi hai

— Ushnaa🐾 (@Lanaschild_) November 11, 2019
Some were hopeful and encouraging:
Looks like you took a bite of kachi roti, and also they are not well cooked.
Keep practicing, shaadi tak you'll be a roti-matic 😀

— Bano (@BanoBee) November 11, 2019
Even the guys were giving in their opinion:
Bro really nice I like the notch

— shawarma lahme (@RizwanPehelwan) November 11, 2019
Senator Sherry wasn't impressed:
Nope u need to better and add some other dishes to the mix to qualify

— SenatorSherryRehman (@sherryrehman) November 11, 2019
Well…
Why do they look like this pic.twitter.com/9CW9m1Eltm

— Ghaura (@ghauraghaura) November 11, 2019
As long as its a roti, we'll have them happily too!
Good effort! I'd eat them happily.

— Eurus (@Hexatiouz) November 11, 2019
Fellow men were hyping him up:
Can't say about the rishta but we the boiss absolutely approves !!!

— Uzzi (@pindhfloyd) November 11, 2019
They're perfect congratulation 👌👏 pic.twitter.com/By7yLAmgA7

— Wazir Zakir Ali 🇵🇰 (@WazirZakirAli1) November 12, 2019
10/10 for me

— Areeb Khan (@Areeb23) November 11, 2019
Some got very real:
In addition to gol rottis(which should ballonify while on the flame are accepted only) you should be a DACTARR, slim figure, SAAF rung (surf excel say washed) and aafcourse no evidence of grey matter in your skull. Ample money to feed your prospective future inlaws is A MUST!

— Insaan (@diya_emjay) November 11, 2019
دو روٹیاں پکانے سے رشتہ نہیں ملتا! اور کتنے گن ہیں؟ پتلے پرت کے میٹھے سموسے بنائیں، سلائ کڑھائ کشیدہ کاری کے نمونے پیش کریں، چاۓ کی ٹرالی لے کر کچن سے ڈرائنگ روم تک چاۓ چھلکاۓ بغیر آنے جانے کی پریکٹس کریں۔ صوم و صلات کی پابندی اور خط و کتابت صیغہ راز میں رکھنے کی احتیاط شرط ہے😅

— Hana Ali (@Hana4House) November 11, 2019
Best piece of advice though:
Rotis are nice but loose character will lead to no rishtas

— Asad Nasir (@AsadNasir80) November 11, 2019
They sure do!
well they definitely each have their own personality

— HawkesBay (Löuche) (@HawkesBay) November 11, 2019
Kuch ne toh direct taanay hi dediye:
Maan ny kuch nahee sikhaya

— meesha khan (@meeshakhan19) November 11, 2019
Some were really critical:
Thore jalle hoi hai….

— Miss pompom (@PompomMiss) November 11, 2019
Haha…not really…we girls need perfect circular roti 😂

— Javerya (@Jia_theWinner) November 11, 2019
You need saleeqa, badly.

— Ramsha Hussain (@Your_Druggist) November 11, 2019
I wud say 'pass'

— Seeeeeeeeruuu (@se3ru) November 11, 2019
A steal!
A man being able to make roti is already a rare breed in the rishta market…. Apko to hathon hath lenge log …. Jokes apart keep at it get a baylan and eventually the will be good and soft…. Good luck

— Rabela Junejo (@JunejoRabela) November 11, 2019
Who care if the roti is round or not,a guy making roti is good enough…rishta pakka!

— 🇨🇦ChaiLatté🎄💮(SSARA)🇵🇰 (@thenorthaspoken) November 11, 2019
Some men thought he was making it difficult for them to get a rishta:
Setting a prerequisite criteria likely gonna make difficult for us to get Rishta.

— Aqdas Bhatti (@AqdasBhatti7) November 12, 2019
Sad, but true:
Since you are born with the male privilege "you breathing" is enough to get you rishta.

— Sarah Atiq (@sarahatiq) November 11, 2019
What do you guys think about the rotis? Let us know in the comments below!