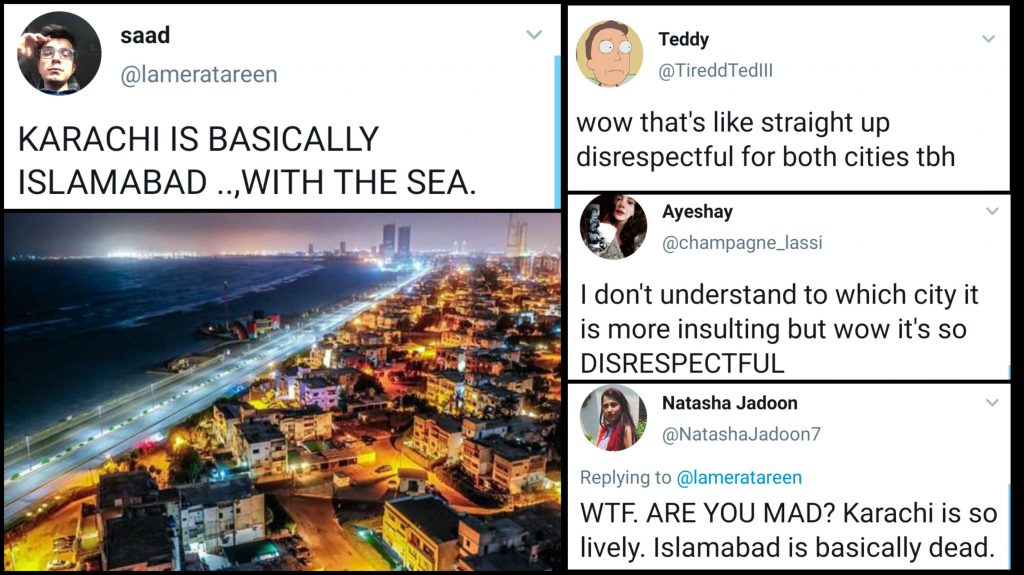 If there's one thing that'll never end on twitter, it's the city wars between the Pakistanis!
A guy on twitter quoted a little something from the book 'Karachi Youre Killing Me,' comparing Karachi to Islamabad:
KARACHI IS BASICALLY ISLAMABAD ..,WITH THE SEA.

— saad (@lameratareen) July 2, 2020
And it has the tweeple triggered!
— ANAS (@yaarwolarka) July 2, 2020
Some thought it was a disgrace to Islamabad:
This tweet is a disgrace to Islamabad's serenity 🥺

— Muntaha (@Muntaha___Nasir) July 2, 2020
People were indecisive:
I don't understand to which city it is more insulting but wow it's so DISRESPECTFUL https://t.co/j1QUagXp55

— Ayeshay (@champagne_lassi) July 2, 2020
Some reminded him of the things he was missing:
Jaane du bai… You a forgetting pan and abstract art on the walls

— Usman (@ahmad_says) July 2, 2020
Some thought it was an insult to Karachi:
WTF. ARE YOU MAD? Karachi is so lively. Islamabad is basically dead.

— Natasha Jadoon (@NatashaJadoon7) July 2, 2020
Regrets!
Why did i read this! Whyyyy! Pura islamabad ka swag kharab kr dia

— Sadia A. (@DrSadiaA) July 2, 2020
Some took a dig at Karachi:
Islamabad has breathable air for one

— tylenol (@roshugullah) July 2, 2020
Haha!
this is the worst take on karachi i've ever read

— hab (@hababiee) July 2, 2020
Many thought Karachi deserved better:
sigh karachi deserves better than this

— 𝐬𝐮𝐟𝐢𝐚✨ (@sufia_zehra) July 2, 2020
Some thought there was no comparison between the two cities:
They can't be compared
Stop disrespecting Karachi FGS
Lahore hi kaha hota 😅

— Saadiastic 💫 (@Saa_die) July 2, 2020
Agreed!
wow that's like straight up disrespectful for both cities tbh https://t.co/T3GAgFXghy

— Teddy (@TireddTedIII) July 2, 2020
Some found Karachi comparable to Pindi:
based on my limited experience, the city that has similar vibes to karachi is rawalpindi, especially the saddar region. https://t.co/6SiOfVGB9E

— Hamza (@wingsforus) July 2, 2020
Some straight up called it blasphemy!
Lolllll this is blasphemy against Islamabad https://t.co/hyDx0n6lEo

— Shujaat Ali 🇵🇰 (@Shujaatsays) July 3, 2020
Okay there!
I'll fix that math for you.

Karachi is like Islamabad:
– Minus the surrounding mountains, cool air, good people, diplomats
+ Plus the sea, dirt, jahil awam, traffic, humidity, longer summers, shorter winters

So basically, nothing like Islamabad. https://t.co/VZe3KL2og7

— Saad (@SaadNC) July 2, 2020
Even the Karachiites disagreed:
Eventhough I'm originally from Karachi. BUT NO https://t.co/X6OYxmpRxN

— Beez🐝 (@Beez_15) July 2, 2020
Jo baat hai:
KARACHIII IS KARACHIII AND ISLAMABAD IS ISLAMABAD YOU CANNOT COMPARE THEM 🙄🙄🙄 https://t.co/BhmTWufl6q

— Rameen ♡ (@meenbleeh) July 3, 2020
Staaaahp!
embarrassing both karachites and islamabadis in the same tweet https://t.co/Pq9n452MdS

— la nuit (@translucennt) July 2, 2020
People were just not having it!
I've never supported city wars but this is gruesome. Delete your tweet. Your account. Your existence https://t.co/4oi95H13ZA

— ® (@Rabihina) July 2, 2020
From a book!
From which deep pit of hell did this come from? 🤢🤢🤢 https://t.co/8u5ItvVNlE

— Haseem • حسیم • हसीम | 🏳️‍🌈 (@haseemuzzaman) July 2, 2020
Same!
among the two things that I am 100% confident about, is…. that it's not https://t.co/HIU1Ec3gwO

— i can do this all day (@aqsadness) July 3, 2020
People threw shade at him:
When the only Karachi you have seen is from Sea View till Chhhota Bukhari. https://t.co/Fgdb19TmCX

— ChachiChatters Fan Account (@fhdumr) July 2, 2020
You decide!
shittt idk which city should take more offense after this blatant blasphemous comparison. https://t.co/Y47d47Hv4G

— depreciation (@raving_dead) July 2, 2020
And while others took the tweet as a personal opinion, some were dumb founded at the literacy rate:
I feel sorry for this country's literacy rate https://t.co/9imW4Rd2gl

— 🛫 (@believemeitsadb) July 3, 2020
What do you think about this comparison? Let us know in the comments below!