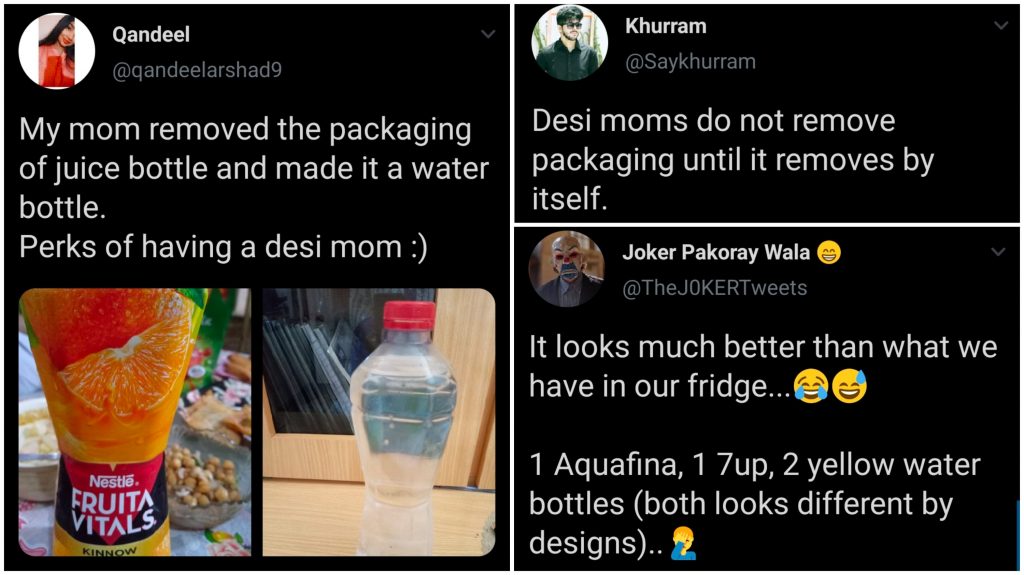 No matter what you do, you can never beat a desi mum and her passion for recycling, from using danish cookie boxes for stitching supplies to storing curries in ice cream boxes, you're always in for a surprise!
And the plastic bottles are no exception:
My mom removed the packaging of juice bottle and made it a water bottle.
Perks of having a desi mom 🙂 pic.twitter.com/S6HsuIdve9

— Qandeel (@qandeelarshad9) May 2, 2020
After a girl shared how her mom went to the lengths of actually removing the packaging from the juice bottle, the internet can't help but relate!
Story of every desi household.

— Haris (@sb_maya_hay) May 3, 2020
Haha, gotta love the surprise factor!
My mother will never remove packaging and make us drink water under the name of juice. https://t.co/Oumi4NzARg

— hahaha (@fakihawajihaJvd) May 3, 2020
Good grip is everything!
lol my mom always do this. its grip is easy

— Tayyaba (@TayyabaZee) May 3, 2020
You learn something new everyday:
Am I the only one who wasn't aware that's a plastic bottle underneath the packaging https://t.co/61ClBknsnH

— Ballistic Missile (@faysefatima) May 3, 2020
Many shared how their moms didn't even remove the packaging for aesthetic purposes 😂
My mom didn't even bother to remove those 'cause she loves all the colors there. https://t.co/wIKTofEebb

— Sociopath (@AounAlee) May 2, 2020
She removed the packaging at least. My mom don't even bother to do so. https://t.co/nn9UIuBya1

— Naina (@Aleenaasays) May 3, 2020
Mine didn't even removed the wrap

— Atif (@sunny7827) May 3, 2020
Just playin' our part 👀
Sustainable thinking i must say. Eco friendly 😋

— Dr. Emöjî 🦸‍♂️ (@am_kn1) May 3, 2020
People were sharing how they actually make great bottles:
These one make the best bottles

— Noor ul Huda (@noorrulhudaa) May 3, 2020
Facts!
Desi moms do not remove packaging until it removes by itself. https://t.co/Q8XNchnc3r

— Khurram (@Saykhurram) May 3, 2020
Same!
I'm turning into desi mom https://t.co/1O0je36ped

— Sindhi Adrak (@munnishadab) May 3, 2020
Lmaoooo, some came back with pictures to prove!
same https://t.co/FrfZMrU1oR pic.twitter.com/XcLolgWMxY

— ' (@xillsahax) May 2, 2020
Some were drooling at the figure…
That figure tho, Houff https://t.co/EXzCKuo5k8

— Moin (@DreadThanatos) May 3, 2020
"Loug kya kaheinge"
Im curious why did she remove the packaging, it's fine to drink water w that packaged bottle, trust me aunty we won't juj u.😔 https://t.co/2UK5IBn8PT

— e x t r a. (@smollandcurly) May 3, 2020
Don't even get us started on the innovation, they're queens!
desi moms are innovative.. https://t.co/QNqng1CUX2

— -nomadic (@AlpSufyan) May 3, 2020
Some had questions of their own:
What is it with the proportion of these Nestle bottles?! https://t.co/KRgAF6dS9S

— Rumrum (@cheesecakedou) May 3, 2020
Raise your hand if you can relate!
It looks much better than what we have in our fridge…😂😅

1 Aquafina, 1 7up, 2 yellow water bottles (both looks different by designs)..🤦‍♂️ https://t.co/lkDRI04YZQ

— Joker Pakoray Wala 😁 (@TheJ0KERTweets) May 3, 2020
Like we said, you just can't beat them!
Meri Ami ny es mein imli ki chatni rakhi hoi hy https://t.co/J1Iw8kWyfB

— SHEIKHNI 💚🇵🇰 (@oyesheikhni) May 3, 2020
Does your mom do the same? Because ours does! Let us know in the comments below!