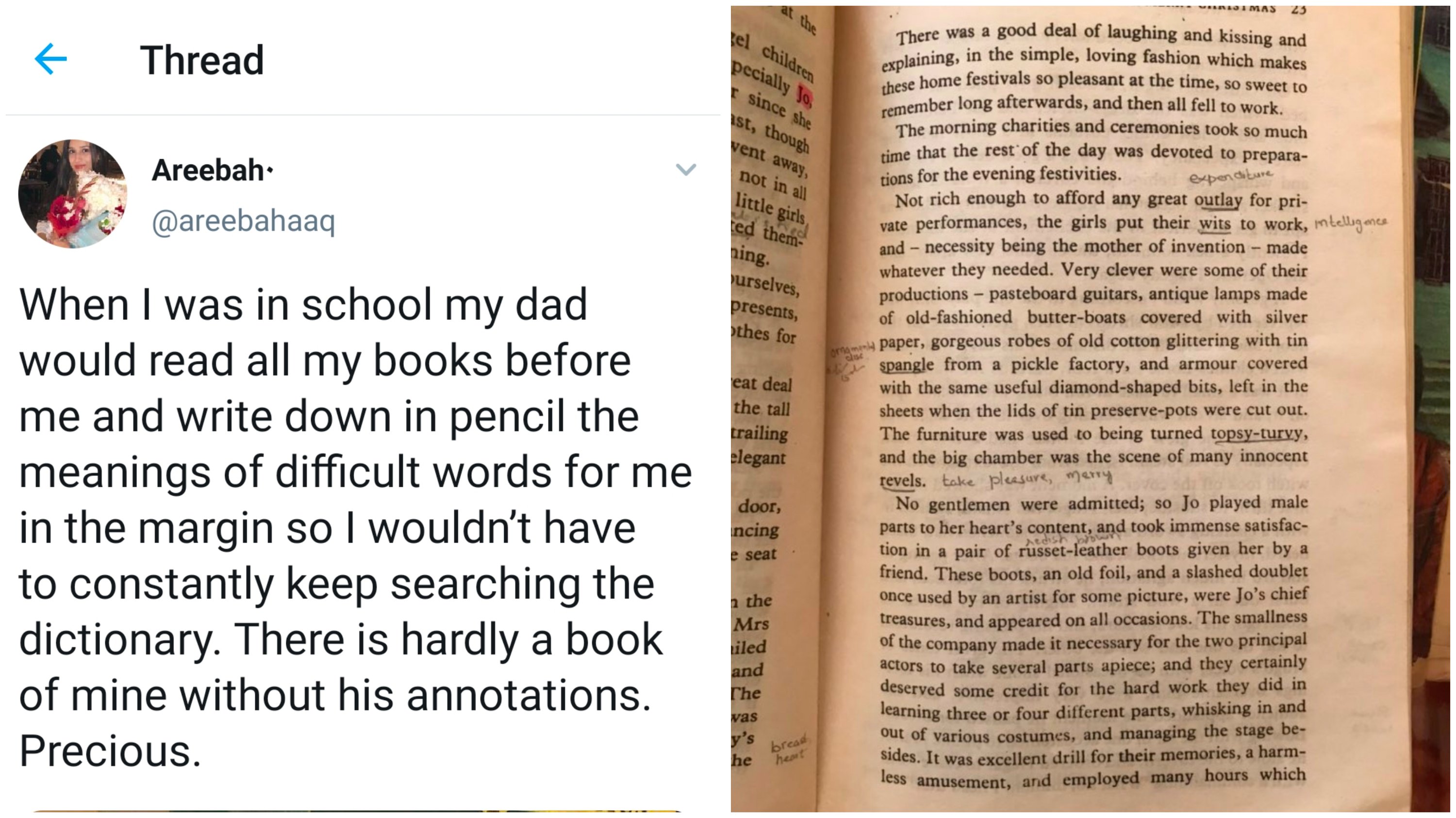 Fathers are our very first superheroes and honestly, the only superheroes we need in our lives! This girl on Twitter shared a picture of her book and how her dad would write down the meanings of difficult words to spare her the work of going through a dictionary for meanings:
When I was in school my dad would read all my books before me and write down in pencil the meanings of difficult words for me in the margin so I wouldn't have to constantly keep searching the dictionary. There is hardly a book of mine without his annotations. Precious. pic.twitter.com/TNqMe5wd66

— Areebah۰ (@areebahaaq) December 22, 2019
Her father's gesture has been winning the internet with almost everyone relating to it!
Oh God my father did the same, not only my text books but all the books which we were allowed to read in our home library…

— Ißŋ Ê ÂĐåm (اِبنِ آدم) (@Ibn_e_Aadam_N) December 22, 2019
May our parents live the happiest lives:
That's how parents set themselves as role models. Wonderful, MashaAllah.

— Sohaa (@SohaTazz) December 22, 2019
Her father was inspiring many to be like him:
Inspirational. I wish to be this kind of parent to my kids.

— Anam R Khan (@AnamRKahn) December 22, 2019
Oof, tashreeh ke zamaanay!
My father use to write tashreeh of all the ghazal and nazam in my urdu book 😍
MashALLAH

— U-Dumb-but I (@EidiOffer) December 23, 2019
It sure is!
This a whole new level of wholesome https://t.co/5gJFEEmJLQ

— Salman Miah (@SalmanMiah) December 23, 2019
Fathers ❤
A dotting Father is a daughter's BEST frnd,her UNSHAKABLE love n selfless shelter of STRENGTH😘 Smone who handles u the best at ur worst,make u walk in the woods wd chivalrous companionship n ultimately shapes u into a woman of substance.I lost my Treasure n got shaky since thn💔 https://t.co/UIdsn8eTbR

— Sybil (@Gulmakay) December 23, 2019
Same!
If I ever have kids. I am doing this for for sure. https://t.co/EKP3j22OFN

— Faisal Rasool (@FaisallRasool) December 23, 2019
Aameen!
That's the cutest mashallah. May Allah grant our parents a life long full of happiness and blessings. https://t.co/VK7TkSxpgN

— 𝕬𝖒𝖆𝖑 𝕬𝖑-𝕸𝖊𝖗𝖆𝖞 (@amalalmeray13) December 23, 2019
Go and hug your father right now!
Fathers are so precious
Most of the things they do for us is behind the scenes and we only realise later
Beautiful post https://t.co/afLp5zqGAM

— ⚜️ (@EvenStar_____) December 23, 2019
Agreed, the most heart warming thing we've come across today!
The most wholesome, heartwarming- heart melting tweet I read today
Fathers fathers ! ❤ zaar may kay tay. https://t.co/zMjOssRIET

— Jia.J (@JeeyaJay) December 22, 2019
Mama karein ya baba it's the sentiment that matters:
Mama taught us to write meaning exactly like this.. with a pencil, underlying the word and writing the meaning in the margin. https://t.co/GxjJJDVZw4

— خان (@KaliDaal) December 23, 2019
It had people missing their dads:
Purest form of love. How beautiful.❤️
It just makes me miss my dad more. https://t.co/kBHZ2lkNIW

— Shelby. (@blue_jay3) December 22, 2019
Agreed!
Not all heroes wear capes… https://t.co/u0btYnmzu5

— Hassaan Shahid (@Hassaan18) December 22, 2019
Hahaha, how many of you can relate to this?
My dad lookin for the dirty words https://t.co/YMn8fmXuMw

— NOT ROSS (@galtor) December 22, 2019
What's one very fond memory you have of your dad? Let us know in the comments below!