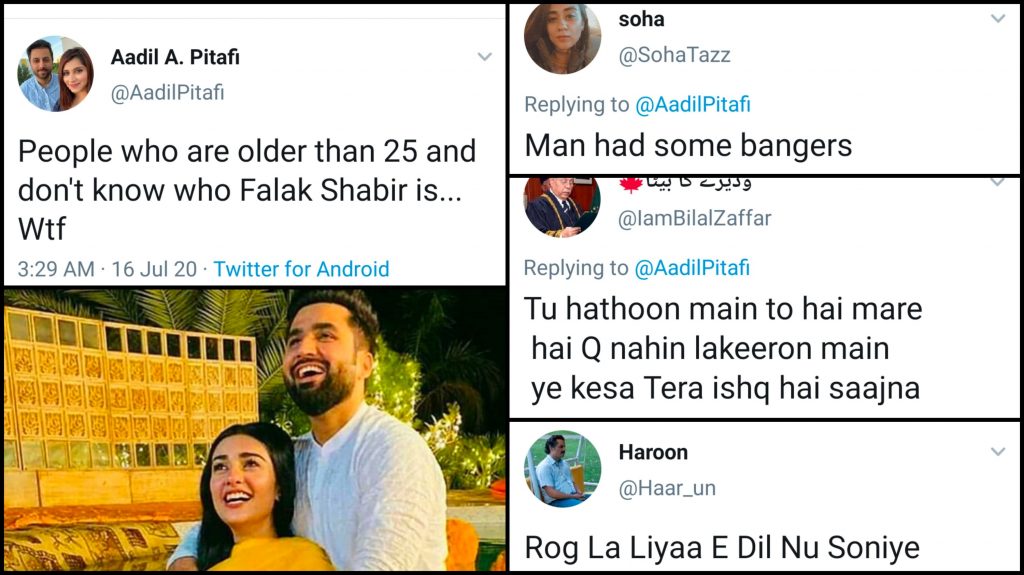 Back in the days when life was good and we used to have good music playing on our channels, singer Falak Shabbir was a household name after his hit debut song 'Rog,' and yesterday after he got engaged fo Sarah Khan, people were clueless about who he is!
People who are older than 25 and don't know who Falak Shabir is… Wtf

— Aadil A. Pitafi (@AadilPitafi) July 15, 2020
And the internet was appalled!
IKR???? How can you not know Rog

— Khan (@KakarWithOneK) July 15, 2020
He sure did!
Man had some bangers

— soha (@SohaTazz) July 15, 2020
Sir, stop!
Didn't know him till yesterday https://t.co/FxdAwUaXx8

— 𝘙𝘪𝘻𝘸𝘢𝘯 (@ChupShaa) July 16, 2020
Some discovered him later!
The only song I know and absolutely love of him is.. Mera Mannn kehnay laga. ❤️ https://t.co/ZPgoWzoOlV

— Maha Siddiqui (@Optimist_sidiqi) July 16, 2020
Omg, it was such an iconic trend!
He is the reason why I used to wear overcoat :p https://t.co/i1asTipV0Q

— Not Your Lawyer! (@_TheLawyer77) July 16, 2020
Same, even my sister stands clueless!
I couldnt explain to my two younger sisters cause they were all ye kon singer hai we don't know him -_-

— WEARTHEDAMNMASK (@rabeyo_) July 16, 2020
Yaaas girl, you've got your life together!
I'm 18 year old and even i know him :/ https://t.co/NtZITj4RCp

— Aqsa. (@IamAqsaShaikh) July 16, 2020
True!
I guess people who know falak are in 25-30 age-group. People younger or older than that have no clue. Falak had a strong fan base but never really made it big. https://t.co/2vtNu2TZ2f

— Al-Amna (@AmnaRaoIsSad) July 16, 2020
Hah, good times!
Yaar! I am 26 and yeah galat hai! I mean was in my school when Rog came out! https://t.co/AoIg5ytbry

— Hamza (@andaywalaboy) July 16, 2020
Some were, umm, annoyed!
Nai hamari konsi phuppi ka beta hai jo pata hona lazmi haj https://t.co/MFeRogWB42

— Dream (@BeefBurrrger) July 16, 2020
OMGGGG!
Tu hathoon main to hai mare
hai Q nahin lakeeron main
ye kesa Tera ishq hai saajna

— وڈیرے کا بیٹا🍁 (@IamBilalZaffar) July 16, 2020
Oof!
Rog La Liyaa E Dil Nu Soniye https://t.co/vcuCtM7wef

— Haroon (@Haar_un) July 16, 2020
No, and no.
I think you're getting really emotional over someone who is no one to many.

— Altan (@altan_haider) July 16, 2020
Be attentive, guys!
Folks, I'm not judging anybody here. Knowing Falak is not a personality trait. Not knowing who he is just shows that some of y'all weren't paying much attention to Pakistani music in its heyday.

— Aadil A. Pitafi (@AadilPitafi) July 16, 2020
And just in case you still don't remember, here's the song that had people going crazy!
Did you know who Falak was pre-engagement or are you just finding out? Let us know in the comments below!