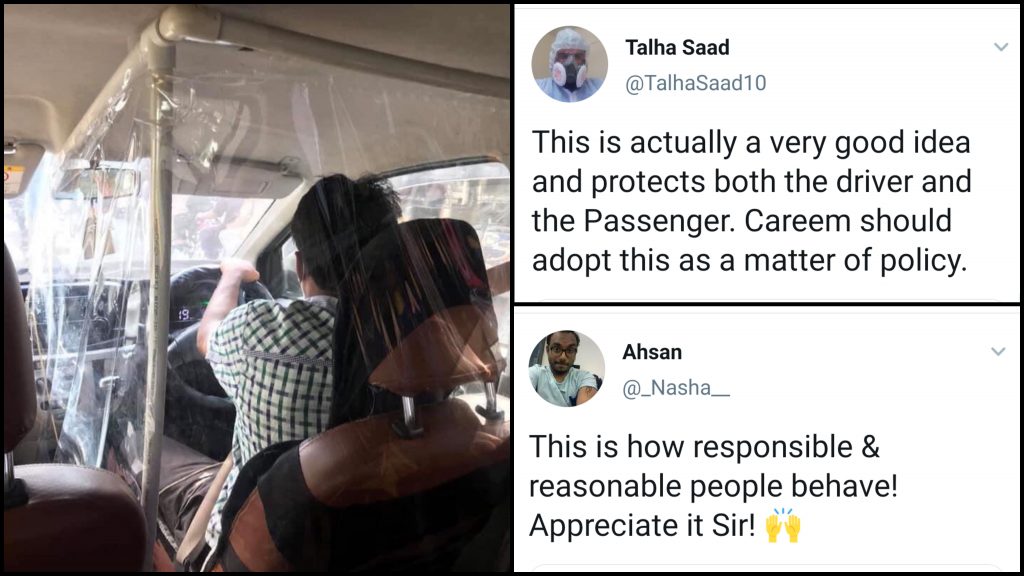 When it comes to following the recommended SOPs, you can't beat Pakistanis and their creative solutions! This careem driver is proving to be a great example of working while following all the SOPs and we're loving it!
Careem captain is not messing with SOP ✌️ pic.twitter.com/eGZsXkH65h

— Ahmed (@AhmedDamn) June 22, 2020
And people are lauding the driver for the effective solution:
why isn't EVERYONE doing this https://t.co/J4MoJXMRdt

— aln (@makhantos) June 22, 2020
It is what it is:
Darwin's survival of the most adaptable on full display https://t.co/YrBUvt7p7M

— Haleema Khan (@haleemak_) June 22, 2020
People were living for the idea:
Mad respect for this lad. https://t.co/A2NL10X2oF

— w a l e e d (@OhStahpItYuh) June 22, 2020
It left many impressed:
I'm impressed https://t.co/YBYU5YMbZ6

— Hassam (@hassam450) June 22, 2020
Baat toh sach hai:
SOP follow karna chahein tou Pakistanion say barhi jugarh koi nahin nikal sakta

— Shayan Khan 🇵🇰 (@imShayanKHAN) June 22, 2020
Aameen!
It's a very hard time for bread earning and hardworking individuals. They are equally in danger of getting COVID-19. May Allah keep All of us safe. https://t.co/F4DwkcOLEJ

— Sbs (@sbs102) June 22, 2020
Agreed!
Such seriousness is needed badly in the attitude of our nation. https://t.co/RCa8zyJTM9

— Saad. (@SaadiSpeaks) June 22, 2020
Same!
Need more of this energy 🙂 https://t.co/tVF12oOxtv

— Kif Mohammed (@Kif_khan7) June 22, 2020
People were lauding him for being a responsible citizen:
The most responsible citizen of Pakistan

— M (@HallucinatedM_) June 22, 2020
This is how responsible & reasonable people behave!
Appreciate it Sir! 🙌 https://t.co/UpX0J5td50

— Ahsan (@_Nasha__) June 22, 2020
Some actually wanted careem to adopt this:
This is actually a very good idea and protects both the driver and the Passenger. Careem should adopt this as a matter of policy. https://t.co/WDFQkScJEQ

— Talha Saad (@TalhaSaad10) June 22, 2020
Exactly!
Harr Pakistani asa krlein tou 90% corona khtm hojye ga. https://t.co/frzQIeGwol

— MINMAN❤ (@minahilnazim7) June 22, 2020
A lot of people had their reservations on the air conditioning:
But his AC sucks sir from passenger side

— Ashes (@ashesskhan) June 22, 2020
But they were answered aptly:
All those saying sara ac isk paas hai tou salam apki SOP ki knowledge pe kyu it also includes NOT TO USE AC AND KEEP WINDOWS open if travelling in public or online transport services.

— HellBoy™ (@sohighrated) June 22, 2020
Deir aye, durust aye!
Its like this everywhere in the world. Pakistan is last to follow this.

— Ghabranan Nahin Hai!!! (@tattufreedom) June 22, 2020
What do you think about this idea? Let us know in the comments below!