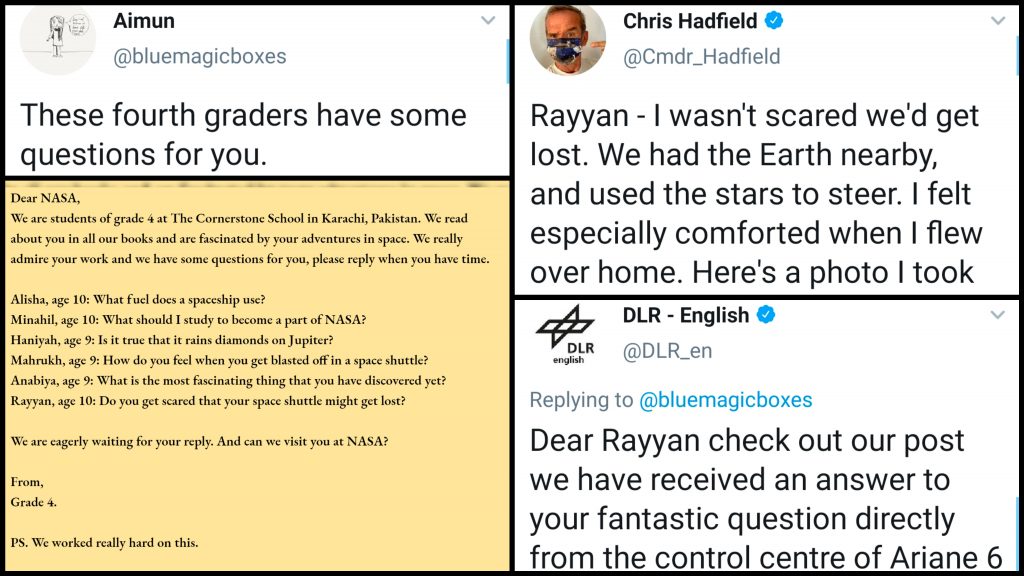 Pakistani twitter got to witness one of the most wholesome happenings on the app today. A Twitter user, Aimun, actually used the app to help space scientists and astronauts to answer questions her 4th graders had for them:
These fourth graders have some questions for you.@NASA @Space_Station @NASAEarth @NASA_Johnson @NASA_Astronauts @NASAKennedy @MarkRober @DestinSandlin @TheSpaceGal @neiltyson

(Please share) pic.twitter.com/TiV0WCD1vG

— Aimun (@bluemagicboxes) October 14, 2020
Fascinated by space sciences, she encouraged her students to write down the questions they'd want to be answered by NASA. The kids are also planning a field trip to NASA and while we hope that happens soon, here's how this teacher made her students' proud!
Rayyan – I wasn't scared we'd get lost. We had the Earth nearby, and used the stars to steer. I felt especially comforted when I flew over home. Here's a photo I took of Karachi – can you find your school? https://t.co/QBgI7W7weC pic.twitter.com/qrUYHr8GqY

— Chris Hadfield (@Cmdr_Hadfield) October 14, 2020
An actual space station came to the rescue!
Oh dear we were so happy to see all the positive responses we accidentally misspelled our colleagues surname. Can we give another shoutout to @DLR_de Ralf Hupertz who was so very kind to answer 2 more questions 🎉🚀🧑🏻‍🚀 #Grade4hasquestions pic.twitter.com/9LJLj6xzB9

— DLR – English (@DLR_en) October 14, 2020
One after another, all questions were answered:
Hi, I am a space scientist I would love to answer those questions:
1) The fuel is interesting, see on earth any fire needs both the fuel and oxygen to keep burning, there is no oxygen in space. They have to send oxygen(given the fuel is oxidized by oxygen) along with the fuel.

— Ali Imran (@Alee__Emran) October 14, 2020
People tried helping in every possible way:
Alisha – All different types! Some popular rockets that you'll see will use a fuel + an oxidizer. For example, something called RP-1 and then liquid oxygen. These are combined together and then *ignited* and burned to create a big (controlled) explosion that moves the rocket! 🚀

— Emily Calandrelli (@TheSpaceGal) October 14, 2020
The questions made it to Reddit too, where people actually working at NASA answered their questions:
Also these replies from Nasa scientists on @reddit

They have invited the students when the pandemic is over 👍 pic.twitter.com/wwuHm5EGZf

— Taha Azher (@tahaazher) October 14, 2020
And people were lauding Aimun and the passion she has for educating her students:
The best 'how it started' goes to @bluemagicboxes, for her effort in getting the answers her students desired. Wow 🤩

how it started how it ended pic.twitter.com/ABujItaU3Z

— Islamabad Science Festival (@ISF_2020) October 14, 2020
People were over the moon to see it all happen:
Witnessing what might be some of the greatest, most life-affirming moments in the history of this website, at least for me. And I know for so many of you too.

What a gift to just be able to see it happening. Thank you thank you @bluemagicboxes 🌸

— Hira (@hiretrograde) October 14, 2020
Everyone deserves a teacher like her:
All this outpour of love and appreciation for @bluemagicboxes is making me so emtional. Aimun i wish i had a teacher like you!! ❤

— Laiba (@laibaa_1) October 14, 2020
People were sending her love and prayers:
Sooo many duas for you!! I wish this world had more teachers like you Aimun. My heart is sooo full right now it's gonna burst with happiness❤️❤️

— Leena (@Leena_Ghani) October 14, 2020
We stan!
Just have to thank @bluemagicboxes again for this absolute outpouring of hope she made possible. How often does one encounter joyful news coming from Pakistan?
And to have it like this – a teacher literally inspiring her students to shoot for the stars. I'm all … pic.twitter.com/bl69uA4iqU

— Maria Amir (@Beentherella) October 14, 2020
People were calling it the peak of Pakistani twitter:
OH MY GOD, THIS IS ANOTHER PEAK OF PAKISTANI TWITTER

4TH GRADERS GETTING THEIR QUESTIONS ANSWERED DIRECTLY FROM NASA ENGINEERS 😭😭❤️

ALL HAIL SCIENCE, ALL HAIL TECHNOLOGY. @bluemagicboxes did magic as a teacher for her students, loved it

— anastipu (@teepusahab) October 14, 2020
People were excited to see how her students react:
Thanks to @bluemagicboxes this bird app's TL for once is full of positivity and pure joy!!! Cannot wait to hear about those 4th graders' reactions! 💕💕

— Meshal Malik (@MeshalMalikk) October 14, 2020
People were loving her for the wholesome-ness!
Thanks to @bluemagicboxes for making our twitter timelines more kind, positive and magical today 🙌🏾

— Nighat Dad (@nighatdad) October 14, 2020
Pakistan Twitter is wholesome af today. Thank you @bluemagicboxes – hope the kids enjoy to the fullest!!!!

— R (@ra_so93) October 14, 2020
Agreed!
came here to let you know that you're literally the best teacher ever and the kids probably love you so much.

— ماہم (@lightermachis) October 14, 2020
🥺❤
loving all the love people are sending for @bluemagicboxes this is what we need, just a little more love, from strangers, oddly connected on an otherwise terrible stream called twitter, if the twitter bird was ever a bird, in any alternate universe, it is now living the life <3

— Minahil Mehdi (@minahil_mehdi) October 14, 2020
Amen to that!
I hope the people responding to Aimun have a good week for the kindness they've shown. This is why we study and research: to answer a starry eyed kid's questions and give them hope about the world.

— Ⓐ ☀️ zoon 🌙 ☭ (@khoonsurat_) October 14, 2020
Facts!
What Aimen did today is what most of us needed when we were growing up. A role model who would guide us, encourage us to dream, question reality out of the textbooks. The sort of academic I aspire to become one day. So proud of u. ❤️ @bluemagicboxes #Grade4HasQuestions

— soha (@SohaTazz) October 14, 2020
She reminded people of Ms. Honey from Matilda:
Ms Aimun reminds me of Ms Honey from Matilda. Always wanted a teacher like her and im glad some kids do ♥️@bluemagicboxes thank you for being so kind and not letting dreams break

— Anand bhai (@blurmynamepls) October 14, 2020
People couldn't thank her enough:
what u have done for these kids will encourage them to never give up on their dreams, never downsize the characteristic childhood curiosity that many of us left behind for we never had teachers like you. you are such an inspiration and we're genuinely in awe! may god bless you!!!

— daniyal (@unsanskarri) October 14, 2020
Spot on:
If today's wholesomeness on tl has taught us anything, it's that teachers are powerful. So now would also be a good time to remember that most teachers are paid horribly & exploited across this country. The effort they make at school is out of love, not any official support.

— Hamza (@wingsforus) October 14, 2020
We absolutely need more teachers like Aimun:
I am praying all the kids have their questions answered; one of the best things to have ever happened on this birdapp. A child's curiosity knows no bounds and for people to help them answer that curiosity, a dream come true

We need more teachers like @bluemagicboxes!

2/

— Hasan Saeed (@hasansaeed6) October 14, 2020
Isn't this the most wholesome thing you've come across today? Let us know in the comments below!