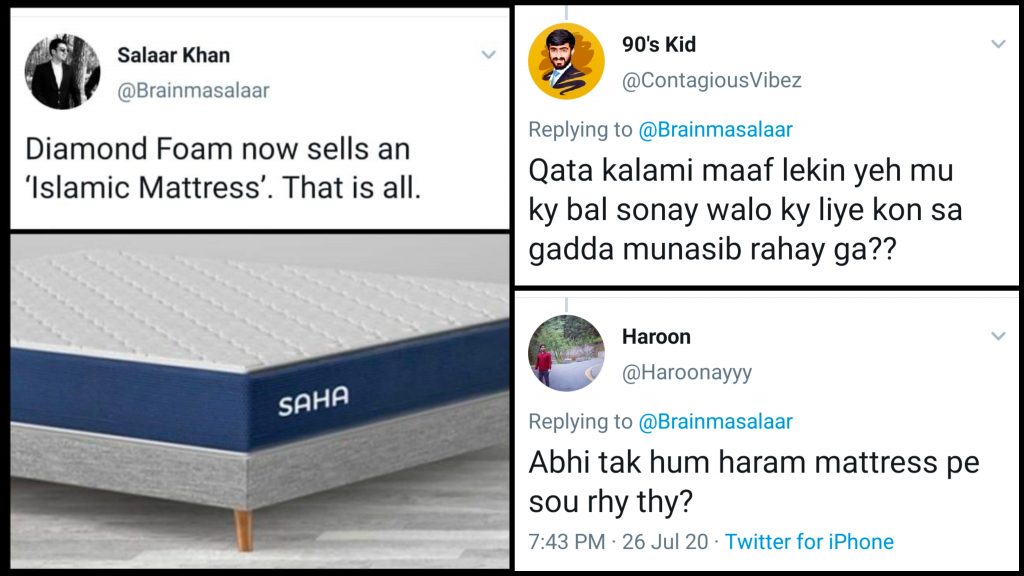 Every now and then there's something in the market that catches your eye, today, it's an Islamic mattress that's caught the attention of the netizens.
Diamond Foam now sells an 'Islamic Mattress'. That is all. pic.twitter.com/Lf05ZqJFEd

— Salaar Khan (@Brainmasalaar) July 26, 2020
There's now an Islamic mattress being sold in the market which claims to be developed on 'Islamic principle,' and people have a long list of questions and what they expect out of the mattress:
They come with a matching "5 pillows of Islam" https://t.co/B2bLdw5WPX

— Arhum (@arhuml92) July 26, 2020
Sounds like a wonderful investment:
Features:
if you sleep upside-down Shaytan-style it produces bed bugs instantly, if you don't wake up for fajr it slaps the shit out of you,
and if you start getting wet-dreams it sets ablaze like hell fire 😌#ShaytanWillStopYouFromSharingThis https://t.co/g1pTk6PCgg

— Pabū Badmāsh 🦸🏾‍♂️👏🏻 (@WafaIsfahany) July 26, 2020
Groundbreaking invention:
finally brothers and sisters we can sleep on our backs and on right side revolutionary invention i say https://t.co/pK7sbdlpsg

— m*r*y* (@alexdesmol) July 26, 2020
It should:
But will it yell astaghfirullah if you start lovin yo self??????. Asking for friends. https://t.co/njyQ74RADq

— Pressure Cooker ki Rubber (@khubsuratkhatun) July 26, 2020
People were calling it a flop marketing strategy:
A flop marketing strategy, matlab ke baki mattress pai we can't sleep on our right side? Matlab kuch bhe likh ke awam ko Pagal bana lo!! 😄😄 brands should come up with something that atleast makes sense!!

— Noor (@Noor49659371) July 27, 2020
Any recommendations?
Qata kalami maaf lekin yeh mu ky bal sonay walo ky liye kon sa gadda munasib rahay ga??

~asking for a friend

— 90's Kid (@ContagiousVibez) July 26, 2020
Like a pancake 😂😂😂
so what islamic thing does it do???? Flip you like a pancake if you sleep on your stomach???? https://t.co/7VWx35IIRt

— Amna (@amnaarshads_) July 26, 2020
Haha, it sure is!
Now we have a matteess brother, the ummah is diversifying

— the99thZainabyouknow (@najeebz18) July 26, 2020
True…
Market demand of products increases drastically in Pakistan if they are associated with Islam in anyway.

— AJ (@duckthis_shit) July 26, 2020
Absolutely!
So, what does it do? Flip the person automatically so they're laying on their right side again? 😂

— inbisaat (@Gham_0_Inbisaat) July 27, 2020
Han 😔
Abhi tak hum haram mattress pe sou rhy thy?

— Haroon (@Haroonayyy) July 26, 2020
Bro we've been sleeping on unIslamic mattresses all this time, shame https://t.co/24KpLIMtnZ

— msk (@maryammskk) July 26, 2020
Some were done with brands using religion to sell their products:
Stop dragging Islam everywhere to justify your stupid products.
The proposition, you are offering through this mattress is what's downright stupid. Like, how is this mattress different than the rest? Is it gonna turn the person over if he's not sleeping on his back or his right? https://t.co/Uz3enTrtEj pic.twitter.com/tDsVNHKaHy

— Suddiyas_Nawaz (@Suddiyasnawaz) July 27, 2020
Some wanted to know if they could convert their mattresses to an Islamic one:
Main aaj apnay Mattress ko kalma parha du to? Is sy kaam chalay ga? https://t.co/D6XmVOtTWZ

— adanjavaid (@adanjavaid) July 26, 2020
What do you think about this Islamic mattress and using religion to promote brands? Let us know in the comments below!