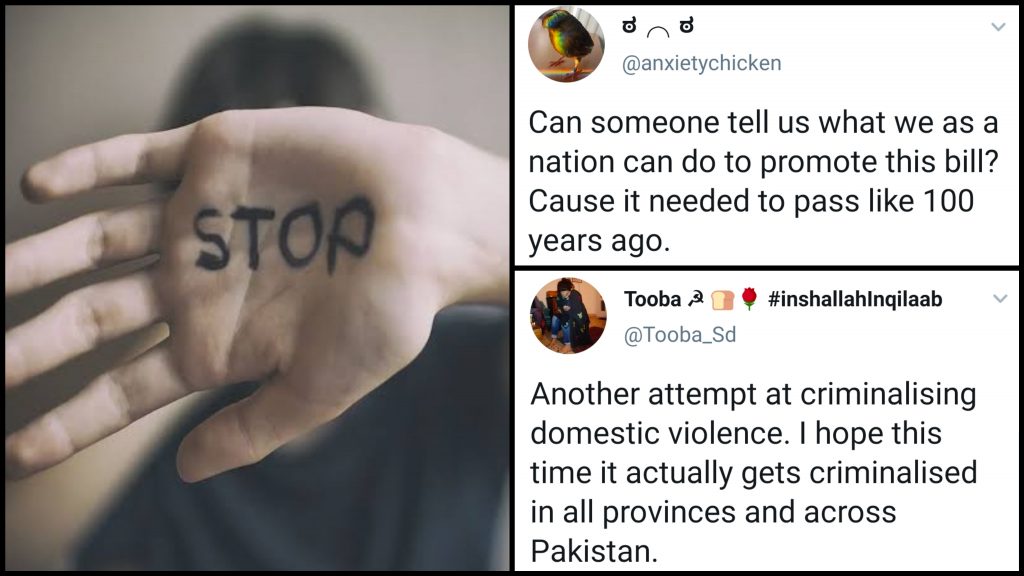 In an attempt to curb domestic violence in Pakistan, Senator Sherry Rehman tabled the Domestic Violence (Prevention and Protection) Bill 2020, in the upper house of parliament, aimed at criminalising domestic violence and penalising the offenders.
Domestic violence is like a "hidden epidemic". We must criminalise this in Pakistan – says PPP Parliamentary Leader in the Senate, Sen @sherryrehman while introducing a Bill to make provisions for protection against domestic violence in the Senate today. pic.twitter.com/z0hyhuApDl

— SherryRehman'sTeam (@SRehmanOffice) July 27, 2020
The Domestic Violence (Prevention and Protection) Bill, 2020 introduced by Senator Sherry Rehman was referred to Standing Committee concerned.

— Senate of Pakistan (@SenatePakistan) July 27, 2020
And people are grateful for the bill finally having a chance:
The bill to criminalise and penalize domestic violence has been tabled in Senate. I really hope it's passed and implemented all over the country! https://t.co/wDSlU1NgEu

— Javaria (@JavariaWaseem) July 27, 2020
People were hoping for a quick approval:
From 'light beating is allowed' to this, I hope this is approved and implemented https://t.co/hR3CUQqkl7

— Moochar (@AsliBinLaden) July 28, 2020
Another attempt at criminalising domestic violence. I hope this time it actually gets criminalised in all provinces and across Pakistan. https://t.co/w4KZw9Q9WE

— Tooba ☭ 🍞🌹 #inshallahInqilaab (@Tooba_Sd) July 28, 2020
Deir aye, durust aye!
The fact that this is happening NOW https://t.co/EhpJZRlyRV

— chonky (@Cupcake4ever5) July 28, 2020
Can someone tell us what we as a nation can do to promote this bill? Cause it needed to pass like 100 years ago. https://t.co/noXKktFHs6

— ಠ╭╮ಠ (@anxietychicken) July 28, 2020
AFTER 70 FUCKING YEARS…. https://t.co/bJsxaa3YBw

— Cats, Curls, Chai (@NoushinZora) July 28, 2020
People were waiting for a conference from opposing parties:
Molvi gang is gearing up for a press conferencing to say "light beating w a miswak is allowed" https://t.co/6iBjO63XLM

— Hija Kamran (@hijakamran) July 28, 2020
People were praying for it!
I pray it get passed and implemented, #DomesticViolence is crime which has never been considered as such, there is need to create awareness and as parents we need to raise better kids where daughters are told to stay respectful but never let their respect comprise by allowing
1/n https://t.co/bNgECS4vlp

— Fahad Chishti (@FahadChishte) July 28, 2020
Exactly!
With 60-70% of women in Pakistan suffering some form of abuse, and the horrifying risk of a surge in domestic violence during the coronavirus crisis, make sure this bill is not only approved, but implemented as well🙌! https://t.co/UKHGXrsIAD

— Suddiyas_Nawaz (@Suddiyasnawaz) July 28, 2020
People thought the bill was much needed:
Much needed. https://t.co/eqbLtqnhoQ

— Marium Zia Khan (@MariumZiaKhan) July 28, 2020
People were throwing shade at others who kept saying that America is bad:
Domestic Violence is still legal in Pakistan, but go ahead and tell me America bad https://t.co/yqUGlCtuYv

— The Philosophy of Liberty✝️🕊️⚖️📜🇺🇸🇸🇾🇵🇸⌛🌪 (@JWalkNTexas) July 28, 2020
Some, however, thought that passing a bill isn't enough:
I appreciate this move but… the root cause of #DomesticViolence in Pakistan is patriarchy and the patriarchal society's roots can be traced in Feudalism. So moving or passing such bills wouldn't make any difference. https://t.co/sC9HW8nGrZ

— Oh, Lady Mania! (@OhLadyMania) July 27, 2020
What do you think about the bill being moved to Senate? Let us know in the comments below!