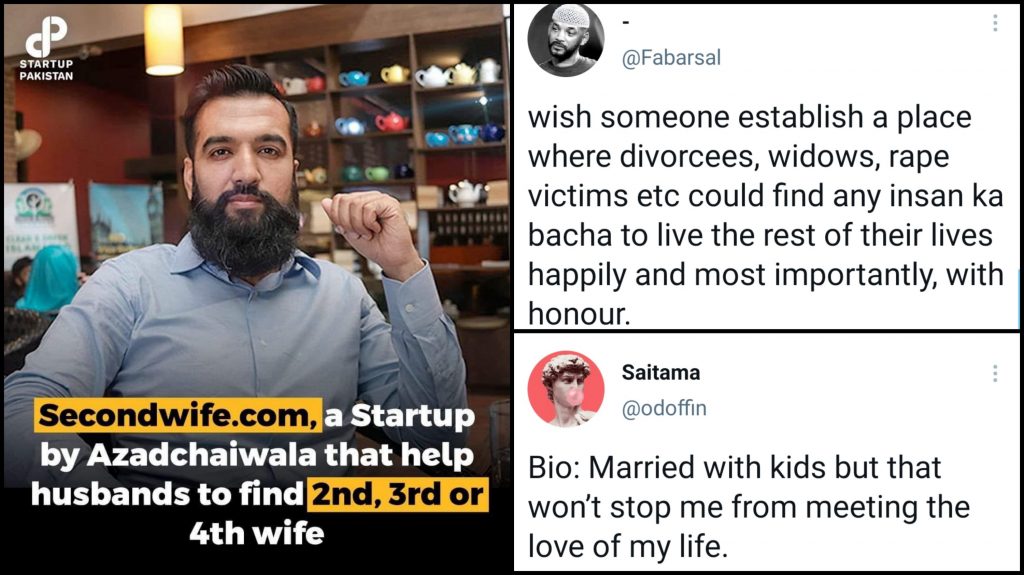 If anything, the favourite part of Islam for men is polygamy!
To cash in on the agenda, comes the first of its kind Muslim polygamy matchmaking website that helps men find their second, third or fourth wife. The idea however didn't sit too well with Pakistanis:
Rest of the world: We need new innovative ideas for startups, something that can benefit society & environment.

Meanwhile in Pakistan: pic.twitter.com/jWh1j2ui8U

— خراب عورت (@KharabAurat) April 21, 2021
😂
Pakistani men support 4 marriages like its 6th pillar of Islam. https://t.co/7dprfwstFE

— Ahmed (@AhmedDamn) April 21, 2021
We absolutely stan this!
wish someone establish a place where divorcees, widows, rape victims etc could find any insan ka bacha to live the rest of their lives happily and most importantly, with honour. https://t.co/f1t7lcsji2

— – (@Fabarsal) April 21, 2021
Oooof!
I wonder why! I thought women would be jumping at the opportunity to be a 2nd/3rd/4th wife to a guy who probably sucks at being a husband to the first https://t.co/cOMn1sUtmg pic.twitter.com/ecaZY0kUoG

— moderna mami (@sohnianika) April 21, 2021
People had questions:
why is tinder banned but not this @PTAofficialpk? 😡😡 https://t.co/QgLRN2xILE

— Faizan. (@thoraoffbeat) April 21, 2021
Why is this so accurate 😂😂😂
Bio: Married with kids but that won't stop me from meeting the love of my life. https://t.co/LdV8mtqDfJ

— Saitama (@odoffin) April 21, 2021
People also took to Twitter to share what the creator of the app was like:
This is guy is full of misogyny and bs. He once said not to marry women with a degree because such women are not submissive and quarrel a lot. This was not just a statement, he made an entire video on it and expectedly, most of his male followers agreed and encouraged. https://t.co/KGh6FAzPsP

— maha (@mahaeats) April 21, 2021
People were sharing the experiences women had on the website:
lol…. pic.twitter.com/G0vd2bK2T4

— …F@rheen (@angrybird_111) April 21, 2021
🤷‍♀️
Who says the Pakistani tech industry lags behind the rest of the world? https://t.co/Y4SFGE7pBY

— Usman (@UsmanAhmad_iam) April 21, 2021
Oops!
Desi mardon ka confidence check karein wese

InshAllah aane waale saalon main women will stop marrying and you won't even be able to find 1 wife alhamdulillah https://t.co/EAVmTIKeq6

— somewhere beech main (@jaameshirin) April 21, 2021
True!
Pakistani life starts and ends with marriage.. For other countries marriage is part of life for Pakistani's marriage is the life https://t.co/sff53u7We2

— Saba Gilani (@sabagilanii) April 21, 2021
People found the idea disgusting!
Disgusting https://t.co/GziPjIMbE6

— Usama Khilji (@UsamaKhilji) April 21, 2021
That's one way to look at it:
Dating (read: cheating) app for married men but without the guilt. Got it got it got it https://t.co/XSTn0mgbtz

— ⚡️ (@Scrivenshaft_) April 21, 2021
Yeah, that too with no shame!
ok so men really looking forward to ruin more than one life huh https://t.co/vX1wAutfNK

— 🍓 (@alittletall) April 21, 2021
Yar 😂
😭😭😭😭😭😭😭😭😭😭😭😭 Bro getting the first one is hard is it is https://t.co/JKgBEf99h0

— Salah (@Spoooooooooz) April 21, 2021
And while it did receive a ton of backlash, there were people who didn't see a problem with it:
Is this not just the Islamically compliant version of "Ashley Madison" or "Seeking Arrangement"?

There's scores of such relationship sites/apps catering to niche segments of the market.

What's the issue here? https://t.co/SupiLBGxum

— Umar Farooq Khawaja (@UmarFKhawaja) April 21, 2021
People also came forward to defend the creator:
He's a multi millionaire and providing cheap real estate in dubai,. Training females of remote areas of Pakistan to learn new skills and to earn online. He's a high tax payer entrepreneur of this country but y'all just listen to the "mEaNwHiLe iN pAkiStAn" shit https://t.co/QfvswOBxcQ

— 𝒪𝓈𝒶𝓂𝒶 (@waday_payen) April 21, 2021
People liked the idea:
A good idea. https://t.co/TZZYLkUVb8

— Senator💸 (@_Only1SBD) April 21, 2021
People were sharing how their was nothing wrong in polygamy:
There is nothing illegal. Immoral or Haram in having a second marriage and it's not done only for sexual gratification my dad married a war widow after my mom told him to do so. https://t.co/uKkk3VIkCW

— Mohammad Iqbal Abid (@Habbash) April 21, 2021
What are your thoughts on this startup? Let us know in the comments below!