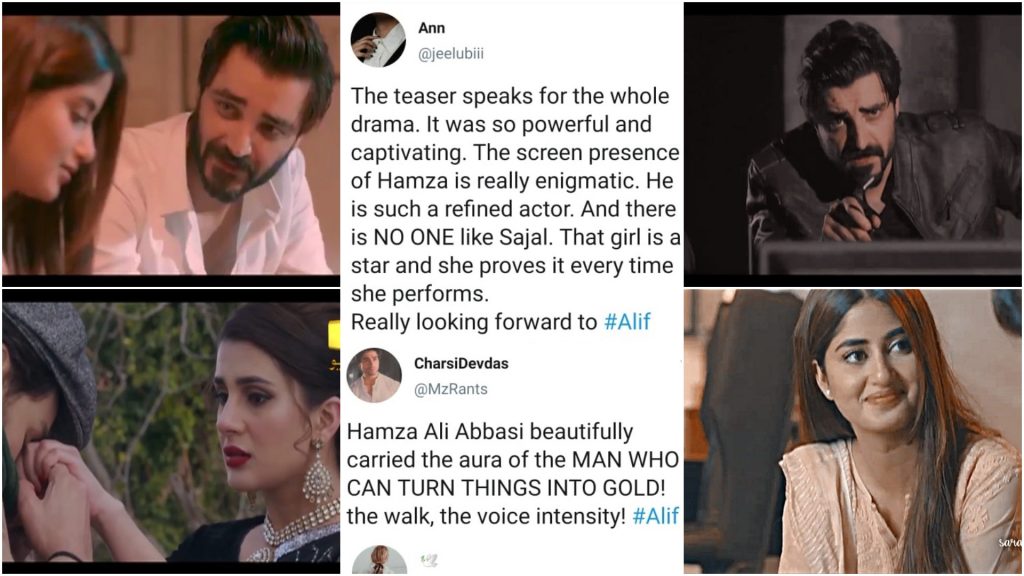 The teasers for one of the most anticipated dramas of the year, Alif, were released yesterday, and honestly, they've turned out to be beyond our expectations. And if you haven't seen them yet, you're probably living under a rock and its time to come out!
https://www.instagram.com/p/B2mSDLkg0NX/?igshid=djajpwmdp5zj
Based off of Umera Ahmed's novel Alif, the drama features Hamza Ali Abbasi, Sajal Ali, Ahsan Khan, Kubra Khan, Osman Khalid Butt, Manzar Sehbabi and Salim Mairaj in pivotal roles.
https://www.instagram.com/p/B2mb_Q4gTXl/?igshid=1rvzisnpcvkq2
With a cast so stellar and powerful, Alif has easily become everyone's favourite and people are wooed away with the teasers on social media:
Alif is gonna be a larger than life drama, something that has never been witnessed before in our television industry. The hype is gonna be unreal and i can bet on that. #Alif

— 🕊 (@tweetify16) September 19, 2019
People just couldn't get over Hamza's character as Qable Momin:
All actors can go and sit at home coz the best one is here.HAMZA ALI ABBASI BACK WITH A BANG🔥🤤❤😍#ALIF

— Javs. (@javeria_16) September 19, 2019
THIS IS GOING TO BE HIS BEST PERFORMANCE TILL DATE!!! #alif pic.twitter.com/qgvuw19qYy

— Shafaq (@Shafaq3_x) September 19, 2019
The internet thinks this will be Hamza's best performance to date and we definitely agree!
hamza ali abbasi the actor has always been underrated. now it's high time you guys hype him bcs he's going to give his career's best performance as QalbeMomin. the king is back to snatch your wigs!!!✨🕊💕 #alif pic.twitter.com/cuULFqKScY

— ; (@shizaahahaa) September 19, 2019
People were blown away by the cinematography:
THIS IS AN ELITE CONTENT!!!! IN LOVE WITH THE CAMERA QUALITY!!!! THE CINEMATOGRAPHY IS AMAZING!!!! MINDBLOWING ACTING!!!! OUTCLASS EDITING!!!!! I AM JUST SPEECHLESS!!!! IT SURPASSED THE EXPECTATIONS!!!! IT'S A LEGIT MASTERPIECE!!!! HIGHLY IMPRESSED!!!! 👏👏👏😍😍😍💖💖💖💖 #ALIF pic.twitter.com/vL3b2N6Sdp

— Mahnoor Shah (@imahashah) September 19, 2019
The drama had strong Turkish drama vibes to it:
These shots make me feel like I will be watching a Turkish drama but they'll actually be speaking urdu. The vibe is too strong, even the way they're dressed. I'm so excited #Alif pic.twitter.com/t0G6Nlg9UT

— ɴᴏᴏr (@nxpapillon) September 19, 2019
Yes please!
Can we take a moment to appreciate Hamza's intense looks❤🔥#alif pic.twitter.com/kXCeoF5J4R

— istandwithkashmir (@deejzx) September 19, 2019
Momin and Momina have already become a fan favourite!
I am up, bring Momin & Momina😭💕#Alif pic.twitter.com/boWVp4ITT2

— ماریہ🌻 (@xyzmariaa) September 19, 2019
Dream pairing? Dream FUCKING pairing!
When all those years ago Hamza presented the award to Sajal on Hum Awards. This has been a dream since then. #Alif pic.twitter.com/LYHa3j93TC

— Ayesha (@adambeyzaar) September 19, 2019
The teaser had a lot of us in awe:
The teaser speaks for the whole drama. It was so powerful and captivating. The screen presence of Hamza is really enigmatic. He is such a refined actor. And there is NO ONE like Sajal. That girl is a star and she proves it every time she performs.
Really looking forward to #Alif

— Ann (@jeelubiii) September 19, 2019
Hamza doesn't say yes to every role, but when he does, he turns it into gold:
Hamza Ali Abbasi beautifully carried the aura of the MAN WHO CAN TURN THINGS INTO GOLD! the walk, the voice intensity! #Alif

— CharsiDevdas (@MzRants) September 19, 2019
Turkish heroes who?
Behlul who??
Emir Sarafoglu who?
Murat Bey who?
Demir Doğan who?????
Bloodyyy Hamza Ali Abbasi looks more like a TURKISH HERO THAN TURKISH HEROES HIMSELF!!! #Alif pic.twitter.com/iB8voNqAWG

— Ayesha (@Ash_Ayesha) September 19, 2019
There's absolutely no doubt about it:
No matter what you can never ignore the actor in Hamza. He's the B E S T. #Alif pic.twitter.com/MEBWfkQPbX

— 🕊 (@tweetify16) September 19, 2019
As the teaser received tons of praise and love from fans, Hamza Ali Abbasi took to Twitter to express how grateful he was and shared that Qable Momin reflects his own personal journey too:
Thankful to Allah for the amazing feedback on #Alif teasers. This project will set an example of how to use the medium of television to make ppl reflect on thr lives & get back in touch with their creator. Qalb e Momin in a lot of ways reflects my own personal ongoing journey.

— Hamza Ali Abbasi (@iamhamzaabbasi) September 19, 2019
Written by Umera Ahmed, directed by Haseeb Hasan  and produced by Samina Humayun Saeed, Sh. Amjad Rasheed and Sana Shahnawaz, Alif seems a very promising drama that we just can't wait for to air on Geo TV!
What did you think about the teasers? Let us know in the comments below!