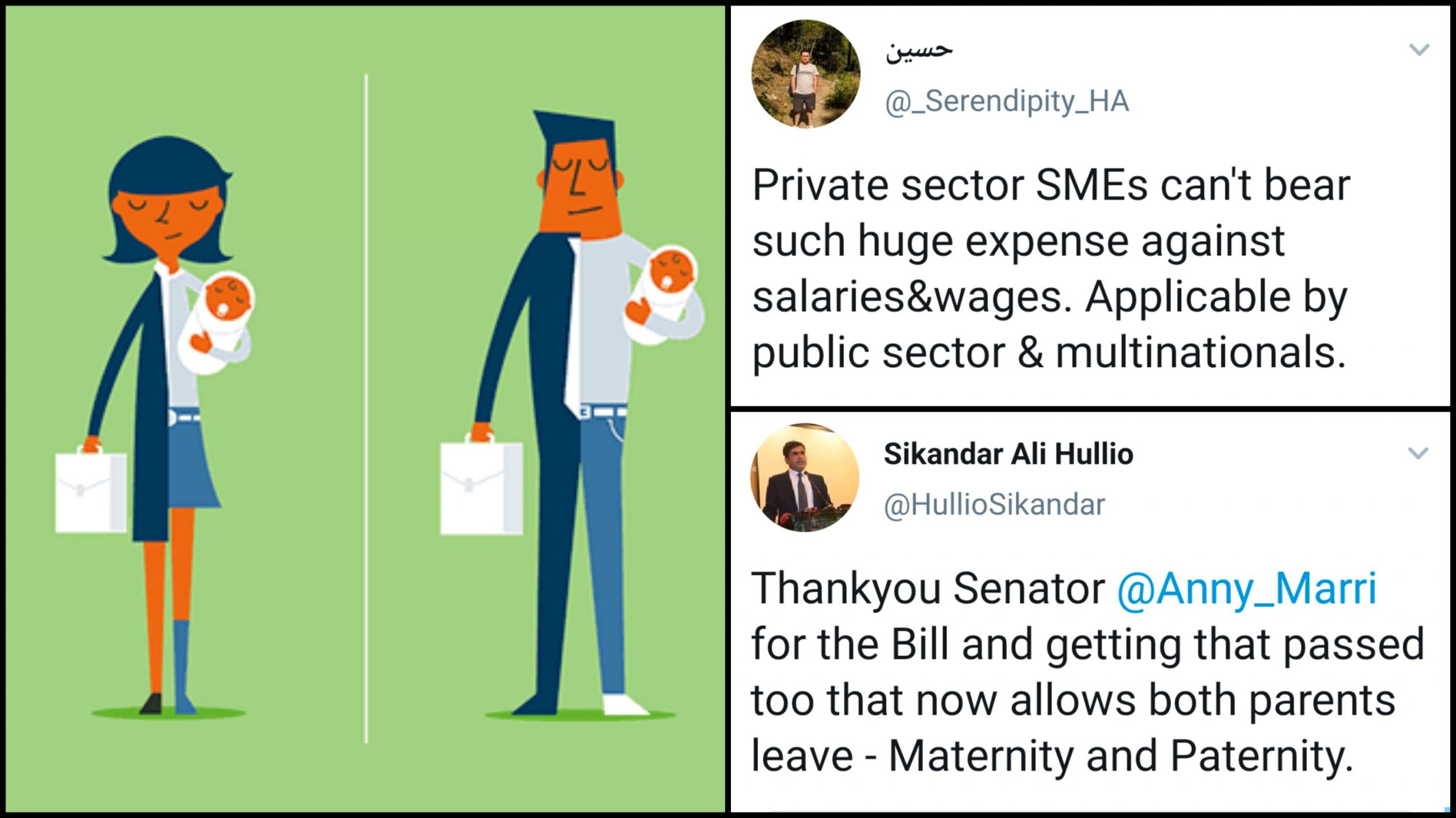 It's being reported that the Senate passed the Maternity and Paternity Leave Bill, 2018, which makes it mandatory for employers to grant paid maternity and paternity leave to employees:
The Maternity and Paternity Leave Bill 2018 moved by Senator Quratulain Marri has been passed by the Senate. The Government, however, opposed the bill.

— Senate of Pakistan (@SenatePakistan) January 27, 2020
According to the bill, women will get paid maternity leave of 6 months on first birth, 4 months on second birth and 3 months on third birth. While men will get paid paternity leave for 30 days, a total of 3 times during service.
And the internet has mixed reaction to the news, many were ecstatic!
Actually a good news after a long time https://t.co/yTULOESvRN

— Shah sahib (@HunzaBoi) January 27, 2020
For many, it was a step in the right direction:
Great decision, great we are learning good things.

— Arif Hussain (@eventbedclay) January 27, 2020
Many thought it was a great step to provide relief to the families:
Senate deserves our appreciation for approving the Maternity Leave Privileges Bill! If approved by two houses we will be among very few countries in the world for 6 moths leave to mothers and 3 months to fathers! It's a great move aimed at providing relief to the families. Bravo

— Najeeb Anjum (@NajeebAnjum2262) January 27, 2020
People were proud of the decision:
Pakistan 🇵🇰 I am so proud Of you https://t.co/mzOskGkj2B

— Kashmir_independence (@jazib_rasheed) January 28, 2020
Netizens were thanking the senate members for passing the bill:
Thankyou Senator @Anny_Marri for the Bill and getting that passed too that now allows both parents leave – Maternity and Paternity. https://t.co/QmlbP0Eojy

— Sikandar Ali Hullio (@HullioSikandar) January 27, 2020
Many were lauding the positivity in the country:
I love all the positivity oozing out of Pakistan recently, Alhamdulillah. But it's sad at the same time that we have become such a negative nation. We talk endlessly about negativity that we have created, but not positivity that is actually happening

— kannu (@kannu76634669) January 27, 2020
Some thought that if implemented, the bill will prove to be revolutionary:
I think its too much for a country where 3 kids per family is common , it should be 3 months for woman and 1 month for father .. but overall the bill is very good if all the provinces pass this bill it would be revolutionary.

— Sawaiz khan (@Sawaizkhan211) January 27, 2020
Some found it unfavourable to the private sector:
Private sector SMEs can't bear such huge expense against salaries&wages. Applicable by public sector & multinationals. https://t.co/hHOctj2sX7

— حسین (@_Serendipity_HA) January 27, 2020
People were comparing the leaves to other countries:
it's brilliant, here we get 6 months maternity and 2 weeks paternity leave in Ireland, so Pakistan is winning in this regard.

— Asfand (@Asfand1987) January 27, 2020
OMG 😮 man getting more then guys in Uk they only allowed two weeks n women it depends on their work type what they can have these Pple lucky in Pakistan then getting more then Uk

— Sheeba Ali (@SheebaAli15) January 27, 2020
Better than in the USA

— Deeda Naqvi (@DeedaNaqvi) January 27, 2020
Canada also has similar laws. An important need and consideration by a welfare state.

— Hilal Ahmad (@saadooni0112) January 28, 2020
Many were concerned how organisations will stop hiring women:
This is even more than some of the European countries. 6montjs paid leave.. How will the company survive that? They will stop hiring females then.
There shud b some practicality when laws are to be made.
Rational duration shud be considered considering pakistan economy https://t.co/JYtvaBphEX

— Ubaid Shafi (@ubaid_4) January 27, 2020
Companies will stop preferring or even considering women if implemented in private sector. Majority businesses here are barely surviving so owners would want the most productivity.

— mueed (@WhyMueed) January 27, 2020
Some were praying that the law actuallisbe implemented:
I hope this also get implemented not like other laws that r only stated in law books but not being implemented anywhere

— Muhammad Ahmed Khan (@MuhammadAhmedK1) January 27, 2020
And while many were celebrating the news, many had their reservations:
Let's bring some more 👶, expect increase child birth rate 2020 https://t.co/3ZrCY0Q0tS

— Waqas Masood (@wmasood) January 28, 2020
Many thought it would lead to over-population:
Won't this also encourage people to produce more then in an already over populated country? Just wondering. 🤔

— ABWinPAK (@ABWinPAK) January 27, 2020
Some were straight up against it:
wtf. bachy aap k ho'n or khamyaza qoam bhugty https://t.co/2WdA6xOZeP

— Rainbow (@pavlovscat8) January 27, 2020
Some were calling it disastrous:
Absolutely asinine bill if it becomes law. With the population explosion and majority of women not in paid jobs, this is going to be disastrous.

— Asma Siddiqi (@asma_siddiqi) January 27, 2020
People were thinking that people will use this as an excuse:
Already majority of beuracracy from bottom to top does not want to work …. now another genuine excuse. 🤔🤐 https://t.co/RfqPncZQnp

— TARIQ MASOOD (@TARIQMASOOD13) January 28, 2020
Some thought the private sector will get away not following the law:
Who will force the private to sector respect the labor laws including this one ?

You can keep legislating but non-conformance with labor laws in Pakistan is one of the biggest issues. Even harrmless laws for oldage benefits/contributions are not respected by private sector. https://t.co/p3M3Mr0Qlj

— Cavit🇹🇷جاويد🇵🇰Javeed🇨🇦 (@b78709) January 27, 2020
The government however has opposed the bill stating that such lengthy maternity leave was not allowed in any part of the world and 90 days leave for working mothers is already permitted under the law.
What do you think about this bill? Let us know in the comments below!
The Senate just passed a bill granting paid maternity and paternity leaves and the internet has mixed reactions!