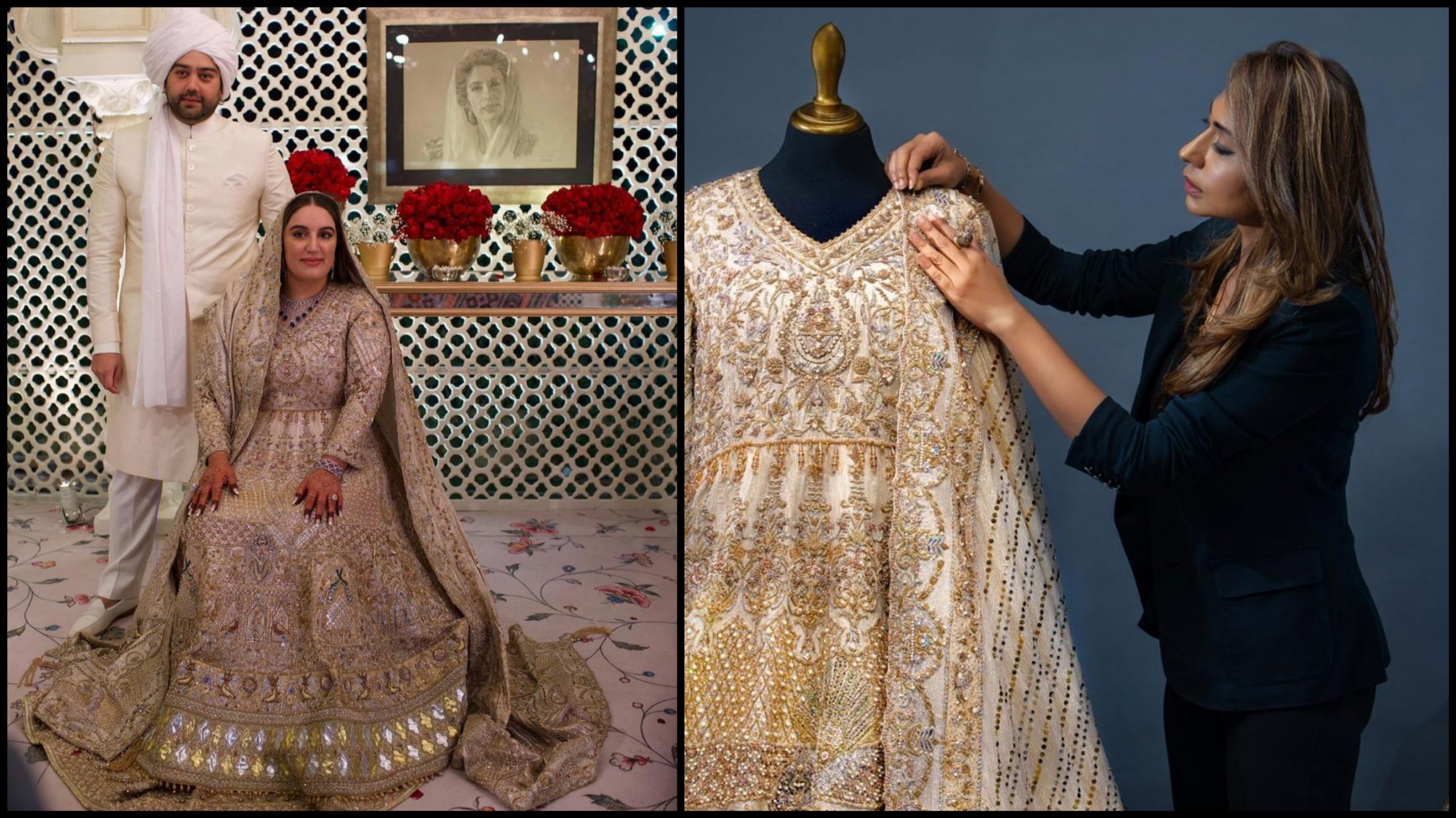 Last week we all saw Bakhtawar Bhutto Zardari tie the knot with Mahmood Choudhry and the nation could not be happier for the couple. And like everyone else at any wedding, we were so interested in the wedding outfit of the bride because let's face it, we love to know all there is to know about a bridal dress, be it a strapless white Vera Wang or an intricately crafted ivory & gold Wardha Saleem Bridal. We sat down with the famed designer whom Bakhtawar Bhutto chose to dress her bridal outfit.
A renowned name in Bridal Couture World, Wardha Saleem has been designing bridal dresses since she first launched her first bridal collection in 2014. She is known for the unique way she ties the traditional techniques with modern aesthetics.
We sat down with Wardha Saleem and talked to her about the now-iconic bridal outfit.
How did this selection come about?
It was very simple. Bakhtawar liked our design sensibility and approached us to make her wedding ensemble.

Considering you are known for creating timeless, classic pieces for all your brides, what was the design philosophy of this iconic outfit?
We wanted to create a classic look with a young and cheerful vibe keeping Bakhtawar's personality in mind.
The design concept was to create a traditional outfit with a modern sensibility, inspired by the flora and fauna of Sindh.

Was any part of the outfit inspired by Bibi's wedding look?
Every bride wants to look as beautiful and elegant as her mother did on her wedding day and Bakhtawar is no different. She wanted her outfit to channel the same vibe yet gave us complete creative liberty to create our own signature look.

Can you tell us in more detail how the outfit came to look how it did?
Certainly, keeping in line with that vision, we chose ivory as the base color, highlighted with different shades of gold. The traditional long peshwaz was paired with a sharara and dupatta, all of which were gracefully embroidered with geometric motifs from ajraks, jalis from the Mughal architectural aesthetic, floral motifs were inspired from the lavish Mughal Gardens. The fauna was one of the most interesting parts of the embroidery. We incorporated the majestic Thar Peacock & house sparrows, perched in Jahorkas and the ever-graceful dancing deer under the famous Khairpur banana trees. We also added our signature Chand Bala and Lotus Motifs to finish off the regal outfit.
All these were intricately hand-embroidered in Gold and Silver, using fine quality materials e.g. Swarovski crystals, pearls, resham thread, golden & silver taar & naqshi, with various age-old techniques like aari, zardozi, kamdani, French knots, Interlacing, and our signature fabric and leather appliqué were used to create a timeless look for our bride.

Wow. That sounds exhausting. What was the time and effort involved in the entire process from design to the final product?
From finalizing the design to the last crystal sown onto the outfit, it took 45 of our most experienced craftsmen and over 7,000 man-hours to create this intricate heirloom Bridal.

Well looks like all that hard work paid off because the outfit 'broke the Internet'.
I'm glad that it received such widespread praise from all quarters. This has been a wonderful experience that we at Wardha Saleem will always cherish.
What was Bakhtawar's feedback? Was she happy?
We were at the wedding and she was exhilarated to be receiving so many compliments from her friends and family. She appreciated our professional approach and loved the extensive intricate work and attention to detail in the outfit.

How was your experience of working with her? Was she easygoing or tough?
It was such smooth sailing. Bakhtawar was the dream bride any designer would love to have. Open to the designer's vision and giving us complete creative freedom. We had a great time designing for her and her family.
Oh, so you have designed for someone else in her family. Who?
We also designed custom made looks for Asifa Bhutto Zardari that she wore at Bakhtawar's mehndi and reception functions.

Social Media was flooded with news about using real gold taars and diamonds, resulting in a ridiculous price for this outfit. Is it true?
No. That is completely false information. The outfit does not have any real gold or precious stones and thus the outrageous price being spread is baseless. We have created this outfit using fine quality, locally sourced materials. This creation is a testament to the skill of our local artisans and our ability to transform these materials into timeless Heirlooms.

The outfit was ivory and gold, which seems quite far from the palette of 'the Queen of colors' that you are. Was that particularly difficult for you?
It wasn't, to be honest. Creating a wedding outfit is always a collaborative process between the designer and the bride. Though the outfit was mainly in shades of gold, we were excited to incorporate tones of blue in the outfit and added a custom-made sapphire blue clutch for her to compliment the iconic jewelry she would wear on her big day.

Considering that the outfit was a roaring success, you must be getting a lot of orders for the same outfit.
Yes, we are getting a lot of queries and the response has been overwhelming. But this was a bespoke bridal made solely for Bakhtawar Bhutto Zardari. She seems to have started a trend as lots of clients are now approaching us for ivory and gold bridals. We want to keep up with the same quality we have always put forward for all our clients.
This brought us to the end of our conversation with Wardha Saleem and the iconic Bakhtawar Bhutto Zardari wedding outfit.