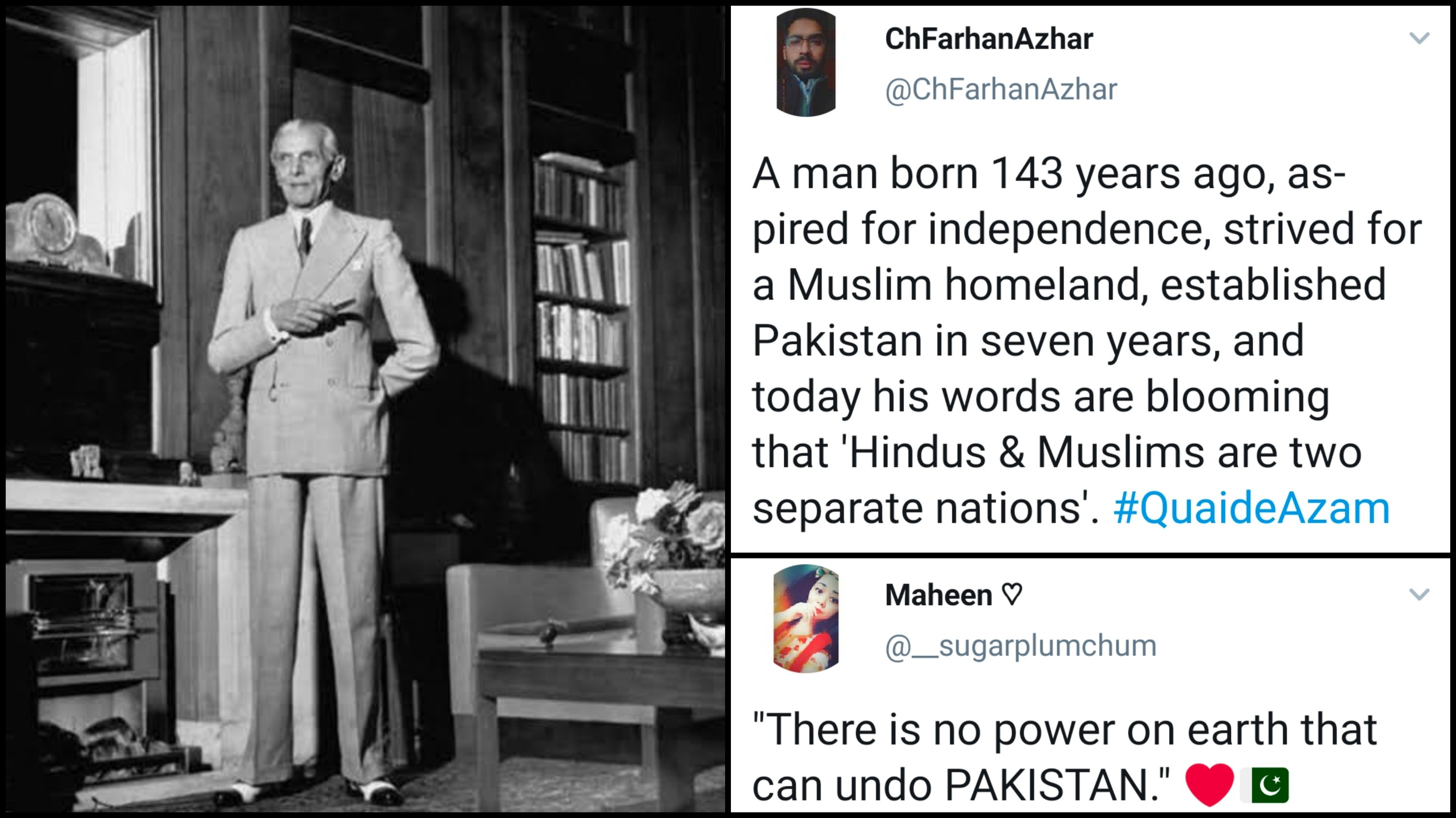 We've never seen a leader so dedicated and poised like Mohammad Ali Jinnah, and today marks his 143rd birth anniversary. The nation is remembering the founder of Pakistan in his very own words with renewed commitment to work hard for the progress and prosperity of the country.
The hashtags related to the father of the nation have been trending throughout the country:
Insert ss
And people are determined to make a difference!
THE BIRTH ANNIVERSARY OF FOUNDER OF PAKISTAN MOHAMMAD ALI JINNAH ❤️
" 72 years have been passed since Pakistan, but no one has even come to terms with the dust of your shoe !!"#QuaidDay pic.twitter.com/QD5lWfBbpu

— Stinky_pinky ♡ (@uzmayy_248) December 24, 2019
The class!
M.Ali jinnah was once advocating a case and his monocle fell down. The judge laughed & said, "today we all will see M. Ali bowing down in front of us".
He smiled and took out another monocle from his pocket and continued the case. "you'll never see jinnah bow down" #QuaideAzam

— Abeer 💐 (@merely_musing) December 24, 2019
He did:
The Muslims and Pakistanis do not recognize and not even have an idea why Muhammad ali jinnah struggled so much,he did it for this day
he did it because he saw it,he saw it all.#QuaidDay pic.twitter.com/C4mjZ7yFcs

— Sunshine (@syedasunshine) December 24, 2019
All for peace!
"Our object should be peace within, and #peace without. We want to live peacefully and maintain cordial friendly relations with our immediate neighbours and with the world at large." #QuaideAzam – Lahore
August 15th, 1947 #QuaidDay

— Aisha Saeed (@MsAishaK) December 24, 2019
People were lauding his vision:
A man born 143 years ago, aspired for independence, strived for a Muslim homeland, established Pakistan in seven years, and today his words are blooming that 'Hindus & Muslims are two separate nations'. #QuaideAzam

— ChFarhanAzhar (@ChFarhanAzhar) December 24, 2019
This gave us goosebumps!
Goosebumps…

Why did #QuaideAzam believe that no power on earth can undo Pakistan. 1/2 pic.twitter.com/owCmYZgZ7H

— Zara Ali 🇵🇰🍁 (@kashmirSaga) December 24, 2019
He knew the power of women:
Hear, hear!

"There are two powers in the world; one is the sword and the other is the pen. There is a great competition and rivalry between the two. There is a third power stronger than both, that of the women."#MuhammadAliJinnah #QuaideAzam pic.twitter.com/kV3G2nivLi

— Sahida Medee Bukhari (@ShahidaMedee) December 24, 2019
DG ISPR too paid his respects:
Happy Birthday Father of the Nation, Quaid e Azam Muhammad Ali Jinnah. Can't thank you enough for having got us Pakistan. Those who opposed then are realising now. For them it's beginning afresh now.
Beginning of the …#QuaideAzam pic.twitter.com/Kr1gEjfMfz

— Asif Ghafoor (@peaceforchange) December 24, 2019
His words will continue to live forever:
https://twitter.com/Obaid_Atique/status/1209573982447525888?s=19
No power!
"There is no power on earth that can undo PAKISTAN." ❤🇵🇰#ThankYouJinnah #QuaidDay pic.twitter.com/xZ1qWhz8KJ

— Maheen ♡ (@__sugarplumchum) December 24, 2019
Today, more than ever:
Today we can clearly see why we needed a separate homeland. Pakistan Zindabad #ThankYouJinnah #QuaidDay #QuaideAzam pic.twitter.com/e2MvbuqGXX

— Nishi (@ShahNishat) December 24, 2019
People were sharing how Quaid e Azam was in a league of his own:
Being a photographer, I am impressed by the sense of photography and posing of the great leader Quaid-e-Azam MA Jinnah#QuaidDay #QuaideAzam #ThankYouJinnah pic.twitter.com/S1SWonks4y

— Abbrar Cheema (@Abbrar) December 24, 2019
People were committed to work towards the betterment of the country:
Happy birthday Mr. Jinnah. Thanks for giving us Pakistan, today we can walk with our head held high. We promise you our Quaid to never let you down and always work for the betterment of our beautiful country and its beloved nation. InshahAllah
Pakistan Zindabad! #ThankYouJinnah pic.twitter.com/yOu4CJVWAG

— Air Marshal Shahid Latif – (Retd) (@AMShahidLatif) December 24, 2019
What real freedom looks like:
You are free; you are free to go to your temples. You are free to go to your mosques or to any other places of worship in this State of Pakistan. You may belong to any religion, caste or creed—that has nothing to do with the business of the state.

M.A Jinnah#ThankYouJinnah pic.twitter.com/5CMTBKt6CF

— SAAD 😇 (@Imranist_02) December 24, 2019
That's our Quaid!
"Few individuals significantly alter the course of history. Fewer still modify the map of the world ,Hardly anyone can be credited with creating a nation-state. Mohammad Ali Jinnah did all three."

~ Stanley Wolpert#FatherOfNationDay2k19 #ThankYouJinnah#QuaideAzam pic.twitter.com/oIpWAIxQPV

— 𝘾𝘿𝘾 𝙩𝙚𝙖𝙢 𝙤𝙛 𝙋𝘼𝙆 🇵🇰 (@CDCteamofPak) December 24, 2019
How do you plan on working towards the betterment of the country? Let us know in the comments below!