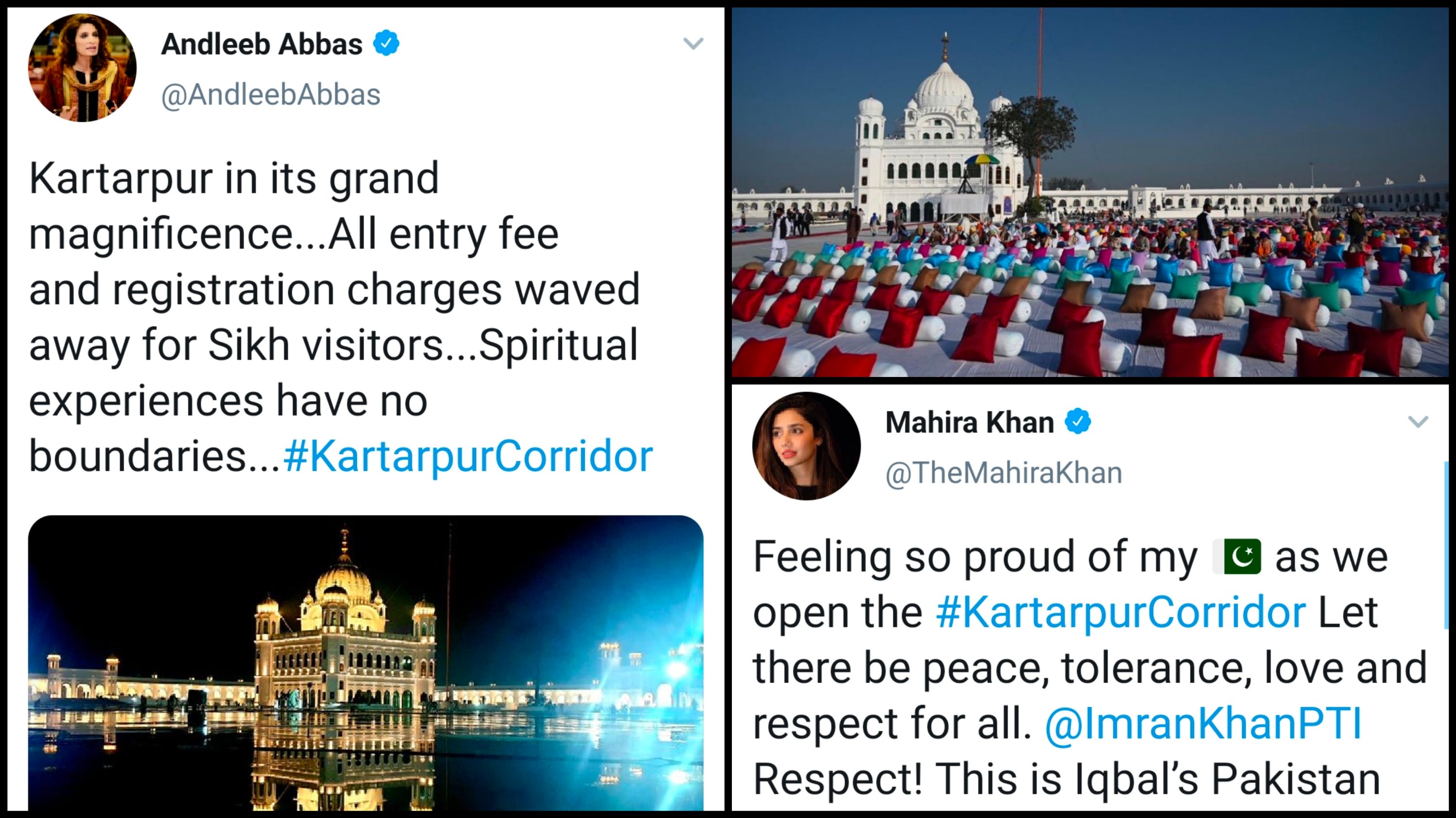 As Pakistan opened its doors to Indian Sikhs via the Kartarpur Corridor, the gesture has won millions of hearts across the globe and the internet is all about it as the hashtag has been trending on number 1 since last night: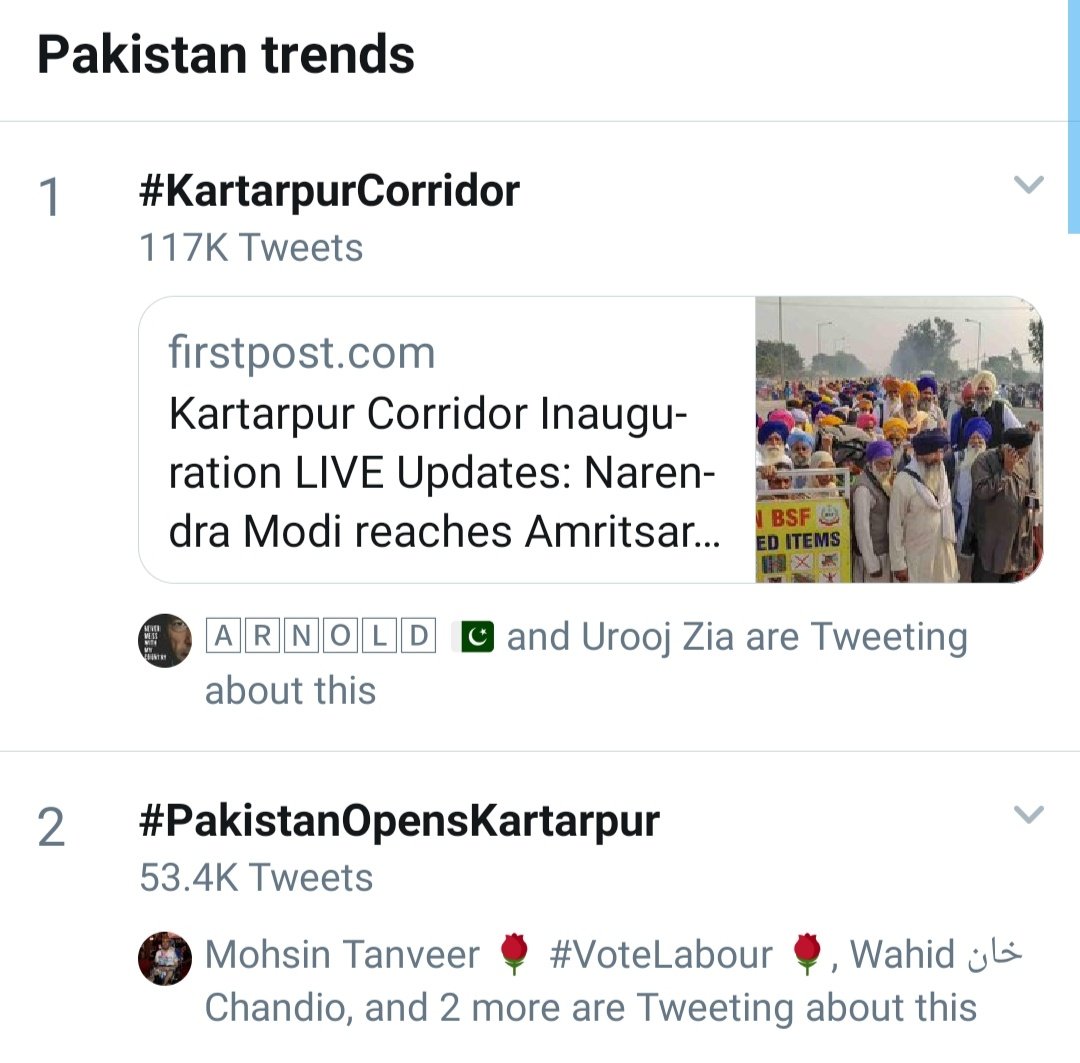 The internet is filled with love and appreciation for their sikh brethren and is raising the government for setting a great example:
People were thankful for the gesture:
Haters may rot in hell.#KartarpurCorridor pic.twitter.com/TneteERzDc

— Kamran A. Mahar (@camranmahar) November 7, 2019
People were lauding Imran Khan:
If people think that @ImranKhanPTI can't deliver. Have a good look at #KartarpurCorridor . He did what no one can do, how can we expect a country broken by corruption to the lowest level to come out to 💯 in just one year or over night. I have no doubt that vote I gave was wrong.

— Ammar (@ammar__mani) November 9, 2019
PM Imran Khan in his speech shared the importance of Kartarpur Corridor for Sikhs:
PM IK historical speech st Ceremony of Historic inauguration of #KartarpurCorridor #Kartarpur2Khalistan2020 pic.twitter.com/fUxHH6Ve3O

— Munawwarkhan (@munawwarkhan581) November 9, 2019
What a day to be alive!
11 Rabi-ul-Awwal
9 November Iqbal day
In keeping with the teachings of the last prophet Muhammad (SAW). And according to Iqbal's vision, Pakistan has opened Kartarpur corridor.
Thanks Imran khan❤️
🇵🇰 #KartarpurPakistansInitiative#KartarpurCorridor#PakistanOpensKartarpur pic.twitter.com/d9jywfmrct

— Asad Ali Channa (@_AsadAliChanna) November 9, 2019
People were comparing how different approaches both the nations have:
This is really history in the making. Today, at one side of the border we will finally witness the #AYODHYAVERDICT on the demolition of Babri Masjid & at the other side of the border @ImranKhanPTI is inaugurating the #KartarpurCorridor.

Rmemembr remember the 9th of November.

— Geeta Jones (@zarhashemi) November 9, 2019
Indian journalists were welcomed with love:
Indian journalists arrive in Lahore for #KartarpurCorridor opening taking place tomorrow. #Kartarpur pic.twitter.com/ovDdzAkeX7

— Danyal Gilani (@DanyalGilani) November 8, 2019
They certainly have:
Pakistan opening #KartarpurCorridor for minority rights, peace and India annexing Minority rights through unjust judgement. World nations have seen it today#BabriMasjid pic.twitter.com/t2i0CkGGvA

— Usman Ikram (@UsmanIkramPAK) November 9, 2019
People were moved by Quaid-e-Azam's quote at the entrance:
At the entrance. #KartarpurCorridor pic.twitter.com/7ld5FJ5xOL

— Benazir Shah (@Benazir_Shah) November 9, 2019
Novjat Singh Sidhu gave a heart warming speech thanking Imran Khan:
Highlight of the day! Navjot Singh Siddhu all praise for PM Imran Khan 😍#KartarpurCorridor pic.twitter.com/yyWv8YowgE

— Being Virk Shahzaib (@VirkSh786) November 9, 2019
The kind gesture moved the Sikhs so much that one doctor operated his patients for free:
Will be operating today's all cases for free – Hindu, Muslim, Sikh, Isayi sab ke naam 😊🙏🏻#AYODHYAVERDICT #KartarpurCorridor pic.twitter.com/46ELFHQfsC

— Dr. GILL 2.0 (@ikpsgill1) November 9, 2019
Manmohan Singh shared that he hopes this step will improve the relations between the two countries:
"I hope Indian & Pakistan relations improve enormously as a result of this beginning." – former Indian Prime Minister of India, Manmohan Singh sharing his thoughts with PTV on his arrival for the historic opening of the #KartarpurCorridor pic.twitter.com/zquM7QQhpb

— PTV News (@PTVNewsOfficial) November 9, 2019
The welcome was epic!
Pakistan says welcome to Sikhs.#KartarpurCorridor pic.twitter.com/vaiv8OKelT

— Atiq Ur Rehman Sial (@AtiqSial) November 9, 2019
What an mazing and hearty wlecome from Pakistan.#KartarpurCorridor pic.twitter.com/b2f20J2DSa

— Sadat Younis (@sadat_younis) November 9, 2019
Sikhs were sharing how happy they were:
A Sikh pilgrimage shares his views on the love and respect he received from the people of Pakistan contrary to the fear and hatred he was fed in India.

The way he spoke is a delight to hear. #PakistanOpensKartarpur #KartarpurCorridor pic.twitter.com/kBfGppn5n2

— Fidato (@tequieremos) November 9, 2019
Humanity won today:
"Lovers of God are thousands wandering in wilderness,
I shall serve the person who will love God's creatures!"
Humanity is a universal concern,there couldn't be better tribute to the greatest philosopher than to open our arms to humanity again today! #KartarpurCorridor #IqbalDay

— Sayed Z Bukhari (@sayedzbukhari) November 9, 2019
Our PM making us proud!
An eye for an eye and the whole world will soon be blind. @ImranKhanPTI showing the world, new pathways to peace. Respect #KartarpurCorridor Proud of #Pakistan for taking the moral high ground. Let's show em how its done.

— Sara Taseer (@sarataseer) November 4, 2019
That's Pakistan for you:
Kartarpur in its grand magnificence…All entry fee and registration charges waved away for Sikh visitors…Spiritual experiences have no boundaries…#KartarpurCorridor pic.twitter.com/lfBKYhglMd

— Andleeb Abbas (@AndleebAbbas) November 3, 2019
Pakistani celebrities welcomed everyone with open arms:
Feeling so proud of my 🇵🇰 as we open the #KartarpurCorridor Let there be peace, tolerance, love and respect for all. @ImranKhanPTI Respect! This is Iqbal's Pakistan ♥️

— Mahira Khan (@TheMahiraKhan) November 9, 2019
Must commend the efforts of everyone involved in the successful inauguration of the #KartarpurCorridor. Indeed a proud moment for Pakistan and a much needed step towards greater inclusivity, regional peace and happier people

— Humayun Saeed (@iamhumayunsaeed) November 9, 2019
I welcome the Sikh brethren to Pakistan. #KartarpurCorridor is a road to peace & religious harmony. Beautiful scenes at the opening of corridor. I can see the priceless happiness on the faces. Special contribution of @ImranKhanPTI & @sherryontopp is highly appreciated. pic.twitter.com/RrKfok7oVB

— Shoaib Akhtar (@shoaib100mph) November 9, 2019
Welcome 🙏 PAKISTAN ZINDABAD @ImranKhanPTI #KartarpurCorridor #KartarpurCorridorForPeace pic.twitter.com/MKuWqjkAAA

— Bilal Ashraf (@IamBilalAshraf) November 9, 2019
The #BabriMasjid verdict & the opening of the #KartarpurCorridor 2day hv shown how tolerant the 2 respective countries are towards minority religions.While we're opening up to other faiths,our neighbours seem 2be suppressing them further. Why can't the world see what is going on? pic.twitter.com/Re9bMwBieA

— Mehwish Hayat TI (@MehwishHayat) November 9, 2019
#KartarpurCorridor will be remembered in history as the unprecedented step initiated by Pakistan to promote regional peace and religious harmony.@imrankhanpti Thank you for showing us, and the world what a true leader is. #peacealways

— Ahad Raza Mir (@ahadrazamir) November 9, 2019
Congratulations to #Sikh brothers and sisters around the world on opening of the #KartarpurCorridor. May happiness seen on the face of Yaatris open up our hearts to people of all faiths inspiring us to reduce their pain and suffering. Congratulations PM @ImranKhanPTI & Pakistan

— M. Jibran Nasir (@MJibranNasir) November 9, 2019
Dear World, Pakistan has the largest Gurdwara in the world. It's on the #KartarpurCorridor and welcomes Sikhs from all over the planet.Yes, it's the same Muslim country that did not have Mosques that were safe to visit a few years ago. With our resilience we turned it around.🇵🇰❤️

— Haroon Shahid (@HaroonsMusic) November 9, 2019
May Allah be with the muslims of India. thank you Muhammad Ali Jinnah. 🙏#KartarpurCorridor

— Ihtisham Ul Haq (@iihtishamm) November 9, 2019
What do you think about the opening of Kartarpur Corridor? Let us know in the comments below!