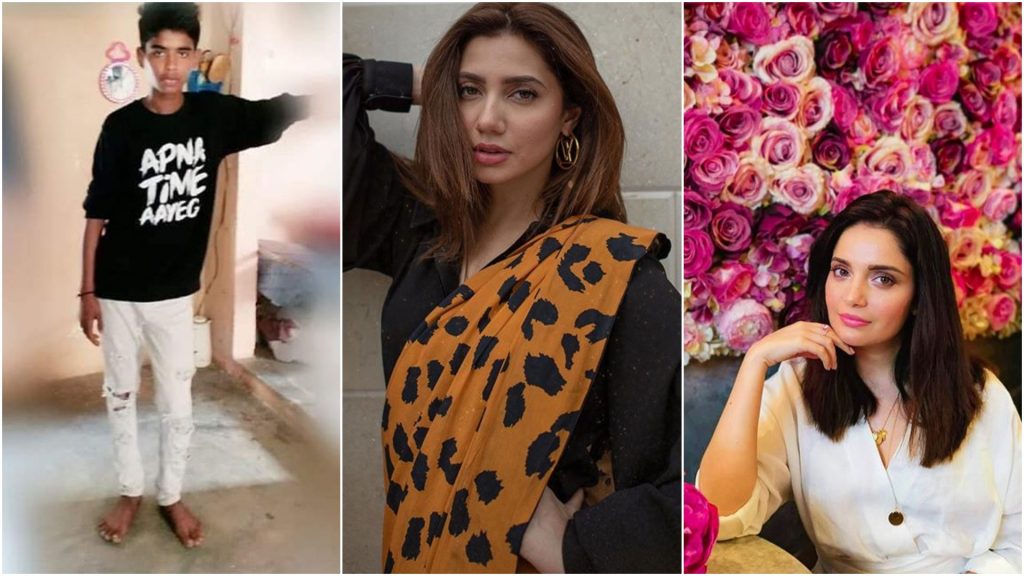 A few days back in Karachi, a 16 year old boy named Rehan was accused of robbery and beaten to death in broad day light. According to police, two alleged robbers attempted to enter a bungalow near Kokan Ground in Bahadurabad. The bungalow's owner and neighbors tied Rehan by his hands and beat him. A video circulating on social media showed the teenager tied to a grill with his pants taken off.
WARNING GRAPHIC CONTENT A 15-year-old boy, accused of trying to commit burglary, was caught in Bahadurabad, Karachi, reportedly filmed during interrogation & later lynched by a mob. This kid didn't deserve such a horrible fate. This callous, heartless act puts humanity to shame.. pic.twitter.com/wKoFq7imS0

— Bilal Farooqi (@bilalfqi) August 18, 2019
In reaction to the horrific incident, people on the internet joined hands to trend the hashtag #JusticeForRehan at number 1 on Twitter and demanded justice for the boy.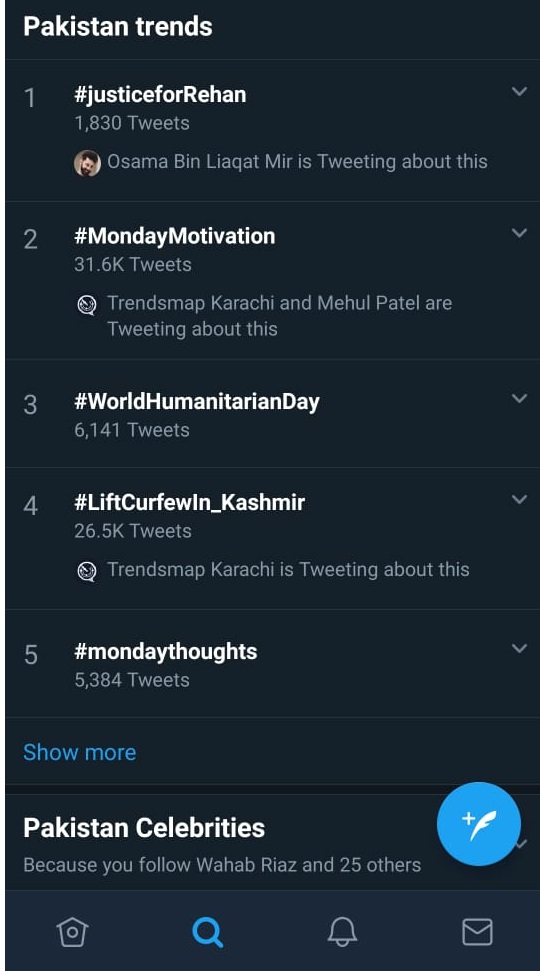 Mahira Khan was in disbelief:
Oh my God my heart. How could they do that?? How could they kill a boy? Torture him? How did not a single person stop it!!!! We have become so bloody desensitized we freaking record videos calmly while someone is beaten to death!!! #JusticeForRehan

— Mahira Khan (@TheMahiraKhan) August 19, 2019
Veena Malik wanted an example made out of the culprits:
Saw some of the pictures & its horrific to say the least.We r a peace loving country.Authorities should take a look in this case & make sure to set example. So that no such cases happen in the future. How can people be so heartless, it's beyond my imagination. #justiceforRehan

— VEENA MALIK (@iVeenaKhan) August 19, 2019
Armeena Khan too shared how heart broken she was:
To the poor teen from baharaduabad who was killed mercilessly on a mere suspicion of burglary (just a suspicion). They tortured him for two hours and did not stop even though there was a call to prayer (azaan) in the background. #RIP kid, your crime is that you were born poor.

— Armeena Khan (@ArmeenaRK) August 18, 2019
People were wondering how no one bothered to intervene:
What happened to our society, was there not anyone who asked these people to stop beating, why not anyone call the police, why not these kind of mental ill people got punishment so not anyone else will dare to do such kind of brutility.#JusticeForRehan

— Sidra Khan (@khanSahbb) August 18, 2019
Humanity is dead:
The fact that we tortured and beat a 15 years old boy to death and not a single person tried to stop it and made videos instead, says a lot about this nation and it's mob mentality. Insaaniat nahi rahin hum mein ab, pata nahi kab khuda ka azaab ajaye. #JusticeForRehan

— A. (@pateesaa) August 19, 2019
Mob justice is not justice and this nation needs to understand this:
How can they kill this innocent 15 year old boy?
Then they are saying that he was thief?
If he was thief then was this the right way to treat him?
These animals should be Hanged
#justiceforRehan pic.twitter.com/6AuZvt7TgO

— Mohsin Bilal Khan (@MohsinBilalKhan) August 19, 2019
This:
When you hit a human being or an animal, know that it hurts. When you become a part of the mob that is hitting a malnourished 15 years old, know that he will die before you're done. You'ld commit a larger crime than what you're punishing him for. YOU END A LIFE. #justiceforRehan

— ᴇʀɢᴏᴘʜɪʟᴇ (@RstyClinomaniac) August 19, 2019
Some were sharing surahs to be recited for the soul of the departed:
PRAY FOR REHAN!😭😭😭#justiceforRehan pic.twitter.com/xl6QX0NORM

— Mr. A Kundi (@adnzafar) August 18, 2019
People reminded others how in Islam, the punishment for theft is cutting the hands off and NOT torturing to death:
Lets consider him CHOR even its not still proved. Islam men CHOR ki saza hath katna hai then who tf are they to kill him?#JusticeForRehan pic.twitter.com/KTdVt0ITra

— Rehan Sathio Tweets🇵🇰 (@rehan_sathio) August 18, 2019
People recalled the times when they met Rehan:
Butchery. Met 16yo Rehan for a moment few weeks ago. He gave a bright smile when I said I was listening to the same song on his shirt 'Apna Time Ayega'. Imagine what those 3 words symbolized for him for his future. Today, he was lynched to death by 2 men in Khi.#JusticeForRehan

— Shaheera Jalil Albasit (@shaheerajalil) August 18, 2019
People wanted the culprits to be hanged:
#justiceforRehan Culprits should be hanged publicly so that public lynching should stop once for all.#justiceforrehan#apnatimeayega
Its violation of human rights they both should b sentenced to death@pid_gov @OfficialDGISPR @SHABAZGIL @ImranKhanPTI pic.twitter.com/vjIC89TDbE

— Naeem Bio (@BioNaeem) August 19, 2019
People wanted nothing but jsutice for Rehan:
PM OF PAKISTAN
WE WANT THE JUSTICE FOR REHAN
WE WANT THE JUSTICE OF REHAN
WE WANT THE JUSTICE FOR REHAN
THIS CHILD WAS THE FUTURE OF PAKISTAN
#justiceforRehan

— Shahid Akram❤🇵🇰 [email protected] (@ShahidAkram848) August 19, 2019
The tagline on his shirt left a big impact:
The 16 years old boy who was lynched today for some minor stealing. Kills our soul to see #ApnaTimeAyega tagline on his #TShirt. The way this poor soul was tortured to death is heart breaking & sickening. #JusticeForRehan#Rehan#HumanRightsViolations pic.twitter.com/UGsVRTQU3L

— Osman Naeem™ (@OsmanTweet) August 19, 2019
Many thought that the people who put Rehan in such a position are the ones to be punished:
Go and punish her mother who was unable to give him money so he prefer stealing it.

Go and punish the neighbors who can't look after for their neighbors kids

Go and punish them all who don't give sadka and khairat to poors and then they choose wrong path.#justiceforRehan

— . (@Gulwareena_) August 18, 2019
Humanity costs nothing:
This is so painful to hear about this tragic incident.
Humanity has NO value in Pakistan.💔 The culprits should not be spared at ANY COST for such a brutal and inhumane act. #JusticeForRehan https://t.co/E9SHNSUjC8

— ßushra Nasir Ahmed (@bushra_2010) August 18, 2019
No one is above law:
This is horrifying. There is no excuse for this brutality, No one has the right to take another's life & Law. The murderers should be hanged to death.#justiceforRehan #Justic4Rehan pic.twitter.com/IMmyH9M2la

— Faisal (@FaisalViewss) August 18, 2019
This incident reminded some of the brothers Mughees & Muneeb who were lynched in Sialkot:
In Past it was Mughees & Muneeb of Sialkot, now it is Rehan from Karachi.. huh this nation needs to know they got not right to kill someone.#justiceforRehan #bahadurabadincident#Karachi

— Zaib Rehman (@Xaibastic) August 18, 2019
We at diva extend our support to the victim and his family and condemn this barbaric act, may justice be served and the culprits be punished.