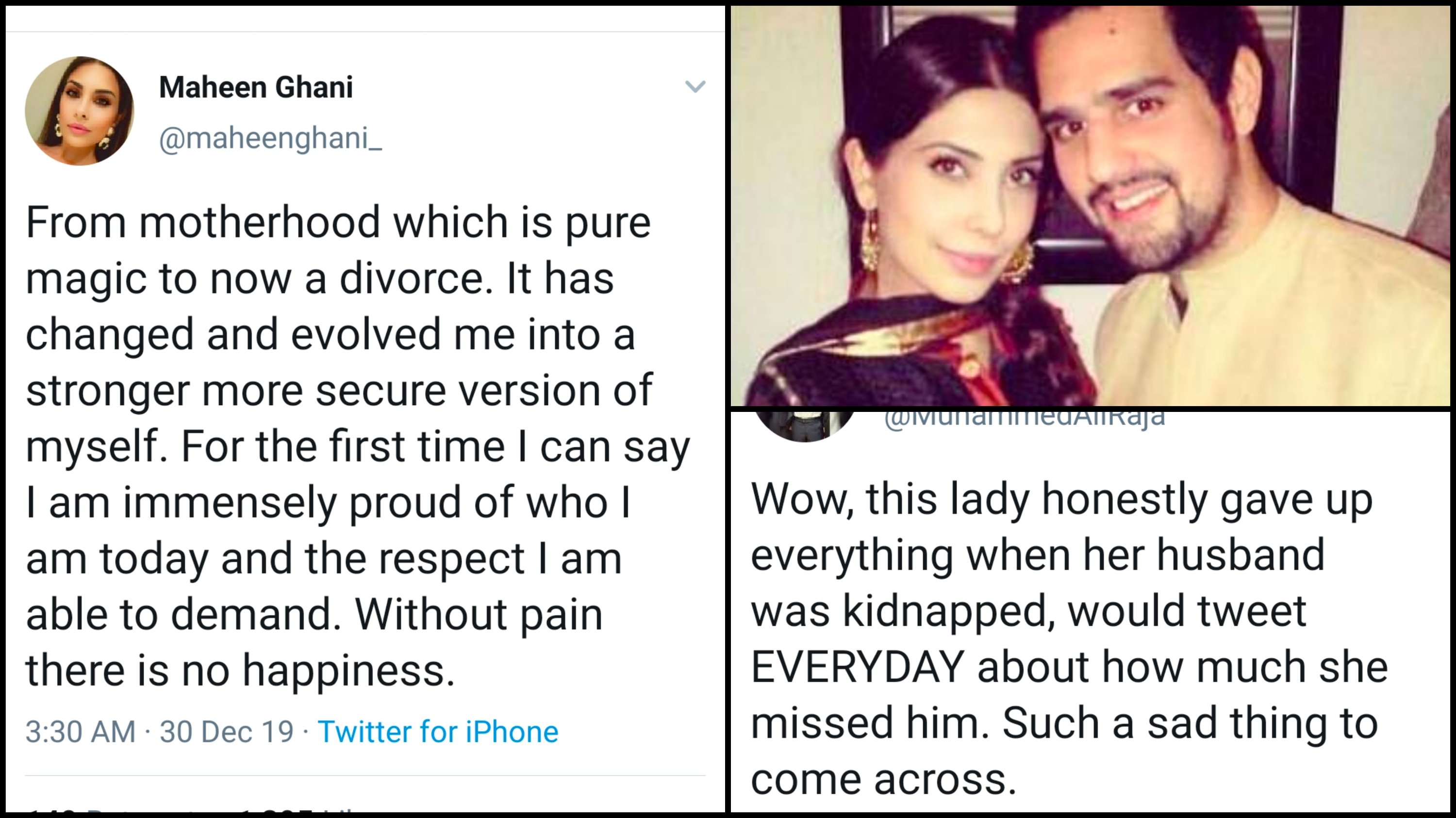 After Shahbaz Taseer was kidnapped, his wife Maheen waited for 5 very long years praying for his safe return and fought through the pain very bravely. And when Shahbaz returned, people were crediting to Maheen and her prayers.
Maheen recently took to Twitter to share how the past decade has been a whirlwind for her and how she hopes 2020 is kinder:
To say this past decade has been a whirlwind would be an understatement! It has been a time of transition, learning, trauma, waiting, healing and then some magic. From marriage to tragic losses, kidnapping to anguish on so many different levels. From prayers to miracles.

— Maheen Ghani (@maheenghani_) December 29, 2019
From motherhood which is pure magic to now a divorce. It has changed and evolved me into a stronger more secure version of myself. For the first time I can say I am immensely proud of who I am today and the respect I am able to demand. Without pain there is no happiness.

— Maheen Ghani (@maheenghani_) December 29, 2019
You have to feel one to experience the other. But I pray this coming decade doesn't require me to be as brave as I have had to be. May it be kinder to all of us and may we be good role models for our children and kinder to one another. Here's to wishing health love and healing.

— Maheen Ghani (@maheenghani_) December 29, 2019
May 2020 filter out all the toxicity out of our lives and may we continue to thrive. Be kind, and be loyal. It goes a long way. Happy new decade! Light and love to you all.

— Maheen Ghani (@maheenghani_) December 29, 2019
And the twitterati were heart broken at the news of her divorce:
I'm so sorry you had to go through this. You deserve better, walk with your head held high. You're a good person for being loyal to him even when there was no news of him while kidnapped. It's a pity it went unappreciated.

— Nadia (@nadiajqureshi) December 30, 2019
People were telling her how she was an inspiration to many:
Maheen, women like are you the reason so many of us believe in the phrase "never give up". I wish you nothing but ease and strength. For all the battles you had to fight alone, we are all proud of you too. You're a warrior. God bless you always. Super woman ✨

— Boss Lady (@McPr0zac) December 30, 2019
A story that definitely needs to be shared:
Stay strong. Stay proud of yourself. Kick the toxic society. If possible, please do a @TEDTalks to share your story help as a role model for others who are struggling to regain their sense of pride under extremely difficult conditions that this toxic society cage them in. 🤲🤲💕

— ᴇʀɢᴏᴘʜɪʟᴇ (@RstyClinomaniac) December 30, 2019
People were angry:
Shahbaz Taseer cheated on his wife??????? The woman who waited for him while he was ABDUCTED?????? What the fuck! https://t.co/Vo5UTdwALd

— Sohaa (@SohaTazz) December 30, 2019
Wow, this lady honestly gave up everything when her husband was kidnapped, would tweet EVERYDAY about how much she missed him. Such a sad thing to come across. https://t.co/KwGJ20KQzu

— Muhammed Ali Raja (@MuhammedAliRaja) December 30, 2019
People were sending love and prayers her way:
So much love and prayers for you! Whenever I would read articles about his abduction I always said a prayer for you and I thought to myself that this woman must be so strong and committed to have hope and keep waiting like this for so many years. God knows you deserve the world

— Areebah۰ (@areebahaaq) December 30, 2019
I started following you when shahbaz was kidnapped… ur painful tweets n love n loyalty… an example of patience n love… n repaid with what… life is such a roller coaster n so unpredictable… stay strong n keep looking forward… tc

— Noman Ali (@nomanali77) December 29, 2019
Many shared how shocked they were:
SHOCK of the year https://t.co/sm5w0ApxoJ

— Samir Akram (@samirakram) December 30, 2019
I am so sorry to hear this Maheen. So many of us are witness to your loyalty and all the effort you made in prayer during those most difficult years. I am in utter shock. You waited and never gave up. May 2020 be a year of only happiness for you ♥️

— Saima (@DaLondonGirl) December 30, 2019
Wow. You went through a lot and steadfast loyal while he was kidnapped and this is how he rewarded you. I am shocked. Stay strong.

— Mateen Ul Waheed (@__mateen) December 30, 2019
Don't know what to say Maheen…. we all are witness for your pain,struggle,love for him, loneliness, your faith in Allah and your sabar … After all those painful unbearable 5 years you got divorce.💔 ye kaisa insaf hai?Muhabbat Aur wafadari se insan ka aitbaar uth jaega

— Azra abdul karim (@KarimAzra) December 30, 2019
People were actually in disbelief:
I've seen this woman praying for her husbands return. I don't know how anyone can cheat on someone who was loyal to him all those years when he was gone.. I'm so sorry to hear about this. https://t.co/vdt5hMWuYp

— Sara. (@BauhatSara) December 30, 2019
my heart is not ready for this. sorry. no. please. https://t.co/giePJeZ8EV

— Lirpa (@summerlarva) December 30, 2019
Unbelievable! She deserves better https://t.co/EknkzN0QDA

— Haris (@mixplate11) December 30, 2019
Some also shared how they feared marriage now:
Everytime I thinkabout the fact that a woman like you got divorced it gives me shivers that what will happen to the rest of us. What you went through and how you dealt with it andwhat yougot in return I can't even imagine.I hatethesaying men aretrash but after seeing your case 😡

— Nafisa Durrani (@DurraniNafisa) December 30, 2019
I have lost faith in love and marriage.. https://t.co/jeja6vShTK

— Durrenayab Sahibzada (@Durr_Sahibzada) December 30, 2019
I HAVE OFFICIALLY LOST ALL MY FAITH IN MARRIAGE. HE LEFT THIS WOMAN WHO WAITED FOR HIM WHEN HE WAS KIDNAPPED. DOUCHEBAG https://t.co/N9iR7QMtEA

— medusa (@Medusa_zk) December 30, 2019
But Maheen gave them hope:
True but not all men- I have grown up with my father. I am who I am today because of the love and security I got growing up and that has sustained me through every hardship.

— Maheen Ghani (@maheenghani_) December 30, 2019
Many were accusing Shahbaz of dating a 23 year old model:
This woman stayed by the man's side through his 5 YEAR LONG abduction. Only for him to come back and leave her for a 23 year old model.

Men, truly, ain't shit. https://t.co/gAXc3jwnuP

— maybe zohair (@nohairkhan) December 30, 2019
People were recalling how they followed her through her journey:
I started following your Facebook statuses which you used to put up on every Friday when your husband was https://t.co/cgoWB8UNl0 are the epitome of loyalty and steadfastness .I am sorry for your https://t.co/fFyTmn2qJK are a strong woman . power to you

— सबा अवान صبا (@AwanSabaa) December 30, 2019
I'm so saddened to hear this, I witnessed your strength during the ordeal you went through, and was so happy for the miracle you got, Allah has a better plan for you and your daughter InshaAllah

— Momna Arif Choudhry (@momnaarif) December 30, 2019
I have been following this fine lady when her husband, Shehbaz Taseer was abducted. I witnessed her pain & agony throughout the years. May Allah rewards her for her patience and ordeal that she had been through. Only he can reward, humans are thoroughly ungrateful. https://t.co/FNCkO184C3

— Gulalai (@GulalaiJ) December 30, 2019
Some were happy to see her seeing herself in better light:
Seven long years of devotion while shahbaz taseer was abducted and this is what she gets? As sad as this makes me , I'm happy to see, she sees herself in a better light. Strong and faithful people just have different emanation! https://t.co/SZmA8FhCZw

— laiba naveed (@laibanaveed99) December 30, 2019
PLEASE!
pakistani men STOP cheating on your wives challenge https://t.co/2fBgfjmyRw

— thot (@makhdeyruksha) December 30, 2019
People were lauding her for her resilience:
This woman is the definition of resilience, patience and loyalty to be honest. A human with so much strength went thro so much but didn't lose her self, her composure. Maheen you are a rock star and an example, stay strong you got this too. https://t.co/6mQR6xStsy

— Miss Khan (@MarrySubhi) December 30, 2019
Many were hurt:
Don't know what happened but imagine going through the pain of your husband's abduction, sticking to him so loyally through the painful ordeal. And then you get separated. This hurts. https://t.co/QGmHpA98Ti

— 𝘙𝘪𝘻𝘸𝘢𝘯 (@ChupShaa) December 30, 2019
I have only been really upset twice over someone's divorce; once within the family, never wanted them to part ways and now for Maheen. This is so so terrible. I remember her tweets waiting impatiently for Shehbaz Taseer to get back. And he cheated!! All kinds of respect for her🌟 https://t.co/eJsDGUjVFN

— -Maimoona (@LucidViews__) December 30, 2019
Any more emotional trauma and I swear I'll be dead. https://t.co/f2FKPjHI2R

— Monol. (@gulaabjanum) December 30, 2019
People were disappointed in Shahbaz Taseer:
Really upsetting to see Shahbaz Taseer doing this to such a wonderful person. May Allah make it easy for you to move on life. TBH never liked the guy 😐
Pls feel free to involve me in the humanitarian work you love to do as this should not stop you. Can pass on my contact on DM. https://t.co/ppEMFafmV7

— Salman (@SalmanJpt) December 30, 2019
Be your own heroes, yes!
I am so disappointed in men that all these stories don't surprise me anymore. Be your own hero girls. Cut your toxic partner off. https://t.co/muv0dDm0VQ

— Faiqa. (@TheDumbMedico) December 30, 2019
What do you think about Maheen and Shahbaz's divorce? Let us know in the comments below!