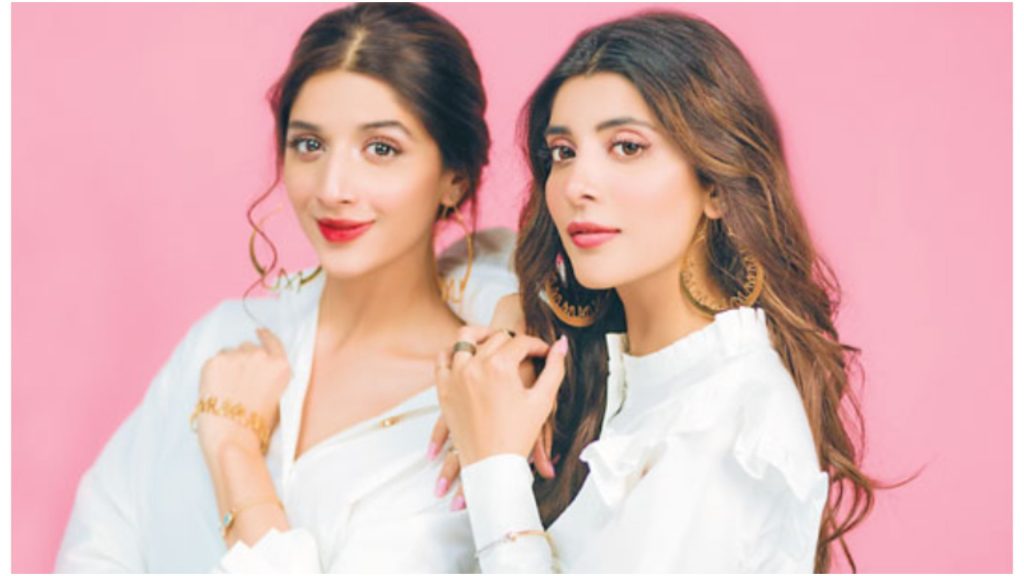 The Hocane sisters have launched their own clothing line UxM, in an attempt to promote their brand, the sisters were invited to Nida Yasir's morning show. Things were going pretty well until the host started talking about mental health and depression in a clip that has now gone viral, and the internet is furious!
'Depression' explained😂😂 pic.twitter.com/AVvEIvttxh

— Affan (@Affansaifullah1) August 6, 2019
In the clip you can see the sisters blaming an unhealthy diet for being the sole cause of depression and mental disease. But the netizens think otherwise:
Confidence ho toh Urwa jaisa, warna na ho:
The way Urwa said "orr koi reason he nahi hai"
Bas aisa confidence chahiye mujhy 😂 https://t.co/OHZ0xYDRDS

— 𝐓𝐀𝐋𝐇𝐀 *ᴷᵃʳᵉᵉⁿᵃ'ˢ ᴰᵉᵉʷᵃⁿᵃ* (@TalhaBeboholic) August 7, 2019
Psychologists were disappointed:
Psychologists and people studying psychology as their major after seeing this. pic.twitter.com/2kvMm0LTxl

— Rahlishah. (@letsnottalkmuch) August 6, 2019
People were not happy:
Urwa and Mawra's comments belittling mental health were problematic af but they are simply reflective of our general attitude.

As a general rule of thumb, it is never wise to talk about something authoritatively that you have not experienced yourself.

— Shehzad Ghias Shaikh (@Shehzad89) August 6, 2019
Rishtay wali aunty too, noticed the potential there:
Boys take note. This is the kind of payt bhari larkian you should be look for wife . They are also half doctors.depression is only due to khaana. Mind it #MawraHocane #urwa #depression https://t.co/KRQSE0vWGM

— Rishtay Wali Aunty (@Rishta_Unti) August 7, 2019
People were trolling them for being doctors:
Urwa said my depression is because of food. Hence food is cancelled now dr. Urwa is the only actress and doc EVER. EVERYONE IS A FLOPpic.twitter.com/A2GLwUTBkF

— 🌸 (@PAlNTERTAE) August 6, 2019
Dr Mawra and Dr Urwa are explaining reasons of depression.
Must watch and share#depression #Pakistan pic.twitter.com/Q6a2M6souc

— Muhammad Bin Mansha (@MuhammadBinMan1) August 6, 2019
It was breaking news:
GUYZ THIS JUST IN. EAT GOOD FOOD AND UR DEPRESSION AND MENTAL ILLNEZZIZ WILL GET CURED WOW :O Thanx Hocane Sisterz.

— m (@mehravarr) August 6, 2019
People shared how it was not the right way to promote healthy eating:
Watched the full Urwa/Mawra interview. It's still stupid.

You cannot go and say this stuff. Even if you're well-meaning and wanted to warn people about junk food and promote healthy eating.

Junk food is not what causes depression ffs.

— Mahwash Ajaz (@mahwashajaz_) August 7, 2019
People were consulting Dr. Urwa for their lunch:
I had a burger today Dr Urwa Hocane konsi dawai loon?

— Mg. (@mariajuanaaaaaa) August 6, 2019
Some were furious!
aren't the celebrities aware of their position and the kind of influence they could have on people? Mawra and Urwa continue to be the dumbest stars of Pakistan

— Riasat Ki Maut⚰️ (@mahobili) August 6, 2019
Most stupid celebrities are Urwa and Mawra in the whole Pakistan Media Indistry!

— Aneeqa♔ (@shimmerxglimmer) August 6, 2019
Some were enlightened:
And here Dr. Marwa and Dr. Urwa reveal the actual cause behind rising prevalence of depression. I am indeed enlightened. https://t.co/pfK3wFKiLc

— meem elif (@meemelif) August 6, 2019
People were disappointed how they misused the platform:
the kind of platform urwa and mawra have, and they decide to say that food is the cause of depression pic.twitter.com/ZdHJfYxSMx

— maaidah saleem (@maaidahhh) August 6, 2019
People wanted the Hocane sisters to educate themselves:
No, that fried chicken you ate did not give you depression or any mental disorder. @VJURWA @MawraHocane please educate yourselves about mental health and please do better. pic.twitter.com/LmoFwWZqbz

— Daanika Kamal (@daanistan) August 7, 2019
People shared how cliched the notion of mental health is in our society:
guys mawra and urwa deadass sounded like my mom when she found out im feeling depressed

— alex vause's whore (@cherruph) August 7, 2019
People had their own versions of what causes depression:
Inhaling oxygen is the main reason of depression ~ Marwa ty Urwa

— r o b e r t (@IffiViews) August 6, 2019
Some shared how the totka was working for them:
I ate a kela now I'm akela https://t.co/PH1GdJ1Q9a

— Saad (@OverLord_Xd) August 6, 2019
Some found Urwa's anti depressants:
Guys Urwa Hocane nay depression khatam karnay kaa totka daryaaft karliyaa hay.
Just eat Pani Puri and your life will be settled.
Thanku Urwa for this anti-depressant. Really appreciate your time and research and efforts that went into it.
Pani Puri for the win ❤️👌 https://t.co/UV2Dem4PHc

— hassan (@hi__hassan) August 7, 2019
And while people do agree with the fact that diet plays an important role, it's not the only reason responsible:
Hello Comedian Twitter,
Kindly stop making fun of Mawra and Urwa for saying that the food you eat can affect depression. I know it's not the only thing but it is one of the many things that can fully change your mood. pic.twitter.com/O0gSfBYSpJ

— 🥴 (@illogicalIy) August 6, 2019
Some were wondering why the sisters are being trolled:
Whilst it's not the sole reason, what we put in our bodies does contribute A LOT to our mind health. It's not even that bizarre what they said?! I'm sure people have heard of 'we are what we eat'. I'm not sure why they're getting trolled that bad for it :/ https://t.co/9HYTx49HgL

— Crime Master Gogi (@tvphangurl1) August 7, 2019
Some whole heartedly agreed with them:
Just came across a video where I saw Mawra and Urwa explaining how food choices affects your mental health status. People are trolling them because according to them "HOW CAN A FOOD CAUSE DEPRESSION?"Bullshit.
I agree with Mawra and Urwa.
YOU ARE WHAT YOU EAT.

— Shariha (@isharihak) August 7, 2019
People had questions:
y'all hating on urwa but when was the last time ur dumbass had an apple huh

— Saad Jilani (@saadrants) August 7, 2019
Following the backlash, Mawra shared a tweet from Paulo Coelho:
Yes and YES! https://t.co/aWmbQguGFj

— MAWRA HOCANE (@MawraHocane) August 7, 2019
And it angered the people even more:
Yep! No need to explain because there's no explanation for the callous comments made by your sister regarding mental health, if anything there's an apology. People only heard what she said very clearly: it's only food that makes people depressed.

— Fatima A. (@fatimaali202) August 7, 2019
People were appalled at how there was no owning up to a mistake made:
Food does play a part in everything inside our body but it was wrong to say that it all depends on what you eat.
However, mistakes can be made by anyone. What's more worrying is this response of yours. How much would it take to accept your mistake Mawra? I thought u were better.

— Saif (@Saif70767835) August 7, 2019
Mawra also took to her Instagram stories to prove how diet plays a major role when it comes to mental health: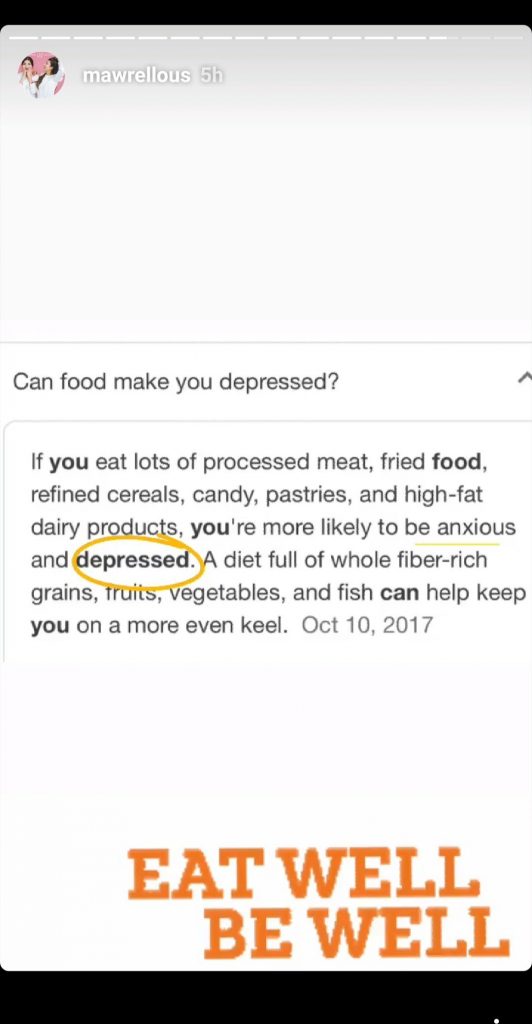 Do you agree with the Hocane sisters? Should celebrities be trivializing major issues like depression and mental health like this on national television? Let us know in the comments below!