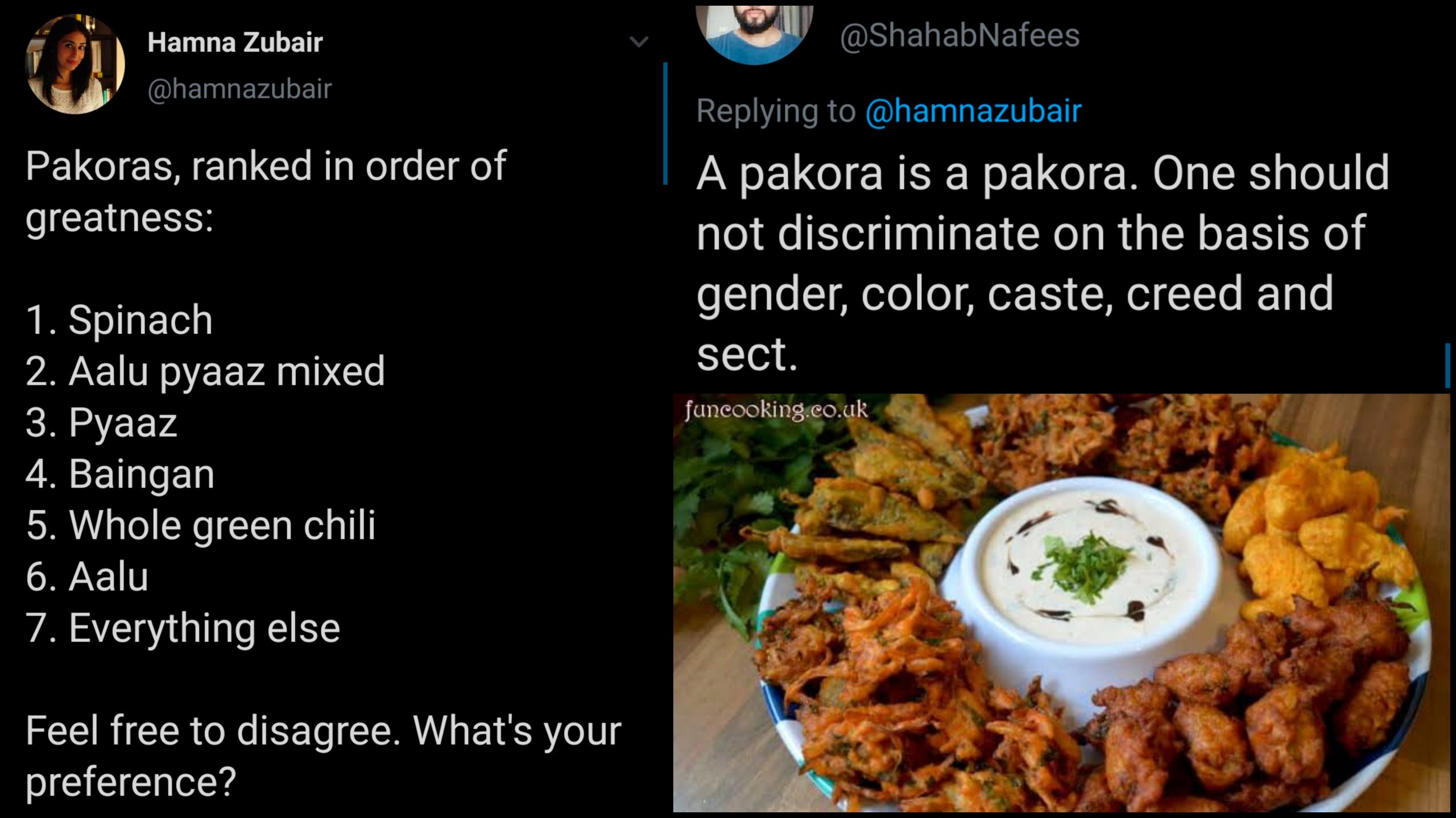 It is never a dull day on Twitter, the tweeple are almost always debating about one thing or another, and today, we have the legendary Pakoras up for a yummy debate!
Pakoras, ranked in order of greatness:

1. Spinach
2. Aalu pyaaz mixed
3. Pyaaz
4. Baingan
5. Whole green chili
6. Aalu
7. Everything else

Feel free to disagree. What's your preference?

— Hamna Zubair (@hamnazubair) May 2, 2020
Whoa, a combo that has us salivating already!
Alo piyaz spinch mix at number one for me.
Try this combo https://t.co/BWgKldkJHF

— Tang (@OrdinaryyWoman) May 2, 2020
Aloo piyaz palak mix pakora https://t.co/iqyiycObOZ

— Saadia Ahmed (@khwamkhwah) May 2, 2020
Facts!
Spinach is elite.

Rest is too onion-ish. https://t.co/QXR46JaoiD

— Zara (@VanillaMuffin36) May 2, 2020
Spinach pakora >>>>> https://t.co/2c4pPKmTvL

— Ammar (@ammar_016) May 2, 2020
Spinach is the absolutely the king Pakora. https://t.co/FzHVmQFdYS

— Fattah. (@sufilok) May 2, 2020
For some nothing beat aalu ke pakoray:
1. ALU
2. EVERYTHING ELSE

For for all caps got a bit emotional about this! https://t.co/2ug8RqPwhT

— Umar Nazir (@UmarNazir94) May 2, 2020
Aaloo walay top everything else… https://t.co/OLFOkzANsb

— Arsalan (@arsalanahmedk) May 2, 2020
Flat disk shaped Aalo Pakorras at number 1 always 😋 https://t.co/HRCPxUpsK2

— Ultra Desi (@ultradesi_) May 2, 2020
Paneer pakoras for the win!
Paneer Pakora? But I agree with your list.

— Saleem (@meelasviews) May 2, 2020
Put Paneer at 1, all others are just pakodas

— Hari (@ItsHariSingh95) May 2, 2020
Some were pretty satisfied with the ratings as it is:
Perfect ratings https://t.co/Pvbd81hA1Q

— Unberryin Heather (@ambreenhaider01) May 2, 2020
Some shared their new found love for cabbage pakoras:
Ive discovered cabbage pakoras and i honestly can't have enough of those https://t.co/M4Qjjn4sNf

— # (@saaadmalikk) May 2, 2020
For some it was baingan that was banging:
Baingan
Paneer
Baingan
Paneer
Baingan https://t.co/NSbN3lqhJa

— La'eyla! (@QararaRasha) May 2, 2020
1. Spinach (obviously)
2. Baingan
3. Aaloo
4. Pyaaz
5. Aaluu pyaaz mixed
6. Whole green chili

I've ranked all the pakoras I've had. Are there pakoras that you guys have eaten that aren't in this list? https://t.co/L3m7qb1lrL

— notmariam (@unearthedd) May 2, 2020
Baingan pakora at top
Allu pakora
Rest https://t.co/UzLOXbxhYw

— Renfri!🦋🌟 (@douxxfemme_) May 2, 2020
1.Baingan
2. Baingan
3. Baingan
4. Alu

— Sehar Tariq (@sehartariq) May 2, 2020
The real MVPs of pakoras!
Pyaaz Pakora os the BEST https://t.co/3A6ohTg5Zx

— 🄰🅁🄽🄾🄻🄳 🇵🇰 (@DaPakiGuy) May 2, 2020
Some suggested the best of both worlds, pait bhi toh apna hi hai:
Mix everything and take it with Ispaghol mixed in Tang 😷 https://t.co/SVHgWYsGhI

— Aatif (@AatifAzio1) May 2, 2020
These sound like some fine dine pakoras!
A circular slice of onion with a layer of ground pomegranate seed paste covered by another onion slice dipped into the chickpea flour and fried. My mother's killer pakoras

— Nazneen Sheikh (@nazneensheikh) May 2, 2020
Someone please make us some!
Have you never had noodles ke pakoray!?

— ردا (@RidhaAlii) May 2, 2020
Okay, zucchini pakoras have our attention:
1. spinach
2. whole big green chili
3. aubergine
4. zucchini
5. onion

— HawkesBay (Löuche) (@HawkesBay) May 2, 2020
We will!
Have you ever tried Pakooras with corns? Yummy!!!

— Faria (@FariaSays) May 2, 2020
Wait, whaaaaat?
I love lettuce pakoras! Super crispy and light

— Rija Ali (@pakistanilatina) May 2, 2020
Hmmm?
Try the broccoli ones

— XaPHaR (@XaPHaR3) May 2, 2020
Wow, y'alls are creative!
Try pyaaz+tamatar combo pakoray. They are so juicy and yummy.
Also try mix pakoray with macaroni.

— Ayesha Sami Khan (@ayeshasamikhan) May 2, 2020
Not sure if we're ready to try them egg pakoras yet!
Egg

— Popa Pardasi (@faisalejaz) May 2, 2020
Some clearly got a little carried away with their pakoras:
You really haven't tried bhaang (marijuana) pakroa 😅

— *Wash your hands, Haseeb* 🦠 (@haseebayazi) May 2, 2020
Yeh cheez!
Who would disagree about pakoras regardless of preference? No one!

— Usama_Ansari (@writtingcopy) May 2, 2020
Jo baat hai, all pakoras are beautiful and yummy!
A pakora is a pakora. One should not discriminate on the basis of gender, color, caste, creed and sect.

— Shahab (@ShahabNafees) May 2, 2020
What pakoras win the iftaar for you? Let us know in the comments belo