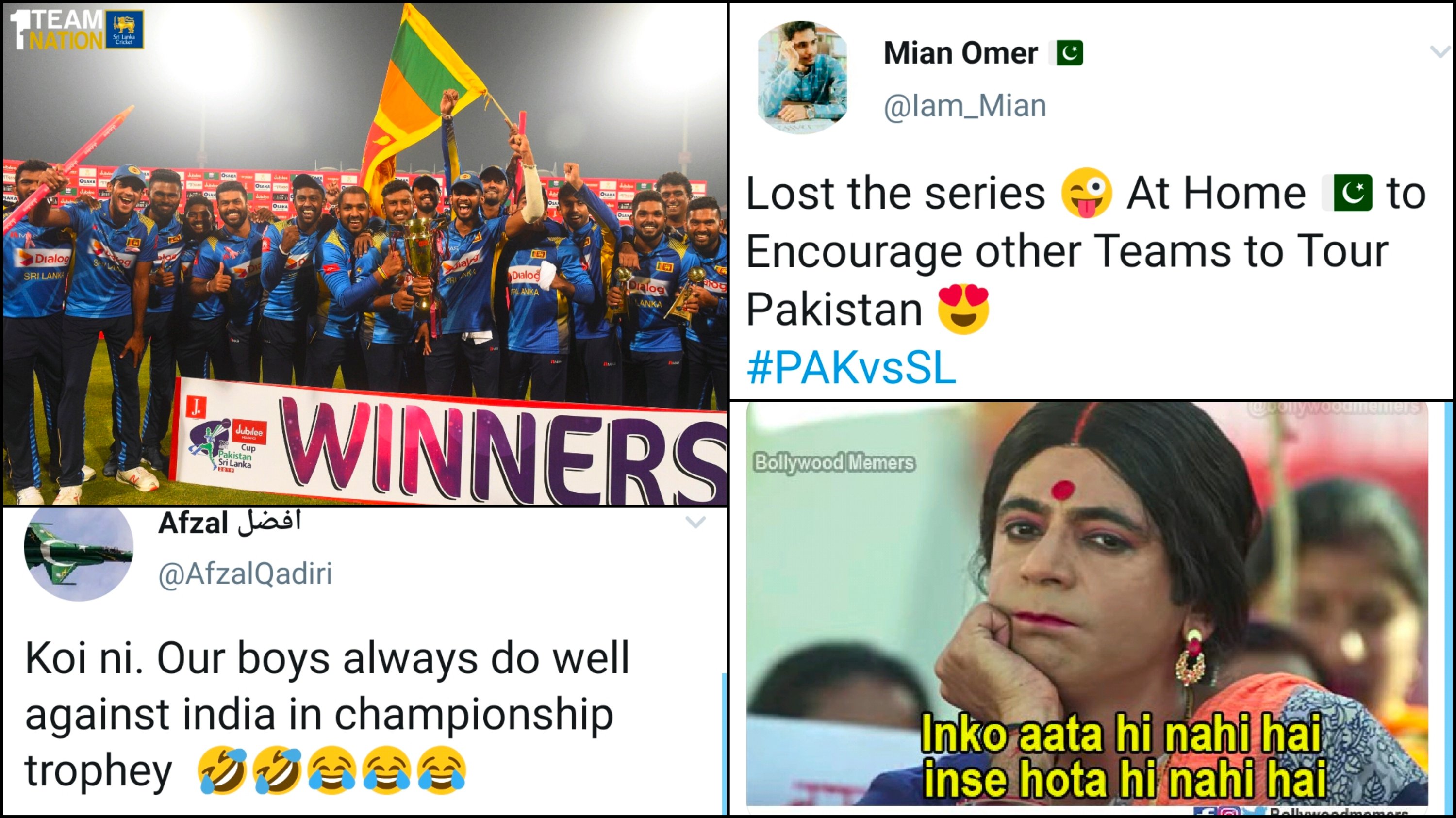 The series between Pakistan and Sri Lanka came to an end last night and Sri Lanka rose to victory white-washing Pakistan. And even though the country is really happy about international cricket coming back to Pakistan, people are also disappointed in the fact that Pakistan couldn't win on their home ground. And the internet has a lot of things to say!
The Sri Lankan team especially thanked Pakistan and the crowd:
"It's a good victory. Thanks to the Pakistan crowd, they supported not just the home team but us as well. All the players bond well in our team and that is our key to success. They are very talented and I think unity is the secret behind our success." – Dasun Shanka #PAKvSL pic.twitter.com/w7RAk0L9rd

— Sri Lanka Cricket 🇱🇰 (@OfficialSLC) October 9, 2019
Thank You Lahore! #PAKvSL 🙏 pic.twitter.com/uZzdwoRxYJ

— Sri Lanka Cricket 🇱🇰 (@OfficialSLC) October 9, 2019
That's our hospitality for you:
Just look at the Pakistani 🇵🇰 crowd passion, even holding srilankan flags to support them 😍#PAKvsSL pic.twitter.com/xHYjUWrCmy

— Usama Hashmi 🇵🇰 (@usama_hashmy) October 9, 2019
The crowd thanked the Sri Lankan team:
SriLankan team na series win karna ka bad ground ka chakar lagaya or crowd na bharpor hosla afzai ki
Thanks SriLankan team to visit Pakistan #PAKvsSL #PakVsSri #SriLanka @OfficialSLC @TheRealPCB pic.twitter.com/R7OsYTTOiP

— Baber khan (@Baberkhansr) October 9, 2019
Housefull on all 3 days, you go, Lahore!
Lahoris never disappoint! It was a full house today at Qaddafi Stadium. #PakvsSL pic.twitter.com/Q1o2I5P5CE

— Mohammad Ali Azhar (@MohammadAliAzh3) October 9, 2019
People were appreciating the security arrangements in both the cities:
So SL Tour successfully comes to an end in PAKISTAN!

Let's appreciate the security arrangements of Khi & Lhr ,because they played a big role in making this tour a successful one, they did a best preparations and pitches were quite impressive. "

A BIG THANK YOU TO SL🇱🇰#PAKvsSL pic.twitter.com/cryeCEJOjb

— Pakistan Cricket 🇵🇰 (@PakistanCric10) October 9, 2019
People were mad:
I was damn mad that they sent their B team.
And now I don't know how to react. We *Number one T20 team* lost to their B team..
Great.#PAKvsSL

— Reeba 🇵🇰 (@baaajizoned) October 9, 2019
Like really really mad:
Ab tou ghussa bhi nahi ata inpe. Third class captain, third class coach, third class team. Pakistanis deserve much better. #PAKvsSL

— ماریہ♡ (@xyzmariaa) October 9, 2019
There was footage of angry people destroying Sarfaraz's dummy after the match:
#PAKvsSL
Captured crowd's reaction after Pakistan's third consecutive defeat to Sri Lanka… Sarfaraz really deserves this pic.twitter.com/0O6YRGkhSm

— Faizan (@kaaaasshhhh) October 9, 2019
Shoaib Akhtar too had a lot to say:
Its so disheartening to see Pakistan lose like this. If i was Misbah, i would pick up the pieces from here & rebuild.
Have to make a combination of new & experienced. A combination that works.
I hope we do a solid rebuilding from here.

— Shoaib Akhtar (@shoaib100mph) October 9, 2019
Agreed!
Well played sri lanka,, pak should learn ,,big names are not important,, performance matters #PAKvsSL

— Jahangir Laghari (@Jahangir_HUR) October 9, 2019
Should have gotten that lawn jhora:
The moment she realized that" Ticket lene sa acha tha ma lawn ka suit la leti"
#PAKvsSL #UmarAkmal pic.twitter.com/OpdPEvBMZ1

— Syed Muhammad Raza (@razashah1024) October 7, 2019
We all have a certain joker in our lives:
Hollywood made one clown movie and everyone lost it. We've been tolerating such clowns in our cricket team for decades now…#PAKvsSL #PAKvSL #SLvPAK #slvspak #SarfarazAhmed #Sarfarazout #Misbah

— Adeel Basheer (@ScorpianAdeel) October 9, 2019
The paragliding meme made an appearance:
Lahoris again #PAKvsSL pic.twitter.com/6tVG50kKk3

— Berlin (@GhabranaNahiiHy) October 9, 2019
Gham apne apne:
Not even a girl plays with your feelings as much as the Pakistani cricket team does…#PAKvsSL#PAKvsSL

— Hamza Cheema (@HAMZACHEEMA1254) October 9, 2019
Many had theories:
Lost the series 😜 At Home 🇵🇰 to Encourage other Teams to Tour Pakistan 😍#PAKvsSL pic.twitter.com/T4w5EawQTp

— Mian Omer 🇵🇰 (@Iam_Mian) October 9, 2019
Legit our expressions watching the match:
Watching Pakistan getting white washed by lowest category Sri Lankan team…#PAKvsSL pic.twitter.com/rhoc4R583R

— Fasih Uddin (@Fasih_Uddin) October 9, 2019
People still couldn't get past the team selection:
Scenes: whitewashed by a B team in a fullhouse at Lahore. Ghatiya team. Ghatiya selection. #PAKvsSL

— ماریہ♡ (@xyzmariaa) October 9, 2019
Unbelievable from Pak. No player to hit sixes? #PAKvsSL

— Mohammad Kaab Baig (@KaabBaig) October 9, 2019
People were lauding Sri Lanka's team selection:
Very well played #SriLanka. You guys stood strong against a much stronger team #Pakistan and proved your selection. Congrats on winning the T20 series 3-0. #PakVsSL

— Furqan T. Siddiqui (@furqantsiddiqui) October 9, 2019
Yaaaas!
it's time to appreciate SRILANKAN CRICKET TEAM, well played boiss❤#PAKvsSL 😔

— صفی (@FarooqI_JR) October 9, 2019
The young Sri Lankan team had everyone wowed!
#PAKvsSL
Accept it Or not Sri Lankan team Deseves some massive appreciation for this series. <3
One of them is still in the college. .😍

— Syed_Safi 😏 (@AkaWaloo) October 9, 2019
Bus kardoh yar!
MEHMANO KO KHOOSH BHI TOW KARNA THA . 😂#PAKvsSL

— 👑 MOIZEY 👑 (@GUJJARTALKS) October 9, 2019
Many were missing Mickey Arthur:
Yaad toh aati hogi
Dil ko dukhati hogi#PAKvsSL pic.twitter.com/OPdp0RIRMf

— Saqib (@totallysaqib) October 9, 2019
Many were missing Shahid Afridi too!
Retweet if you missed Him…😓❤@SAfridiOfficial#PakVsSL pic.twitter.com/YJd450RWlo

— ¡mααΠ 🥀 (@imaanAli_10) October 9, 2019
Some loyal fans also came forward to support Umar Akmal:
Oh Yes ❤#PAKvsSL pic.twitter.com/eeVAy33KW0

— Waleed Ahmad 🇵🇰 (@WaleedMalik06) October 9, 2019
People also thought how the team was just doesn't right:
This team is behaving different and full of negativity. no one seems enjoying.Sarfaraz should be criticized on his batting but its the management that has disturbed the environment.Misbah has to take responsibility,you asked for it you answer aswell #PAKvsSL

— Faysal (@FaysalAlavi) October 9, 2019
People were still in disbelief:
Poor Very Poor from Pakistan. Losing from a team which is standing on No 8 right now. Disappointed. No Hard hitters. Sarfaraz not sure what to do. Can't believe Pakistan got clean Sweep. #PAKvSL #PAKvsSL

— Rafayyy🇵🇰 (@SeedhaSaBanda) October 9, 2019
Zindagi barbaad how gaya!
Pakistani fans to Pakistani team:👇#PAKvsSL pic.twitter.com/eYTKglIvKr

— Harry Potter🖤 (@Zaidabdulrauf) October 9, 2019
And while the Indians were busy trolling us, we had some really good shots fired!
Koi ni. Our boys always do well against india in championship trophey 🤣🤣😂😂😂#PAKvsSL pic.twitter.com/fAIpwLMRlU

— Afzal افضل (@AfzalQadiri) October 9, 2019
People were questioning Sarfaraz's captaincy as well:
Hopefully by the end of this series, it will be end of Shehzad, akmal's career and pcb should seriously think about sarfaraz's captaincy. #PAKvsSL

— ماریہ♡ (@xyzmariaa) October 9, 2019
Hahahahaha #Sarfaraz when will you realise your cricket & game is over, danm it its over for God Sake Leave with any dignity if you have left any! #PAKvsSL #PakVsSri

— Zubair Ahmed Khan (@ZubairKhanPK) October 9, 2019
Some had better plans for him:
Someone send Sarfaraz Ahmed to Manchester United. #PAKvsSL

— Sheer Mystic curiosity 🔴 (@AxpheyKahn) October 9, 2019
But there were some dheet fans:
Yes I'm Dheet Fan ❤

Hamen Tmse Piyar h💕 #TeamPakistan #PakVssl pic.twitter.com/GK9TYVuBGH

— ¡mααΠ 🥀 (@imaanAli_10) October 9, 2019
People came forward to support Sarfaraz:
I dont think Safraz is to blame.

He is the only captain to win so many series. Infact set world record for consecutive wins in 2To series.

Its poor team selection, results in poor team moral. Hence the results #PAKvsSL

— Afzal افضل (@AfzalQadiri) October 9, 2019
Sarfaraz is the same captain who won 10 series in a row…. so go slow on him #PAKvsSL

— Shavaiz Khan (@shavaizkhn) October 9, 2019
People were coming to support Misbah as well:
Give a chance to misbah, that was a first series. He played with these guys. He knows the psychy of these players everyone needs time so as misbah#PAKvsSL

— Fawad abbasi (@FawadNaj) October 9, 2019
Ye jo aj misbah ko log galian de rahe hena agle T20 worldcup me iski tareefain ker rahe honge yehi log. Dont forget he made Islamabad United as champion of PSL 1st edition. #PAKvsSL

— muzamil.shoukat (@muzsays) October 9, 2019
Many think that everyone's to blame:
There's too much wrong with this Pakistan team for the coach to be solely blamed. Sarfu's dead batting, no good spinner, no hitter, one hit and miss opener, I could go on and on… #PAKvsSL

— Naveed Anwer (@othernaveed) October 9, 2019
What do you think about the current team? Let us know in the comments below!