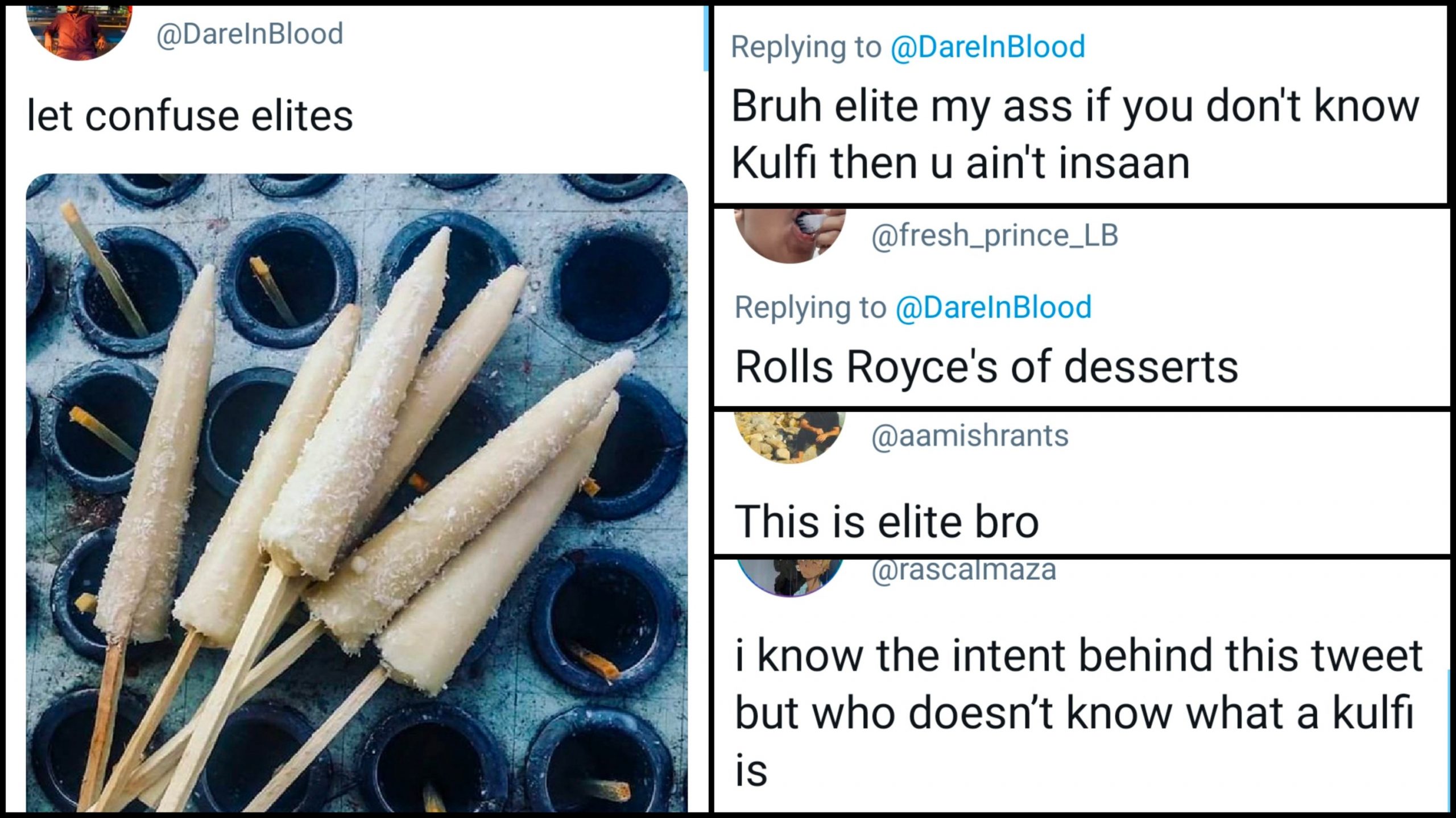 Every now and then someone on Twitter tries confusing the elites with something, this time, a guy tried confusing the elites thinking they won't know mainstream kulfi:
let confuse elites pic.twitter.com/l0J1mmRbkD

— Zamn Suhail Qureshi 🇵🇸 (@DareInBlood) June 7, 2021
And it didn't go as planned because everyone started trolling him!
i know the intent behind this tweet but who doesn't know what a kulfi is https://t.co/33mIPCeYBd

— mahad (@rascalmaza) June 8, 2021
People had questions:
Something that i absolutely hate about this pakistani Twitter is that if someone's from upper class they just automatically call em elites where does that leave you with ? Apni izzat khud krte nahi and then think they're trolling or upper class unaware of such things they arent https://t.co/KWVdMBXRFq

— Hasoonayy (@ahsaaan_shahid) June 8, 2021
Hahaha!
wow the elites couldn't totally tell this is desi kulfi, the elites were so confused, sheeshhhh

— ༄༄༄ (@alittlealive) June 7, 2021
Jo baat hai!
Honestly unpopular opinion but Kulfi > 80% of the ice creams https://t.co/OPLm5CvUXQ

— Asad (@asti411) June 7, 2021
Wait, why haven't I seen that episode? 😱
this just reminded me of the time in CID where kulfi was the m*rder weapon in a homicide https://t.co/r9H0umxT9S

— pari (@apparitionnow) June 8, 2021
True!
This tasted the best and the sticks tasted even better 😭😂 https://t.co/t6B3gs4yDu

— 🌼 (@iFirewhiskey) June 7, 2021
Exactly!
This is elite bro https://t.co/grqsKnASAL

— Aamish (@aamishrants) June 7, 2021
Lmao 😂
Elites ke sar par chutiya likha hau hai??

— Bano 🇵🇸 (@Bbedrippin) June 7, 2021
People had a lot to say!
Elites never get confused.

It's always the poor who remain confused their whole life.

— KMR (@Rashid98761421) June 7, 2021
Facts!
Rolls Royce's of desserts

— Shan (@fresh_prince_LB) June 7, 2021
And while most 'elites' knew what it was, there were a few handful who had no clue:
Is k neeche aag lagao to hawa me jaata hai ye

— hamzaraja (@effeduphuman) June 7, 2021
Ummmm?
Milk dildos?

— State Asset (@stirrups69) June 7, 2021
Yep!
Bruh elite my ass if you don't know Kulfi then u ain't insaan

— Why You Looking At My Name (@MyHeartStolen_) June 8, 2021
We're screaming 🤣
frozen cumsticks. . 👿 https://t.co/ORtlRkQsvQ

— Zoro (@zrtaasha) June 8, 2021
People were craving for one:
Listen. It's very very hot here and I've not eaten this for ages.
Please don't make me cry. https://t.co/Z8zM7DRXtg

— Sisyphus Ki Amma (@nalayaktragedy) June 8, 2021
Same!
My favourite is the whole act of Kulfi wale uncle loosening the kulfi from its mould and then giving it to you. As a kid that was art to me. https://t.co/9eg66DpYmR

— Alisha Gonsalves (@alishaag_) June 8, 2021
🤷‍♀️
Iss main confuse karny wali kia baat hai ? https://t.co/WTxXyKyJrE

— KK (@itszaay__) June 8, 2021
Hmm:
Kya matlab let's confuse elites? Kulfi hai bc https://t.co/9AQrWWHxb6

— Ahem-ad (@rocketspastmars) June 8, 2021
Ah, love it!
the slight taste of salt oho chefs kiss https://t.co/5oKPwPNtJ6

— dhoklahomie (@dumplinghoee) June 8, 2021
Did you know what this is? Or were you confused? Let us know in the comments below!