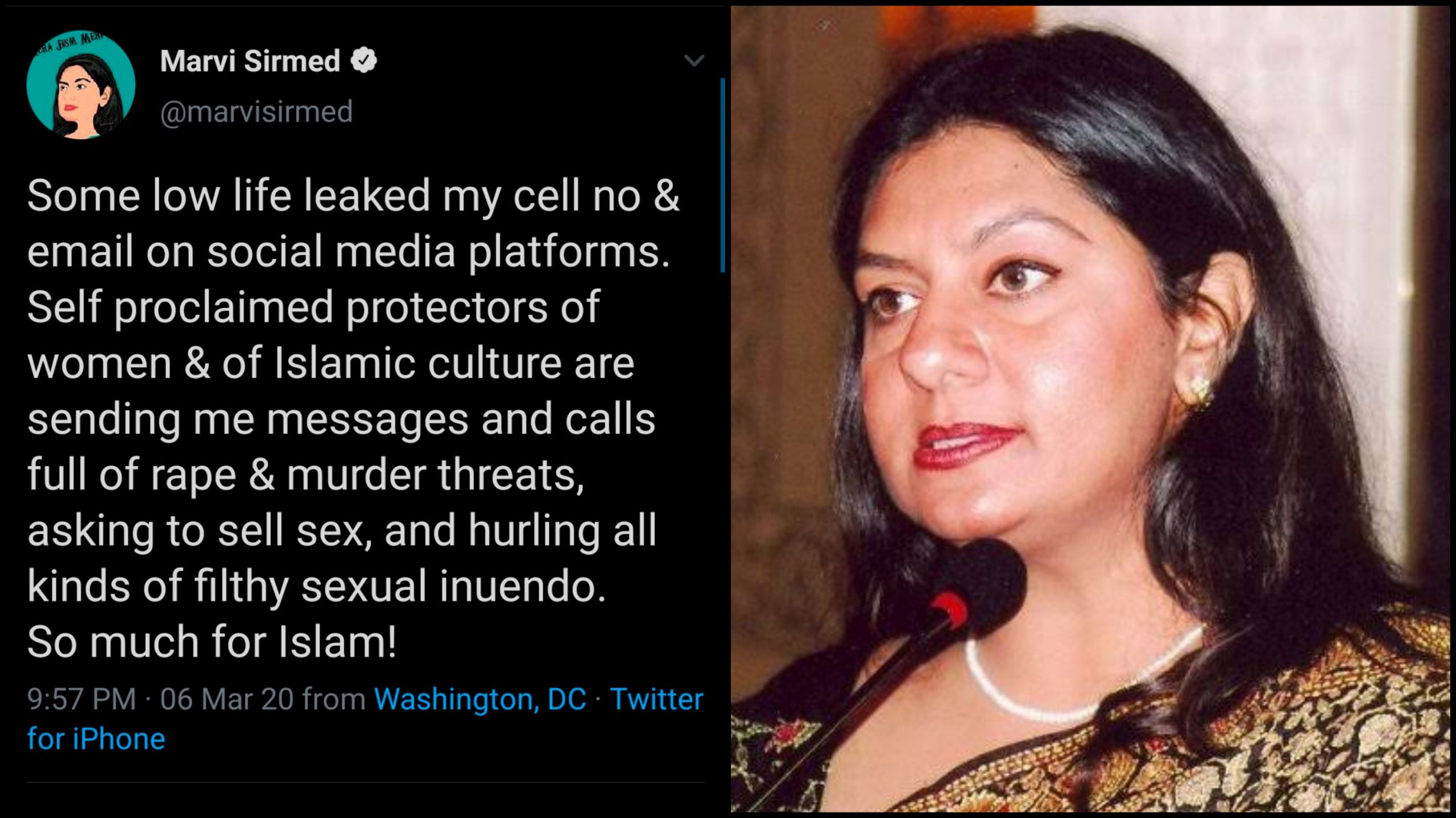 Journalist Marvi Sirmed has been facing a ton of backlash at the hands of patriarchal males and females after she appeared in a talk show on Aurat March where Khalil ur Rehman Qamar got triggered and hurled abuses at her. She's also been getting a ton of support from celebrities and netizens who have been standing with her the entire time.
But this time, things have gone way too far after someone leaked her contact details to the public and she's been facing bullying and harassment of all sorts:
Some low life leaked my cell no & email on social media platforms. Self proclaimed protectors of women & of Islamic culture are sending me messages and calls full of rape & murder threats, asking to sell sex, and hurling all kinds of filthy sexual inuendo.
So much for Islam!

— Marvi Sirmed (@marvisirmed) March 6, 2020
Aurat hi aurat ki dushman hai:
Who the hell are those stupid sexually starved ppl who can even use bhans to quench their Desires 🤔#merajismmerimerzi https://t.co/qfNwofuTAe

— Mehreen Sabtain (@SabtainMehreen) March 6, 2020
As Marvi took to Twitter to share the unfortunate turn of events, the replies that people had were beyond disgusting, from body shaming to slut shaming to death threats, she had to go through it all:
iss ko log rape ka threat ker rahay hain.
Ohh my God
Khushfehmiyan check kero

— Shrarti Aadmi (@Shrarti_Aadmi) March 6, 2020
All possible attacks of patriarchal men summed up in one tweet:
LoL!!! don't worry no sane person is gonna rape a fat ugly hillbilly like you, so kindly stop lying and file police complaint against them instead of this cheap publicity stunt. https://t.co/eZaxVt9snO

— Muhammad Nouman (@SarfarazNouman) March 6, 2020
Some thought she deserved it:
You deserve this , if you did something good in your past then you will not receive that kind of stuff. https://t.co/bRtdcCiSAx

— MAHAR Sb._PTI 🇵🇰 (@Heartsknatcher) March 6, 2020
And while most of the comments are too vile to post, there has been a wide array of love and support pouring in for Marvi:
I want everyone here to take a hard look at these comments under this announcement of someone breaching your privacy.

This is what women constantly face in this country. Our identity is misconstrued, our intentions sidelined and our voice buried under the hate of others. SIGH! https://t.co/HIUnEn1uV3

— Nayha Jehangir Khan (@nayhajayart) March 6, 2020
Sadly true:
The sickness in our society runs deep. And these "pious" people can't even handle women marching for their rights!

— karachi ahab (@karachiahab) March 6, 2020
Another day, another activist:
Another women rights activist getting the life threats on phone calls. This is too much. #womenmarch2020 Won't be stopped. #AuratAzadiMarch2020 #MyBodyMyChoice https://t.co/iFaA6UtlYS

— Khalid Rao (@imkhalidrao) March 7, 2020
People were lauding her bravery:
You are really brave to face all this gutter filth! They are scared of you, for challenging their power over the helpless! More power to you! https://t.co/OvRuG2yFtk

— Billo Ali Mahmood (@billomahmood) March 7, 2020
A sick society indeed:
This has nothing to do with Islam or any other religion. This is terrible harassment and unfortunately most women in the public eye are treated this way – by having their privacy breached and safety compromised. We are a sick society. #ThisIsWhyIMarch #AuratMarch2020 https://t.co/8gpXeKx7ZG

— Situation Sarah (@situationsarah) March 6, 2020
Enough of men roaming around with zero sense of accountability:
Most unfortunate that some of these guys roam around insulting women using abusive language on TV debate. can it be more disgraceful that these abusers are not even questioned by society? https://t.co/ifXRP5pQLS

— Narender Kumar (@narry13) March 6, 2020
Gulalai Ismail shared a little something from personal experience:
Have been through it in 2018. Would receive hundreds of calls each day. More power to you!

— Gulalai_Ismail (@Gulalai_Ismail) March 6, 2020
It was upsetting how filthy the replies were:
Go through the replies you will understand the peaceful mindset. https://t.co/u8tnrbcWOx

— escrow🇮🇳 (@scaredcrow15) March 6, 2020
People wanted her to have the best:
Sad that she has to deal with this after all that she has done for the country. I recently just got to know about her struggle after the #khalilurrehman video, and she deserves the best https://t.co/obEHS8fTaC

— Sara Qayyum (@SaraQayyumAslam) March 6, 2020
Many were embarrassed and disgusted:
Pakistani men are embarrassingly depressing and sickening. https://t.co/E4QVxfU7Mw

— Asma (@AsmaZhk) March 6, 2020
She was an inspiration to many:
Feel terrible what you are going through but these scars will pave the way for more @marvisirmed s to step up and pull this movement forward. https://t.co/9iQKtDm12R

— mo saadat (@mosaadat) March 7, 2020
Many were suggesting that she reports them all:
I hope you're keeping a record and submit them all to the Cybercrime Wing.

— Hasan Zaidi (@hyzaidi) March 6, 2020
Report to FIA Cyber .

Also enjoy this so called Islamic brigade and its mind set. They r actually sick ppl.

— Najam Ul Huda (@M_Najamulhuda) March 6, 2020
Report them on cyber cell.. if they have ur numbers u too have theirs.. Report them.. https://t.co/wqj5OhyYXc

— Sim…🦋 (@Silent_deserts) March 6, 2020
Facts:
They are scared to see Pakistani women asserting themselves. Stay strong.

— Pervaiz Alam (@pervaizalam) March 7, 2020
Pakistani men in a nutshell:
Typical Pakistanis:

"We respect women"

If you don't agree then I'll rape your sister and mother. 🤦‍♂️ https://t.co/bYm66tdipg

— Harris Sultan (@TheHarrisSultan) March 7, 2020
People were sending her love:
Don't be serious, You are brave, True people are always criticized, threated or harassed, Be bold. More power to you. There must be 1000 marvi sirmad on globe. @marvisirmed

— Azadi Aurat March🇵🇰 (@SindhRoyal) March 7, 2020
Sigh!
And she was expecting them to be respectful towards women! https://t.co/rsvTaTQdwO

— SUSHIL SHARMA (@Onlyesskay) March 6, 2020
Baat toh sach hai:
ہمارا ایمان گندی گالی تہمت اور دھمکی کے بغیر نامکمل ہے۔ https://t.co/mbrFX8wMiQ

— Jajja (@SattarJajja) March 6, 2020
And then they say women have all the rights:
This is culture and tehzeeb of Islam & Pakistan for which they were opposing #MeraJismMeriMarzi #AuratMarch2020 https://t.co/EMwFyNYFCo

— Rasheed (@RasheedMemon) March 6, 2020
Honestly, some of the most disgusting replies we've ever seen:
disgusting people https://t.co/dQbin1KHgu

— Haris Kayani (@kayaniha) March 6, 2020
People who had disagreed with her had their reservations too against the harassment:
Yay galat hn
Byshaq mn in k nazaryey ku support ni krta but jo gatat hn vo galat hn
Shame https://t.co/QLyY9AmK73

— Àsjad @dil (@asjadadilr) March 6, 2020
Even if she's right or wrong still you can't justify this type of things to her !!! https://t.co/qAzbEEqrju

— Zahir Saraaj (@zahirsaraaj) March 6, 2020
Even if she's right or wrong still you can't justify this type of things to her !!! https://t.co/qAzbEEqrju

— Zahir Saraaj (@zahirsaraaj) March 6, 2020
Kitna bh difference of opinion ho.this is not fair https://t.co/hbCaceSTNK

— DilNawaz (@tunajaneterebin) March 6, 2020
What do you think about the replies under Marvi's tweet? Let us know in the comments below!