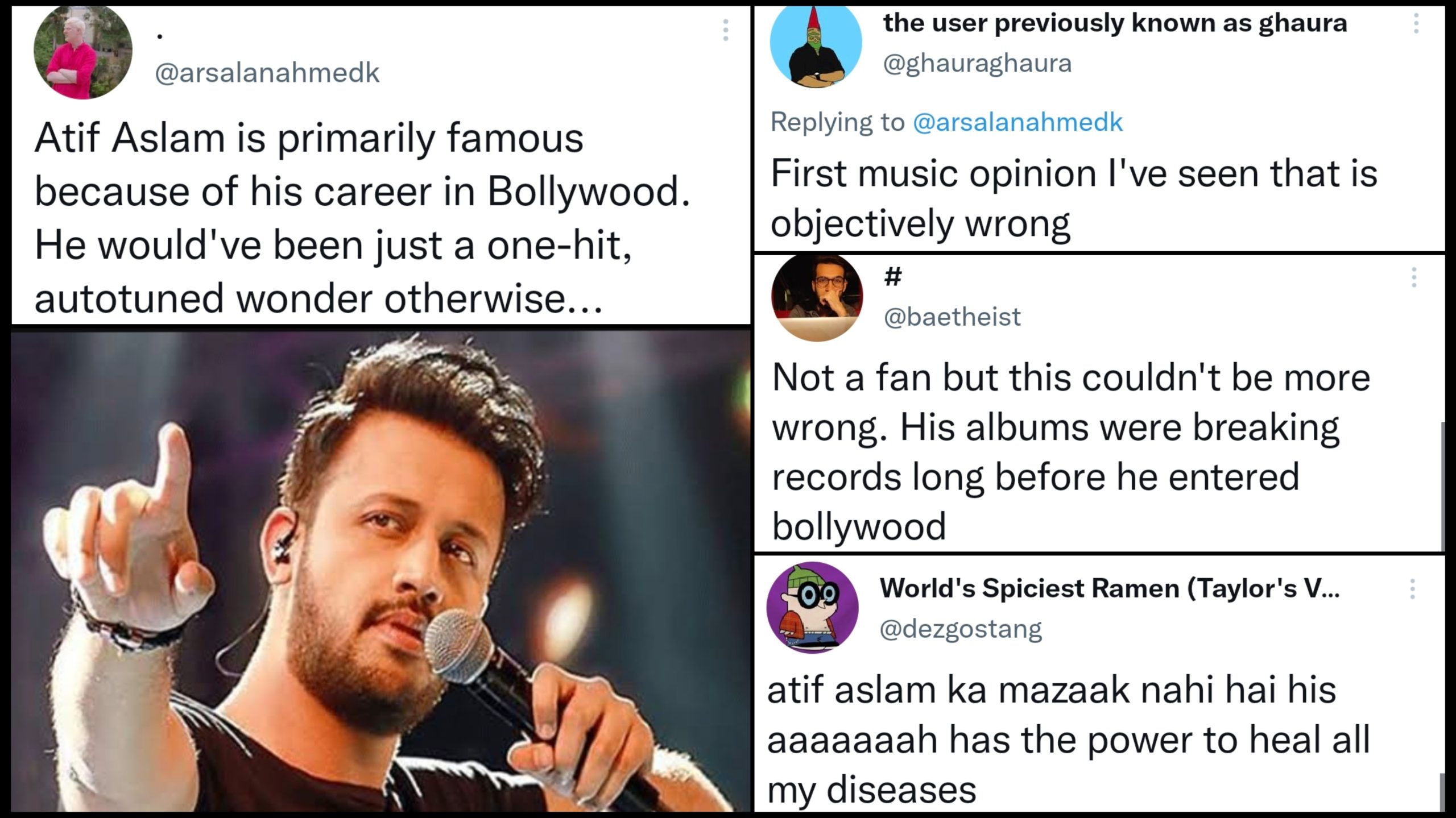 Atif Aslam is clearly one of the best singers we have in the industry, from Aadat to the most selling love songs to Sufi kalaam to reciting hamds, everything he's ever done is an absolute hit amongst fans.
Giving their hot takes on music and musicians, a man on Twitter shared that he thinks Atif Aslam would have been a one-hit-wonder if it wasn't for Bollywood:
Atif Aslam is primarily famous because of his career in Bollywood. He would've been just a one-hit, autotuned wonder otherwise… https://t.co/F4svyDoXRL

— . (@arsalanahmedk) January 2, 2022
And netizens have a lot to say!
First music opinion I've seen that is objectively wrong

— the user previously known as ghaura (@ghauraghaura) January 2, 2022
This!
That's not an "opinion" that's plain ignorance.
Atif's first album with Jal introduced a whole new genre to Pakistan's music industry which the whole subcontinent went crazy for. Also he was already widely popular in India, had regular concerts there before joining Bollywood. https://t.co/gaR3vBxNaz

— Khadija M. (@5odayja) January 2, 2022
People were sharing how his hard work shows:
Hard disagree cause man has sang from pop to rock to Sufi to straight up tilawat. He started off as mediocre but he worked on his talent and it shows.

— 🕷فریحہ ✪ (@fay_alif) January 2, 2022
FACTS!
Atif Aslam became a star all around the world right after Jalpari/Aadat& that is way before he debuted in Bollywood. Now, he's give more hits in Bollywood than the Bollywood singers then it's on them & not on him.

Man is a legend and even his work in Coke Studio is unmatchable! https://t.co/38Ur5TNWtK

— فاطمہ عرفان (@fatimairrfan) January 2, 2022
We're trying to find it too!
So you're saying he is famous because of his career primarily… where's the opinion? https://t.co/KMnh9C0xJ4

— ☠️☠️ (@Shivroyeggs) January 2, 2022
People were sharing how his Bollywood music didn't even compete in the top 10 when compared to his music in Pakistan:
all atif songs ive ever liked were never from Bollywood lmao i dont think any of his Bollywood songs even make it to even top 10 of his music https://t.co/dcoOTD6UCz

— haleema (@clickbaiitt) January 3, 2022
👀
The peak social dilemma when you are actually confused whether to respond respectfully or laugh or cry or ignore or take someone to the cleaners on an opinion ??? https://t.co/t4wJesTLP1

— Kumail Ali (@Kumailaleee) January 2, 2022
Kuch bhi!
https://t.co/YJ7dF0Ng59 pic.twitter.com/ciVlUi34bF

— × (@fathomlessx) January 2, 2022
🤷‍♀️
Some nobody in some nomadland has an opinion about Atif Aslam,the legend ❤❤ https://t.co/o59mybfcdM

— Aneela Hassan (@AneelaHassan65) January 3, 2022
Same!
i've never seen someone say so many wrong things, one after other, consecutively. https://t.co/VmcTs49E69

— 🤓 (@ABjeezExpert) January 3, 2022
Yep!
unpopular opinions are fine but this is uninformed one. https://t.co/lq8TDYw2Kl

— ⚡ (@badromance98) January 2, 2022
Even people who weren't fans of the singer disagreed:
Not a fan but this couldn't be more wrong. His albums were breaking records long before he entered bollywood https://t.co/kXdgN8WaTF

— # (@baetheist) January 2, 2022
Exactly!
atif aslam ka mazaak nahi hai his aaaaaaah has the power to heal all my diseases https://t.co/j00fypHpL9

— World's Spiciest Ramen (Taylor's Version) (@dezgostang) January 2, 2022
❤❤❤
Ratiopic.twitter.com/OCR43Gf3Wo https://t.co/sJveZikdDF

— samosa (taylor's version) (@AwkwardSamosa) January 2, 2022
Fans came at him with evidence!
This is how auto tune sounds like https://t.co/kEKbM04v4A pic.twitter.com/K8wX2w5BUp

— Abdur-Rehman Safi (@Abdul45459298) January 2, 2022
What do you think of this hot take on Atif? Let us know in the comments below!