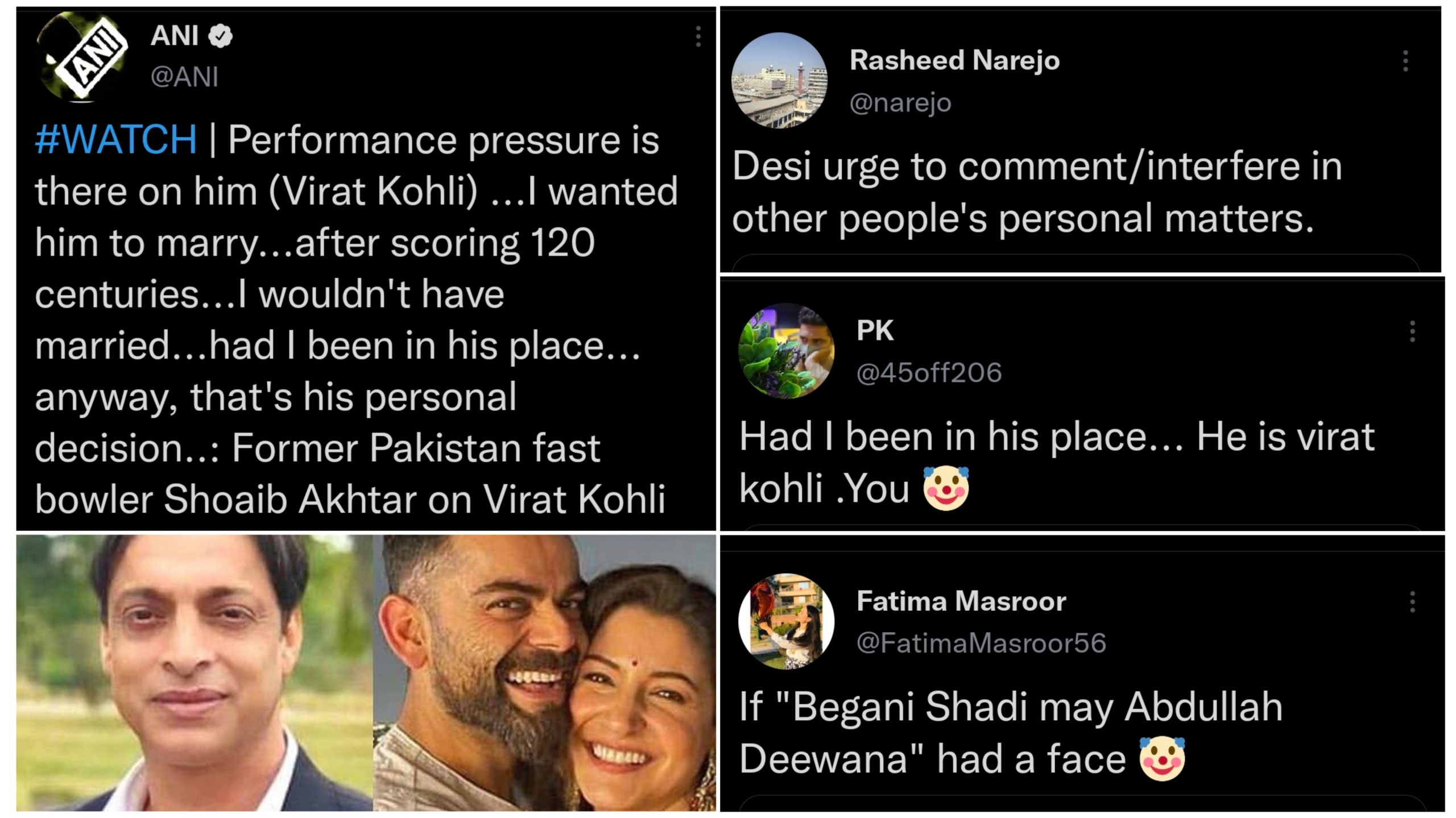 Shoaib Akhtar, known for his outspoken remarks, has sparked yet another controversy after he shared his 2 cents on Indian cricketer Virat Kohli's performance. In a recent interview, the former Pakistani cricketer blamed Virat's marriage for his underwhelming performance on the field and said that if he were at Kohli's place, he would have never married as early as Virat Kohli. He further went on to say that he'd rather have focused on his performance and perfected his own craft before getting married.
#WATCH | Performance pressure is there on him (Virat Kohli) …I wanted him to marry…after scoring 120 centuries…I wouldn't have married…had I been in his place… anyway, that's his personal decision..: Former Pakistan fast bowler Shoaib Akhtar on Virat Kohli (23.01) pic.twitter.com/aGRi82kxxE

— ANI (@ANI) January 24, 2022
And people have a lot to say!
Main yeh karta, main woh karta, main 400 out karta.

This brother played 46 Tests and 163 ODIs only.. not even 200 test wickets and talks like he was the GOAT.

He says main responsibility leta. Has he forgotten how irresponsible he was in his playing days? https://t.co/b83eFucMnY

— ASG (@ahadfoooty) January 24, 2022
Some were embarrassed:
This guy never stops embarassing us https://t.co/6LqfnNO093

— Asad 🇵🇰 (@asadfacts) January 24, 2022
True!
They always find a way to blame a woman for everything.. Kuch bhi hojaye.. https://t.co/WbW2pRjDWx

— Vaseem Khan 🔰 (@iamvaseem) January 24, 2022
People had questions:
I still can't believe this guy thinks he is some sort of expert. His only advice his "Tagdi cricket khelo" & "Jaan Lagao". Why the hell Indian media talks to this guy when Pakistani media told him to leave ON Air https://t.co/LqxuELSuil

— Sufiyaan (@iamsufiyaan7) January 24, 2022
Shots were fired!
this nonsense will never stop, too many of you are yet to experience a partner's support in your pathetic lives. https://t.co/mD8Jt7ykOi

— hypocrite 🧣 (@slybird_) January 24, 2022
People were stunned at the audacity:
Had I been in his place… He is virat kohli .You 🤡 https://t.co/L97gcOgwhi

— PK (@45off206) January 24, 2022
LOL!
If "Begani Shadi may Abdullah Deewana" had a face 🤡 https://t.co/nVPV0rypAO

— Fatima Masroor (@FatimaMasroor56) January 24, 2022
People were sharing how Virat does not need his unsolicited advice:
Can Shoaib Akhtar please shut the hell up.

Virat Kohli is a bigger name than you, in terms of everything a cricketer aspires to be.

He, of all people, isn't in need of unsolicited advice from a has been fast bowler. https://t.co/kkPMlRRWdn

— hameedsyed (@hameedsyed981) January 24, 2022
People were wondering what performance Akhtar was expecting:
Marry after 120 centuries? What performance does Shoaib Akhtar actually want from Kohli? 🤔 https://t.co/uPM5whePvI

— Naila Inayat (@nailainayat) January 25, 2022
Sigh!
Desi urge to comment/interfere in other people's personal matters. https://t.co/rrFjBARvui

— Rasheed Narejo (@narejo) January 26, 2022
Well…
I hope I live to see the day when Pakistani cricketers retire gracefully and keep their mouths shut 🙏 pic.twitter.com/PDeyks4DRr

— Khurram Qureshi (@qureshik74) January 26, 2022
People were bringing his marital life to light:
Seriously. If anyone's life choices should be questioned, it is Akhtar who married a literal child, a 17 year old who didn't even have an ID card.

— T a z e e n تزئین (@tazeen) January 26, 2022
And while others had their reservations, some brought out scientific data to side with him:
According to wisden science's survey After marriage bat speed of all batters decrease by 23% and this is the main reason why kohli is not able to make runs.

— Dr Nimo Mishra (@niiravmodi) January 24, 2022
What do you think about Akhtar's snarky remarks on Kohli? Let us know in the comments below!