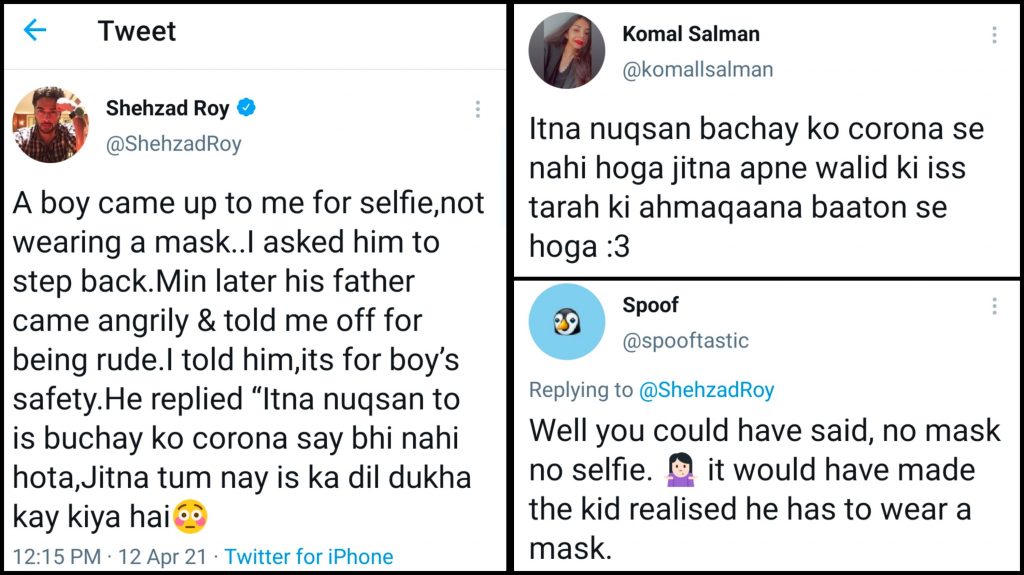 Musician Shehzad Roy is one of the most humble and approachable celebrities in the industry, but a recent encounter with a fan and his parent left him feeling a little overwhelmed! He took to Twitter to share a shocking encounter he had with a fan and his father, here's what happened:
A boy came up to me for selfie,not wearing a mask..I asked him to step back.Min later his father came angrily & told me off for being rude.I told him,its for boy's safety.He replied "Itna nuqsan to is buchay ko corona say bhi nahi hota,Jitna tum nay is ka dil dukha kay kiya hai😳

— Shehzad Roy (@ShehzadRoy) April 12, 2021
In his own words Shehzad Roy explained the situation on twitter and also clarified that the fan's father himself wasn't wearing a mask, and the netizens are by his side!
Wowwwww. So apparently tryna save yourself from a mini lil carrier is rude.

Thank god I like being rude https://t.co/Vc66dracBK

— Fatima Fakhir Musharraf (@witchdemigodjay) April 12, 2021
Facts!
broken heart better than dead kid https://t.co/9bD4MJyR8j

— Ali (@themaholupper) April 12, 2021
Exactly!
The problem with the boy was not tht he was not wearing a mask but the problem was tht his parents didn't even care if mask was necessary in these times. Kids learn frm their home. Kindly educate ur child @ home so he can become a better human for society.

— Hussain (@Hderawala) April 12, 2021
Jo baat hai:
Such a sense of entitlement and extreme privelege! The father had a choice: to teach his child the importance of public health practices during a pandemic which has claimed close to 2.94 million lives globally. Yet ego was more important.

— Farah Ali (@_farahali_) April 12, 2021
People were lauding him for doing the right thing:
Parents judgement gets clouded when they are overwhelmed. You did the right thing 👍

— Radium (@JadeRabbit707) April 12, 2021
Makes sense!
I totally see from a child's point of view. He probably was a fan. Glad that dad cared about his son's feelings. You @ShehzadRoy did the right thing underwriter the COVID circumstance. Maybe you can carry extra masks with you to hand out to your young fans. Win win situation. pic.twitter.com/7uRQaEuiac

— Sa mi (@LeiaUsa) April 12, 2021
Agreed!
Oh that's tough. I'm sure he was really excited to see you, but you did the right thing for him and yourself.

— SophiaQ (@SophiaAQ) April 12, 2021
People were disappointed at how lightly people are taking the pandemic:
Very unfortunate that most of our people are not talking this pandemic serious.

— KHURRAM SIRAJ (@KHURRAMSIRAJ197) April 12, 2021
People were sorry too read what had happened:
Shehzad sorry to here people don't have any understanding of virus total ignorance it's a responsibility to protect you and others and you are within your right to refuse if people ignore to do basic just to wear masks

— Far (@FARMLIK) April 12, 2021
People found the dad's logic to be foolish!
Itna nuqsan bachay ko corona se nahi hoga jitna apne walid ki iss tarah ki ahmaqaana baaton se hoga :3 https://t.co/BxPy5jDhjy

— Komal Salman (@komallsalman) April 12, 2021
RIP logic:
Corona phela kar maardo lekin dil nahe dukhana kisi ka 😭😭 wtf https://t.co/gf8FUDRKQY

— Raheel Pasha (@SyedRaheel98) April 12, 2021
Lol!
Haan corona se bus mar hi jaye ga… Tumne tou naa usy jeeny k kabil chora naa marny k

Yaar I can't even with our people 🤦‍♀️🤦‍♀️ https://t.co/r9QaHU3i91

— Zee Gee (@zee_wanderer) April 12, 2021
And while many agreed he did the right thing, others were criticising his tone:
You should have been kinder to him. It wasn't his fault but the parents. I feel sorry for the child. Just imagine what it would have meant for him to have a photograph taken with someone he admires. Find him and do the right thing!

— Amira (@ChandSitara786) April 12, 2021
People were expecting a more diplomatic answer from him:
you should have been a lil more diplomatic.
how about not letting the kid get hurt as well as making him aware of the fact that a mask was necessary? this situation could have been avoided.

— Im gonna Sledge 🇵🇰 (@imma_sledge) April 12, 2021
sometimes things get complicated and diplomatic response may resolve the issue.. Could have "beta app ka mask kahan hai" may have resolved the issue. though not supporting his father view..

— Faisal (@faisaltanoli) April 12, 2021
Some shared better ways of dealing with the situation:
Well you could have said, no mask no selfie. 🤷🏻‍♀️ it would have made the kid realised he has to wear a mask.

— Spoof (@spooftastic) April 12, 2021
People were sharing what they would have done if they were in his place:
If i was at your place, i would have asked him wear a mask first (with a smile on my face not rudely) then you can take a selfie with me, and if he had no mask i would have given him one to wear. #Kindness https://t.co/kgyfiEol4v

— Sitara (@art1ista) April 12, 2021
What are your thoughts on this matter? Let us know in the comments below!