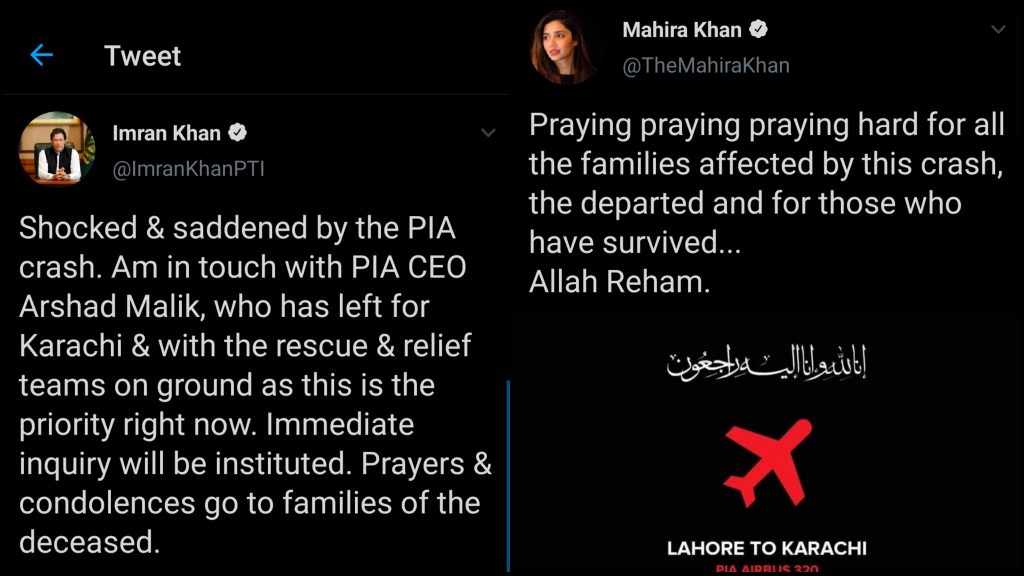 What was supposed to be a joyous PIA flight from Karachi to Lahore, carrying 91 passengers and 8 crew members on board crashed over a residential colony near the Jinnah International Airport in Karachi today.
And while the rescue operations continue, the extent of the damage and lives lost still remains a question. And in difficult times like these, the entire fraternity has come together to pray for the victims.
PM Imran Khan expressed how he was shocked and saddened by the incident:
Shocked & saddened by the PIA crash. Am in touch with PIA CEO Arshad Malik, who has left for Karachi & with the rescue & relief teams on ground as this is the priority right now. Immediate inquiry will be instituted. Prayers & condolences go to families of the deceased.

— Imran Khan (@ImranKhanPTI) May 22, 2020
Canadian PM Justin Trudeau shared how the news was devastating:
The news from Pakistan this morning is devastating. To the families and friends of those who lost their lives in the crash of PK 8303, and to everyone affected by this terrible tragedy, our hearts go out to you. Canadians are keeping you in our thoughts today.

— Justin Trudeau (@JustinTrudeau) May 22, 2020
Fahad Mustafa, saddened by the crash, decided to call off his show today:
I have Called off my show today due to the tragic incident of PIA PK8303. Its a really sad day my heart goes out to all the victims & for those they leave behind really sorry for your loss.

— Fahad Mustafa (@fahadmustafa26) May 22, 2020
Saba Qamar tweeted how the news left her numb:
My heart goes out to all the victims and their families in this crucial time! 🥺💔
My mind has gone numb and I am out of words after listening to this Terrible news! 🖤 #PIA #PlaneCrash #Karachi

— Saba Qamar (@s_qamarzaman) May 22, 2020
Humayun Saeed was praying for the departed and the survivors:
Deeply saddened about the plane crash in Karachi. May Allah grant jannat to those who have passed away and give their familes the strength to deal with the loss. And may Allah bless the survivors with health. Ameen

— Humayun Saeed (@iamhumayunsaeed) May 22, 2020
Mahira Khan sent prayers:
Praying praying praying hard for all the families affected by this crash, the departed and for those who have survived…
Allah Reham.

— Mahira Khan (@TheMahiraKhan) May 22, 2020
Ali Zafar shared a video from the crash site hoping that 2020 stops being as dreadful as it is:
PIA plane crash. Another devastating news of the year. Prayers for the deceased and their families. Heartbreaking. 2020, can't you just …..! pic.twitter.com/ivBDaaKGdt

— Ali Zafar (@AliZafarsays) May 22, 2020
Mehwish Hayat shared how she was in disbelief:
Cannot believe the news coming in about the #planecrash In khi. Is there no end to the suffering we are having to endure this year?💔
Today,on Jum'atul-Widaa' lets pray for all those who've perished and their families…
Innallillaahi wa inna ilehi rajioon@Official_PIA #Karachi

— Mehwish Hayat TI (@MehwishHayat) May 22, 2020
Osman Khalid Butt shared how the pain is beyond measure:
What horrific news on this, the last jummah before Eid.
I can't even begin to imagine the devastation caused by the crash.
Hoping and praying for survivors.

— Osman Khalid Butt (@aClockworkObi) May 22, 2020
Faysal Qureshi was praying for everyone:
Lots of prayers for all the departed souls in a #planecrash heartbroken news …ALLAH pak sab ko apni hifzo amaan mey rakhy

— Faysal Quraishi (@faysalquraishi) May 22, 2020
Cricketer Shoaib Akhtar and his wife Sania Mirza sent strength and prayers:
May Allah have mercy and give strength to the loved ones of the deceased ..no amount of condolences can be enough .. Heartbreaking and so so tragic .. #piacrash 🤲🏽 https://t.co/MZOvAaaJwP

— Sania Mirza (@MirzaSania) May 22, 2020
Cricketer Shahid Afridi too sent prayers:
إِنَّا لِلّهِ وَإِنَّـا إِلَيْهِ رَاجِعونَ #PIA

— Shahid Afridi (@SAfridiOfficial) May 22, 2020
Adnan Siddiqui sent condolences to the families of the affected:
I'm extremely saddened to hear about PIA crash. My deepest condolences to the families of the deceased. May Allah grant them higher place in Jannah. Ameen🙏@Official_PIA

— Adnan Siddiqui (@adnanactor) May 22, 2020
Ayeza Khan was praying was mercy:
Jummah tul wida kay din itne muqasadis din itna bara hadsa …. Ya Allah tu hum par reham kar!
Hum sabko beshak tere pass he laut kay ana ha…

— Ayezakhan.ak (@Ayezakhanak3) May 22, 2020
Aijaz Aslam was praying for the maghfirat of the departed:
What a sad day #YaAllahReham pic.twitter.com/ce5hkIu3rj

— aijaz aslam (@aijazz7) May 22, 2020
Bilal Ashraf shared how saddening the news is for him:
Deeply saddened to hear about the plane crash in Karachi. Prayers for all the families who lost their loved ones:(

— Bilal Ashraf (@IamBilalAshraf) May 22, 2020
Farhan Saeed shared how they were in his thoughts and prayers:
Inna lillahi wa inna illahi rajiun

Ya Allah bless the departed with the highest place in Heaven. Amen

My heart goes out to the families of the departed l, may Allah give them strength to bear this loss.

Ya Allah reham!#planecrash

— Farhan Saeed (@farhan_saeed) May 22, 2020
Sana Javed shared how heart breaking the incident is:
I am heart broken to hear about the PIA #planecrash ; so many lives have been cut short. Hoping and praying that lives are saved. May Allah have mercy.

— SANA JAVED (@IamSanaJaved) May 22, 2020
Danish Taimoor sent prayers while clearing the rumours of him and Ayeza being on the plane:
https://www.instagram.com/p/CAfPBFVHOfd/?igshid=1qxwcknln7hip
Team Diva is heart broken and is praying for the survivors and the departed.