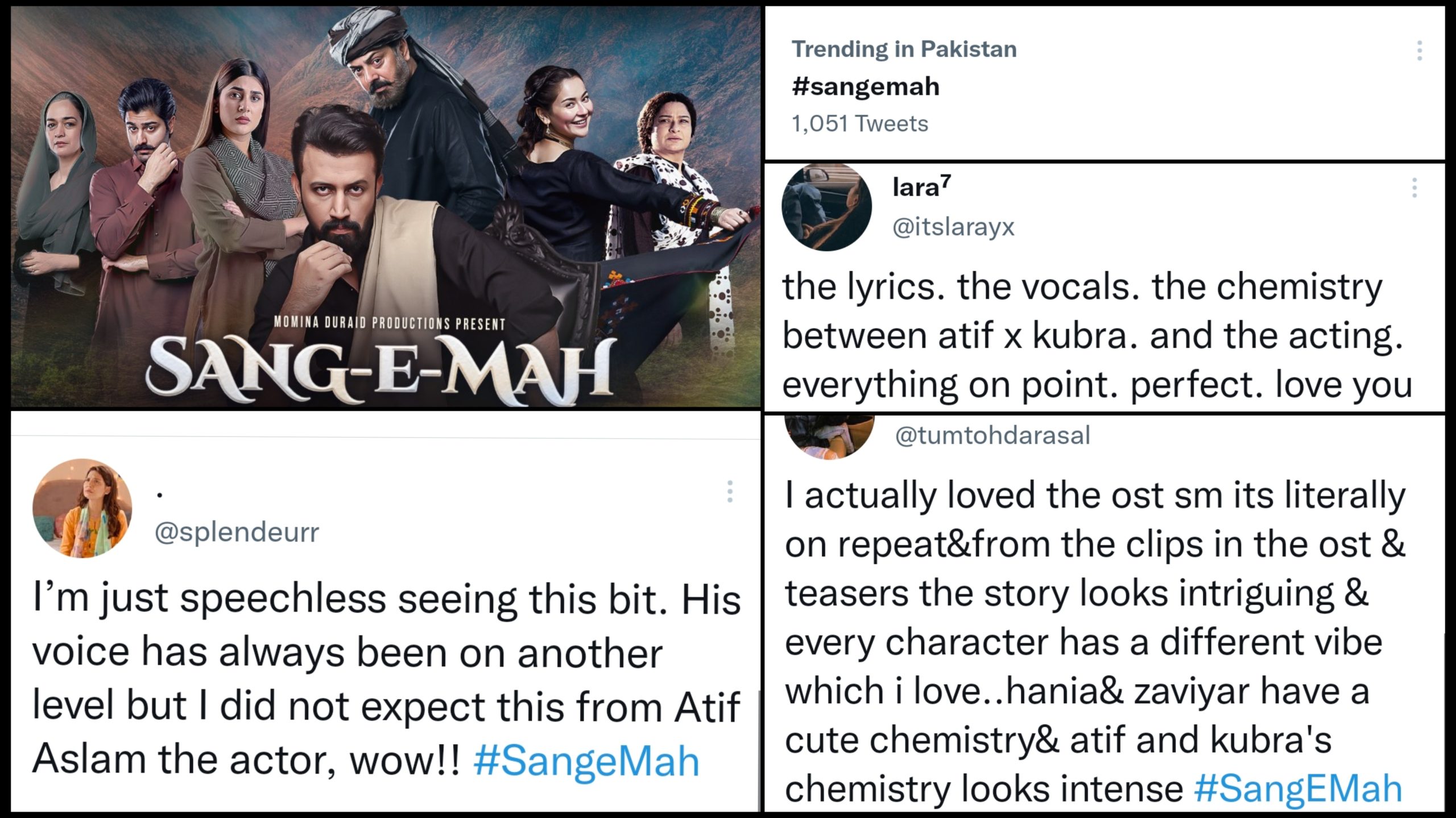 One of the most anticipated dramas of the year, Sang-e-Mah, is all set to air this week. Featuring a stellar cast that includes Atif Aslam, Nauman Ijaz, Samiya Mumtaz, Sania Saeed, Omair Rana, Kubra Khan, Hania Aamir and Zaviyar Ijaz among others. With the OST out already, the excitement has amplified and fans just cannot get over Atif's soulful vocals:
The first episode is also being shown at the cinemas country-wide on public demand and people are way too excited!
Insert ss
Fans took to Twitter to laud the OST, the production and the cast, and here's what they had to say!
I got goosebumps, please this is so goodddd😭❤️#SangeMah #KubraKhan #AtifAslam #HaniaAamir pic.twitter.com/cR5C0E3wQV

— 𝐀𝐥𝐢𝐬𝐡𝐛𝐚𝐲 | 𝐒𝐄𝐀 𝐒𝐓𝐀𝐍 💃🏻 (@Alishbayy__) January 6, 2022
That's Atif Aslam for you!
I'm just speechless seeing this bit. His voice has always been on another level but I did not expect this from Atif Aslam the actor, wow!! #SangeMah pic.twitter.com/T5GuOgVTY3

— . (@splendeurr) January 6, 2022
❤
The reason to luv this man 🥺🤍#atifaslam #sangemah pic.twitter.com/4AKu5JIipt

— imahmad  (@AhmadAadeez) January 6, 2022
People were sharing their favourite parts from the OST:
This 🥺#Atifaslam #sangemah pic.twitter.com/B7wJouFkUw

— RaFaZ aaDeeZ 🎵 (@RafazTweets) January 6, 2022
" Woh jo khud ko bhi mila nahi tujhe kia milega, Woh hai bekhabar woh hai gumshuda tujhe kia milega "
– the lyrics so so good 💥#sangemah | #atifaslam pic.twitter.com/qr0rYjcaZg

— ✤ T (@notyourrtea) January 6, 2022
livin in these lines from morning
how nearly touched the million of hearts..#AtifAslam pic.twitter.com/n98iNPyKdU

— Fayzan Raja (@zxcwg42) January 7, 2022
People were swooning over Atif Aslam's high notes:
Thank God Atif got some good lyrics and composition!!!
I think this is first song of Atif after Wohi Khuda Hai when we got to listen real high notes from him!!!
This is Atif at his best!!!! #AtifAslam #SangEMahOSTbyAtifAslam pic.twitter.com/xQgo8fNIJJ

— Usman🏏 (@musmanmazhar2) January 6, 2022
Jo baat hai!
The lion has roared and it's still the first week of 2022. Everyone pack up and go home😌😌😌 Atif already won best song of the year#SangEMah @itsaadee

— GG (@aadeezgg) January 6, 2022
Batao batao!
This tells he is going to be a versatile actor.
Bohat kam actors hain jo ankhon se bhi acting kr lete hain.
Aik hi dil hai kitni dafa jeetoge? @itsaadee #sangemah #AtifAslam pic.twitter.com/7l89eLhVi1

— Crap bag (@crappbag__) January 6, 2022
We know, right?
I actually loved the ost sm its literally on repeat&from the clips in the ost & teasers the story looks intriguing & every character has a different vibe which i love..hania& zaviyar have a cute chemistry& atif and kubra's chemistry looks intense #SangEMahpic.twitter.com/KbR1SqFGAE

— ameera (@tumtohdarasal) January 6, 2022
The OST and Atif Aslam were also trending in India:
Now look at this … #sangemah is also trending in India!!! Magic n craze of our rockstar @itsaadee well the way he acted n sung… He deserves it n more… #AtifAslam #aadeez pic.twitter.com/HDk8oOpmKN

— Aadeez (@aadeez12_) January 6, 2022
😭
We all will be in tears watching this drama serial for sure😭
My man giving goosebumps with his vocals & moreover this time with his so damn good acting,, #AtifAslam #sangemah https://t.co/L8K3op8JlR

— ҡһΛʟєԀ (@itsKhaledAhmed) January 6, 2022
It was also trending in Bangladesh:
#sangemah is trending in Pakistan as well as in Bangladesh 🤍 pic.twitter.com/e6eTtDEFXk

— imahmad  (@AhmadAadeez) January 6, 2022
Atif, the actor!
That angry look 🔥🤍#AtifAslam #sangemah pic.twitter.com/n31WwjlUrc

— imahmad  (@AhmadAadeez) December 30, 2021
And nailing it!
Singers rocking on TV screens, both Atif and Hadiqa kiyani ❤️🔥#SangEMah #Dobara pic.twitter.com/tmOyzOEi5E

— Syeda Trimzi (@TrimiziiiSyeda) December 10, 2021
10/10 would agree!
The lyrics, The composition, The direction, The production, The view, and above all your soulful voice loaded with emotions is what makes it the best ost🔥🔥🔥🔥🔥🔥🔥 https://t.co/IIV9N0eWiX

— عافی_عادیز (@AadeezAafi) January 7, 2022
Are you excited to watch Sang-e-Mah? Let us know in the comments below!