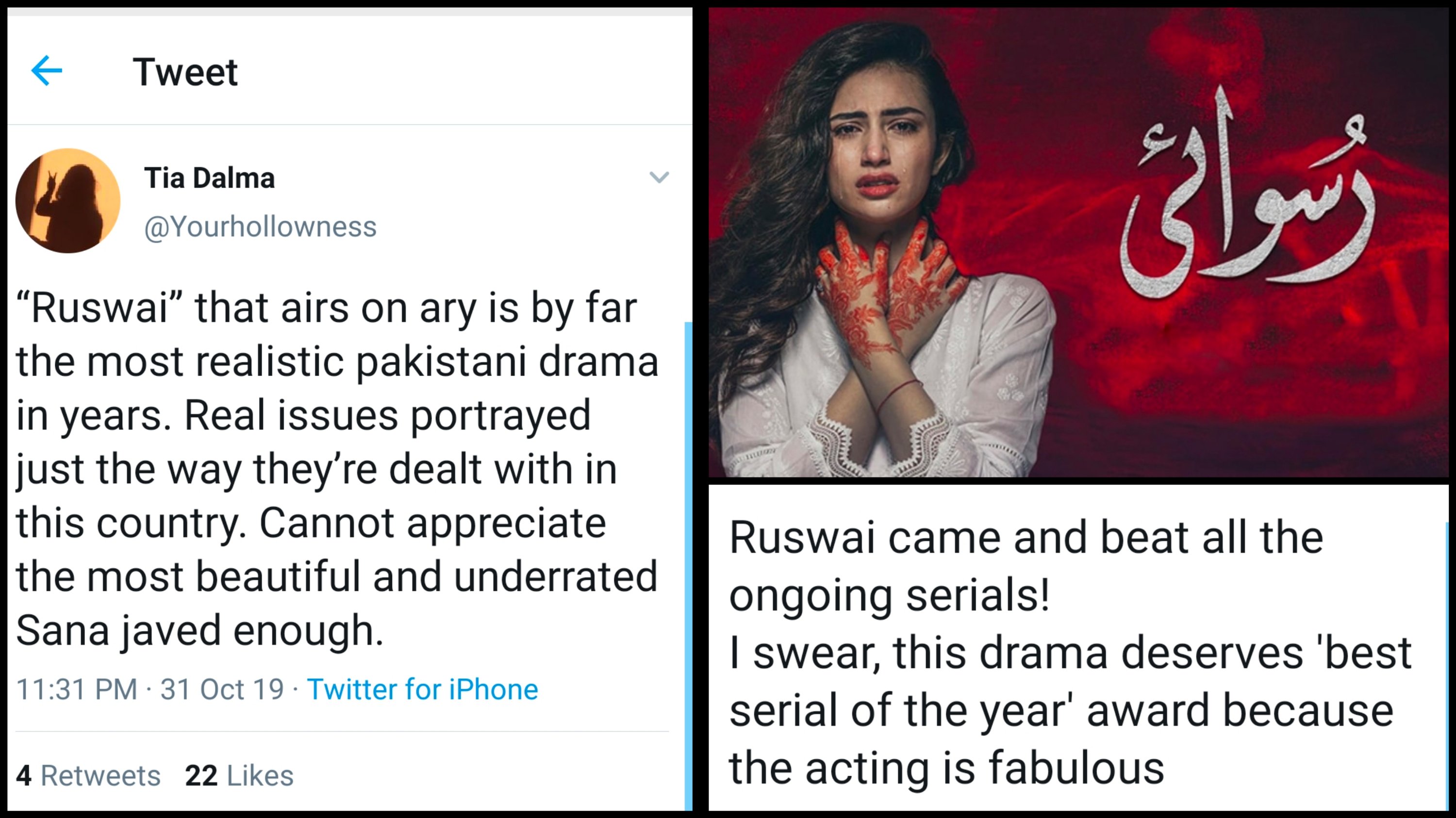 If there's one drama that has us stunned with its heart wrenching story line, it's Ruswai. Ruswai tells the gruesome tale of a rape victim and each and every member of the cast has had us blown away with their acting.
Starting with Sana Javed who plays Sameera, we cannot praise her enough for how brilliantly she's played the role of a strong lead who is shattered by tragedy. This is probably one of the best roles that Sana Javed has executed till date and within just 5 episodes, she has everyone admitting that she's one of the best artists in the industry right now.
When it comes to the rest of the cast, they're no less. Sameera's father played by Muhammad Ahmed to absolute perfection. The younger sister played by Natalia Awais is spot on, she stole the show with disbelief and trauma of her own when she saw her sister come back. Osama Tahir's silent but very strong reaction, Simi Raheel being the ever so protective mother and Mikaal Zulfiqar being the conflicted husband to the helpless Sameera. As viewers we felt every emotion in the latest episode, from the heart break to frustration to the helplessness and the realness of it all.
https://www.instagram.com/p/B3_74_LlTOG/?igshid=1d6vijms3p3a8
And the drama just didn't have us blown but everyone who watched it was moved to tears after the latest episode:
"Ruswai" that airs on ary is by far the most realistic pakistani drama in years. Real issues portrayed just the way they're dealt with in this country. Cannot appreciate the most beautiful and underrated Sana javed enough.

— Tia Dalma (@Yourhollowness) October 31, 2019
It certainly did!
Ruswai came and beat all the ongoing serials!
I swear, this drama deserves 'best serial of the year' award because the acting is fabulous

— Afreen/ Tag me if I'm here/ Exams soon (@_RMenthusiast) October 31, 2019
That's the scariest part, the reality of the situation:
Just finished watching #Ruswai. Kudos to the whole team as especially to the Rubina Ashraf and Sana Javed for pulling it off so nicely. Almost made me cry in todays epi.
The show is showing some real problems that exist in our society.

— Adambaizar (@adambaizar) October 29, 2019
Todays Episode of Ruswai was mind blowing emotional and soo soo real .. acting of sana javed is wow and the girl rohina did great job too .. impressed

— Peachy🍑 (@thaakihoilarki) October 29, 2019
The audience was reduced to tears, including us!
Today's episode of Ruswai. Rula he dia zalimo

— Are Zee ! (@bhattispeaks) October 29, 2019
Ruswai ki episode depressing thi bht

— Fatima. (@chai_dedo) October 30, 2019
People were now realizing how the society deals with such cases:
Wow watching #Ruswai got me so emotional and it's really heartbreaking to see the reality of ppl who go thru this situation. Sana jawed killed it man ❤️

— Biryanibeast 🇺🇸 (@Biryanibeast1) October 30, 2019
It gave us chills too!
This last episode of Ruswai was so heartbreaking. It legit gave me chills.

— Duchess of Westmore (@amal_khan27) October 30, 2019
People were all praise for Sana Javed and her brilliance:
Sana Javed has nailed it. So real, so traumatic and intense. This is going to be one for the season.#Ruswai #ARYDigital

— Waseem (@wazeemabbas1) October 30, 2019
What a power pack performance by Sana Javed. Such roles are the hardest ones and seeing a glimpse of the destruction,such incidents cause, sent chills down my spine. #ruswai

— Aurangzaib (@aurangzaibtahir) October 29, 2019
They all did fully justice to their characters 👏
And you @IamSanaJaved m just blown away by your performance 💯😍#Ruswai pic.twitter.com/TQ7EYFtjPp

— Neha ☆ (@naina_khn) October 30, 2019
Yh man #Ruswai was painful to watch. But ohhh my what a powerful performance by @IamSanaJaved immaculate!!!💯😍

— Hamzah Bhuta (@Hamzah_Bhuta) October 30, 2019
Sana Javed's acting in todays Episode of #Ruswai Was incredible!
I've Honestly never felt so heartbroken during an ep as much as i did tonight🥺🥺🥺🥺

— A Y I S 𝓗 A A '🕊 (@Ayishaaziz_) October 29, 2019
Sana Javed even made new fans:
Speechless. Never liked Sana Javed much but now i am a fan #Ruswai

— NH (@nadsk19) October 30, 2019
It hit everyone right in the feels:
Is topic pe buhat se drama ban chukay hain lekin Ruswai ki cast nay ek ek emotion feel karwaya hai logo ko
Buhat hi khubsoorat acting ki hai sab nay especially @IamSanaJaved #Seemiraheel aur @osamatahir pic.twitter.com/OHHxvy5uzg

— Fatima (@Fatimaimran94) October 29, 2019
It had people praying for everyone's safety:
Ruswai… Omg this episode 😭😱
This is amazing and heartbreaking as well.. Allah her larki ko apni hifzo amaan Mai rakhey…
What an acting this gives goosebumps… https://t.co/eegcCmj6F4

— Chikoo Rumsha 🙃🤭 (@safaiidladdu) October 30, 2019
After watching this drama Ruswai, I've promised myself that I won't be going anywhere at night. YA ALLAH SUB KI BETION KO APNI HIFZ O AMAAN MEIN RAKH 😭

— سارة (@GoSleepSarah) October 30, 2019
Are you keeping up with Ruswai? Let us know in the comments below!