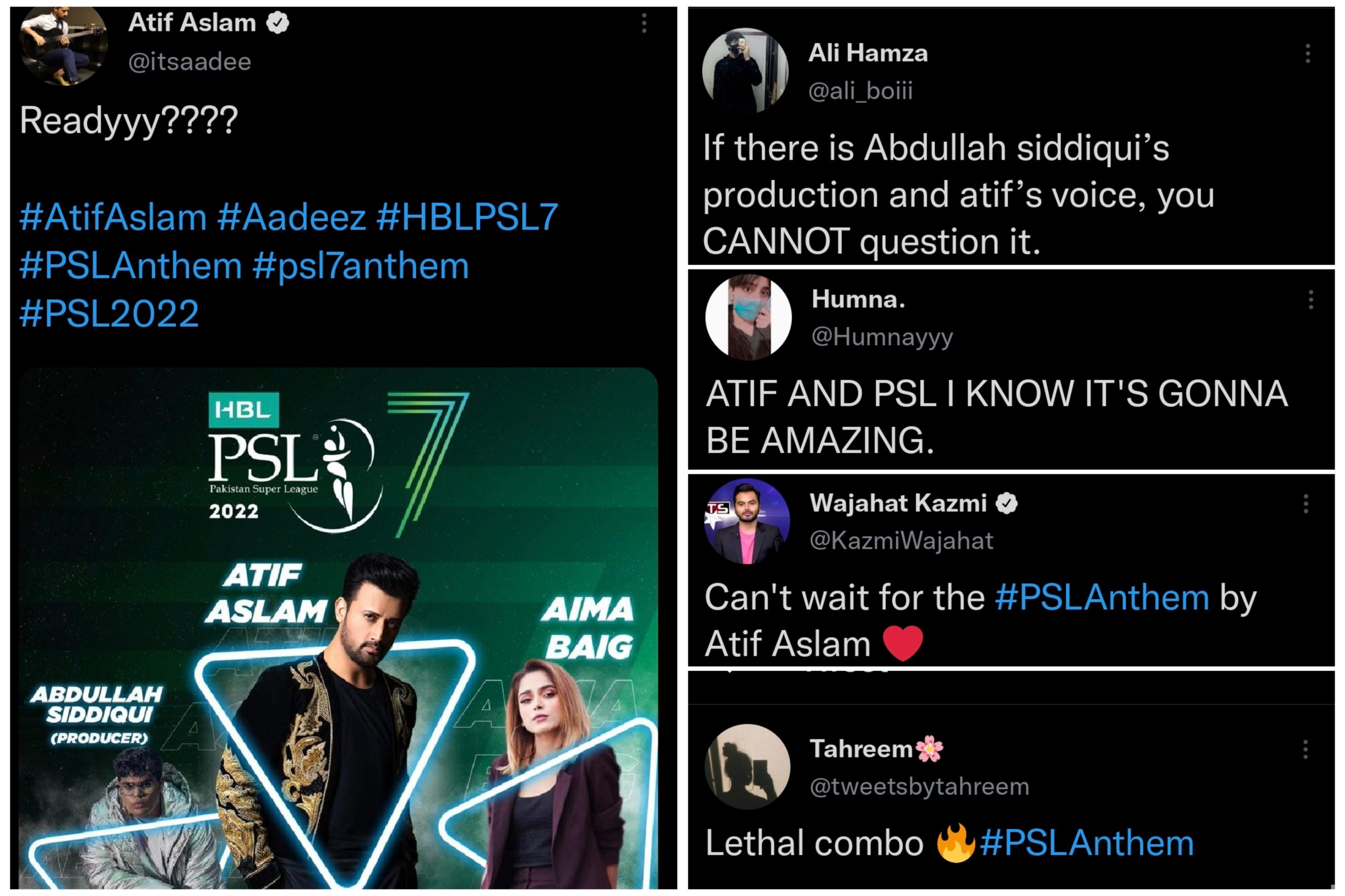 With the last few PSL anthems getting mixed reviews from fans, cricket buffs were in for a big surprise after they found out that this year's anthem was going to be sung by none other than Atif Aslam accompanied by Aima Baig. To be produced under the powerhouse of talent, Abdullah Siddiqui, fans have been over the moon!
Readyyy????#AtifAslam #Aadeez #HBLPSL7 #PSLAnthem #psl7anthem #PSL2022 pic.twitter.com/pyuwnqgZck

— Atif Aslam (@itsaadee) January 13, 2022
And people are way too excited!
Can't wait for the #PSLAnthem by Atif Aslam ❤️ pic.twitter.com/vTwyZtzCBq

— Wajahat Kazmi (@KazmiWajahat) January 13, 2022
Yes!
Everyone is talking about Atif Aslam and Aima baig BUT let me tell you the Producer of song is ABDULLAH SIDDIQUI the Pakistani who make it to the FORBES 30 List in 2021, Appreciate our talent 🇵🇰❤️#PSLAnthem #LevelHai pic.twitter.com/6DGUXYkZvE

— Syeda Trimzi (@TrimiziiiSyeda) January 13, 2022
Agreed!
Lethal combo 🔥#PSLAnthem pic.twitter.com/kC9Xibmwps

— Tahreem🌸 (@tweetsbytahreem) January 13, 2022
Hahaha!
Meanwhile Pakistani: ready to criticize #PSLAnthem pic.twitter.com/vMify5XH2V

— Nasir Iqbal (@nasir_iqbal07) January 14, 2022
Finally!
Best Event of Pakistan Cricket deserves best Singers
dream is fulfilled
finally, my most fav singers are going to sing the PSL anthem
this is actually Level Hai#LevelHai #PSL2022 #PSLanthem pic.twitter.com/5b2rcl4g6w

— Noor Hafeez Abbasi (@noor_hafeez56) January 13, 2022
Tayyar hain!
#PSLAnthem releasing next week.
PCB: pic.twitter.com/f60N1rYzkZ

— MoHMmAd ZAyaN (@juste_MZ) January 14, 2022
He's the best!
Abdullah is a singer-songwriter and electronic pop music producer. He has written and produced music for some prominent singers in Pakistan, including Fawad Khan, Meesha Shafi, Shamoon Ismail and Aima Baig.
Listen to his masterpiece song "Resistance".#PSL2022 #PSLanthem #PSL7 pic.twitter.com/xTVJ2U8GiO

— CricMady  (@CricMady) January 13, 2022
Jo baat hai!
Abdullah Siddiqi to produce #PSLAnthem 🔥🔥

HOLY MOLY!! THE LAD HAS COME SO FAR – deserves every bit of it.

— Anas. (@teepusahab) January 13, 2022
We know, right!
Woah woah woah man! This is fu**ng awesome!!!!!!!
Abdullah Siddique is incredibe artist and gonna produce some mad stuf with king atif and Aima!!! #PSL2022 #PSLAnthem #AtifAslam pic.twitter.com/qhNCUJyTGF

— Usman🏏 (@musmanmazhar2) January 13, 2022
People were living for the anthem:
#PSLAnthem can't wait for PSL anthem
can't wait to see both Atif and aima baig together.❤️❤️
Good luck teams and players. #HBLPSL7 #PSL2022 #LevelHai #OhMyGod #AtifAslam #AimaBaig pic.twitter.com/AOaJ1pjzO0

— Jiyaaa🌼 (@Jiya_ym) January 14, 2022
It sure will!
PSL 7 anthem will be a good one.💯💯#PSLAnthem pic.twitter.com/Ff0oaBoSMx

— Shaheer Butt 🇵🇰 (@shaheerbutt_) January 13, 2022
👀
The only good thing of PSL 2022 https://t.co/nlbA0V0zXM

— 𝑨𝒗𝒊𝒌❋🥀 (@Avik_GillStan) January 14, 2022
Yep!
ATIF AND PSL I KNOW IT'S GONNA BE AMAZING. https://t.co/fTbfu64hqJ

— Humna. (@Humnayyy) January 14, 2022
There's no winning, is it?
Abdullah Siddiqui is pretty good in his genre but most of Pakistani public won't be aware of his talent and if psl7's anthem is a bit off then only he will be blamed… if anthem gets hit then credit goes to Aima and Atif …

— Usama Zafar (@Usama7) January 14, 2022
Same!
Abdullah Siddiqui is the producer. Whatta news though. Love him!<3 https://t.co/K7UMCXOX3X

— Marwah Khan (@MarwahKhan64) January 13, 2022
Calm down bro!
Xulfi did Hum Zalmi
Next Year with PSL

Abdullah Siddiqui did Zalmi song
Next Year with PSL

So Rohail doing PSL8 Song 🤔🥶@nausherwan_eff

— Abdul Ghaffar (@GhaffarDawnNews) January 13, 2022
FACTS!
If there is Abdullah siddiqui's production and atif's voice, you CANNOT question it. https://t.co/o9iIdbFSpR

— Ali Hamza (@ali_boiii) January 13, 2022
Are you excited for the anthem to release next week? Let us know in the comments below!