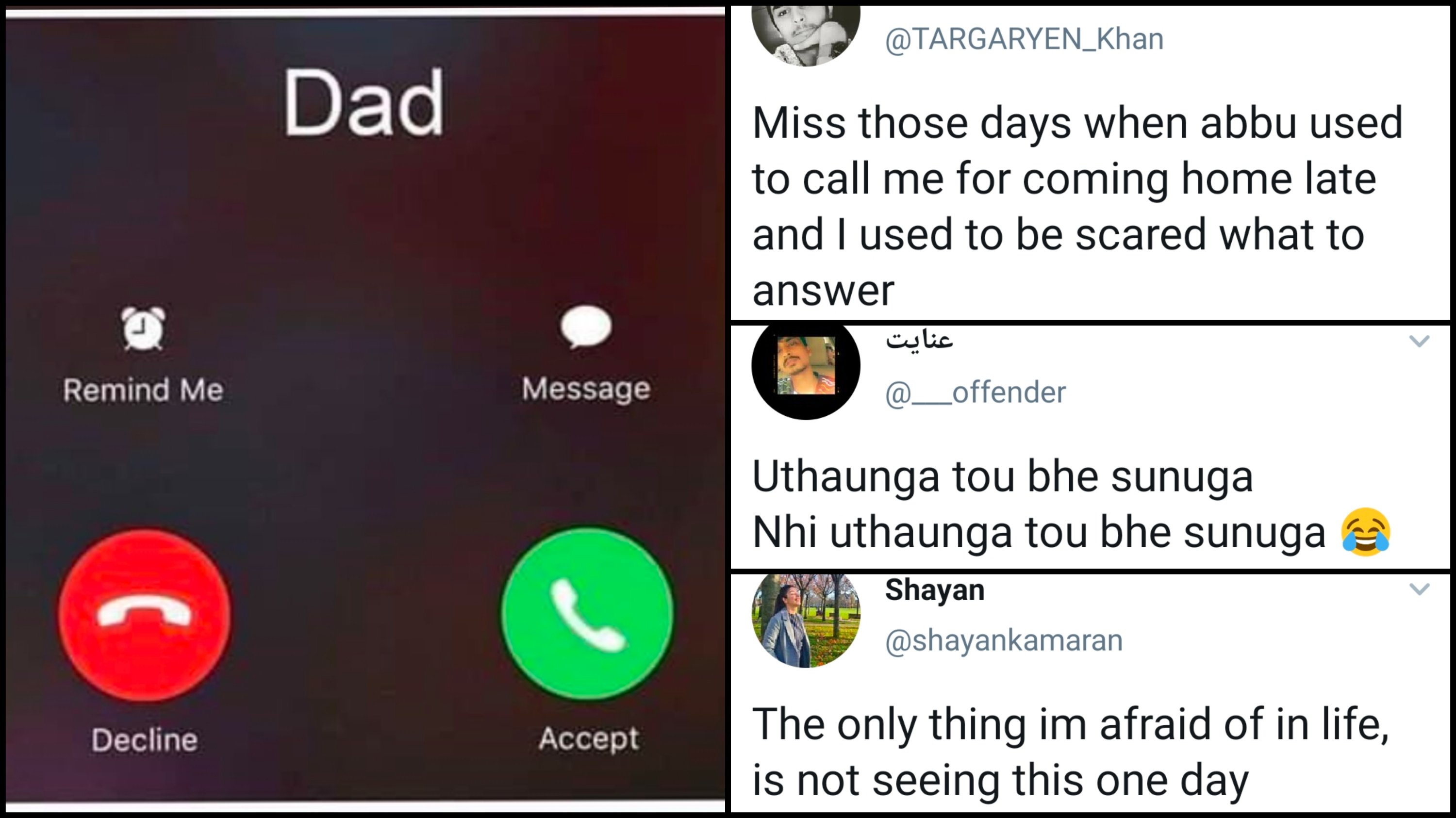 Dads are our very first super heroes and last too, the bond between a child and a father is so precious!
One user on Twitter asked others how they felt about phone calls from their dads and the replies will make you want to call your dad right after you're done reading this article!
We mostly hype mothers but forget about fathers. They don't get the recognition they deserve. There are great dads out there who put the needs of their families first. If you have one, you've something special. https://t.co/j23ALigDKC

— Olumide (@biaye_mark) December 2, 2019
Even thinking about it gives me chills:
The only thing im afraid of in life, is not seeing this one day https://t.co/I8f6iFLwto

— Shayan (@shayankamaran) December 1, 2019
Aameen!
His number is still saved in my mobile, but it never rings. May his soul rest in peace. https://t.co/PNMcbtXgFZ

— Shiraz Hassan (@ShirazHassan) December 2, 2019
Can relate a 100%:
There's always instructions involved in this phone call 💀💀 https://t.co/GEzr04X4Gj

— IG: heartyandhomecooked ✨ (@Silindokuhle_) December 1, 2019
Baba, help!
"Baba whats the password for my email" https://t.co/vQH8d8Pxlp

— B(an)² (@brikvbi) December 1, 2019
Smoooooth!
In Shaa Allah my kids will receive calls from this man! ❤️ https://t.co/8OPITuvDny

— 🤡💕 (@the_aryam) November 30, 2019
It sure is:
Pretty scary when it happens. But there comes a time when you won't receive his phone calls anymore and that's worse https://t.co/SleVDL94gN

— Tim Apple (@Ammar_AliKhan) December 2, 2019
Haha, the dehshat!
Miss those days when abbu used to call me for coming home late and I used to be scared what to answer https://t.co/6jeqISEC4m

— Usman. (@TARGARYEN_Khan) December 2, 2019
Who else does this?
Hmesha thori der bd uthati hu phone. Kahi ye hi na lgy k phone hath mein tha https://t.co/dYye7OUxnh

— Aruna 🇵🇰 (@pk_directioner) December 2, 2019
Us too!
I wish i get this for so many years to come ❤️❤️ https://t.co/EsRdHAGQVk

— Shams (@allfunandjamess) December 2, 2019
Chhitrol?
Whenever Dad Calls me
Le Me: Koi galat kaam tu ni hogya yr mainai kch glt tu ni krdya kahi? https://t.co/gUw7mxQqUz pic.twitter.com/Ebf36KmFrn

— Sharjeel. (@SharjeelViews) December 2, 2019
Jo baat hai!
Amma ki 20 calls = Abba ki ek call. Buss woh ek call hee kaafi hoti hai. https://t.co/npxpZJoGyJ

— رے (@Robosamm) December 2, 2019
Baat toh sach hai:
Uthaunga tou bhe sunuga
Nhi uthaunga tou bhe sunuga 😂 https://t.co/nZvkf0aXKf

— عنایت (@___offender) December 1, 2019
Many shared how they wished they could receive this call:
The call I wanna receive so bad. https://t.co/1vVTn9OlYZ

— Marium Haqqani (@marium_haqqani) December 2, 2019
Can't receive this call! He passed away 20 years ago!! https://t.co/AkBvciTIdc

— The Grenade !! (@biggrenade) December 2, 2019
Yeh cheez!
Let's brush up my punjabi, opportunity! https://t.co/wvNor72087

— Danyal. (@PainduBourgeois) December 2, 2019
I don't think anyone can ever have the courage to do so:
He called ne last 2years and 11 months back. 🙁 I still have my Dad's no save the way it use to be. I dont have courage to delete it. https://t.co/YIyD7HuXQb

— Nimrah Memon (@MemonNimrah) December 2, 2019
Aameen, Summa Aameen!
The amount happiness that gushes through my body when I see his call is unexplainable. May the Almighty Allah grant all fathers get a special place in jannah❤️. Ameen Ameen. https://t.co/hrZr9AFX7b

— Fatimah🧚🏽‍♀️🌺 (@fatima_dameesa) December 1, 2019
With that being said, if you can, please call your dad and tell him how much you love him! Let us know in the comments below what you love the most about calls with your dad!