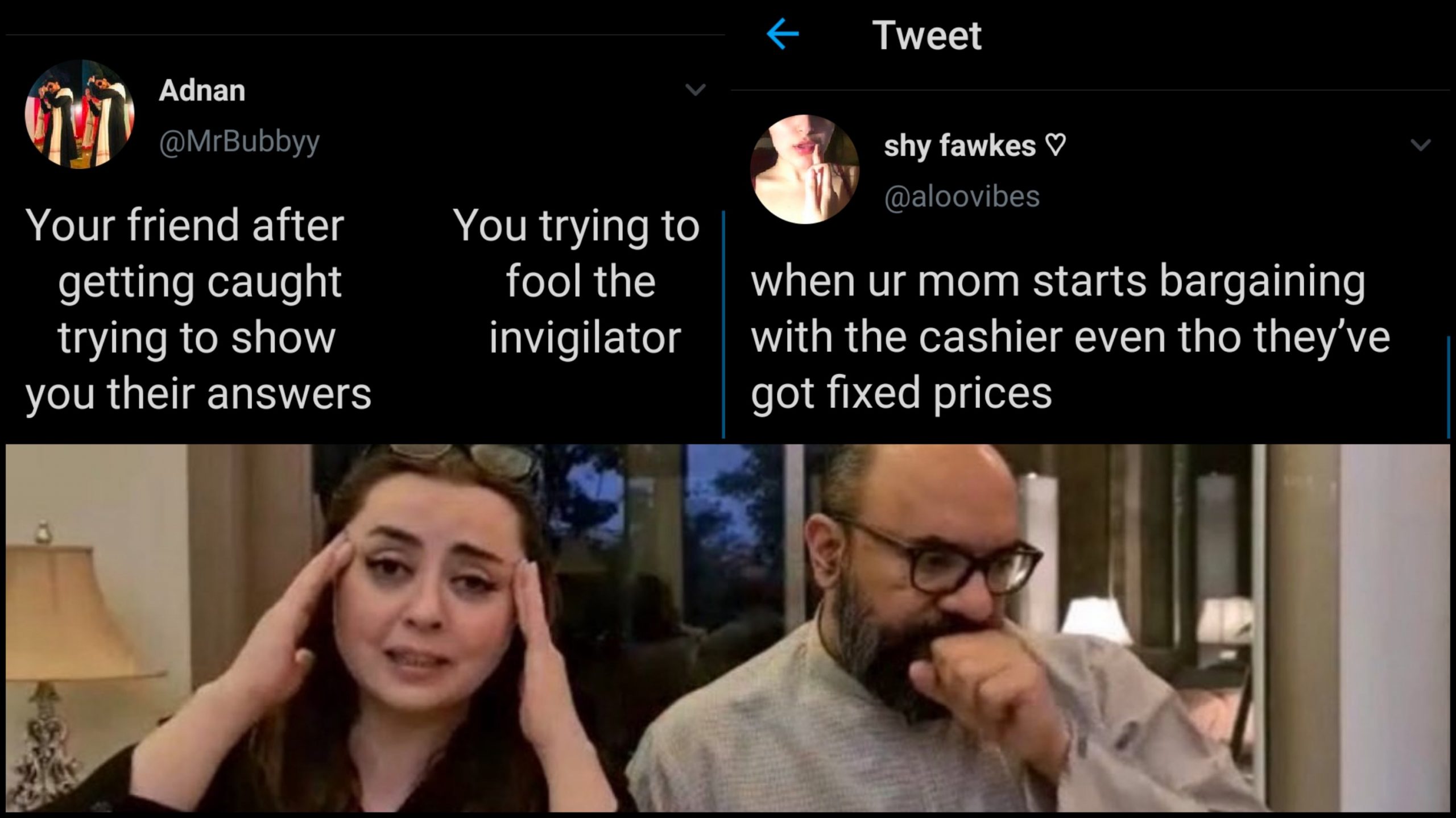 Maria B has become one of the favourite memes of the netizens after she released a 20 minute long video clarifying the situation as to why her husband was caught by the police, providing top notch meme fodder to the trolls. The internet just can't stop churning out memes after memes and they're all nothing but relatable!
Me and mom at parent teacher meeting pic.twitter.com/6NngVKszsv

— Moochar (@AsliBinLaden) March 25, 2020
*pretending to think*
Your friend after You trying to
getting caught fool the
trying to show invigilator
you their answers pic.twitter.com/vlrUW4c9Gb

— Adnan (@MrBubbyy) March 25, 2020
Yeh amiyan bhi na!
when ur mom starts bargaining with the cashier even tho they've got fixed prices pic.twitter.com/slJwQkQgfL

— shy fawkes ♡ (@aloovibes) March 25, 2020
Ghazab ho gaya!
parents of a brown child that just heard their kid say, "Ji social sciences parrhna chaahta hoon!" pic.twitter.com/tE1qKKRwyT

— Bae Faiz (@antifatwa) March 25, 2020
Ya Allah!
My lungs when they said smokers are vulnerable to coronavirus pic.twitter.com/nv2MRzpIDO

— Maryam (@maryamful) March 25, 2020
Haye, been there!
When people with low iron stand up too fast. pic.twitter.com/1RXlprfdGc

— Sir Saith Abdullah (@SaithAbdullah99) March 25, 2020
Yeh kya kerdiya meine 😔
When you get your little brother a blow horn and he won't stop blowing it. pic.twitter.com/Gb15F11tuS

— Neh (@inadlae) March 25, 2020
Girl, run! 😂
Me asking him to he who is not
Become financially even mentally
Stable stable pic.twitter.com/UY4VvlAPEz

— Ayeshay (@champagne_lassi) March 25, 2020
Sad…
My wife watching me turn on the PS4 more than I have her during the quarantine. pic.twitter.com/s4ueSnzxFm

— ⎊ Childish Ghambino 🍉 (@Sarkhail7Khan) March 25, 2020
Ab kerke dikhao infect!
All the active bacteria and virus in my food when I say bismillah before taking a bite pic.twitter.com/X2OYL5izeH

— Ahmer Naqvi (@karachikhatmal) March 25, 2020
Bigar gaya hai larka:
Mujhe apni pasand ki shadi kerni hai pic.twitter.com/Otqgq9DuNs

— Shumail (@Shumyl) March 25, 2020
Pretty sure all siblings can relate:
— Javeria Rasheed (@JaveriaRasheed) March 25, 2020
Facts:
"beta agar koi pasand hay tou bata do"

jab tum bata detay ho: pic.twitter.com/t0xQTJnyXD

— Mav (@404mav) March 25, 2020
Accurate!
Nobody:
Twitter girls posing for pictures: pic.twitter.com/2fIH5x4aRN

— mohom (@annoyyyinlady) March 25, 2020
👀
Pakistani society: let's unite to defeat this deadly pandemic

Pakistani elites pic.twitter.com/FdYys6OO99

— Ahmer Naqvi (@karachikhatmal) March 25, 2020
The more we sit home, the more we feel the symptoms lol:
replug: fResh, ELITE meme for y'all pic.twitter.com/cjejgR712j

— Qasim Farooq (@MangoLassC) March 25, 2020
Some loved how she put her power to some use at least:
"Headache and cough," A public service message from Maria B demonstrating Coronavirus symptoms. Great to see our brands doing CSR right. pic.twitter.com/m4ZZD3RowO

— Socially Distant Waqas (@waqas_x) March 25, 2020
Oops!
Sorry guys, last couple of memes coming through pic.twitter.com/YfnyZlPdBD

— Manal Faheem Khan (@ManalFaheemKhan) March 25, 2020
Haw haye!
When you tell your desi parents that you want to follow your dream. pic.twitter.com/z4trKoGCXa

— kinzaaaayyyy 😎 (@KinzasDairy) March 25, 2020
Yeh toh bara masla ho gaya:
mom finding out that i smoke vs dad finding out i smoke pic.twitter.com/srOIbM4ac8

— expert on everything™ (@CharsiBhangi) March 25, 2020
Koi KFC kholdo yar:
My last two brain cells trying to process me not getting kfc during quarantine. https://t.co/lMWMnQbBG4

— Wehshi Zinger (@WehshiZinger) March 25, 2020
Mums and their belief on Whatsapp remedies: https://twitter.com/ektaangnakli/status/1242780902587076613?s=19
Lmao:
DHA friends when plans include going bridge k uss paar: pic.twitter.com/hj9uAjhDnM

— Ainee Shahid (@NargisiKoftaay) March 25, 2020
Psy psy!
No one:

Psyduck in every Pokemon episode: pic.twitter.com/dU9CB7yyBr

— Bæ (@Einstonerrr) March 25, 2020
Bechari lungs:
my lungs every time I pick up a lighter pic.twitter.com/6MDBNa2PDo

— Mav (@404mav) March 25, 2020
We just can't 😂
Ghar ghar ki kahani pic.twitter.com/I4sOPsYilm

— Shumail (@Shumyl) March 25, 2020
Uh oh:
me and my best friend pretending to be surprised during qiyamat when we find out we're going to hell pic.twitter.com/n19i1M6rJT

— Mav (@404mav) March 25, 2020
DUNYA HI BADAL GAYI:
my parents when a software update resets the font size on their phone pic.twitter.com/7ELbFmVlxI

— Mav (@404mav) March 25, 2020
Yeh cup yahan kyun rakha hai:
My mom when she sees I have an empty cup in my room pic.twitter.com/XYYHcfmoEt

— Mav (@404mav) March 25, 2020
Koi haal nahi:
kiraman katibin watching me ruin my life pic.twitter.com/krJ5PfpoyI

— Mav (@404mav) March 25, 2020
What memes did you love the most? Let us know in the comments below!