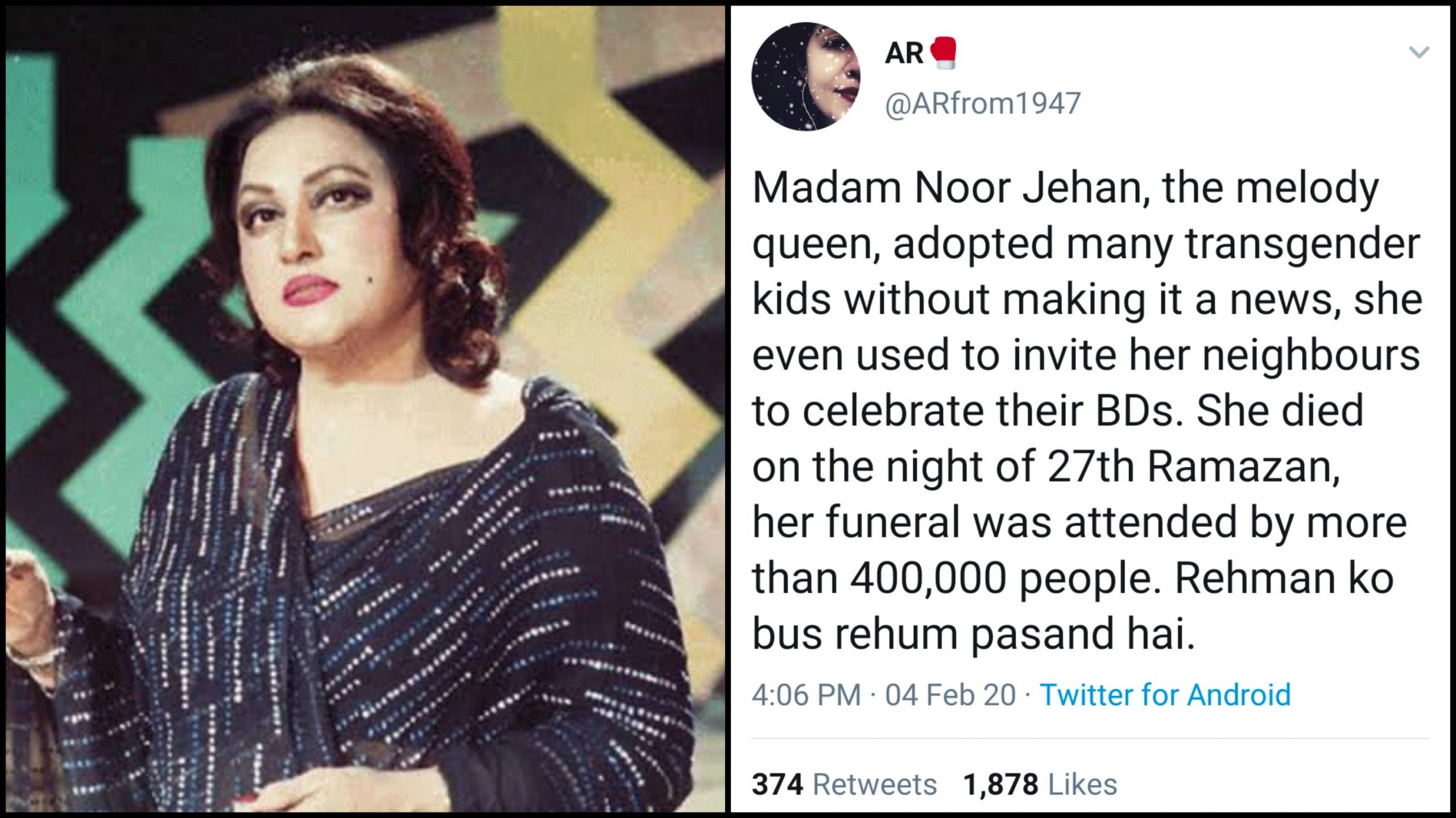 Madam Noor Jahan was renowned as one of the greatest and most influential singers of all times holding the title of Malika-e-Tarannum in Pakistan. But she was also known for her empathy and the loving aura she had.
A girl shared how she had adopted many transgender kids and treated them no differently than she would treat her own kids:
Madam Noor Jehan, the melody queen, adopted many transgender kids without making it a news, she even used to invite her neighbours to celebrate their BDs. She died on the night of 27th Ramazan, her funeral was attended by more than 400,000 people. Rehman ko bus rehum pasand hai.

— AR🥊 (@ARfrom1947) February 4, 2020
And people who didn't know this side of her were moved:
Qasam se dil ko lage apke ye tweet ♥

— Dawood Jaan Afridi (@DawoodJaan10) February 5, 2020
OMG wat a great human she was,never knew such sides of her personality 💕

— naila waqar (@Nyla66) February 5, 2020
It definitely is:
It's really imp to become a good human.. as rights of people r imp.. and ppl aren't that forgiving.. rights of Allah r in the hands of the most gracious and most merciful.. he'll show leniency.. that's my faith!

— Saba Ajwad – I am Kashmir (@sabaajwad) February 4, 2020
A heart of gold indeed:
Some people have a heart of gold. She definitely was one of them.
What a magical voice she had 😍

— Uzair (@Ozzair_Oz) February 4, 2020
Aptly put:
"Rehman ko bus rehum pasand hai" how effortlessly put into🤞 https://t.co/Nugp2FbiGy

— uzair khan (@zak__says) February 5, 2020
Jo baat hai:
dil saaf rakho janemaan sab set rahyga ☺️♥️ https://t.co/tkRzHJHaQ2

— The Sunflower Moon (@Allahjaneyaar) February 5, 2020
Others shared more stories of how kind she was:
I met a woman in Canada who went to school with Madam's daughter. This woman used to live a hostel since she had no family in Lahore. Once she fell ill with nobody to look after her. Guess who visited her with with the biggest fruit basket? ❤️❤️❤️

— Fake Account (@ActaFoolPlz) February 4, 2020
There can be no other Noor Jahan:
Once she was having concert in 5 star hotel. Room attendant told her that she was his fav singer.
Next day after concert she asked his opinion. He said worker class was not allowed to attend.
She called all workers of the hotel and had a separate event for them for free.

— بڑی بی (@LostSou39348907) February 4, 2020
❤
She was a lioness,a true human being,full of life, benevolent.She ws a regular at New Era Jewelrs, saddar.Once she ws spotd in her car by couple of transgenders,they started dancing & singing her famous Punjabi songs,she claps & laughs, stayed till the end of their performances

— Gemini (@DrJunaidMAlam) February 5, 2020
People were sharing how fun she was:
Wow. I never knew this about her but she was always so much fun to watch. A national treasure.
Once, at a SKMT fundraiser, she said she too tried to raise funds for a hospital, but looking at IK, she said, "Mera gulla woh kaam na kar saka jo inka bulla kar gaya." https://t.co/ZNCNqftPdU

— Ayesha Ijaz Khan (@ayeshaijazkhan) February 5, 2020
Yaaaas!
Goals! https://t.co/EsfHzDl235

— maliha (@abidisays) February 5, 2020
The Queen we'd always stan:
What a kind soul she had! 🙏🏻 A queen, indeed. https://t.co/OMIm28HclM

— Valar Dohaeris (@partisanofKhan1) February 5, 2020
It was a heart warming read for many:
This is the most heartwarming thing I've read today ..
Rehman ko bus rehem pasand hai, wow that's soooo true !! https://t.co/XQjXv8OKf9

— intellectual property infringement (@baezaariat) February 4, 2020
People were adding where we can find more of her heart warming qissay:
A great, very great lady. If someone want to read the finest articles on Madam, please see Khalid Hasan's pieces on her…heartwarming… https://t.co/lLyAJZsHiZ

— Kamran Shafi (@KamranShafi46) February 4, 2020
People were missing her presence:
😭😭😭😭😭 https://t.co/yjRCrG6eZg

— 🅱️ (@Billophile) February 4, 2020
One unlike any other:
What a rockstar she was.

— erum jawed (@erumjawed1) February 4, 2020
People were remembering her in good words:
Noor Jahan was a legendary singer, with a gifted voice, even that was sufficient to respect her, on top of that a kind hearted nice person, not so important how many attended her funeral. A blessed soul. 🌟 pic.twitter.com/yLdTpE95qn

— umar zaman (@umarzaman45) February 4, 2020
She was iconic, a true diva!
Haye Noor jehan is ♥️
I've lately started to note, Iman Ali's signature make up style is very similar to Noor jehan's. Things that make up artists are doing now, she used to do ages ago.

— Kalia_TimeLord (@Ssupernovah) February 4, 2020
Beshak:
بے شک اللہ ہی جانتا ہے کہ کس کے دل میں کیا ہے

— Mohsin R. Siddiqui (@MohsinRSiddiqui) February 5, 2020
Do you have any fond memories of Noor Jahan? Let us know in the comments below!