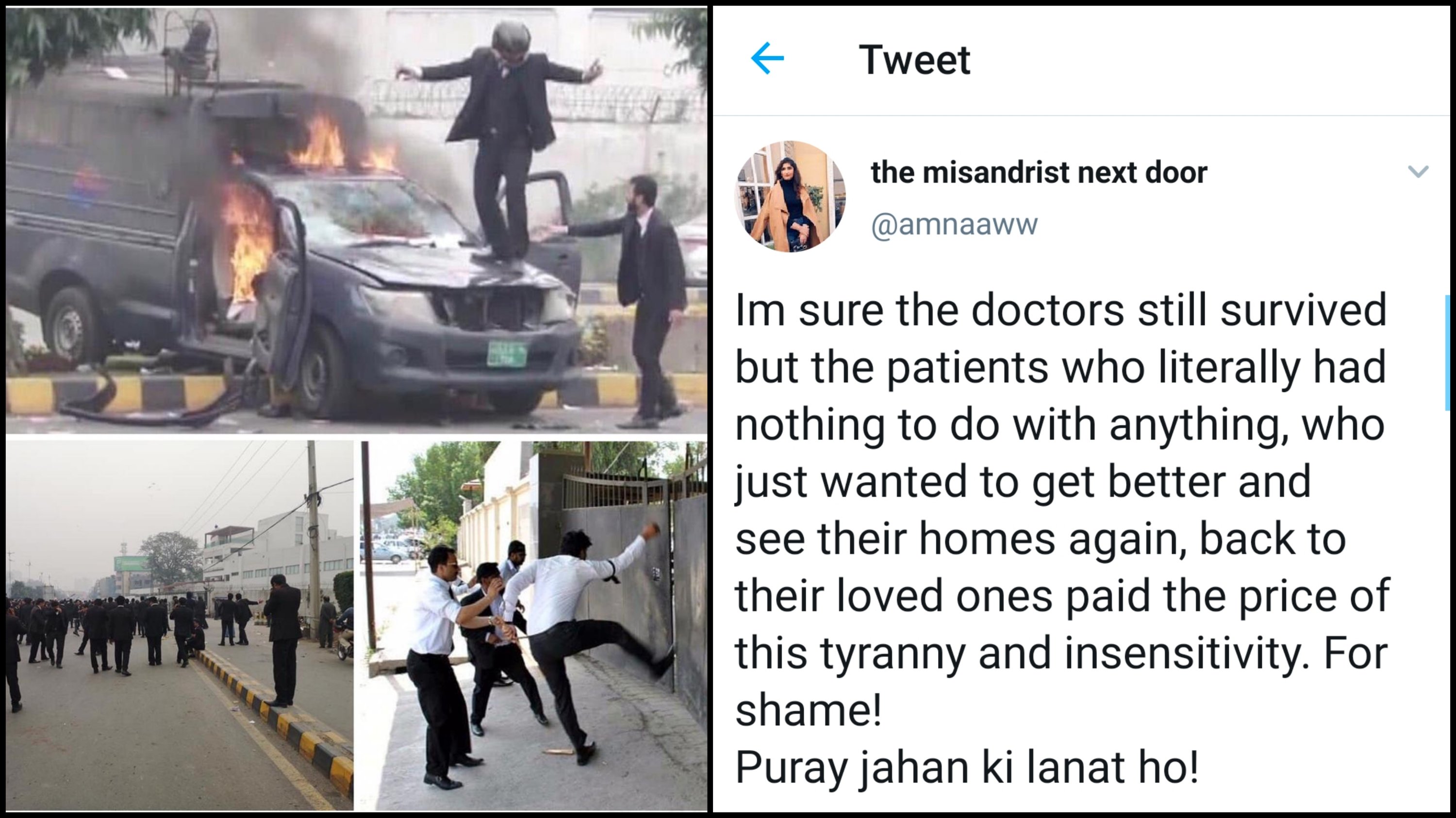 While the country woke up to the good news of international test cricket coming back to Pakistan, Lahore witnessed a violent turn of events after the angry protesting lawyers attacked the PIC causing a havoc!
This is the motive of lawayers when they were marching towarda PIC. #lawyers pic.twitter.com/Ue2c5J3zuJ

— Muhammad Adnan Haider (@adnan_haider1) December 11, 2019
The lawyers were protesting against a video that went viral on social media:
This is the root cause of today's incident at PIC#PICunderattack pic.twitter.com/XlzUXowlcH

— muhammad usman zia (@usman_reps) December 11, 2019
And the internet is calling it a black day for the country:
Black day in history of Pakistan……. #lawyers attacked doctors in PIC #Lahore ……#PICunderAttack pic.twitter.com/NX8hmcccWy

— Malik Ibraheem 🇵🇰 (@MalikIbraheem29) December 11, 2019
People were scared:
Even in WAR you do NOT attack HOSPITALS!! These are the law makers, the providers of justice, the educated ones of our country.. scary scary to see. #Lahore #Lawyers

— Mahira Khan (@TheMahiraKhan) December 11, 2019
Mob violence is never okay:
Beyond dismayed to see these images & hear about what is happening back home. What hope is there for our nation if everyone resorts to mob violence to resolve their issues?! You'd think that these lawyers whose job is to uphold the law would know better#Lawyers #PICunderattack pic.twitter.com/COuuuow2AV

— Mehwish Hayat TI (@MehwishHayat) December 11, 2019
People are demanding that suo moto notice be taken of the barbaric event:
Chief Justice should take Suo Moto notice and license of each and every lawyer involved in violence should be cancelled.#lawyers #picunderattack #Lahore pic.twitter.com/VahKLC0QoV

— Mubashir Balouch (@MubashirBalouc0) December 11, 2019
A woman passed away due to the unavailability of doctors and the footage of her son narrating the incident is heart breaking:
Shattered to the core ! He lost his mother due to terrorist attack on Punjab Institute of cardiology by #Lawyers Goons.
Mr Imran Khan ! isn't it high time to screw the hell out of these terrorists lawyers??#Lahore #PICUnderAttack #Shame
pic.twitter.com/MV8tgS8JRw

— Faisal (@FaisalViewss) December 11, 2019
The information minister of Punjab was also attacked by the mob when he reached there to help resolve the issues:
#Punjab Information Minister Fayyaz ul Hassan Chohan attacked by #lawyers outside Punjab Institute of Cardiology, #Lahore, where he had gone to resolve the conflict between protesting lawyers and doctors #PIC #picunderattack #wukulgardi pic.twitter.com/3MjJuZuvp8

— Developing Pakistan (@DevelopmentPk) December 11, 2019
Patients who had nothing to do with it lost their lives:
Im sure the doctors still survived but the patients who literally had nothing to do with anything, who just wanted to get better and see their homes again, back to their loved ones paid the price of this tyranny and insensitivity. For shame!
Puray jahan ki lanat ho! https://t.co/VaaQovZK3e

— the misandrist next door (@amnaaww) December 11, 2019
Just cant put in words what happened today in PIC.. what a disgrace. The saviours of the country become the victim. Law makers became the law breakers..such a shame.. doctors were trying to restore the patients life while the others took it in just seconds. #PICunderAttack

— Maira Butt (@mairasayss) December 11, 2019
People wanted the lawyers to be punished:
These lawyers are the goons of our society.Give them exemplary punishment.
#PICunderattack pic.twitter.com/mrDWkTiZwz

— Humayun (@HumayunforPeace) December 11, 2019
Hard to believe that lawyers, of all the people, will do something like this:
This is so unfortunate on so many counts… #lawyers are part of the most educated segment of the society… and this is state property that is being damaged… 🤐😖😷
#picunderattack pic.twitter.com/PehwbfsQfw

— Danyal Gilani (@DanyalGilani) December 11, 2019
People were calling it an act of terrorism:
What a mob of lie-ers (some, not all) did today at PIC, after that should they not be called terrorists? Because they terrorised the patients – One of them may become a Chief Justice of this country in future – Insaf ka andaza aap khud behtar laga lenge. #Lawyers #PICunderattack

— Shiffa Z. Yousafzai (@Shiffa_ZY) December 11, 2019
Disgraceful!
#PICUnderAttack Lawyers are behaving like terrorists. The attack on the #Punjab Institute of Cardiology should be considered as an act of terrorism. These lawyers who attacked innocent patients, doctors, nurses & women journalists should be punished. Disgraceful lawyers. pic.twitter.com/RddJOYO19o

— Andrea Rose (@Andyrockz2012) December 11, 2019
Violence is fostered indeed:
Never say only the illiterate and poor turn to violence. Violence is fostered, cared for, enabled and perpetuated. It does not exist in a vacuum. It is deliberate, executed with care. Those who use it are weaponless without it. #PICUnderAttack

— Rimmel Mohydin (@Rimmel_Mohydin) December 11, 2019
Some were calling it a pre planned murder:
Pre planned murder. Terrorism.

Whatever you want to call it, #lawyers will never be punished by the courts. Unless judges who enable them are dragged by their collars, most, if not all of them will escape justice like every other mafia elite.#Lahore #picunderattack #WuklaGardi pic.twitter.com/gVULlPDUnD

— Asfandyar Bhittani (@BhittaniKhannnn) December 11, 2019
No one died in PIC hospital in #Lahore today.

They were murdered.

— Snowny Khan 🎅⛄❄️🌲🌲 (@marketingdude) December 11, 2019
Fellow lawyers were ashamed of their profession:
Being a lawyer I feel so ashamed by the insane behaviour of these lawyers. Absolutely disheartening!! #picunderattack #shamefulact pic.twitter.com/e0kBSSp69S

— Syeda Bushra Aamir (@BushraAamir) December 11, 2019
Some were calling it a criminal offense:
Sad to see all that went on in #Lahore today. NO-ONE stands above the law. 6 people losing their lives at hospital due to the mob behaviour is criminal.. and shameful to say the least !#PICunderattack

— Sayed Z Bukhari (@sayedzbukhari) December 11, 2019
People were furious and wanted the lawyers behind bars!
Hospitals are spared even in war zones. What kind of a protest entails attacking acardiology institute storming ICU/ Op. theaters and putting the lives of vulnerable patients at risk? Lock these bastards up in a jail and throw the keys in the Arabian Sea. #PICUnderAttack

— Ali Salman Alvi (@alisalmanalvi) December 11, 2019
Pity on the parents for raising such assholes who attacked a cardiology center that could someday save their lives. Was abortion very expensive?#Lawyers #PICunderattack

— Saroor Ijaz ℹ️ (@saroorfiction) December 11, 2019
The incident had people losing faith in humanity:
Lawyers took his sister's oxygen mask off in the ICU and she DIED. HUMANITY IS DEAD!!!!!! #Lahore pic.twitter.com/7qBzQsqMgB

— Komal Shahid (@ArmedWithWords) December 11, 2019
Today lawyers have avenged their brothers by killing innocent patients in PIC. The sea of black coats was equally black from inside. Humanity was at loss, today. #PICunderattack pic.twitter.com/BZErH33lL3

— Asad Aftab Langah (@AsadAftabLanga1) December 11, 2019
Reportedly, 2 FIRs have been registered following the violent incident:
Reportedly 2 FIRs have been registered against 250 #Lawyers under ATA and 302 in Shadman Police Station Lahore for #PIC attack.
Parties: Police and Doctors

Haven't received the FIR copy yet.

— Azhar (@MashwaniAzhar) December 11, 2019
Our hearts go out to the deceased and everyone affected by the tragic events of yesterday. Here's to hoping that better sense prevails.