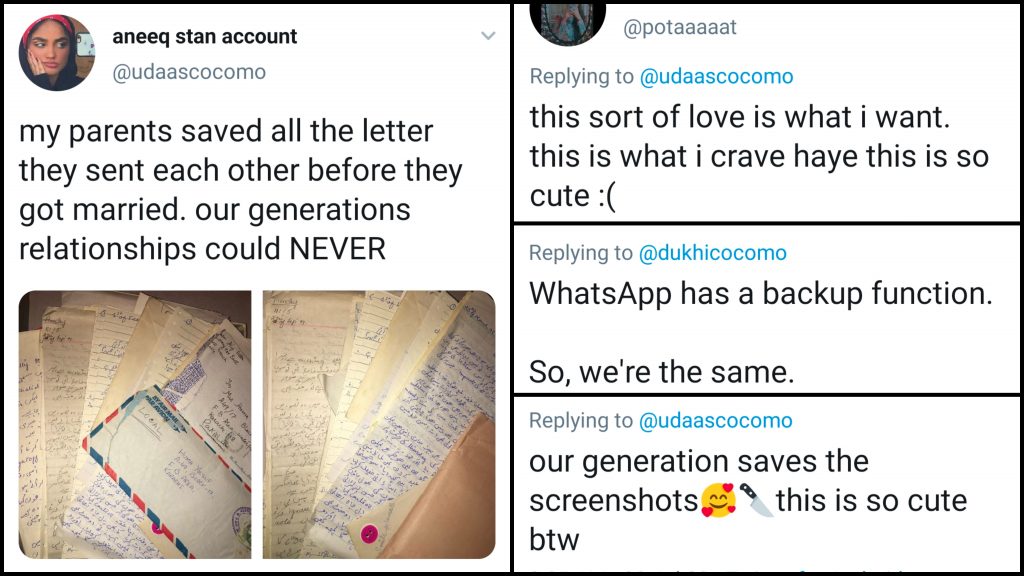 If there's anything that'll remain a classic till the end of time, it's letters, and especially love letters!
Taking to twitter, this girl shared a picture of the letters her parents wrote to each other:
my parents saved all the letter they sent each other before they got married. our generations relationships could NEVER pic.twitter.com/c9Z6mWomw5

— aneeq stan account (@udaascocomo) July 7, 2020
And the internet was smitten!
our generation saves the screenshots🥰🔪this is so cute btw

— Charlie Putt (@kxnwxl) July 7, 2020
Yaaaas!
Love letters>>>texts https://t.co/jedh8qNSRn

— Sed. (@dant_tor_dungi) July 7, 2020
Hand written letters>>>>>>>>>>>>>>>> https://t.co/DJkgusA3Yi

— 🌻 (@Sasskweeen) July 7, 2020
People couldn't help but adore the letters!
So wholesome and cute 🥺❤ https://t.co/1lP7xjyI7G

— soha (@sohaaamir) July 7, 2020
I mean, kind of:
WhatsApp has a backup function.

So, we're the same.

— Ben Hifni, PtsD. (@BenHifni) July 7, 2020
Same, girl!
I'm no longer accepting texts or dms. Mail me the meme idc https://t.co/n5Z8MjRCG5

— Arij (@___areejja) July 10, 2020
Well:
I save my snapchat chats though https://t.co/W5bs7zH6Mc

— Gamebred (@Tankzy_) July 9, 2020
Us too!
I want this kinda love ❤️ https://t.co/5tfzQQM9v5

— 𝔇𝔲𝔯𝔯𝔞𝔫𝔦 (@ZaighamMustafa) July 8, 2020
Okay, wow!
your letters could never https://t.co/I1BWz1Aj5J pic.twitter.com/9BEy3SGEK3

— 🅱️LM (@Billophile) July 7, 2020
Someone, please write us a letter too!
this sort of love is what i want. this is what i crave haye this is so cute 🙁

— •manaal (@potaaaaat) July 7, 2020
Some found themselves born in the wrong generation:
I was born in the wrong generation https://t.co/xFnijQJJBF

— YT: hamdeyy (@_hamdzxo) July 8, 2020
We stan the idea!
Imma start starring messages on WhatsApp and show my kids one day https://t.co/QstiYxxulb

— Toufs (@Toufeeq97) July 8, 2020
Lucky you!
Back in academy days, my parents used to write letters for me and believe this me guys, it's THE BEST THING you can get in your worst days ♥️ https://t.co/urtpTD9VYV

— 🌹 (@ranaayyyyy) July 7, 2020
Haha!
Many years after our marriage we read them & laughed out loudly. My wifi has kept them somewhere.

— JB (@badnocs) July 7, 2020
Haye, so cute!
I remember my parents letter too
My maa name is Kusum in one letter pap wrote
"Kusum ji " and I still remember I was smiling so hard .. https://t.co/IsXpAxzejc

— .Ankita. (@Shrenu_Ki_Anki2) July 8, 2020
Shots were fired!
our generation thinks posting a picture of you on instagram is romantic 🥴 https://t.co/5lDxBmQLCf

— Curlz (@AmmarahSamaria) July 8, 2020
We sure do!
We have notes and screenshots on iCloud 🌚 https://t.co/0HZDIXEodV

— Queen Amina 👑❄️ (@amina_mudi) July 8, 2020
You do what you need to do!
My whatsapp chats are backed up. Wym

— Josh (@chigoziiem) July 8, 2020
Jo baat hai!
My father sent more than a hundred cards alongwith letters to my mother in between the time period of their nikkah and rukhsati and amma has saved all of them. There's definitely a certain charm about handwritten things and nothing tops that. https://t.co/z03t0CKygB

— Ushnaa Tayyab (@_roohdaar_) July 7, 2020
Omg, we all can relate!
this could be us but I still live with my parents and they go through my mail https://t.co/Aaiu27BAUo

— zina ⵣ (@bayenciaga) July 7, 2020
Yeh bhi hai!
Our generation cant do this. Our parents know this game so they'd catch us straight away 😂😂 https://t.co/1uHXJG7U75

— #NeverForget1984 (@Kinng_Gulati) July 8, 2020
True!
Love must've hit different back then to be bothered to write a letter then go post it, I'm not even bothered texting sometimes 😭 https://t.co/DMIxJE34Qr

— Mo (@1M0HAMED_) July 7, 2020
STOP!
I delete chats mid-conversation https://t.co/6ow4SlkY0g

— tantuni enthusiast🇹🇷 (@tantuniyermisin) July 8, 2020
Lmao 😂
Mines gonna see screenshots and snap memories of me crying Ngl https://t.co/BZYoSrPtlf

— narcissist (@lMNARCISSIST) July 8, 2020
Pretty sure our kids would want the same then 😂
whereas our generation can only base relationships off insta dms and snaps💓 showing my kids the first time their dad commented on my insta X https://t.co/AWHdqGauRS

— nazgul✨🧚🏽‍♀️ (@_tatianaham) July 7, 2020
Have you ever written or received a letter? Don't you miss it? Let us know in the comments below!