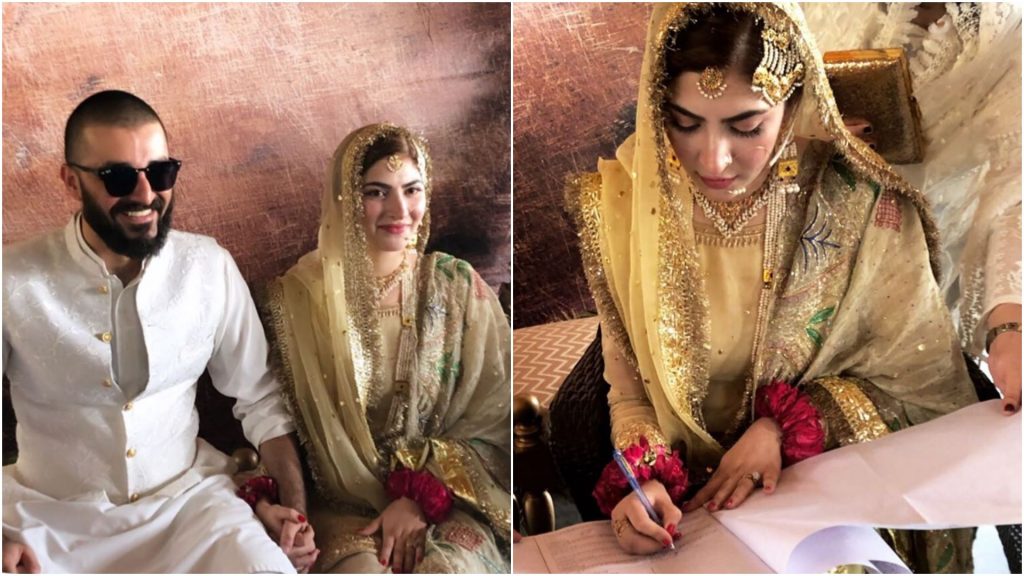 Over the years we've gotten tired of seeing big fat weddings and while spending on weddings is a personal choice, no one minds saving up on them. Hamza and Naimal have taken the internet by storm with their rustic, simple and beautiful wedding and people are all for it!
simple. traditional. elegant. ideal.
Mr and Mrs Hamza Ali Abbasi out their slaying, and will continue doing so, forever.#HamzaWedsNaimal #HamzaAliAbbasi #NaimalKhawar pic.twitter.com/Zyz1qMdYNP

— sara (@Sarahistic) August 25, 2019
People particularly loved how Naimal didn't go bonkers on ber wedding dress, but rather chose to revamp her mother's wedding dress:
Wearing her mother's wedding outfit no branded langha 25,30 lakh wala no jewelry with cost of dollars..In industry if i say they deserve respect n duas then nothing will be wrong i guess.More love n duas to new couple…Allah bless you both..#HamzaWedsNaimal@Naimalkhawarr pic.twitter.com/Y46J22NskN

— Laraib Syed (@Laraib127) August 25, 2019
So basically Naimal was wearing her ama's nikkah dress ❤️ itna haseen aur simple dress 💫 #HamzaWedsNaimal

— Travel the world ✈ (@iqraaa7) August 25, 2019
It served to be an ideal wedding for many:
Hamza's wedding is exactly kind of my ideal wedding. Simple. Real. Closed friends. Serene place. No extravagant stuff. No pre wedding functions! May Allah bless them with all the happiness this world has! Ameen. #HamzaWedsNaimal pic.twitter.com/gHepTseoCO

— ماریہ (@xyzmariaa) August 25, 2019
Short and simple, just like they should be:
Two Things which i Appreciate about #HamzaWedsNaimal are :
1. They have kept the things simple
2. No 10, 15 days of Functions for Ostentation and Showing off.

— Mubashir. (@Sheromalik) August 25, 2019
People were glad that celebrities were setting the right example:
Kudos to #HamzaAliAbbasi & #NaimalKhawar on a simple and elegant wedding.
Marriage is a personal matter.But, people do emulate celebrities.
Their #Simplicity can help shatter pointless rituals of 'social pressures'.
Mubarak to both💍

#HamzaWedsNaimal #SimpleShadi #FeedThePoor pic.twitter.com/KKkfKLwiuC

— Faeza Dawood (@FaezaDawood) August 25, 2019
You know the most beautiful thing about their wedding?They kept it simple and elegant.Just like every wedding should be.They set an example for all the people out there❤#HamzaWedsNaimal

— Javs. (@javeria_16) August 25, 2019
Agreed!
MashaAllah what a beautiful couple❤
Keep it simple & make it significant is the lesson we learn here. It's only the love & understanding that matters more than a lavish wedding. May Allah bless you both in this new venture. @iamhamzaabbasi @Naimalkhawarr#HamzaWedsNaimal pic.twitter.com/OoQq3esnkJ

— Noor (@BirdSetFree93) August 25, 2019
People were loving the minimalistic decor:
Every thing is so simple yet BEAUTY-FULLLL.#HamzawedsNaimal pic.twitter.com/AWf0aL5MzD

— Mariam||#hamzawedsnaimal (@girlnamedyumyum) August 25, 2019
Well, not exactly the first but one of the very few couples, yes!
The 1st couple from the film industry who shows no shows☺#HamzaWedsNaimal pic.twitter.com/1TkujoaAi3

— Sabtain Haider (@Sabtain89310866) August 25, 2019
Yaaas, a trend we stan!
Going through my Instagram,glad to see that our Pakistani are now mature!! Everyone is praising @iamhamzaabbasi @Naimalkhawarr for doing their "Shaadi event" so simple!! I must say MR & MRS Abbasi set new trend!! MASHALLAH 💕 #HamzaAliAbbasi #HamzaWedsNaimal

— Samar Tahir (@SamarTahirPTI) August 25, 2019
Whatever you say but the shadi was simple and inexpensive.That kind of a trend we all should follow.#HamzaWedsNaimal

— Malihaatique (@malihaatique) August 25, 2019
We hope so too!
They set a new trend of simple wedding,
I hope people get along with this new trend 💕#coupleoftheyear #HamzaWedsNaimal pic.twitter.com/KTPZfxpOZZ

— libra gal (@bareeraIman) August 25, 2019
People were also loving how there were no judgments or negativity:
Beautiful moment of today's wedding and thank God no one is to judge her hamare to adhay rishtedar foran kano mai ghuss jai dulhan kitni excited hai isko nazrain jhuka kr ana chahye thay itna ku kans ri bla bla bla #HamzaWedsNaimal https://t.co/JaS6vwkvEW

— Farah Anwer (@farah_anwer) August 25, 2019
People found it refreshing that the wedding was short and classy:
No fazool rasoomat like dholki, mehndi, barat on 🚁, bridal shower 😂 etc etc and yet they managed to arrange a PERFECT wedding mashaAllah so happy to see this… literally wedding goals #HamzaWedsNaimal ❤️ @iamhamzaabbasi @Naimalkhawarr pic.twitter.com/kLuk3gDIiO

— Anam Khan (@Anniiee007) August 25, 2019
No fat wedding, no showoff

0% nudity, 100% class #HamzaWedsNaimal pic.twitter.com/IfkafaINzL

— Aftab Iqbal (@AftabIqbal_tv) August 25, 2019
Even those who dislike Hamza were lauding him:
I have had disagreements on some points with Hamza ali Abbasi as it's with everybody, but yes he has won hearts by such a simple wedding.
good luck & best wishes for both of you. #HamzaWedsNaimal

— AmmarahFayyaz (@DrAinFay) August 25, 2019
I am against Hamza Abbasi but it was nice to see him married with simplicity ❤@iamhamzaabbasi#HamzaWedsNaimal

— ❤ خلیل الرحمٰن 🇵🇰 (@Khalil_Bhattti) August 25, 2019
Oh, definitely!
Simpler weddings can be way more cooler than fat ones. TY @iamhamzaabbasi for setting the real trend toward making Nikkah Easy yet More Elegant. ✨

Stay happy t0gether & in love🎊

#HamzaWedsNaimal pic.twitter.com/BddKehpGPB

— Nee'A (@TweetTonite) August 25, 2019
The bar has been raised!
#Haimal's wedding was the simplest yet elegant wedding I've seen, as they both are celebrity but there was no showsha kinda stuff. Simply well organized venue, beautifully decorated with white florals and fairy lights and that's the best details I've noticed ✨
#HamzaWedsNaimal

— R ✨ (@HeyBiyaa) August 25, 2019
And while many were appreciating the simplicity, some pointed out how it's a very personal matter:
Good for them if they wanted to keep their shaadi affair simple. However, anyone who 'wants' to not 'needs' to spend more on their shaadi does not make one less of a person. Har kisi ki apni apni choice hai. Live and let live. #HamzaWedsNaimal

— Naima Nasir (@feminist_inprog) August 25, 2019
What did you think about Hamza and Naimal's beautiful wedding? Is it a trend that should be picked up widely? Let us know in the comments below!