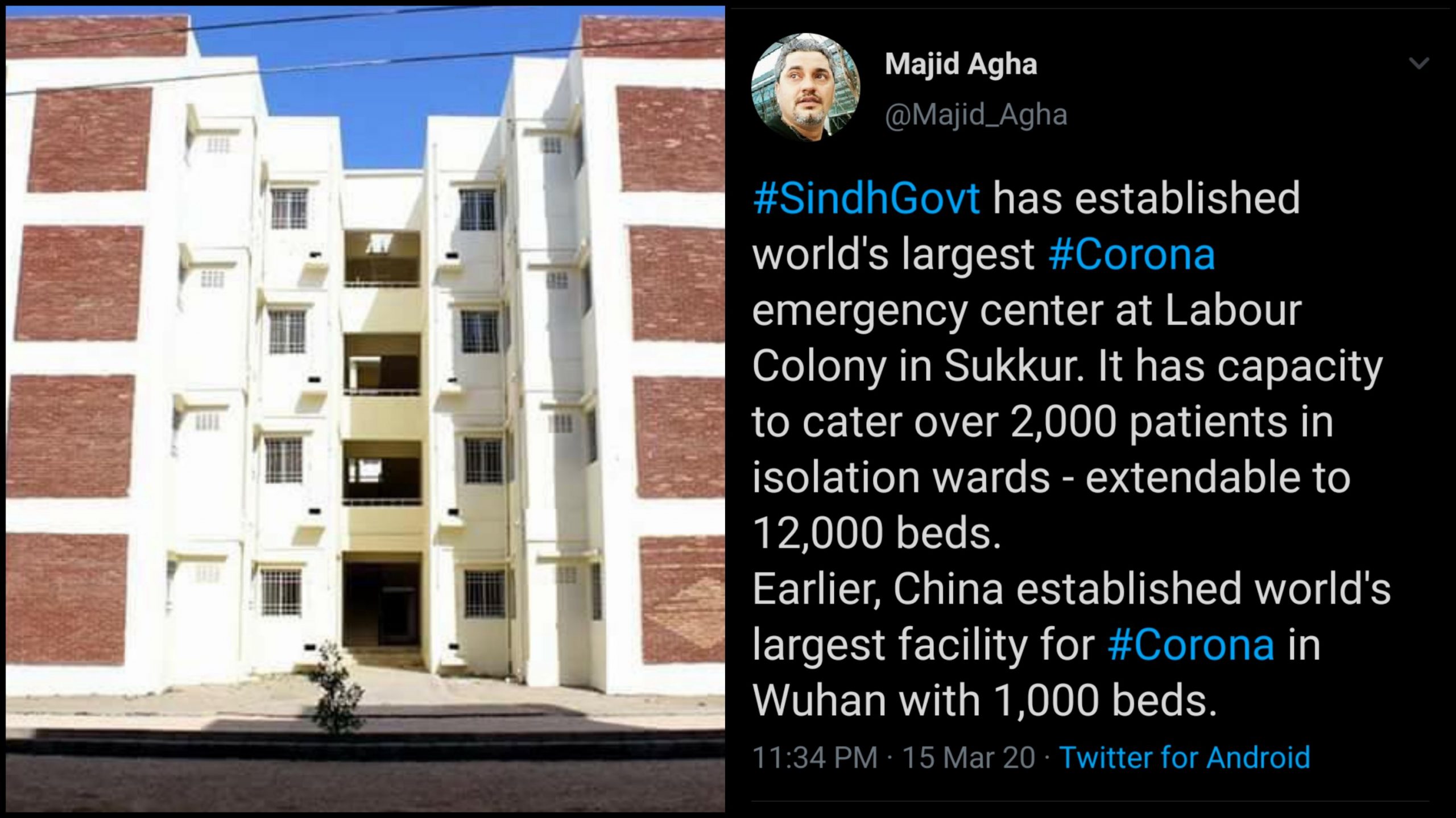 With an alarming number of more than 104 cases being tested positive for coronavirus in Sindh, the Sindh government is doing everything it can, in it's capacity, to help contain and fight the virus.
Seeing a ton of things actually being thoroughly implemented left the citizens surprised and the internet is lauding the government for their tireless efforts, starting with the biggest isolation facility in Sukkur!
#SindhGovt has established world's largest #CoronavirusPandemic emergency care & cure center with isolation wards & approx 2000 beds at newly constructed Labour Colony flats in Sukkur. Earlier China converted Stadium into hospital with 1,000 beds in 10 day in Wuhan. #SindhHealth pic.twitter.com/qU5IHFgQf8

— GM Buriro (@buriroGM) March 16, 2020
#SindhGovt has established world's largest #Corona emergency center at Labour Colony in Sukkur. It has capacity to cater over 2,000 patients in isolation wards – extendable to 12,000 beds.
Earlier, China established world's largest facility for #Corona in Wuhan with 1,000 beds.

— Majid Agha (@Majid_Agha) March 15, 2020
People were all for the ban on haording essentials:
#SindhGovt has started taking strict action against people hoarding hand sanitisers or selling them at a higher a rate. It is shameful how people are trying to profit out of this crisis pic.twitter.com/nPPWax96WX

— SenatorMurtaza Wahab (@murtazawahab1) March 16, 2020
Lawyer and activist Jibran Nasir too lauded the Sindh government for their thorough check and balance:
I reached Pakistan today after a week in US. Went through three airports, multiple train and subway stations, despite the big Corona scare on US media there was no screening by US authorities anywhere. Landed back in Karachi to find a thorough system in place. Kudos #SindhGovt

— M. Jibran Nasir (@MJibranNasir) March 14, 2020
The government also installed health desks at airports to scan the patients:
#SindhGovt has setup health desks at Jinnah International Airport #Karachi for screening of all passengers. The setup has been approved by WHO officials.

Health Department Sindh is doing commendable job to control #CoronaVirusPakistan.

More power to you adi @AzraPechuho 💪 🙌 pic.twitter.com/FrV7SeN3SK

— Abdul Majid Kalwar (@Majid_PSF) March 16, 2020
Health care staff at the airport was well taken care of:
This is NOT New York's John F Kennedy Airport, nor Paris's Charles De Gaulle.
This is KARACHI's #JinnahAirport where #SindhGovt has set up screening counters, Professional Doctors are screening passengers to keep #Pakistan safe. #CoronaVirusPakistan#KhidmatMainSabSeAgaySindh pic.twitter.com/yJXIiiSP7e

— Majid Agha (@Majid_Agha) March 14, 2020
The government that has been urging people to stay home also revealed that if the need be they'll close malls and restaurants too!
'رات دیر تک گھومنا پھرنا جاری رہا تو ہوٹلز اور ریسٹورینٹس مکمل بندکر دوں گا'#GeoNews #CoronavirusOutbreak #coronavirusinpakistan https://t.co/gLCcrtV5w2

— Geo News Urdu (@geonews_urdu) March 16, 2020
Even those who weren't a fan of the Sindh government gave them their dur credit:
I don't care if Sindh Government hasn't been performing before, this is a good step and should be appreciated. My cousin in Canada tells me this is what they're doing over there too, providing food to people in quarantine. So well done this time, keep it up guys. https://t.co/3NpjGnqHK7

— Nadia (@nadiajqureshi) March 16, 2020
People were impressed with Murad Ali Shah's hands on approach:
Sindh CM calls for calm as province reports 68 new cases https://t.co/MhOUllDpHd Full marks to Murad Ali Shah on Sind Government's efficient, professional & transparent handling of the Coronavirus Crisis, he has shown leadership with a hands-on approach, above partisanship!

— Mushahid Hussain (@Mushahid) March 16, 2020
The government also announced sending ration to those under quarantine:
"Do not worry about your families back home, #SindhGovt will take care of them, I am here to serve you and look after your families".

CM Sindh @MuradAliShahPPP has decided to send Ration to families of those who are in quarantine, making us proud nation on earth. ❤️

— Majid Agha (@Majid_Agha) March 16, 2020
Such an achievement!
Sindh Government Establishes World's Largest Coronavirus Care and Cure Emergency Center.❤#coronavirusinpakistan pic.twitter.com/ugckzQPF5X

— Rizvi Tweets (@Shah_Rizvi97) March 16, 2020
There are through efforts to socially distance people:
Super Highway Restaurants being shut down by Sindh Government amid #CoronavirusOutbreak while Restaurants & dhabas in the city might get closed by 9PM daily (People need to volunteer for social distancing themselves).#Karachi

— Hibernate #Corona (@hinasafi) March 16, 2020
Credit where it's due:
Is situation me Syed murad Ali shah ko appreciate krna bnta hai,🔥♥️
Sindh government is on fire🔥#coronavirusinpakistan

— Hamza Hashmi (@Hamza_hashmi14) March 16, 2020
Revised academic calender was also released:
Sindh Government announces the revised Academic calendar post Corona outbreak. pic.twitter.com/WgZJnbgxPt

— Maria Memon (@Maria_Memon) March 16, 2020
Shehzad Roy also appreciated the efforts:
Not only people of Sindh, but also the stars from Pakistan admiring arrangements, efforts & precautions taken by #SindhGovernment to prevent people from #CoronaVirusPakistan. Isolation ward of 2000 bed, othr thn 8 more Isolation wards are set up. Pls be responsible everyone. pic.twitter.com/RQctOUbGt4

— PPP Punjab (@PPPPunjab_SM) March 16, 2020
People kept their differences of opinion aside to stand united against corona:
Apart from Political and idealogical differences , lets Appreciate this man's efforts to fight against #CoronaOutbreak in Sindh. #SindhGovernment pic.twitter.com/QMz7CIgQdO

— Ahmed Rajput (@ahmedra0110) March 16, 2020
It definitely is:
Contrary to our expectations, Sindh government is doing quite a good job handling this. Credit where it's due. https://t.co/12BDT8FDsf

— کاظمی (@HaayeShabbir) March 14, 2020
Even the World Health Organization(WHO) lauded the efforts of the government:
After visiting hospitals and isolation centres at Karachi, WHO has declared Pakistan best respondent to Coronavirus. All credit goes to CM sindh and team.

Hats off to Sindh Government ❤#GreatEffortsSindhGovt pic.twitter.com/RtjDqRl9Lf

— Majid Ali (@MajidAl77296616) March 14, 2020
They were the ones who suggested that the matches be held in empty stadiums:
Following advice from the Sindh Government the Pakistan Cricket Board has made a decision to stage the upcoming Karachi Pakistan Super League 2020 matches in front of an empty National Stadium #PSLV

— Saj Sadiq (@Saj_PakPassion) March 12, 2020
They also introduced a travelling guide for transporters:
#coronapocolypse #SindhGovernment announced travelling guide for transporters.
Well done @SindhHealthDpt pic.twitter.com/XxKRsgkm4i

— Munawar Alam , (@syedMunawarAlam) March 16, 2020
They also distributed pamphlets all over the province to raise awareness:
Another Best step by Sindh Government these pamphlets are being distributed at public places in Hyderabad.#GreatEffortsSindhGovt pic.twitter.com/uk1EFMcwmQ

— Saba Hyder (@SabaHyder1) March 14, 2020
People were calling the governed a hero:
No doubt he is the hero.💜💜
Who take the steps to stop the spreadness of corona virus very efficiently nd this is also appreciated by the international world.💜💜 well done sindh government for taking such initial steps . Let's fight this deadly virus together . Be safe.💜 pic.twitter.com/CUEQ1Va1fY

— Ayesha Khan (@DahriAyesha) March 16, 2020
It has been the wisest for sure:
The Sindh Govt appears to have outsmarted all provinces and even the centre in its fight against Coronavirus.

— Ansar Abbasi (@AnsarAAbbasi) March 14, 2020
And while many were appreciating the government, some had a different opinion:
There is no doubt that Sindh government's respond to coronavirus has been great, CM Sindh has been proactive rather than reactive but that doesn't absolve PPP of poor governance for last 11+ years, don't use corona as an excuse for political point scoring. https://t.co/wwlqKfgPBE

— Osama. (@ashaqeens) March 15, 2020
What do you think about the efforts of Sindh government? Let us know in the comments below!