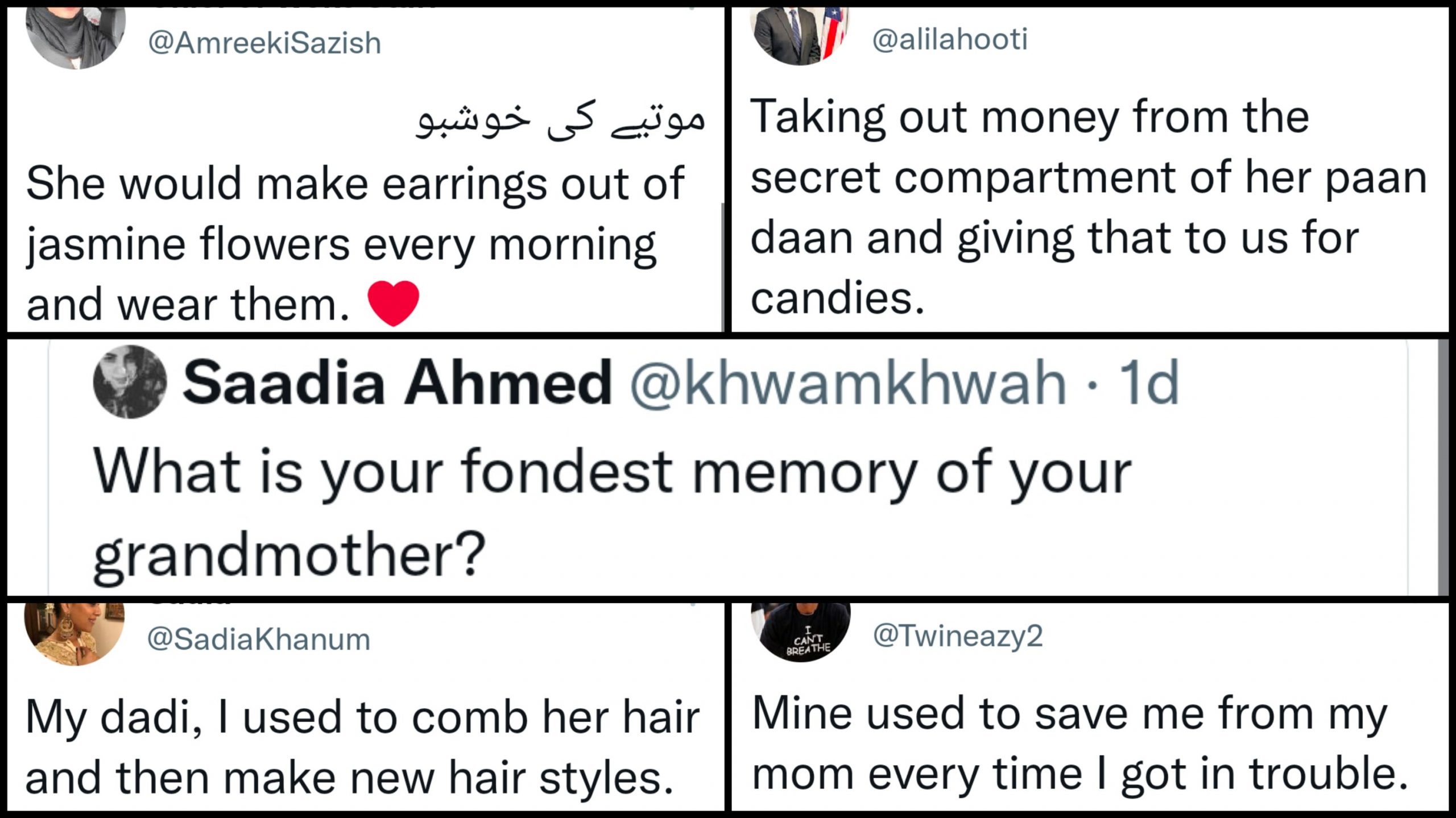 Grandparents are easily our first pair of best friends, whether it's running up to them to avoid being yelled at by our parents or for that sneaky extra candy every time we say goodbye, they're just so precious!
And someone on Twitter asked Pakistanis what their fondest memories of their grandmother were:
What is your fondest memory of your grandmother?

— Saadia Ahmed (@khwamkhwah) September 12, 2021
And their replies are just too wholesome to miss!
When I used to get back from school. After getting fresh and having lunch I used to go to my dadda(daadi) and as per our routine ask her 'dadda maula ki kahani sunaaen'. She used to caress my back and tell us stories of imams. And I always slept on it. She was well read.a https://t.co/yKCGGHmOys

— Sana Rizvi (@TheKharateyKid) September 12, 2021
Same! 💕
موتیے کی خوشبو
She would make earrings out of jasmine flowers every morning and wear them. ❤️ https://t.co/EojufkT62M

— Chief of Woke Staff (@AmreekiSazish) September 12, 2021
Wow!
dadi would always call me into her room to help improve her english. she had grammar books that she would practice reading with and would practice writing our names and small sentences. i must've been 10 or younger… i always wish i had more time with her 😪 https://t.co/bkRvqMEWZW

— ᴹᵁᴶᵀᴬᴮᴬ (@mrizviii) September 12, 2021
She really saw it all happen:
nano would bring packs of her fav exclairs toffee. she was young when the partition happened and would tell stories, she remembered the chants they sang during the movement. i wish i had documented it. there's so many things. she was the funniest and sweetest woman i knew. https://t.co/2FIviscygO

— Maryam (@maryamful) September 12, 2021
We love this!
my dadi was the only motherly figure i knew so i had alot of memories with her. she took me to her work trips with her. i used to spend my vacations in lahore with her so she would cook my favorite dishes for me. i plucked jamuns for her and she would pluck mangoes for me. https://t.co/fM1EVTd9iA

— zainab chughtai (@z_chughtai95) September 12, 2021
Ah, all grandmothers gave us money sneakily for snacks:
Taking out money from the secret compartment of her paan daan and giving that to us for candies. https://t.co/Onr4BAMmOj

— Ali Lahooti (@alilahooti) September 12, 2021
We've all made our dadi's and nani's hair!
My dadi, I used to comb her hair and then make new hair styles. Although after five minutes they used to fall back to her daily style.

I also remember putting mahndi on her hands as she never used it after dada died, but did it on my insistence. https://t.co/sdRyN8fmoF

— Sãdia (@SadiaKhanum) September 12, 2021
Haha, aww! 🥺
once all us cousins got a scolding from our grandmother for being loud and after that she called me in her room and to tell me privately "hey, that scold wasn't for u, i know u weren't making noise" 🙁 https://t.co/UeFfFFgBLN

— miss barganza (@jaaneammi) September 12, 2021
🥺
She was a sugar patient. I used to sneak mountain dew into her room at times because she loved it so much and would tell me to do so 😭 https://t.co/YemwQQXi0S

— sayyaf (@sayyaf_10) September 12, 2021
Whoa!
Being at the top of her game when it came to sewing, stitching, embroidery, cross stitch, knitting, crochet and the likes. Her 'rallis', ghararay & sweater designs and the neatness with which she stitched them could put top designers to shame..genius would be an understatement https://t.co/GLDhzAvean

— Azra Naqvi (@Azrantings) September 12, 2021
♥
Both Dadi and Nani being such strong women. Naniama was always impeccably dressed. Dadiama had a beautiful fragrance that exuded from her of Ponds cream and mustard oil in her hair. https://t.co/0iewE5DCYZ

— Elly (@TheRebelRise) September 12, 2021
Grandmothers really are precious!
Playing hide and seek and hiding in very obvious spots, but she'd still pretend to not know where I was; I would lay down next to her when she was doing namaz, but that kinda stopped as she moved to praying while on the chair; Cozy up in a blanket listening to stories of prophets https://t.co/nZ8gu1PpQu

— Bilal (@Akhund_Bilal1) September 13, 2021
Omg, so cool!
That one time we did my Barbie and Ken doll's wedding and my nani dressed up as a molvi sahab for nikkah with her hair wrapped around her face like a beard and moustache 🤣 I miss my nani she was so fun and pure. https://t.co/rakhdByWrX

— Tehreem🌠 (@TehRemy) September 12, 2021
We adore!
Got my first job. She demanded I have breakfast at HER house every morning before work. (I don't really eat breakfast and I'm usually running late)

For 3 years, I always went and she always had a single fresh cut flower 🌸 from her garden in a tiny vase on the table! https://t.co/dtEM1IkSkl

— Azeema Cheema (@AzeemaCheema) September 12, 2021
♥♥♥♥
Mine used to save me from my mom every time I got in trouble. She would come and say to my mom "bas karde hun" cherish your grandparents ❤ https://t.co/PI0WntrLmz

— Twin2 (@Twineazy2) September 13, 2021
I swear!
Her comforting smell. https://t.co/2AXEqMIiET

— Javed (@xahjaved) September 12, 2021
Beautiful!
Every memory I have of her, she's smiling or laughing. I can't remember her angry even once. https://t.co/zWsD0NVEGb

— فجر (@Dawn88s) September 12, 2021
Thandi chha'on!
Was only 5 when she passed away but I remember one time we were going to my Phupho's house, I was sitting on her lap, was falling asleep, she places her chaddar on my face so stop the sun from bothering me & I fell asleep.
May Allah SWT grant her the highest place in Jannah ❤️ https://t.co/8FlINvtEQS

— درشہوار (@dure_khan6) September 12, 2021
Same, it's so hard choosing just one!
Cant dare to choose one. Every sec of my dadi's life was an absolute fun for me. She would be PM of any country if she was literate, thats how smart she was. I was fondest of her and really cant choose one memory.

— Mohsin Malik (@mohsinfreeman) September 12, 2021
Aameen!
Sleeping on her arms as a kid and then my other sibling getting jealous and stretched her other arm to put her head on it. Now she had both of us on both of her Arms. She smiled but couldn't move untill we dozed off 🤗😊. May Allah give her a Long life.

— Mirza Moazzam Baig (@Moazzam_Baig) September 12, 2021
What are your fondest memories with your grandmother? Let us know in the comments below!