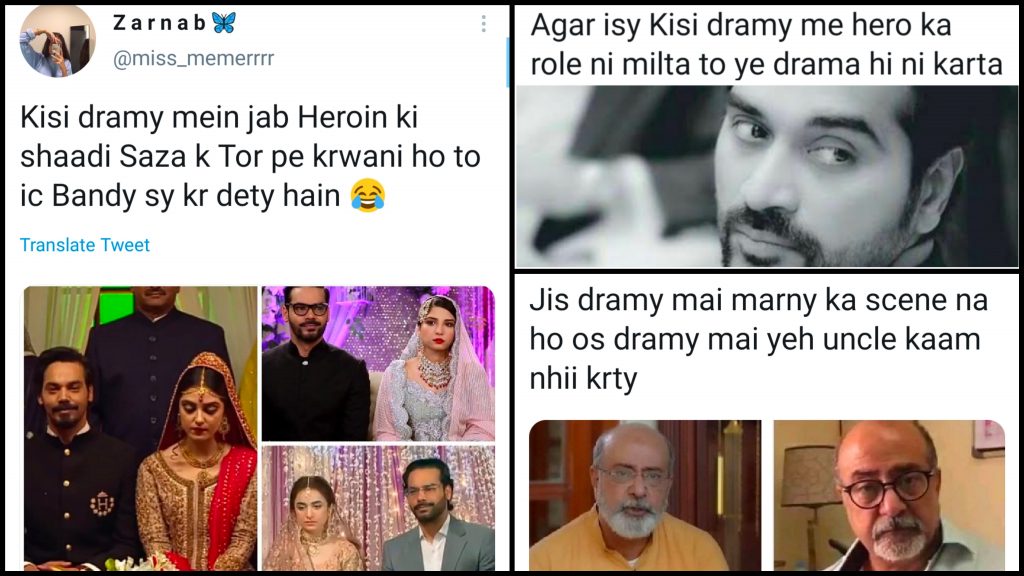 As Pakistanis, we love our drama industry and the content they churn out for us.
Being avid consumers of their content, twitter is going wild with memes stereotyping the roles that their favourite actors opt for and it's spot on!
Kisi dramy mein jab Heroin ki shaadi Saza k Tor pe krwani ho to ic Bandy sy kr dety hain 😂 pic.twitter.com/eaQzkimxa8

— Z a r n a b 🦋 (@miss_memerrrr) February 3, 2021
Omg 😭
Aur is bndy ko jis sy shadi krni hote hai usy he is sy nfrt hojate hai..😂 https://t.co/n0Xch4MMfN pic.twitter.com/bn1C3j2fAF

— Syeda Hafsa Amjad (@Apke_Behan) February 3, 2021
Our favourite uncle choosing his favourite kind of roles:
Jis dramy mai marny ka scene na ho os dramy mai yeh uncle kaam nhii krty https://t.co/ohl9VIXcEl pic.twitter.com/jB1nUg4fGf

— D U A🦋 (@Duaayy1) February 4, 2021
Humayun Saeed, the hero who's always the hero!
Agar isy Kisi dramy me hero ka role ni milta to ye drama hi ni karta😂 pic.twitter.com/X8I8srx7R2

— Jibran Sheikh (@SheikhSahab98) February 4, 2021
We feel for him:
orr iss bnde ki shadi kbhi uss se nhi hoti jis se ye chahata h pic.twitter.com/c27nkJ1A8y

— Arooba Rashid (@RashidArooba) February 4, 2021
Hahaha, Affan Waheed and his charming ways!
Jis Dramy main kisi ki muhabbat na chen'ni ho us Dramy mn ye kaam hi nahi krta https://t.co/Cjnods8bab pic.twitter.com/tmVwu1yYDK

— Nouman Altaf Thaheem (@Nomithah) February 4, 2021
People chose Fatima Effendi for her roles as damsel in distress!
Kisi drama me jis pr inteha ka zulm kerwana ho to isy ly lety hn. pic.twitter.com/QqbJuPu1oj

— @manhibtaounge (@manhibtaounge) February 4, 2021
Dead 😂
Aur pakistani dramo main jo b olad intehae khud sar,hasid,batamiz or makkar hogi uski amma yh orat hogi https://t.co/c2exI32xER pic.twitter.com/GAW8yLZUe4

— nOt yOuR mUśE😏 (@moaana1) February 4, 2021
That's Muneeb Butt for you!
Aur kisi dramay ma jb heroine hath se nikal jaty hai aur majbooran kisi aur ladki se shaadi karni pade to inhy cast kren. 💔😂 https://t.co/xEQwLPWY5M pic.twitter.com/JGEsYxDxVH

— Selenophile 🔥 (@anmolshines09) February 3, 2021
Banda haazir hai:
Aur jis ki shadi zra barhi age wale se krwani ho to is Bandy se kr dete hain 😂 https://t.co/CNvA7OOB85 pic.twitter.com/th5l6z9Gxb

— Blue_Sapphire 💙 (@BlueSap26) February 3, 2021
Lmao 😂
Aur Jis drame ko lamba krna ho usmain inko rakh lete hain😉 https://t.co/pjz3IktTdT pic.twitter.com/U2wNnOUq1E

— joblessdost❤💯🌸 (@joblessdost) February 4, 2021
Baat toh sach hai…
Or jis daramy men 2 Heroins na hon to ye dono us men acting sy inkar KR dety hen 😂😂😂 https://t.co/1SBDdyFpZ9 pic.twitter.com/oO9qITgVrl

— Annabelle♡ (@Nazeeha_Javed) February 4, 2021
Once a bad guy, always a bad guy:
Agar is ko koi positive role dia ja raha ho to yeh banda drama ly hi na https://t.co/iPdrFUcSk8 pic.twitter.com/VGO6rBVLAB

— Sara🌸 (@Saracastic7) February 4, 2021
People even took a dig at Khalil ur Rehman Qamar:
Aur yeh us drame ki script hi nahi likhta jis main do takey ki aurat ka role na ho https://t.co/jYteUMx5yb pic.twitter.com/EjaGVeMbU3

— 🌸 (@itsyousufzai) February 3, 2021
Sub ka bhai, Ali bhai!
Aur jis dramay main baray bhai ki zaroorat ho to isko bana detay hain. https://t.co/qnxKfsn3Ft pic.twitter.com/gb16h99Dck

— 𝓜𝓮𝓱𝔀𝓲𝓼𝓱 𝓜𝓲𝓻𝔃𝓪✨ (@EngineerLarki) February 3, 2021
Talk about putting your blood, swear and TEARS in your work:
Agar serials mai rouney waley scenes naw houn toh Yeh loug acting nahi krti 😂 https://t.co/AXpLQXM95M pic.twitter.com/KPSWjEsJs0

— Sabah💫 (@nikal_bey) February 3, 2021
Yar 😂
Ye bandi dramay ka offer hi accept ni krti agar uski script mei koi hansne wala scene ho. pic.twitter.com/TBLRsRKRcZ

— Hassan. (Smaher 🎂 11th) (@HassanDastgirr) February 3, 2021
Jo baat hai ❤
Aur agr 1000+ Acting skills Naa chahyen ho,n to ye bnda acting se inkaar kr deta ha. https://t.co/V3HRcPmDz3 pic.twitter.com/G9Ce4HYAxt

— Aqib 🔥🇵🇰 (@come_feelme_) February 4, 2021
What do you think about netizens' take on the recurring roles these actors choose? Let us know in the comments below!